The Marina Machans have managed to rope in the German tactician on a one-year deal.
Chennaiyin FC recently announced German Thomas Brdaric as their new head coach for the upcoming season. After two consecutive poor seasons, the Marina Machans have been on a roll this summer. Chennaiyin FC have already announced 11 players so far, including two foreign centre-backs and are expected to announce another overseas player in the coming days.
While German coaches are not new to Indian football — Bengaluru FC had Marco Pezzaiuoli last season — Brdaric is a new face in Indian football. His only other experience in Asia is a short spell as a sporting director of Uzbekistan club FC Bunyodkor. The 37-year-old player-turned-manager spent his entire playing career in Germany. As a coach though, he has had various stints in Germany, North Macedonia and Albania before joining the Chennai-based club.
Most recently, he coached Albanian side KF Vllzania in the last seasons. Brdaric guided the club to the two consecutive Albanian Cup titles and also finished as runners-up in the domestic championship in 2021, thereby qualifying for the UEFA Conference League qualifiers. Following his success with the club, the German was handed the Best Coach of the Year Award in 2021.
He will hope to guide Chennaiyin FC back to its old glory days. However, before we see him in action, here are some interesting facts about him.
Father and Son worked together
Tim Brdaric, the Son of Thomas Brdaric is a versatile center-back who can also play as a right-back or defensive-midfielder. The 21-year-old has also trained in VFL Wolfsburg Youth.
When Thomas was working in Albania with KF Vllaznia he signed his son Tim from German fifth-tier side 1.FC Monheim in 2021. However, Tim Brdaric only played 36 minutes as a substitute with KF Vllaznia in which he scored one goal. He eventually left them in hardly 6 months and joined German fourth-tier club FC Rot-WeiB Koblenz. Currently, he is playing in KFC Uerdingen, another Fourth tier German club, where he made 14 appearances this season with one goal and one assist.
Brdaric on his Son Tim while at KF Vllaznia – "I address Tim like any other of my players. In training, I completely ignore the fact that he is my son," emphasized Brdaric. "In the evenings we sit on the couch and watch international football and of course the Bundesliga". "For us, Tim is a promising player who we still have to introduce to the professional business. I try to be a support for him so that he can achieve his goals," told Brdaric.
Played with legends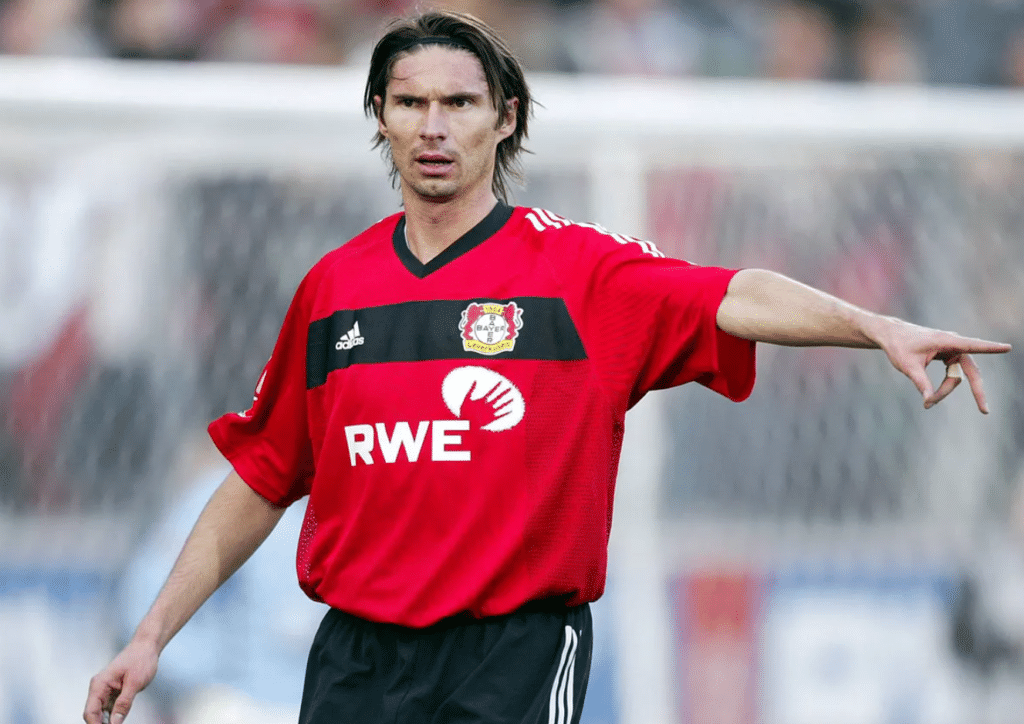 Thomas Brdaric as a player shared the dressing room with football legends like Oliver Khan and Jens Lehmaan.
Thomas played alongside former Manchester United and Kerala Blasters player Dimitar Berbatov. They both made 29 appearances together on the pitch for Bayer 04 Leverkusen. Brdaric was also a teammate of Lúcio, the former FC Goa player who represented Bayern Munich and Inter Milan at club levels.
On a different note, Thomas Brdaric coached current Leeds midfielder Mateusz Klich while he was managing Wolfsburg II. Klich has 180 appearances for the Premier League outfit so far. The current Afghanistan international and former Chennaiyin FC defender Masih Saighani played under Thomas Brdaric at TSV Steinbach in Germany.
Brdaric played against Real Madrid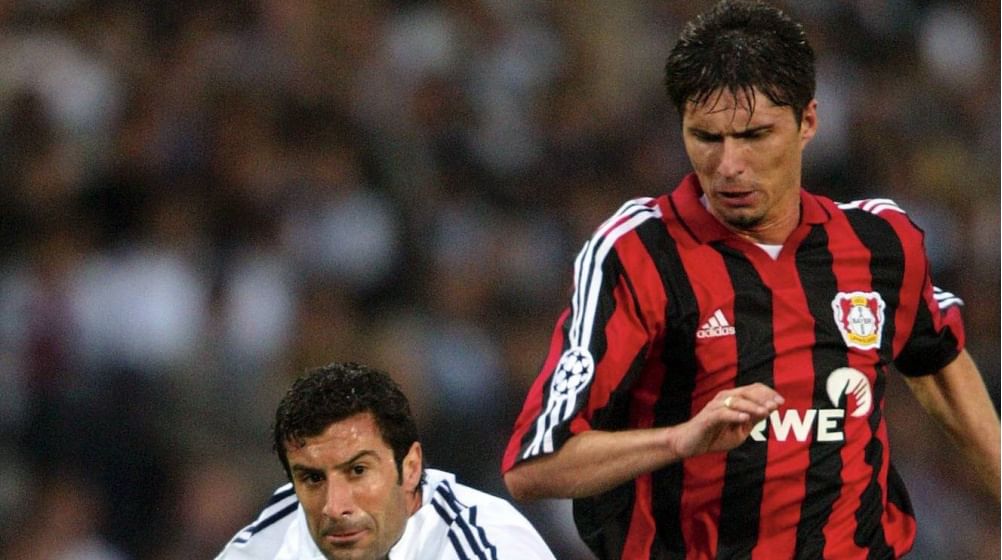 Bayer Leverkusen was always one of the finest teams in Germany. The club had numerous talents like Kai Havertz, Heung-Min-Son, Arturo Vidal, Emre Can, Bernd Leno, Daniel Carvajal and so on. People used to say that Bayer Leverkusen was a great team that won nothing. Especially the 2001-02 period was a golden opportunity for them.
Thomas Brdaric was also a part of that Bayern Leverkusen squad, they were ahead of Borussia Dortmund with 5 points and had three games in hand which gave them a huge edge to win Bundesliga that season. And they were also getting ready for their two finals against Schalke and Real Madrid. Leverkusen were considered favourites to win the treble, but all of a sudden everything collapsed. They were beaten by Real Madrid and Schalke in the cup finals, whereas Dortmund made an excellent comeback to win that year's Bundesliga.
In the 2002 Champions League final, Bradric faced Real Madrid. He started the match for Bayer Leverkusen but was subbed off by Klaus Toppmöller before half-time. Leverkusen lost the final by 1 goal. Lúcio was the goalscorer for Leverkusen, whereas Raúl and Zidane scored for Real Madrid.
Experience in Albania
Brdaric on his experience with the Albanian side KF Vllaznia:
"In our squad, minimal salaries are often paid. " The German manager sometimes invites players, some of whom still live with their parents, to his place if the money has not arrived at the account in time. "The salaries often don't come. That's why you have to invite the players to eat. " He said. "The training conditions are difficult here because you don't have professional stadiums here like in bigger leagues in Europe. It's all undercooked. " However, Brdaric doesn't seem to be falling for these things! "I tell myself: Sometimes you have to take uncomfortable paths to get ahead. My job here is a challenge of dealing with difficult conditions. That hardens me, the enthusiasm and approval allow me to grow. I'm happy that I was able to grab my players and ignite the fire in them. " He added.
Kudos to Thomas for taking such a team to the qualifiers of the UEFA Europa Conference League.
The Wild 13
In 2003, Thomas recorded a CD entitled "The Wild 13". The song mocks goalkeepers Oliver Khan, Jens Lehmaan and Frank Rost. The title stems from Brdaric's shirt number.
Icing on the cake
Bradaric cites two of his coaching inspirations: Ralf Rangnick (who trained him in Hanover) and Christoph Daum (one of his coaches in Leverkusen).
As a player, Thomas has made more than 200 appearances in the Bundesliga and 30 appearances in the Champions League.
Interestingly, he is a huge fan of both Jürgen Klopp and Pep Guardiola.
Last but not least, Thomas loves fresh fish with a sea view. Then Marina Machan's why the wait? How about taking the coach to Marina Beach!
For more football updates, follow Khel Now on Twitter, Instagram and join our community on Telegram.