Coming up against these players is a nightmare for opponents.
Modern football has changed a lot from the old school days. It is not enough to just be physically fit in the modern era. There are a myriad of physical attributes that are required. Today, players work hard on all aspects of their physical attributes, from stamina to agility.
The game is not limited to just putting in hard work on the training ground, but the work done in the gym is just as important. There are many players in the world of football who can turn a match in the blink of an eye with their express speed, thanks to the increased demands of the game. It is no secret that the physical requirements of a player in the Spanish top division are among the highest in the world.
Let's now take a look at the top five fastest players in La Liga:
5. Ruben Sobrino – 35.2 KPH
Ruben Sobrino is a Spanish winger who plays for Cadiz. His name might not be familiar to many fans, but he has been an electric force on the wings for years in La Liga. During last season, he was able to record a speed of 35.2 kph and created huge problems for defenders.
Sobrino has been a regular fixture in the La Liga for six years and has also played for Valencia during his career. He came from Real Madrid's academy and even played for English giants Manchester City from 2014 to 2017. In the upcoming season, the Spanish winger will once again be an express force for defenders and will be hoping to chip in with some crucial goals for the team as well.
4. Joseph Aido – 35.2 KPH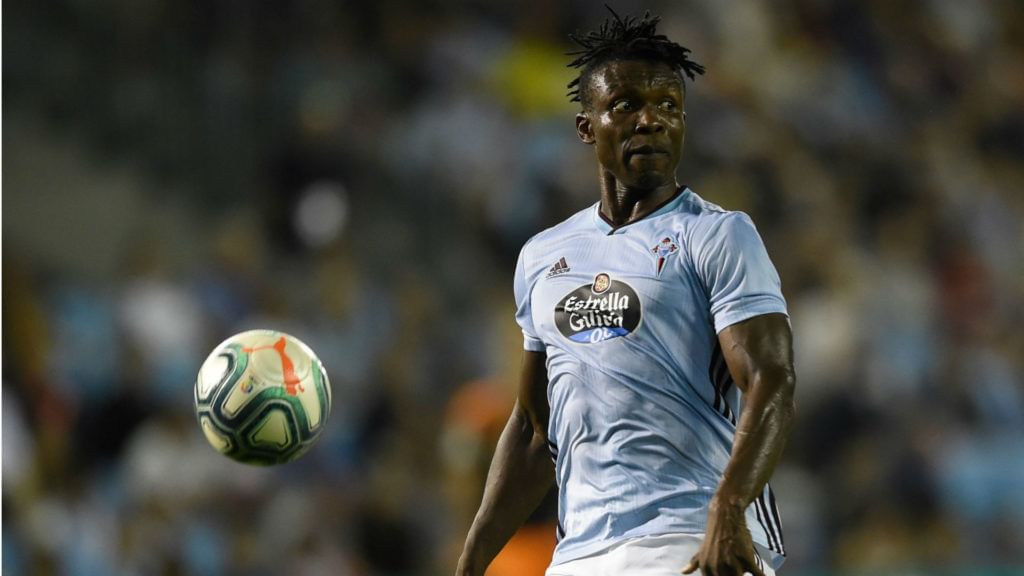 The next name on this list is Joseph Aido. The Ghanaian might play in the centre-back position in La Liga, but he is one of the fastest players in the competition. Last year, he clocked a maximum speed of 35.2 kph and kept many strikers under his radar. He made 32 appearances last season and was also a solid man at the back. Aido arrived in La Liga in 2019 and has become a nightmare for opponents since then.
Especially on counter-attacks, he uses his rampant speed to perfection, which allows him to get the edge over strikers. He has even been difficult for pacey players like Vinicius Junior and Yannick Carrasco to defeat. At the back, Aido has established himself in Celta Vigo's lineup and will be looking to continue his dominant show.
3. Luis Suarez – 35.3 KPH
Granada had a terrible season last year. They suffered relegation and finished with just eight wins in 38 matches. In spite of this, they had one player who consistently stood out throughout the season: striker Luis Suarez. The Colombian striker was the third fastest player last season with a top speed of 35.3 kph.
He made 37 appearances last season and scored eight goals. As well as scoring goals, his pace had an amazing effect on the defence. Suarez was especially difficult to defend on counter-attacks and even top defenders found it difficult to hold him off. However, he has now left Granda after their relegation and has joined Marseille, where he scored a brace on his debut.
2. Alvaro Garcia – 35.4 KPH
Alvaro Garcia was one of the breakout stars in La Liga last season. This was the best season of his career, as he scored seven goals and added four assists in the season. The fact that Rayo Vallecano finished 12th last season was largely attributed to Garcia's energetic performances on the left wing, where he was consistently impressive.
The fastest speed that Alvaro Garcia recorded was 35.4 kph, which was the joint-highest speed in the league. Since defenders are now familiar with his pedigree, he will be hoping to continue the blistering form he showed last season.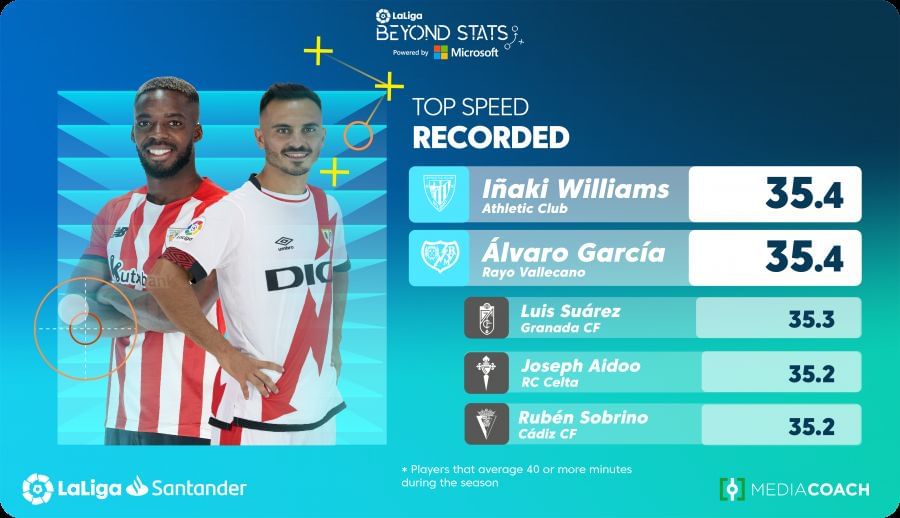 1. Inaki Williams – 35.4 KPH
Inaki Williams is top of this list and there's no surprise about it. The Ghanaian forward has been defenders' biggest nightmare since his introduction in the Spanish top division in the 2014-15 season. In 340 appearances for Bilbao, Williams has scored 74 goals till now.
Inaki Williams hit the mark of 35.4 kph last term. With this season being his ninth season in the Spanish league, Williams will be hoping to put on another show for the fans and continue to develop as a striker.
For more updates, follow Khel Now on Facebook, Twitter, and Instagram and join our community on Telegram.