The exciting young winger will solve a lot of prevailing issues at the club.
Manchester United have finally secured the signing of Jadon Sancho, subject to a medical and personal terms, for a fee in the region of £73m. The deal involving him, United and Borussia Dortmund was one of the longest transfer sagas in recent memory. But, late on Thursday night, United announced that they have finally come to an agreement with Dortmund for Sancho's transfer.
The 21-year-old is one of the hottest prospects in Europe and will have a significant role to play at his new club. He becomes the third-most expensive signing at United behind Paul Pogba and Harry Maguire. There are reasons why the 20-time Premier League champions paid such a hefty fee to bring Sancho back to Manchester.
Jadon Sancho has a lot to offer as an attacker. The commercial value of the move and the tactical advantage solves a lot of issues for United boss Ole Gunnar Solskjaer. Khel Now takes a look at five things Sancho's arrival offers United.
5. Squad depth
One of the clear areas where United needed reinforcement is their squad depth. Lack of options on the bench, cost Solskjaer a lot of points last season. This does not mean Sancho will warm the bench, but rather he will give Solskjaer the opportunity to rotate.
The UEFA Europa League final against Villarreal is one of the many examples where the tactician did not have enough strength on the bench to change the game. Solskjaer ended up not making any substitution in regulation time. It was the same scenario in other competitions too. Sancho's inclusion will allow Solskjaer to use players like Mason Greenwood and Daniel James as impact substitutes from the bench and add to the attacking options.
4. A new dimension
Manchester United's attacking moves became quite predictable last season. Most of their forward ventures came from the left wing, where Marcus Rashford and Luke Shaw built a partnership and combined well. However, this was also due to the lack of a recognized right winger in the team.
Historically, wingers have thrived at United. Hence, the partnership between Jadon Sancho and Aaron Wan-Bissaka will be vital to the club. The latter improved his attacking output last season, with four assists. He also created at least two big chances per game in the Premier League. Now, with Sancho among the ranks, the opposition will need to be alert on both wings while defending.
3. Mason Greenwood's transition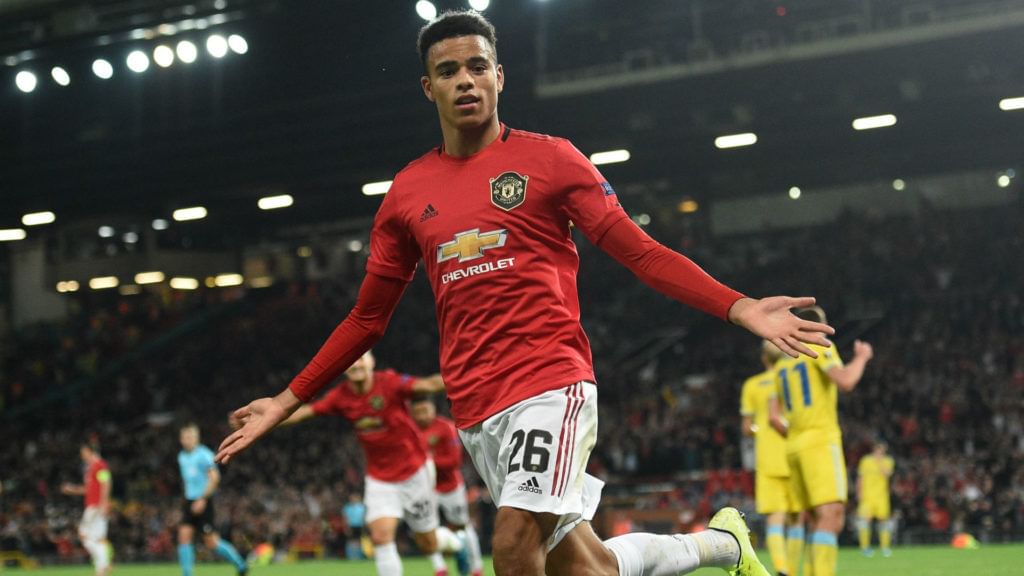 Academy graduate Mason Greenwood has predominantly played on the right wing in his early days in the United senior team. He has the knack of cutting inside and uses his ambidextrous ability to shoot with either foot. However, it is widely accepted that Greenwood is most effective as a center-forward. His utilization on the right flank came down to the fact that there was no natural option there.
With Sancho's arrival, Greenwood's transition to a center-forward role can finally take place. He is a lethal operator in the central role since he can go in either direction to take a shot. Playing alongside Edinson Cavani will further improve his movement and finishing.
2. More creativity
Another great aspect of Sancho's gameplay is his creativity. The Englishman assisted 64 times for Borussia Dortmund in all competitions. On top of that, he also has 50 goals for the Bundesliga outfit across all competitions.
A large chunk of the creative responsibility fell on Bruno Fernandes and Marcus Rashford at United last term. In all competitions, the duo produced 17 and 15 assists respectively. Throw Sancho into that mix and it makes a deadly cocktail for opposition defenders.
1. The next step in re-build
Manchester United's acquisition of Jadon Sancho is a huge statement of intent. The club finished second in the league table last season to Manchester City and must go a step further next term. Not to forget, their noisy neighbours will add more firepower to their star-studded squad under Pep Guardiola. Liverpool will also improve further with the return of Virgil van Dijk from a long-term injury.
The Red Devils have not won the league since 2013 and must complete re-building their squad under Solskjaer to reach new heights.
Signing Sancho should help the team contest the various cup competitions stronger, which could add more silverware to their record. The tactician cannot afford to go another season trophyless. These are the final stages in MUFC's squad re-build since Sir Alex Ferguson retired.
For more updates, follow Khel Now on Twitter, Instagram and Facebook.