The Blue Tigers will look to qualify for the SAFF Championship final with a win on Wednesday.
India will face host nation Maldives in their last SAFF Championship 2021 group stage game on October 13. They currently stand third on the table with five points from three games. Despite the win against Nepal, one could say that the Blue Tigers have delivered sub-par performances so far.
In other words, nothing but mere statistics have been convincing for Igor Stimac and his men; which is of course redundant when you consider the final result. Hence, Wednesday's fixture will have a long-lasting impact on Indian football as a whole.
The Maldives, on the other hand, have shown glimpses of their capabilities under head coach Ali Suzain, so far. Despite the opening loss, their performance was significantly better than that in the FIFA World Cup Qualifiers. Further on, they dominated the second game against Bangladesh winning 2-0, thereby pushing themselves above India in the standings. Such resilience, along with being the defending champions and host nation, certainly gives them an edge.
Ahead of the India-Maldives clash, we take a look at five key battles that could take place on Wednesday.
5. Gurpreet Singh Sandhu Vs Ali Ashfaq
The Indian goalkeeper is certainly the country's best choice in goal. Although he didn't have to do much against Sri Lanka, he was vital in the opener against Bangladesh. He denied the Bengal Tigers multiple times that day – especially the crucial first half save against Biplu Ahmed that retained India's lead.
However, in the clash against Sri Lanka, he didn't participate much, except during his involvement in some long balls to Sunil Chhetri and Udanta Singh. Regardless, he's the most consistent Indian player defensively, which he's proved time and again, both at club and international level.
That said, the India custodian will be up against Maldives' all-time top scorer Ali Ashfaq on Wednesday. Aged 36, he's still the biggest attacking threat for the Red Snappers. He's one of their most consistent strikers and was the same even during Maldives' poor run in the FIFA World Cup Qualifiers. Ashfaq is an agile left-footed striker, capable of creating goalscoring chances for himself. He is also Maldives' all-time SAFF Championship top scorer; a record to which he added again recently by scoring against Bangladesh.
Therefore, watch out for this duel.
4. Seriton Fernandes Vs Hamza Mohamed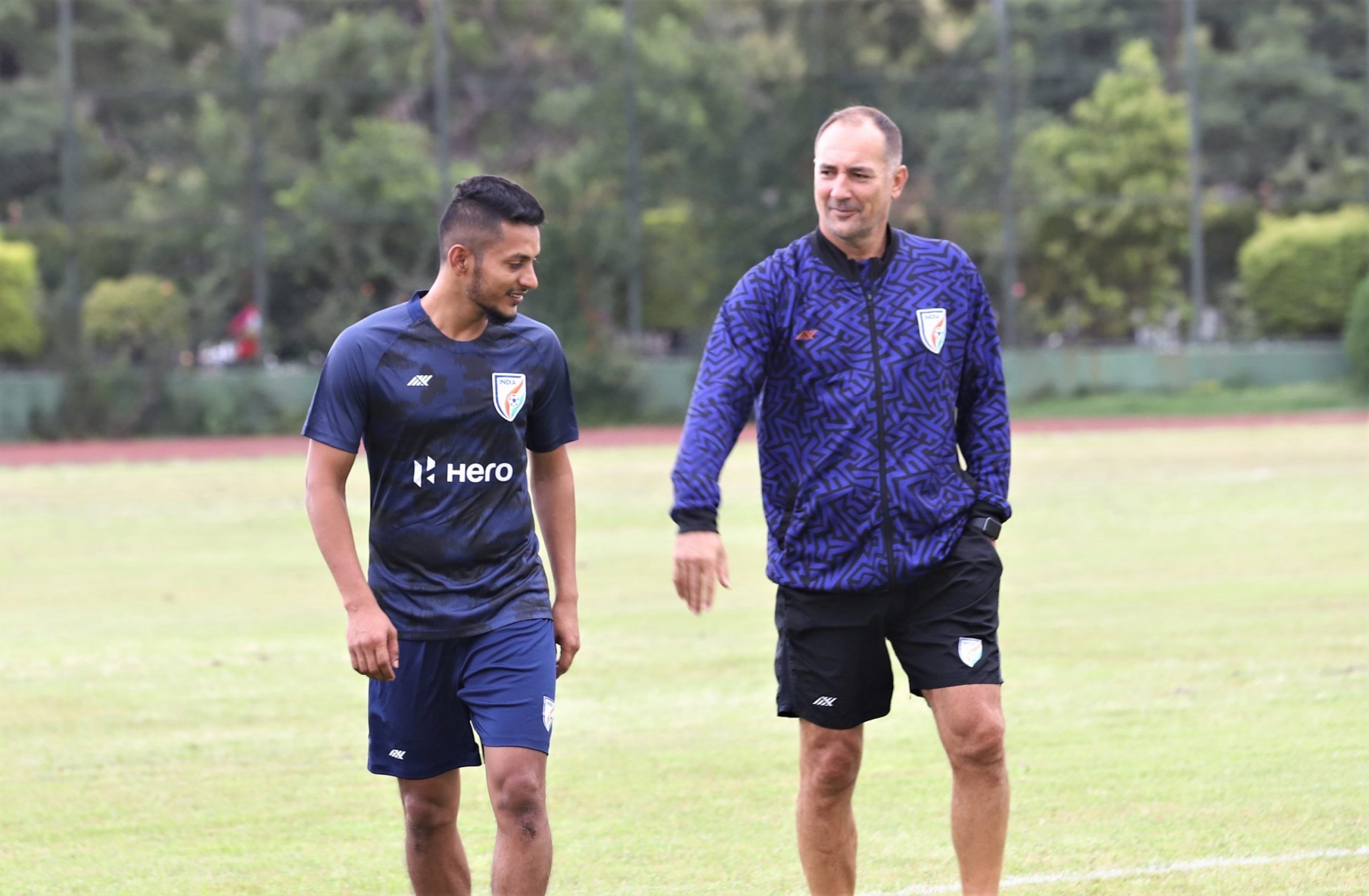 In the last game against Bangladesh, Hamza Mohamed scored a wonderful overhead goal that sent the home fans into a frenzy. Not just that, he was also pivotal in spearheading the Maldivian attack that day. The 26-year-old also started all three games for his side Maziya S&RC in the AFC Cup, scoring one goal and assisting another. Naturally a winger, he's known for his brilliant runs and has been in top form for both club and country.
He, therefore, will put quite a lot of responsibility on India's Seriton Fernandes, who also produced a commendable performance on the right flank against Sri Lanka. The FC Goa star looked good both while moving forward and at times at the back. If he replicates this or improvises, it would make him a crucial asset in containing an in-form attacker in Hamza Mohamed.
3. Mandar Rao Dessai Vs Ibrahim Mahudhee
Ibrahim Mahudhee is a crucial attacking midfielder for the Maldivian side. He's currently being fielded on the right at the SAFF Championship. He's mainly a playmaker, but has also managed to score twice in his 16 international caps for the Maldives. He operates well around the box and has been a crucial link in the Red Snappers' attack.
However, Mandar Rao Dessai's addition for India against Sri Lanka and Nepal was a brilliant one on the left flank. The 29-year-old was one of the standout players for the Blue Tigers. His movement, crosses and long balls made him look like the ideal Indian left wing-back. With that, he also brings the potential to neutralize Madhudee's runs. So, if the India full-back manages to pull this off, it could be pivotal in cutting off a major attacking outlet for Maldives.
2. Udanta Singh Vs Haisham Hassan
Udanta, the 25-year-old agile winger was the best player in the opener against Bangladesh; having setup Sunil Chhetri's goal. His forward runs and obvious pace got India off to a brilliant start that day. As a result, he looked like the only ray of hope for the Blue Tigers in that game. That said, he's had a somewhat inconsistent campaign so far and wasn't really himself in the second game against Sri Lanka. Nonetheless, he remains one of the country's best wingers and has shown constant signs of improvement, especially since Bengaluru FC's AFC Cup journey earlier this year.
On Wednesday, he'll probably come up against Club Eagles' defender Haisham Hassan; whom he recently played against in the AFC Cup Qualifier. This will be especially so if Igor Stimac decides to swap Udanta and Liston Colaco, as he did against Bangladesh. Hassan has been a vital left-back for the Maldives, especifically in the last game, when he displayed an extraordinary defensive performance.
Hence, expect another major battle in that area.
1. Sunil Chhetri Vs Mohamed Faisal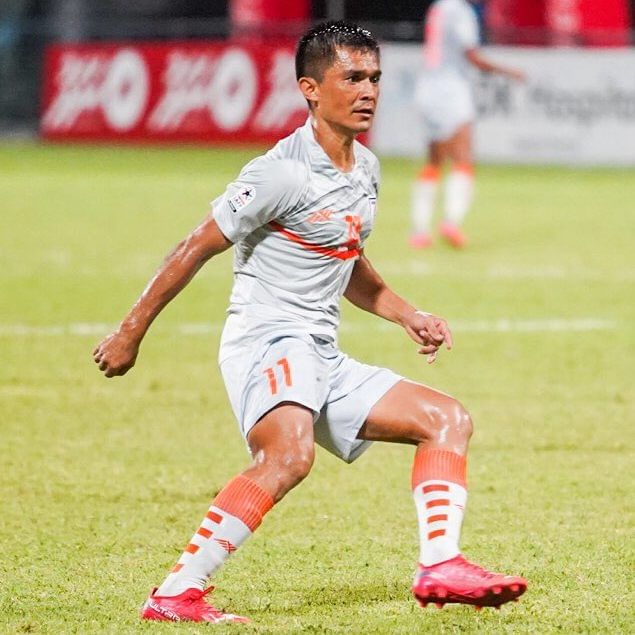 It goes without saying that Sunil Chhetri has been India's best player in the tournament. The Indian captain has proved this time and again. Aged 37, he still possesses striking and match-winning abilities – something that he displayed in the opening game against Bangladesh and against Nepal. However, he had an off day against Sri Lanka, where things simply didn't work in his favour.
Regardless, the talismanic captain has the capabilities to capitalize on the slightest of openings created – for instance, the conversion of Udanta's ball into the back of the net, against Bangladesh.
On Wednesday, the India skipper will come up against the Maldives' goalkeeper Mohamed Faisal, a 33-year-old who boasts tremendous experience and has over 250 appearances to his name. He also led the Maldives to the SAFF Championship 2018 title; ending the tournament as the Most Valuable Player. He's been the national side's first-choice keeper since 2017.
Therefore, Chhetri will lock horns with a seasoned veteran, and hope that things work out in his favour this time around.
For more football updates, follow Khel Now on Twitter, Instagram and join our community on Telegram.