Quick Reads
Five reasons why Erik ten Hag would be perfect Man Utd manager
By

Siddarth Kharga
The current Ajax boss is tactically the perfect man to replace Ole Gunnar Solskjær.
The recent 5-0 thumping of Manchester United, at the hands of their arch-rivals Liverpool at Old Trafford, was a reality check. United's performances this season have been utterly disappointing. They have had to depend on their stars to produce a moment of brilliance. The Red Devils are still miles behind the likes of Manchester City, Liverpool and Chelsea. The frustration venting out of the red half of Manchester is evident.
With the media and fans questioning the tactics of manager Ole Gunnar Solskjær, the question arises as to who will take the hot-seat at United once he is removed.
While there has been debate over the likes of Antonio Conte, Zinedine Zidane and Brendan Rodgers, Erik ten Hag might be the perfect man to replace Solskjær at the helm. However, United might have to wait a year to get him. This is because Ten Hag stated that he will not be leaving Ajax in the middle of the season. But, it could be worth the wait.
Here are the five reasons Ten Hag could make United great again:
5. Incredible run with Ajax
Erik ten Hag is making a statement in his own right at Ajax and him being linked to clubs like Manchester United is not surprising. He has already won two Eredivisie titles with the Amsterdam-based team and had an incredible run to the 2018/19 Champions League semi-final, with a fairly young and inexperienced team.
The recent demolition of a very good Dortmund team just shows us how good of a tactician he is. Ajax have scored 11 goals in three Champions League games, playing ultra attacking football. The Dutchman is one of the most exciting managers in Europe and United should move quickly in order to get him.
Ten Hag replicates Guardiola's style of play, laying emphasis on possession and high tempo football. The Dutch coach has learnt a lot from his days as an assistant to Guardiola at Bayern Munich. He has exceeded expectations at Ajax and his style of play is what United fans have been demanding.
4. Reunion with Donny van de Beek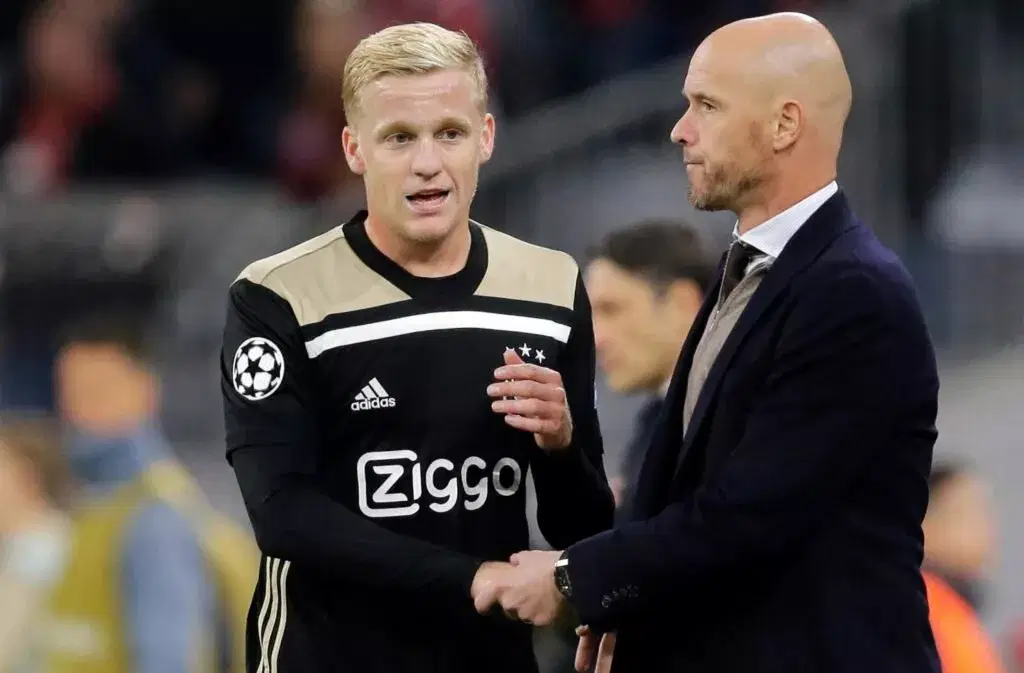 Donny van de Beek has been more of a bench warmer than a regular starter at Manchester United after his move from Ajax. His appearances in the red and white have been limited and he has only started one Premier League game this season. He seems all set for a move away from the club for more game-time.
Van de Beek was a different player under Erik ten Hag at Ajax. He was pivotal in making the team tick and driving them forward. He was part of the young Ajax team that sent tremors all over Europe in 2018/19. His flexibility is what makes him unique. He can play across the three positions in the middle of the park.
The Dutch international would profit if Ten Hag is to be appointed the manager. With Paul Pogba refusing to commit his future to the club, Donny could be his ideal replacement. Van de Beek could be Ten Hag's man on and off the pitch, helping the players adapt to the Dutch tactician's style of play. If Ten Hag could get the midfielder up and running, then Manchester United fans are in for a treat.
3. The transitional phase
Erik ten Hag is the perfect manager to carry Manchester United through their transitional phase. Ten Hag has been in familiar territory many times at Ajax. With their policy of selling most of their top talents to European powerhouses every season, the Dutch manager has done a remarkable job to replace them and also keep the team competitive in Europe.
Manchester United have been in transition ever since Sir Alex Ferguson retired. The likes of Jose Mourihno and Louis van Gaal have failed to carry them through. Ten Hag, given the squad at United's disposal along with the funds available to him, could help United take the next stride.
2. Setting players free
United have failed miserably in getting the best out of their players. Marquee signings like Alexis Sanchez and Angel Di Maria have moved on to other clubs after their unsuccessful stints. The likes of Pogba, Antony Martial and Fred have failed to take their game to the next level.
Under Erik ten Hag the same players would flourish given his style of play. The likes of Pogba and Van de Beek will be set free. Ten Hag would allow them to dictate the play. Bruno Fernandes would have the freedom to roam about in attack in order to receive the ball and take advantage of his brilliant passing range.
Jadon Sancho, Mason Greenwood and Marcus Rashford will be given the nod to take on defenders as well as press them high up. Cristiano Ronaldo would flourish in the No. 9 position given the number of chances Ten Hag's teams create. Raphael Varane with Harry Maguire and David de Gea could form a formidable partnership at the back. On the other hand, the full backs would be asked to push further up the pitch and it could get the best out of them.
1. The United philosophy
During the times of Sir Alex Ferguson, Manchester United came to be known for their attacking style of play. This was ingrained into the club's DNA. We saw glimpses of the old United in the early days of Solskjær. However, all the four managers post Sir Alex, including Solskjær, have not stuck to United's philosophy and instead adapted a conservative style of play.
The United faithful have long been craving for total football and Erik ten Hag could be the man to satisfy them. Ten Hag modernizes with the game and can easily adapt to any situation. He plays high tempo, high pressing and tiki-taka football. The tactician is the embodiment of United's philosophy. His ultra attacking style and ability to tweak things when needed, shows his knowledge about the game.
For more updates, follow Khel Now on Twitter, Instagram and Facebook.