World Football
Why FC Barcelona's Pedri is a generational talent
Dutchman Ronald Koeman has used him multiple times as a mezzala and trequartista, which speaks volumes of the 18-year-old's talent.
Despite a below-average season, Barcelona find themselves within touching distance of pole position in the LaLiga 2020-21 table. The bulk of the credit goes to the brilliance of Lionel Messi, but the Blaugrana skipper has found an able teammate in Pedro Gonzalez Lopez, better known as Pedri.
Just 18 years of age, the youngster arrived from Las Palmas with much fanfare and promise and he has lived up to it! Making his league debut for the club on September 27 in a 4-0 thrashing of Villarreal, the Spaniard has gone on to cement his place in Ronald Koeman's plans.

A regular presence in Barcelona's starting XI is no easy feat for an 18-year-old, and he is heavily beneficial for Koeman due to his versatility and work-rate. The Tegueste native has appeared in 32 LaLiga fixtures, including eight substitution appearances. He has also scored two goals and registered three assists.
Though PSG routed Barcelona 5-2 on aggregate in the round of 16, Pedri made his mark in the Champions League, with seven appearances, a goal and an assist.
In the Copa del Rey which Barcelona won, Pedri appeared in six matches, registering two assists. During the ongoing season, he also appeared twice in the Supercopa.
Role at Barcelona
Koeman has had a tough start to his time in Barcelona, but has managed to show everyone Pedri's potential. Usually using him as an inverted winger, the former Las Palmas player has shown his good passing and dribbling skills. The Spanish international has also been used as a mezzala by the Dutch manager due to his outstanding vision and high work-rate.
Despite his non-dominating physicality, the youngster always tracks back to defend during games but needs to improve his interceptions. With Koeman occasionally using him as a mezzala, he has also featured as a wide central midfield player, that drifts to the flanks.
Other than the mezzala role, Koeman has also used Pedri as a trequartista due to his versatility. A trequartista is a playmaker, who positions himself behind the forwards, and in front of his team's midfield. Due to his excellent vision and pace, he has been highly beneficial in that position along with his agility, ball control.
In the ongoing season, Koeman has usually preferred three formations; 4-3-3, 3-4-2-1 and 4-2-3-1. In the 4-3-3 formation, he has mainly featured as a mezzala. In the 3-4-2-1 formation, he has been used as a central midfielder or as an inverted winger. It is in the 4-2-3-1 or 3-4-1-2 formation, that the Dutchman uses him as a trequartista. He constantly rotates positions with Lionel Messi and Antoine Griezmann.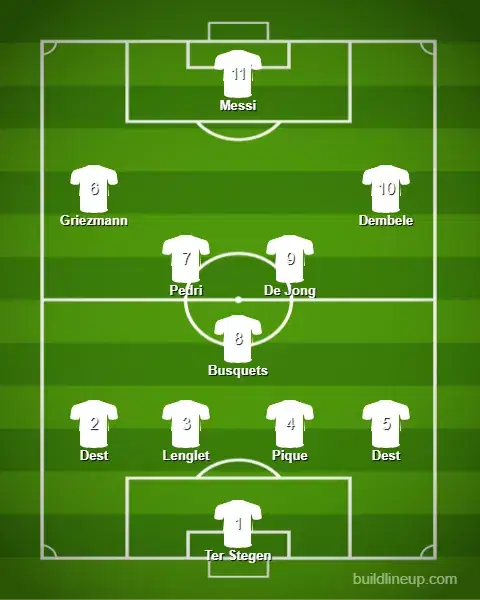 The rotations are done to confuse opposition defenders and to prevent man-marking.
He also shifts wide in plenty of attacking moves, and then drifts into more central areas. This leads to more creativity and increases pressure on opposition central midfielders and centre-backs. In simple words, it destabilizes an opponent's shape.
Koeman has also used him in the double pivot role for the 4-2-3-1 formation with Frenkie de Jong. In this tactical template,the manager assigns him to have a more prominent role in possession, rather than his more usual attacking role. His positional awareness makes him a reliable player in this position, in front of Barca's defence. In this formation, Koeman uses him to transfer the ball to the team's attacking players.
Playing style
His strengths lie in his amazing passing range and defensive contribution. Despite the good signs of his talent, he really needs to work on his finishing skills and tackling. Due to his lean physicality, he is usually second-best in aerial duels.
His usual style of play revolves around short passes, which is a perfect match for Barca's DNA. Other than his defending work-rate, he has an eye for layoffs, which puts him on the receiving end of fouls.
The youngster is also technically gifted and thus is on the receiving end of passes from teammates. He is also capable of finding space in crucial spaces. The one thing which keeps him apart from other players of his age is his ability to scan surroundings and pre-mediate moves. His way of changing pace while carrying the ball at speed has received plenty of praise from pundits and fans.
One of the main reasons, Pedri has been regularly used by Koeman is his excellent dribbling ability. As a possession-based outfit, Barca usually faces teams with low-block defences. The teenager's excellent dribbling skills make life easier for them in these games
His accurate passing complements well with the team's other midfielders like Sergio Busquets and Frenkie de Jong. Despite his passing skills, Pedri needs to work on his shot accuracy. Most of his attempts on goal have not been on target this season. In the ongoing LaLiga season, he averages 0.6 shots per match until now, with 0.2 off target.
His need to always search for space and seek passes or distribute them between the lines has awarded Barcelona with a lot of goal-creating chances. He could have a bigger impact with more freedom next season. The managers also trusts him with changing the team's tempo and has received plenty of praise with his defence-splitting passes.
The youngster is well-adept in receiving diagonal passes, vertical passes, lateral and also half-turn ones.
Conclusion
Pedri is an important part of Barcelona's rebuilding process. He could see the team being built around him in the coming seasons after the departure of Messi. Compared to his age, there are few players in Europe's biggest clubs with such an impact. Even Manchester City's Phil Foden was a fringe player at this age.
Foden was 18-years-old during the 2018-19 European football season. He appeared in only 13 Premier League matches, scoring one goal. Out of the 13 games, 10 were as substitute appearances. Foden is now considered to be one of the best attacking midfielders of his age.
Pedri is still yet to justify his 'generational talent' tag, which he has received from plenty of fans. To fulfill that potential, the midfielder needs to increase his goal-scoring and assists rate, which will definetely happen in a year or two with age.
For more updates, follow Khel Now on Twitter, Instagram and join our community on Telegram.
posted in :