The Ligue 1 outfit are looking to find the missing pieces to their Champions League dream.
Paris Saint-Germain announced the signing of Sergio Ramos on a two-year contract. Ramos' transfer is one that has left the football community in shock, as not seeing him in a Real Madrid jersey would certainly be odd. The Los Blancos legend has reportedly signed a €12m a year contract. An amount that is almost the same as what he made at Real Madrid.
The 35-year-old completed his medical a few days ago as well. It is reported that PSG's medical team were impressed by the condition Ramos was in. The defender struggled for fitness in the 2020/21 season. However, with a strong pre-season in the bag, he should play a key role in PSG's challenge for trophies.
Ramos adds the much-needed leadership and experience to guide Mauricio Pochettino's young side. The Spaniard was a player in-demand, with the likes of Chelsea and Manchester United also interested. There is no doubt about the quality of the veteran. He will surely bring a lot to the table for PSG.
Khel Now takes a look at five reasons why Sergio Ramos will make a good fit at PSG:
5. A fitting addition at the back
PSG had one of their most successful seasons under Thomas Tuchel in 2019/20. They won the domestic treble and finished runners-up in the Champions League. At the heart of a lot of their success was the one and only, Thiago Silva – the rock of the PSG side. Calm and composed at the back, Silva was an important leader for the team.
His true importance was felt after he moved to Chelsea last season. PSG looked incredibly depleted at the back. Moreover, they often lacked defensive organization as well. Marquinhos was withdrawn from his defensive midfield role to that of a central defender, which arguably ruined the team's balance.
Ultimately, it was largely an unsuccessful season for the Paris side, as they failed to win the league and the Champions League. The absence of Thiago Silva played an important role. Sergio Ramos has the potential and profile to fill that gap fittingly. A fit 35-year-old leader at the back is the need of the hour for PSG. Ramos boasts the experience of having played amongst the world's biggest stars and has also shown the ability to lead them. At PSG, these qualities are exactly what is needed and Ramos could be the ideal replacement for Silva.
4. Workload management
It is safe to say that Sergio Ramos' injury record over the last decade is not worrisome. However, he did struggle for fitness in the 2020/21 season. The Spaniard made only 21 appearances for Real Madrid in all competitions. This was his lowest in 15 years at the club.
While his most recent season poses some uncertainties, Sergio Ramos is an immensely fit defender. PSG's medical staff shared the same sentiments after his medical. Journalist Mohamed Bouhafsi reported that PSG's medical staff were blown away by Ramos' incredible physical shape during his tests.
Nonetheless, Sergio Ramos is at a stage of his career where he needs to manage his minutes to continue playing at the top level. Thiago Silva's stint in the Premier League is a good example. Chelsea have managed Silva well to cope with the intensity of the Premier League. Ligue 1 provides a good platform for Ramos to take a similar approach.
Also Read: Top 10 highest goal scoring defenders of all time
3. A man for the big stage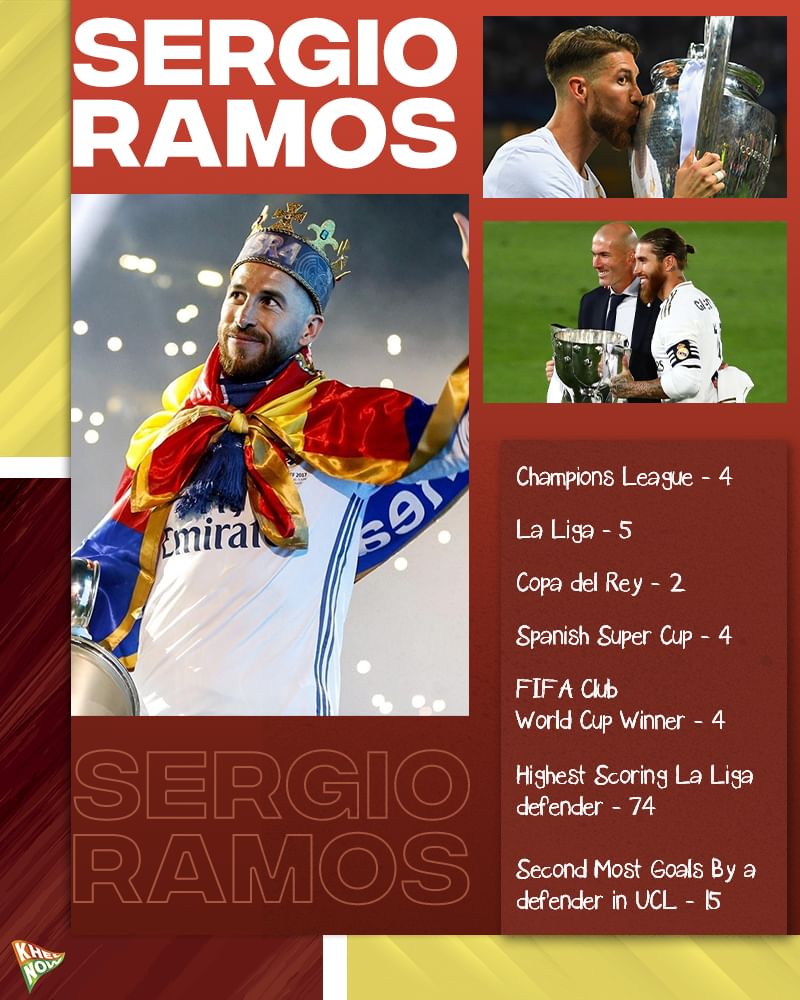 Time and time again, Sergio Ramos has proven that he is a man for the big moments. He scored some very important goals for Real Madrid. His aerial threat from corners would be rewarding for players like Neymar and Angel Di Maria.
Over the years, we have seen PSG struggle to produce moments of brilliance in difficult times. Ramos, on the other hand, has arguably done a doctorate in the same. The Spaniard is a player who one can always count on. He is rarely going to let his team down when they need him the most.
Also Read: Five players with most own goals in Premier League
2. Tactical flexibility
Ramos' addition will provide Pochettino with a lot of tactical flexibility. An aerially dominant, ball-playing centre-back, Sergio Ramos has the traits to fit in at PSG. The signing of Achraf Hakimi alongside Ramos proposes that PSG could transition to an increasingly popular back-three shape.
After the departure of Thiago Silva, PSG were incredibly depleted at the back, both In terms of experience and personnel. That is why a back three was completely out of the equation. However, the signing of a world-class centre-back and wing-back creates options for Pochettino.
Having said that, PSG could very well stay in a familiar four at the back shape. Sergio Ramos could slot in alongside Presnel Kimpembe at the centre and create an opportunity for Marquinhos to retain his defensive midfield spot. Leandro Paredes has struggled for form for large parts of last season. Therefore, Marquinhos' return to a midfield role would bode well for PSG.
The signing of Ramos on a free transfer has opened up a lot of options for Pochettino. It allows him to be tactically pragmatic and flexible. He can take a game-by-game approach and setup differently.
1. Winning mentality
PSG have had some incredible talent and competent managers over the years. However, their dream of winning the Champions League remains elusive. From one lethal duo of Zlatan Ibrahimovic and Edinson Cavani to another of Neymar and Kylian Mbappe, the Champions League dream remains a bridge too far.
With attacking talent already at their disposal, PSG have been smart about their business in this window. They have signed Giorginio Wijnaldum, Gianluigi Donnarumma and Sergio Ramos on free transfers. They also picked up Achraf Hakimi for €71m. A mix of immensely talented and experienced players, that will help the club achieve its dream. As for Ramos' recruitment, what's most impressive is his winning mentality.
It will only be a matter of time before Ramos' influence takes over the dressing room and the hunger to win a Champions League becomes greater. Sergio Ramos has five La Liga titles, four Champions League titles, Two Euro Cups and one World Cup as well. One of the most decorated players of the 21st century, Ramos' winning mentality must rub off on his teammates.
After Ramos' announcement, the Spaniard said that he feels that PSG is "the best place to keep on dreaming and the best club to keep on winning". Ramos has barely stepped into the PSG camp, but his drive to win trophies and compete is never lost.
The 2021/22 campaign could be the one that PSG have waited for so long. Pochettino took Tottenham to a Champions League final. Therefore, one can only wonder what he can deliver with a squad like PSG's. Ramos will be itching to get a fifth European title to his name, and he will certainly fire this Paris team up to go all the way.
For more updates, follow Khel Now on Twitter, Instagram and Facebook.