The league has seen some of the most exciting talents in the last seven seasons.
The Pro Kabaddi League has put forth a plethora of commendable performances from all-rounders over the past seven seasons. These players are the rare species who have mastered a particular skill, but can still carry out other duties within the game.
Here, we will be having a look at five of the best such players to have played in the PKL.
Their selection is based on the statistics they have generated and also the impact that these players have been able to deliver on a consistent basis for their respective sides.
5. Rajesh Narwal
Rajesh Narwal is probably one of the most balanced all-rounders to have plied his trade in the Pro Kabaddi League. He is a proficient raider, whose specialty rests in the running hand touches that he is able to pull off consistently.
38.97% of his raids have been successful, while he has also bagged 284 points through them in total. In 92 matches, Narwal has also earned 113 tackle points, which includes eight super tackles and three high fives. He has a tackle success rate of 39.1%.
The 85 points that he notched up in 16 matches for the Jaipur Pink Panthers in the fourth season of the league was the highest by an all-rounder in that particular campaign. Narwal was also instrumental in Jaipur's title victory in the very first season of the PKL.
4. Meraj Sheykh
Meraj Sheykh burst onto the scene with his trademark scorpion kick that made sure that he garnered immense plaudits from viewers.
He is a dynamic raider who is capable of surprising adversaries on the mat with his swift skills. Statistically too, his points are more inclined to the offensive part of the game.
Meraj has registered 17 super raids and six super 10s, which shows that he could possibly be a reliable secondary raider in the team.
On the other hand, he has gained 54 tackle points with a strike rate of 36.24% on the defensive front. This showcases that his stronghold over both aspects of the game makes him an immensely valuable player for the team.
3. Rakesh Kumar
The veteran Indian kabaddi player, Rakesh Kumar is an Arjuna Award recipient. He was a well-renowned professional in the sport even before the advent of the PKL.
Rakesh's statistics indicate that he has been an extremely dependable man to possess from a defensive perspective. He has a tackle success rate of 49% and has accordingly earned 74 tackle points through his 151 attempts.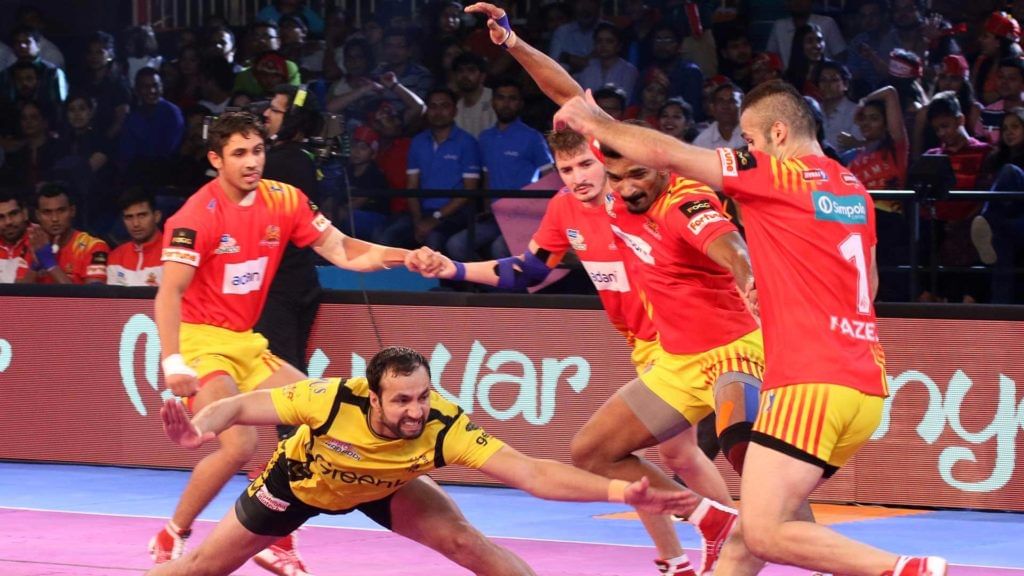 This includes six super tackles and a solitary high five. Overall, he is someone who can deliver an impactful punch when the situation is apt for the same. He collects 3.38 raid points on an average per match and has won 186 of them so far.
It needs to be noted that the league commenced when Rakesh Kumar was done with the better part of his career and was into his 30s. His role in the side possibly comprised much more of guiding the younger players and the management also utilized him according to the demands of the situation and not necessarily on a consistent basis like the other players.
Hence, the numbers that he has racked up given those conditions are highly laudable.
2. Sandeep Narwal
The brilliantly built all-rounder has been one of the shining lights of the Pro Kabaddi League ever since its inception. He could be said to be more of a defender than a raider, as the number of points that he has bagged through the former are considerably higher.
However, eleven super raids and a super 10s also showcases that he is no novice in that aspect either. It's just that Sandeep's role and contributions have been availed more defensively.
He has made 28 super tackles and 17 high fives, with a tackle success rate of a whopping 54%.
Overall, he has 310 tackle points to his name. Sandeep's robust built allows him to block raiders front on and this is a clear testament of his physical stature and the skills that he has developed through that.
1. Manjeet Chillar
Manjeet Chillar has undoubtedly been amongst the topmost players to have played in the Pro Kabaddi League. The fact that he is an exceptional all-rounder adds a further feather to his cap.
He has claimed an excellent 339 tackle points with a success rate of 54.58%. He has also won 224 raid points, though his success rate is 31.15%.
The 33-year-old has also made 15 super tackles and 23 high fives, with the numbers boiling down to him earning three tackle points on an average in every match. Like Sandeep Narwal, Manjeet's defensive block is a difficult barrier for the opposition team's raiders to defy and he has used it to his team's benefit time and again.
Moreover, he carries out the responsibilities of a senior player extremely well and was also adjudged the Most Valuable Player of the second season of the league, when he was playing for Bengaluru Bulls. Manjeet Chillar was also accorded with the Arjuna Award in 2015.