Igor Stimac will face a dilemma over team-selection considering the alarming depletion in defence.
After two draws and a loss, India face their SAARC rivals Afghanistan in their fourth encounter of the second round of the World Cup Qualifiers. Afghanistan sit in third place on the Group E table, a place above India, having garnered all three points in a 1-0 victory against Bangladesh.
The Lions of Afghanistan, fondly called Širhâi Khorâsân in the local language, will mount a challenge in neutral conditions and India will need to find new goalscoring ways, a problem they have had since the 1-4 mauling of Thailand in the opening encounter of the AFC Asian Cup 2019 in January. 
With coach Igor Stimac finally getting closer to his first-choice starting lineup with every passing game, it will be interesting to see how he sets up the first XI for the upcoming encounter. It also remains to be seen how long the fans back him, given the team's catastrophic defeat against Oman and underwhelming performance against Bangladesh. 
Coaches Corner
Anoush Dastgir (Afghanistan)
"The players are focused in training. We know we are up against a tough opponent. They played really well to draw with Qatar and against Oman, they lost, but led 1-0 at half-time. So, we know that they are a good team," said Anoush Dastgir, head coach, Afghanistan Football Team.
Read full pre match press conference here.
Igor Stimac (India)
"We are in the process of building up a new Indian team for the future and we are concentrating on the World Cup 2026," said Igor Stimac, head coach, Indian Football Team.
Read full pre match press conference here.
Afghanistan Vs India Tactical Preview
Afghanistan Vs India: About The Teams
India
India, after impressing against Oman and Qatar in the first two qualifiers, heavily under-performed against Bangladesh in the last encounter at the Salt Lake Stadium. They needed a late equalizer from defender Adil Khan to earn a solitary point against the then 187th ranked team.
India now stand at the fourth spot on the group table, having earned a point apiece against Qatar (goalless draw away) and Bangladesh (at home). They lost their game against Oman 1-2. 
With the Indian Super League season having started, the Blue Tigers now have a congregation that's match-fit and will hit the ground running. Stimac needs to ensure the right tactics are put in place and his forwards put on their scoring boots.
Sunil Chhetri recently scored a thunderous strike against Chennaiyin FC and Farukh Choudhary has been in fine form too. It will be interesting to see how the midfield helps the forwards. Manvir Singh, too, may find himself in the starting XI. 
Youngster Narender Gahlot could be used beside Adil Khan in the left centre-back role. Yet, Rahul Bheke and Mandar Rao Dessai are expected to continue in their positions at right and left-back respectively. 
In midfield, Anirudh Thapa may get the company of Brandon Fernandes and  Sahal Abdul Samad. Meanwhile, Chhetri could play as the centre-forward.
Udanta Singh down the right flank and Ashique Kuruniyan on left, can be expected to complete the outfield composition. Gurpreet Singh Sandhu will guard India's goal. 
Afghanistan may have garnered three points in the game against Bangladesh, but they were battered 3-0 in their last outing against Oman in the qualifiers. The Lions are coached by Anoush Dastgir, who may get mistaken for a footballer himself. At just 29, Dastgir is one of the youngest managers of a national team in world football. A former defender who could also play as a midfielder, Dastgir knows his team inside out and knows how to bring the best out of his squad. 
Ovays Azizi will take his place under the bar for the hosts, protected by Zohib Islam Amiri and Najim Haidary. Hassan Amin will take the role of left-back and at right-back, Omid Popalzay can be expected to be deployed. Skipper Farshad Noor, Adam Najem and Noor Husin complete a three-man midfield that sits deep and takes a lot of defensive responsibility. 
The No. 10 role is aptly given to Adam Najem, the 24-year-old star creator, who plies his trade for Memphis 901 FC in the United States. Najem has had a fine year so far for club, scoring four times in 29 appearances, while creating numerous chances for his team. Given a little bit of space to create something, he can find his forwards with aplomb. 
Zubayr Amiri and Jabar Sharza complete the attacking front along with Faysal Shayesteh as the centre forward.
Tactical Analysis
India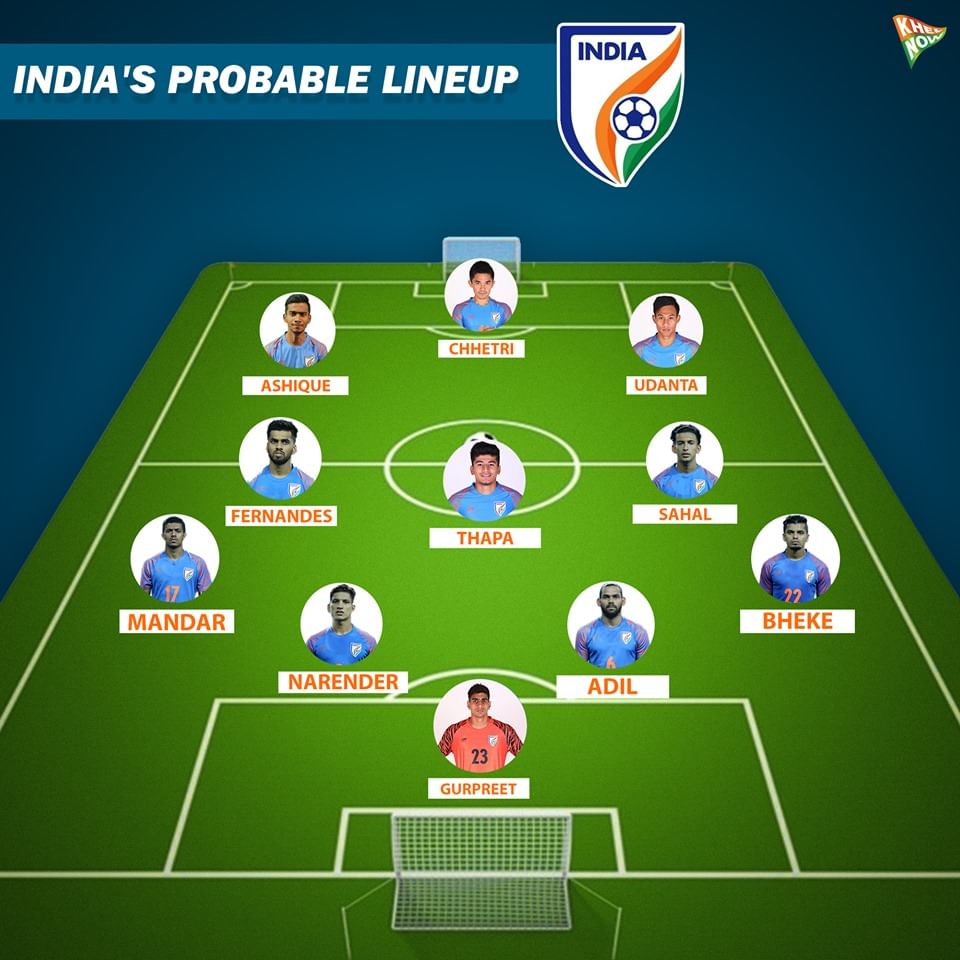 India's Probable Lineup Vs Afghanistan
India, under its Croatian manager, have usually played the 4-2-3-1 system and are expected to replicate the same against Afghanistan. Gurpreet Singh Sandhu has had some fine displays, while his challenger, Amrinder Singh, has conceded four times in the last two encounters at club-level. 
Stimac wants to play out from the back and Golui and Adil can find passes with regularity, both centrally as well as to the full-backs. India need to find more creativity and venom between the lines. Thapa's movement in the centre of the pitch and his ability to find the wingers and forwards will be key. Rao Dessai, too, will need to find his rhythm, something he has done in recent times. 
Sahal Abdul Samad, the expected No. 10, will need to produce more than just a dribble here & there or a solid pass. He needs to find spaces in the box, and ensure more forward passes. His dropping down may create space at times, but Chhetri's coming inside or dropping deep should also influence his positional play and touch. 
Chhetri can be expected to start on the left, something he does at his club Bengaluru FC and the tireless Farukh Choudhary should be given the No. 9 role.
Choudhary has been pulling defences wide in tandem with Sergio Castel at Jamshedpur FC and Udanta Singh should ensure his crosses reach the right areas in the box. Pronay Halder, Raynier Fernandes or Vinit Rai should define the kind of midfield Stimac is aiming for. 
Halder is the no-nonsense type, parallel passer who will win headers in the box. He can be expected to nullify the effect of Adam Najem in India's half of the midfield. He can also spray good, long passes on a good day and his positioning has been fairly sound at ATK. Vinit, on the other hand, is a close passer, but is more horizontal than vertical. He's better at close control and cramped up spaces and has played beside Thapa at several age-group levels for a long time. 
Alternatively, Brandon Fernandes can be expected to start at the left and Sunil Chhetri will then don the role of No. 9, with everything else being unchanged.
This will allow more fluidity and creativity to the side, proven by Fernandes' regular playmaking abilities he puts on display at FC Goa. If this team is played, Chhetri will have to do a lot of running and both Sahal and Brandon will have to play close to each other. 
India will need to be careful on set-pieces and should not be too lousy in their passing in and around their own box. Time and again, these two properties have hurt India, and they should make amends. Otherwise, if a defensive midfielder like Halder is played beside Thapa, chances of a central attack seems dull. 
Afghanistan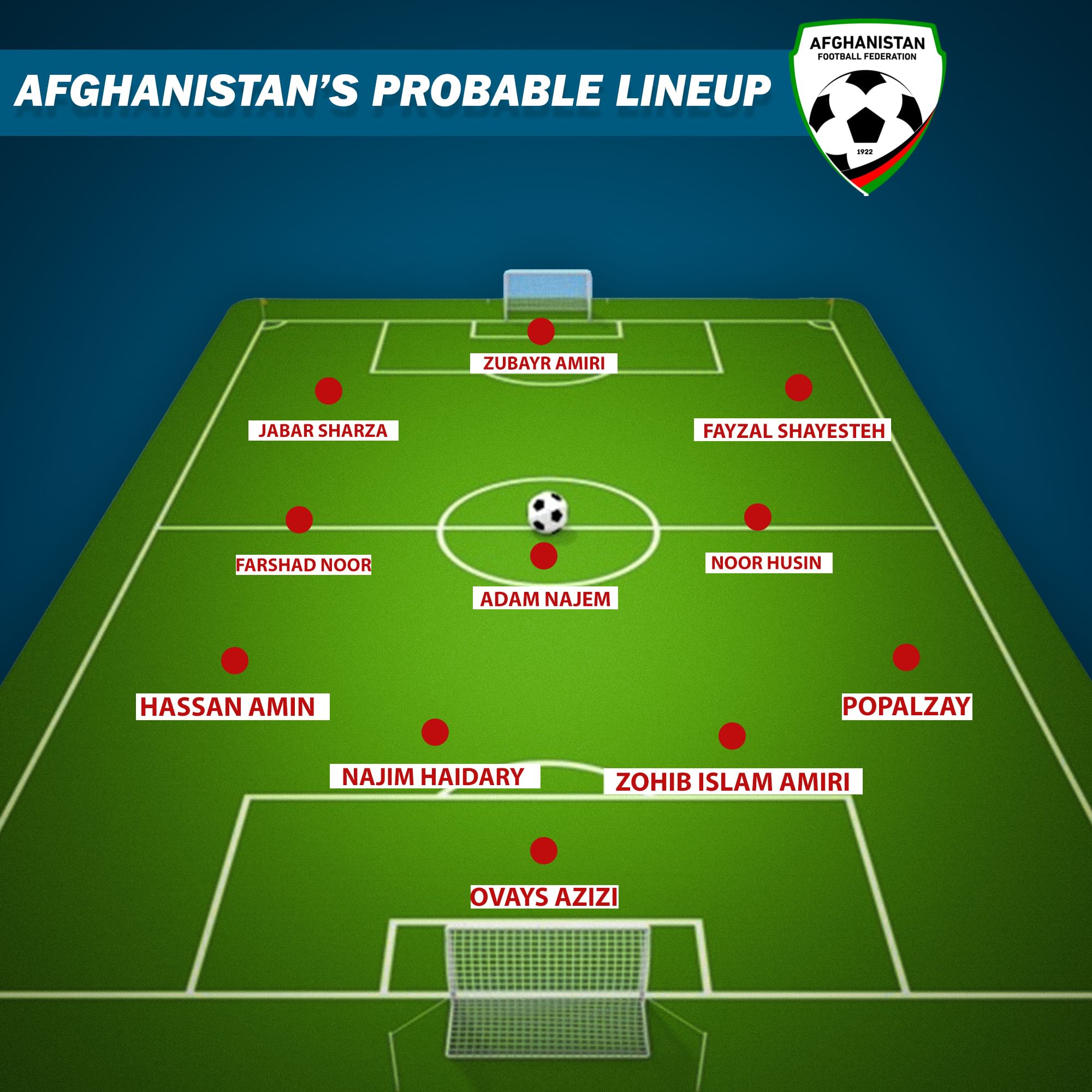 Afghanistan Probable Lineup Vs India
They play an attacking 4-3-3 formation with a three-man midfield, with Najem often moving wide to help stretch games. They primarily try to create through the right wing and are very dangerous at set-pieces.
Fayzal Shayesteh has the trickery to cut in and take shots from the right, but also send in some curling crosses into the box for Amiri. Primarily, their strength is working on crosses and trying to use physical prowess to their advantage.
India need to be extra careful during set-pieces. Afghanistan can be very effective at those. There are some very good headers of the ball and the delivery, most of the time, is accurate. Sharza and Amiri interchange positions at times to create unpredictability. From the left, they try to work the ball into the box, take on defenders and look for the final ball or shot on target.
Their build-up play mostly relies on quick-passing between midfielders and attackers. They create three-man triangles at times to do so, producing short crisp passing before the final delivery.
In midfield, the trio also keeps changing positions and ensures that a compact shape is maintained to trouble opponents.
Defensively, they are very vulnerable to high pressing. Afghanistan become a little laid-back on occasions and give away chances for counter-attacks/swift breaks by losing possession easily. If their defence is stretched, the players tend to lose concentration and give opponents space to attack.
They are also very vulnerable defending down the wings, with their full-backs not being the best defensively. The team is also susceptible to defending crosses. Their defenders/midfielders tend to move out of position at times, creating space for opponent attacks to be built centrally. Defenders also lose track of attackers at times.
Probable Lineups
India
Gurpreet Singh Sandhu (GK), Rahul Bheke, Adil Khan, Narender, Mandar Rao Dessai, Brandon Fernandes, Anirudh Thapa, Sahal Abdul Samad, Udanta Singh, Ashique Kuruniyan, Sunil Chhetri (C).
Afghanistan
Ovays Azizi (GK), Omid Popalzay , Zohib Islam Amiri, Najim Haidary, Hassan Amin, Noor Husin, Adam Najem, , Farshad Noor (C), Fayzal Shayesteh, Zubayr Amiri, Jabar Sharza.
Players To Watch
Brandon Fernandes (India)
Afghanistan are expected to sit deep and to break them down, India need to play their most creative playmaker, who has the experience of breaking such defences. Fernandes has time and again found a running teammate at FC Goa and should be the ideal choice to find a runner in the opposition box for India as well. Brandon, if played, can be the key to unlock the stiff Afghanistani backline.
Zubayr Amiri (Afghanistan)
At 29, Amiri is at his peak. He's powerful, knows how to build-up play and possesses a good strike as well. Amiri earned his reputation playing for the reserves side of Eintracht Frankfurt in Germany, an experience that gave him the ability to terrorize defences in Asia. India must not allow him half-chances or could be at the receiving end. 
What To Expect
An Indian victory. If the Blue Tigers play expansively and make the most of the chances they get, scoring several times should not be a major issue. Afghanistan have time and again been porous and India needs goals badly. India should not be lackadaisical in defence and give chances to Afghanistan to score. 
Afghanistan Vs India Telecast
The match will be played in Dushanbe, Tajikistan on November 14 and will be telecast live on Star Sports network at 7:30 PM IST.