The Red Machines finished at the fourth position in the league in the previous season.
Among the current I-League teams, Churchill Brothers SC are the most fabled team in the league. The Red Machines will once again be gunning for glory this season as they will bring the passion and panache of Goan football with their band of loyal supporters.
After an underwhelming performance in the last season, Churchill will be eager to get back on the right track. They have played some enthralling football in recent times but have failed to keep the spark alive throughout the season.
Therefore they have decided to run the ruler and bring in wholesale changes. There have been changes in the technical area as well, as former Ghana international, Edward Ansah will lead the side this season.
Last Season's Performance

Churchill Brothers finished at the fourth position in the I-League 2018-19 season
Churchill Brothers were there and thereabout for the majority of the title race but their inability to maintain consistency hindered their progress at the business end of the league. A fourth-place finish looks decent but the Red Machines were once in the reckoning of winning the title.
They started their campaign with three consecutive draws and then gradually picked up the tempo. Churchill remained unpredictable as they lost against Shillong Lajong and managed to win against eventual winners, Chennai City.
Pre-Season
The Red Machines were active in the pre-season like some of the other teams, although, they weren't invited for the Durand Cup 2019.
However, the Goan outfit have been doing well in the Goa Professional League and are currently top of the table, followed by Dempo SC with a game in hand.
Coaching Staff
Churchill Brothers parted ways with their former head coach, Petre Gigiu, after finishing in the fourth position last season. The Red Machines have appointed former Ghanaian international goalkeeper, Edward Ansah as the head coach for the 2019-20 season. This may be his first independent managerial role but the 56-year-old has ample amount of experience being the goalkeeper coach for the Ghana national team in consecutive FIFA World Cups (2006 & 2010). Ansah's years of experience in the international level will help him inspire Churchill Brothers and take the Red Machines to a different height this season.
Transfer Dealings
Ins
Churchill Brothers have brought in Minerva Punjab duo of Robert Primus and Kalif Alhassan adding more steel to their defence and midfield. The Red Machines have also roped in Trinidad and Tobago centre back Radanfah Abu Bakr, who will add more experience to their defence, which looked porous at times last season.
Former Delhi Dynamos (currently Odisha FC) goalkeeper, Sukhdev Patil has also joined the club and will provide tough competition to James Kithan and Kunzang Bhutia. The most notable Indian signing has to be Lalkhawpuimawia, who was one of players to watch at Aizawl FC last season and will look to complement Willis Plaza upfront.
Outs
The biggest miss for the Red Machines will be Uganda international Khalid Aucho, who featured in the Africa Cup of Nations and then joined Masr El Makasa, a club in the Egyptian top tier. Hussein Eldor has also left the club with Wayne Vaz joining Indian Super League outfit, NorthEast United. Winger Chesterpoul Lyngdoh has also joined Real Kashmir FC with Anthony Wolfe parting ways after last season.
Squad
Goalkeepers: James Kithan, Sukhdev Patil, Kunzang Bhutia.
Defenders: Rowlinson Rodrigues, Robert Primus, Radanfah Abu Bakr, Vanlalduatsanga, Nongmaikapam Suresh Meitei.
Midifielders: Schubert Pereira, Kalif Alhassan, Jovel Martins, Glen Martins, Fredsan Marshall, Clencio Pinto, Quan Gomes, Aniston Fernandes, Dawda Ceesay,Meldon D 'silva, Vinil Poojary, Israil Gurung.
Forward: Willis Deon Plaza, Lalkhawpuimawia, Uttam Rai, Lamgoulen Gou Hangshing.
Fomation & Tactics
Edward Ansah is a believer of attacking football with Willis Plaza expected to carry the goalscoring mantle on himself again for the Red Machines. In support, there will be players like Mapuia, Hangshing and Israil Gurung.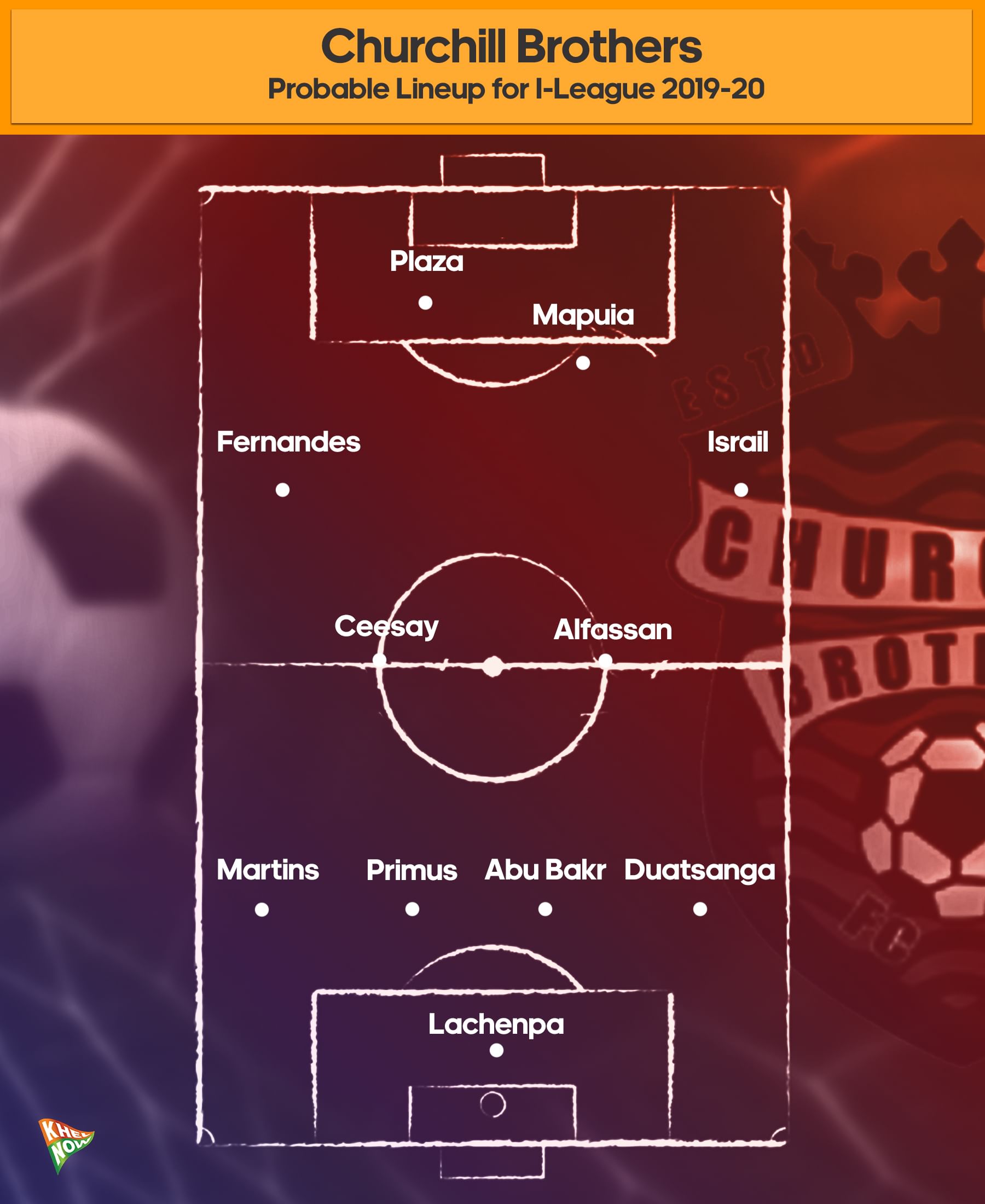 Churchill Brothers' Probable Lineup For I-League 2019-20 Season
Dawda Ceesay's return to their side will add immense stability to Ansah's midfield with Kalif Alhassan sitting deep and breaking up play. Ceesay will look to venture forward ans create chances for the forwards.
In defence Primus and Abu Bakr is set to form a strong combination with Vanlalduatsanga and Jovel Martins taking up the fullback slots.
Local players like Rowlinson Rodrigues, Glen Martins, Vinil Poojary etc will also have a huge role to play in the forthcoming season.
Strengths
The main advantage for Churchill Brothers is their cohesion as they have added a lot of local players to their side, who understand each other's gameplay. The Red Machines have retained the services of their talismanic striker Willis Plaza and with Dawda Ceesay returning back to Goa, the combination of last season will again be back. Also this season defence look more stable with new inclusions.
Weaknesses
Over reliance on Plaza to score the bulk of goals is a huge factor, as they dont even have another foreign forward to help him in his cause. There are players like Mapuia, Hangshing and Israil who will score a handful but any injury or suspension to Plaza will be a huge setback for Edward Ansah's men.
Players To Watch

Willis Plaza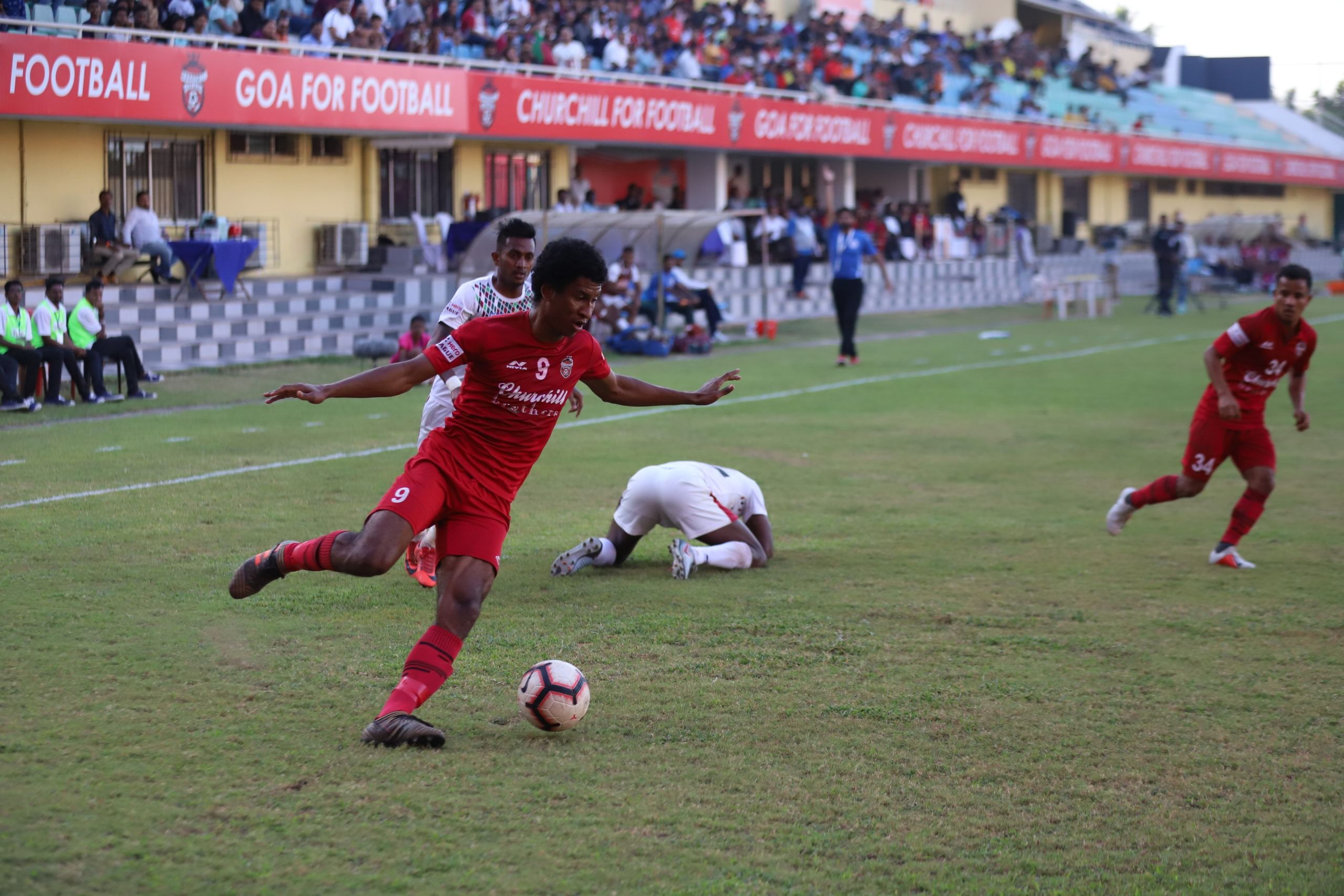 Willis Plaza was the joint-highest scorer in the I-League 2018-19 season
Their go to man last season, Plaza has become a fan favourite for the Red Machines. He was prolific and bailed out Churchill Brothers on several occasions last season. The former East Bengal striker was in stunning during the I-League 2018-19 season as he bagged the Golden boot jointly with Chennai City's Pedro Manzi, both scoring a staggering 21 goals each.
This season again, a lot will depend on Plaza's performances and form. Churchill have taken a risk and have opted against having a foreign backup. But it is certain that if Plaza gets going, he will once again turn out to be as a more than dependable figure upfront.
Lalkhawpuimawia
Last season was by far his best for Aizawl FC in terms of goals and the forward  will look to carry forward that form to Goa this season. Mapuia scored six goals for the Reds last season, some of which turned out to be crucial for his side.
Mapuia likes to get into pockets of space in the final third and his diminutive demeanour can be mistaken as he makes it up with his intelligence and tireless appetite for goals. Pairing up with Willis Plaza upfront, Mapuia will like to latch onto the second balls and get behind the opposition defenders.
Dawda Ceesay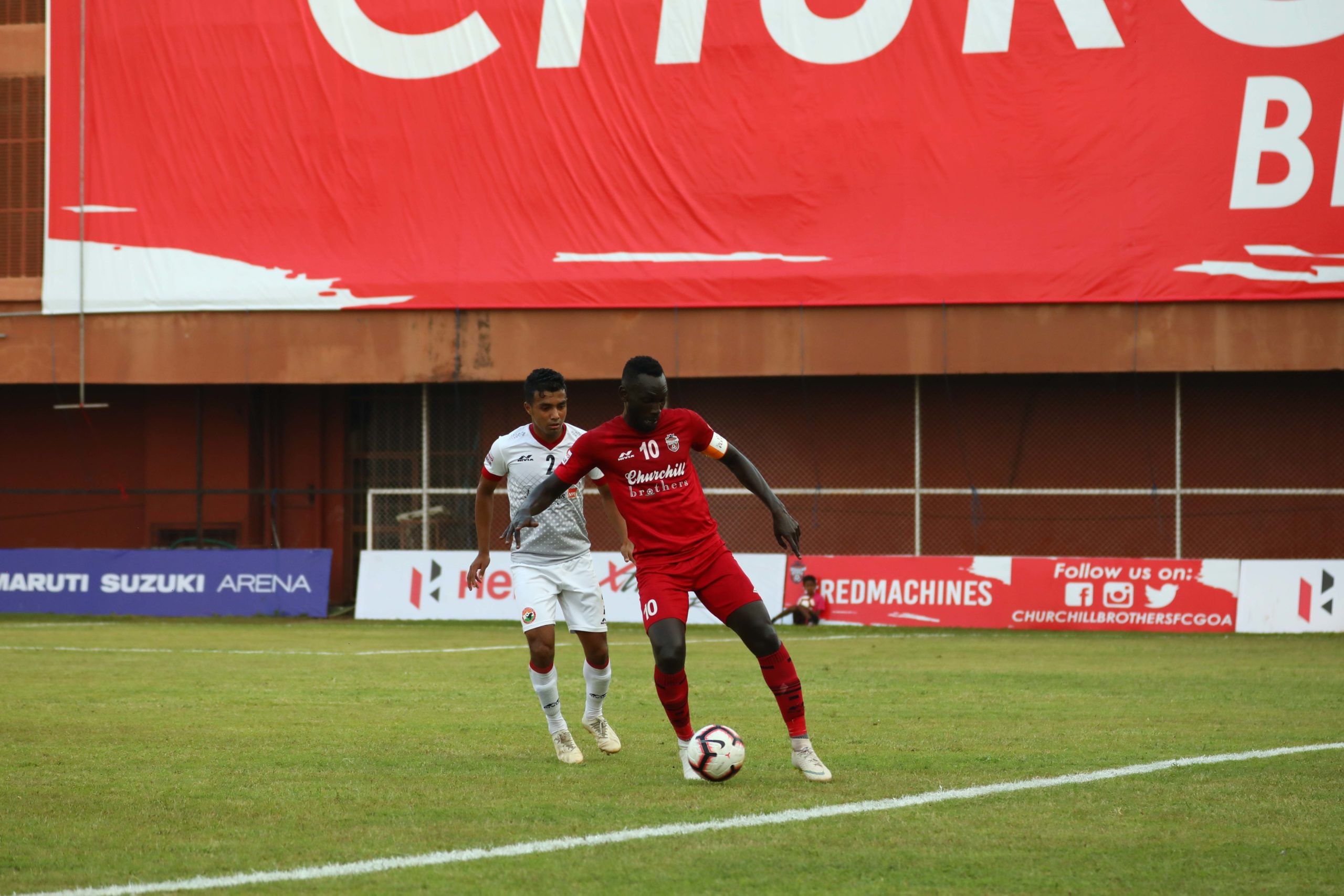 The assist machine of the I-League from last season is back at Churchill Brothers. Ceesay's understanding and ability to pick out Plaza was one of the highlights of Churchill Brothers' gameplay in the 2018-19 season and the duo will look to continue from where they left off.
The Gambian midfielder will be the main creative impetus for the Red Machines and will look to surpass his whopping nine assists in the previous campaign.
Fixtures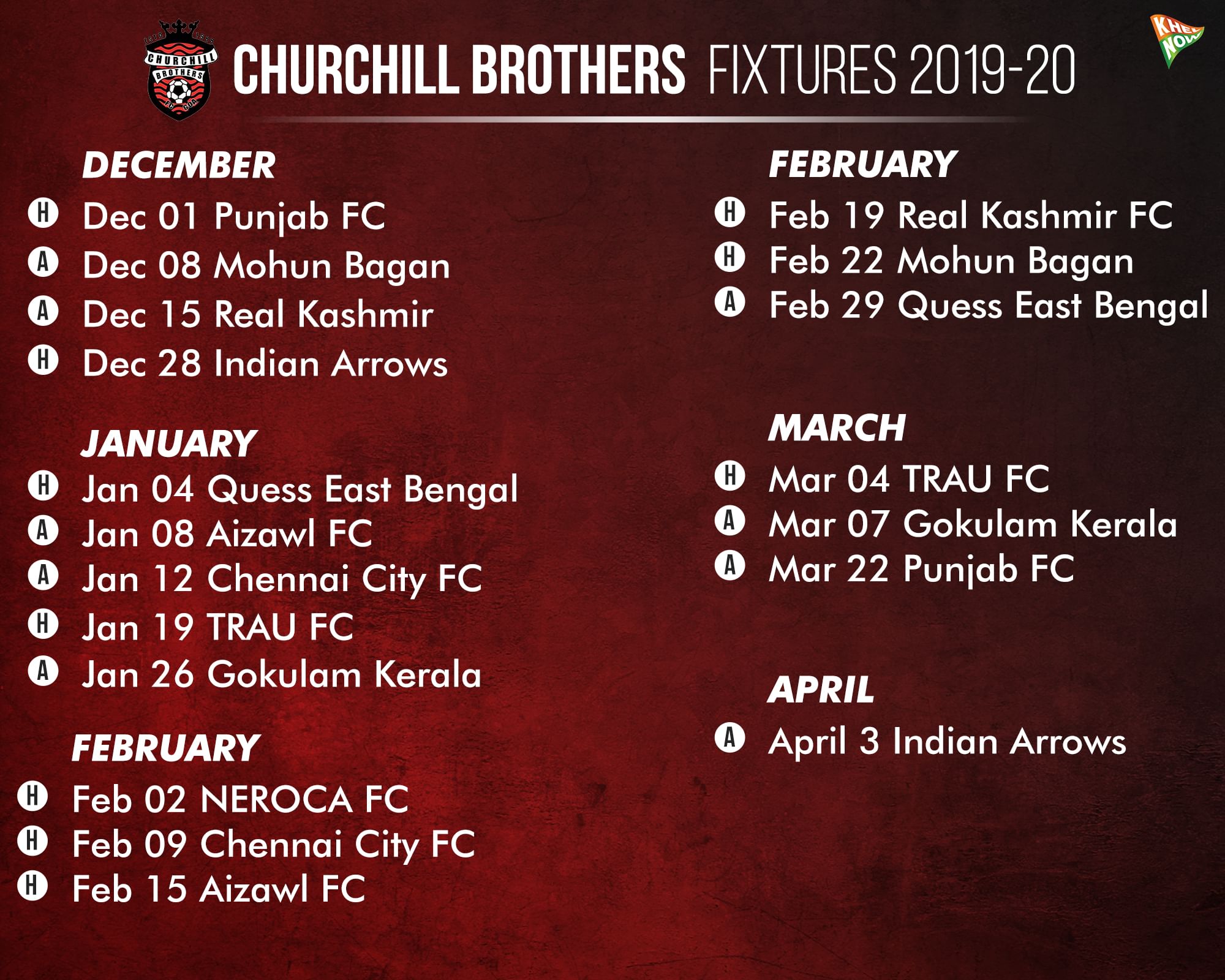 I-League 2019-20 Churchill Brothers Fixtures
What To Expect
With the new reinforcements, Churchill brothers look like a lot better and well drilled squad overall. However, predictability in the final third and lack of quality matches in pre-season can be a factor for them in the forthcoming season. There will be questions regarding Ansah's experience to take over as head coach as well.
However, the Red Machines will bring the loyal band of passion followers and the panache from Goa and therefore anything less than a top half finish will be a huge disappointment.