For all latest news, photos, video highlights, reviews, editorial, tactical analysis from Intercontinental Cup sign up for Khel Now.
2 – 0
Attendance: 8990
It is all over and India are the InterContinental Cup Champions and the crowd goes crazy!! India played a clinical game and the win was warranted considering the fact that India looked like the better of the two sides!
Substitution: Subhashish makes way for Salaam Ranjan Singh.
Pritam makes way for Lalruathara
90′ Balwant is doing what Fellaini would do for Man Utd is just holding off play! Subhashish is on the ground and looks fatigued!
89′ How Chhetri still have the energy to chase down every ball he can find in his path?
88′ India looks to have shut shop and is just sitting deep and holding the ball! Ochieng comes close through a cross but Sanshu palms it out!
87′ Ashique brought down by Bernard and it prompts the crowd to shout, "Send him off!"
85′ Erick makes an incisive run and shoots with force but Pritam blocks the shot!
84′ Rowlin Borges takes a weak freekick and releases the Kenyan attack!
82′ Substitution: Udanta makes way for Ashique Kuruniyan.

80′ Sandesh and Anas are going to need a few days in bed thanks to their ruthless defending and the number of bruises they have gathered on the pitch tonight!
78′ Dennis comes close but fires off target for Kenya!
78′ Pritam concedes a freekick from the left flank for Kenya as he handles the ball from an Erick Otieno cross!
76′ What a save by Gurpreet Singh Sandhu from a freekick by Ochieng as he dives from the right to the left to save India the blushes!
75′ Airudh Thapa concedes freekick on the edge of the box and it could nearly have been a penalty! Thapa needs to be careful!
74′ Anas has decided that at least one player is going to be injured thanks to his theatricality!
73′ John is trying to hit all the balls that he recieves towards Gurpreet but the keeper is forever alert!
71′ Balwant unleashes a shot from out side the box but it is weak and is collected by the Keeper. Udanta on the other end concedes a corner off a strong tackle!
68′ Sunil puts in a Cheeky ball for Balwant but the GK of Kenya reached there before Balwant could!
68′ Pritam needs to do better as a lot of crosses are coming on from his end! and in the centre of the field, Rowlin needs to find his feet before he gifts the Keyans a way in!!
65′ Sebastian Migne's men are looking at annother defeat and the boiling frustration seems to have reached the pitch!! There was a ruckus and Anirudh seems to have been injured in the skrimish!
64′ Kenya are putting in more and more crosses and it seems that the wingers might be getting frustrated more and more as the strikers fail to provide their heads for the ball!
61′ And that was the final involvement for Jeje for the day as he makes way for Balwant. In the other substitution, Holi is replaced by Rowlin Borges.
60′ Gurpreet is made to make another fine stop as he punches a ball aimed straight at him by Bernard. On the other side, Chhetri provides Jeje a through ball only for him to miss it.
59′ Sandesh Jhingan blocks John Makwata's shots, not once but twice to concede a corner. Meanwhile Narzary is struggling after receiving a tackle.
59′ Kenya are building from the back, going to the wings and creating excellent chances but the strikers need to do a lot of work to help the midfield!!
58′ Narzaary seems to have carried some injury. Meanwhile Kenya take a corner and place it in Gurpreet's hands!
57′ Ovella is trying to work his magic but where are the strikers when you need them?
55′ Chhetri is leading both the attack and midfield and is also doing his bit in the defensive third!! That's our Captain Fantastic for you!
53′ Pritam Kottal saves from near the goal line as John comes close for Kenya.
51′ Udanta is pushing out to attaack the opposition and is not allowing them even a moment to rest!
47′ Jeje breaks out in attack but his cross is intercepted by the GK for Kenya
46′ India Kick off the second half and Kenya come close twice through Mutumba and John for Kenya!
IT IS HALF TIME!
India played a strong counter attacking move through out the match and it yeilded 2 goals already! The team looks poised to take on any attack come what may and is not lokking scared to put their bodies on the line! It is an awesome sensation being here in the stadium as India leads!
45+1′ The Viking clap looks particularly intimidating today as India has broken into 3 attacks in the last 2 minutes!
2 minutes added to the first half!
44′ The game is on in the Kenyan half as they press harder than always!
43′ Sunil comes close from a Freekick that Udanta earned as Musa Mohammed is booked !
40′ Early substitutions for Kenya: IN John Makwata OUT Ovella Ochieng
40′ A neat play from a Subhashish throw and Jeje Chests it to Sunil just to be cleared away by the Kenyan defence!
Follow our Tweets here as we bring you photos et al!
37′ Thapa is clearly showing who is the boss in India's attacking third and he can do little wrong the way he is playing!
35′ Yellow Card to Bernard as he fouls Captain Chhetri!! Frustration on the rise in the Kenyan ranks!
34′ Kenya are pressing aggresively to try and take back a goal but are being blocked by the Wall also known as Jhingan!
The Blue Pilgrims are singing for Sunil:
Can you see that man play?
He has played his Hundredth!
He is our mighty one!
Champion!
Living Legend!
29′ GOALLLLLLL SUNIL CHHETRI MAKES IT TWO FOR INDIA!! A through ball to Chhetri and he makes no mistake in slotting it into the back of the net! He has equalled Messi !!!!!

28′ Kenya come close again from Jockins cross and Anirudh puts it back for a corner! India break away on a counter from that corner!!
26′ No one in the Indian contingent seems to worry as they are all putting their bodies on the line and without fear! Narzary has taken to the ground 2 times in a minute!
25′ Jockins and Ovella are combining well for the Harambee Stars but the final touch in the final third is lacking!
24′ This was the Jeje-Sunil-Thapa combo and they rattled and pressured the Kenyan backline and nearly brought them to tears!!
21′ Foul by Pronoy Halder in the centre of the field! He is breaking the momentum of the opposition in a ll ways possible and not necceserily in the prettiest way!
19′ Jeje and Musa Mayeko are relentless in their onfield feud. Who will come up on top? Only time will tell!
FACT: Sunil Chhetri has surpassed Ibrahimovic with that poachers strike and is closing on Lionel Messi!
18′ Udanta is facing the brunt of the Kenyan Physical Play as he is being kicked around on the right side of the pitch! But Anirudh is behaving twice his size as he wrestles with the opposition!
15′ Thapa takes to the ground as Kenya are trying to exert their physicality!
14′ India's lack of build up play might hurt them as the game progresses if they keep giving away the possesion so easily.
12′ Gurpreet launches it high to no avail as Ochieng has been wreaking havoc on the wings only to face a road block called Subhashish.
9′ India looks defensively organised as they are not allowing the Harambee Stars to complete to decent passes.
8′ GOALLLLLL as Thapa takes the freekick and Chhetri puts it in the back of the net after recieving it from a Kenyan deflection!!
7′ FOUL on Chhetri as India stand over a Free Kick!
4′ Kenya and India are making this an attack vs counter attack game. Kenya is building up from the back and India is using the long rangers to begin counter attacks.
3′ Attack on both sides as Pistone and Jeje come close on either sides. the game looks poised to be an attacking affair.
2′ Ovella Ochieng crosses in the ball only for Gurpreet to safely collect it.
FACT: CAPTAIN CHHETRI has scored 3, 2 and 1 goals in the previous 3 matches respectively.
1′ Kick OFF and Kenya begin the proceedings with a bang and high pressing agianst the Indian side.
8.00 PM: The Toss takes place amidst shout of Bharat Mata Ki Jai!! The Crowds are flowing in huge and are incessant in their chants!
7.57 PM: The rains have subsided and I guess they were just here to water the grounds!
7.55 PM: As the teams enter the crowd has broken into noise and you can see the Wonderful Blue Tigers Banner as well as the Indian Flag TIFO arranged by the Blue Pilgrims.
7.50 PM: As the teams are lining up in the tunnel you can read the preview here.
7.45 PM: The rains have started at the Mumbai Football Arena and you can expect a slugfest in the first half if the rains keep going
7.40 PM: As the players move into the dressing room, the crowd breaks in MAA TUJHE SALAAM! The decibels are defeaning here and you can see a few pre match moments in the video below!!
7.35 PM: Kenya XI: Kenya: Matasi, Jockins, Erick, Michael, Musa, Patilah, Pistone, Kenneth, Bernard, Odhiambo, Ovella.
7:35 PM India fielding same playing XI which played against Kenya in the league robin match.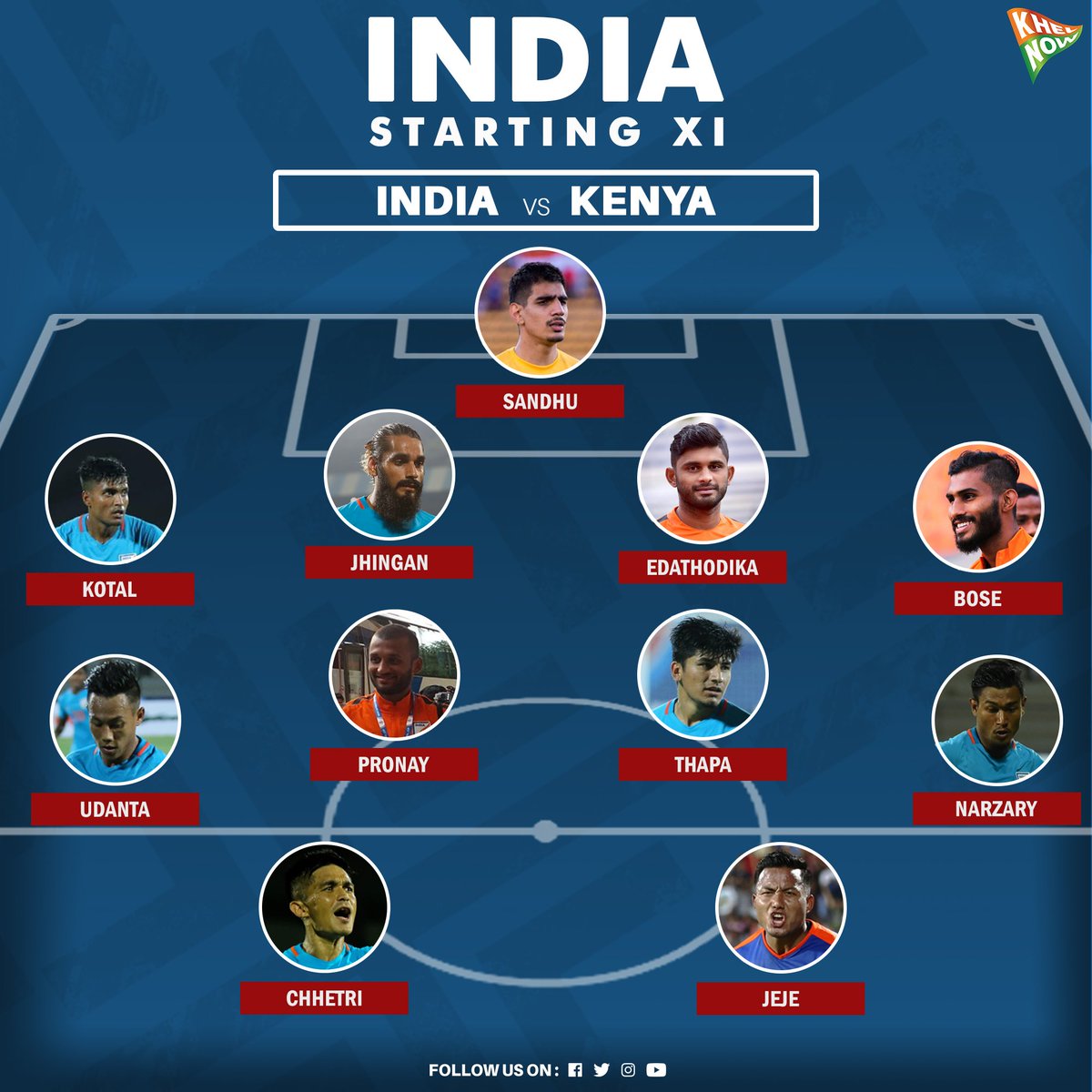 7:05 PM All eyes on will be on Indian Captain Sunil Chhetri
Must Read- Intercontinental Cup Final: What to keep in mind while heading to the Mumbai Football Arena
7:00 PM Hello everyone, it is a wonderful evening here in Mumbai and it is a delight to host the Intercontinental Cup here. Although the weather is overcast, we hope it will not be a spoilsport such a high voltage game between India and Kenya. This is your host Sabin Castelino, stay tuned and enjoy the commentary with Khel Now.
Match preview –India and Kenya meet in final showdown for Intercontinental Cup title