A number of Indians are in the fray for medals on the final day of action at the event in Guatemala.
4:00 am Thank you for joining us! Keep following Khel Now for all the latest sports updates.
3:55 am That concludes all the action from the Archery World Cup 2021 Guatemala City. It was a successful event for India, as the nation grabbed three gold and one bronze medal. Atanu Das and Ankita Bhakat won bronze in the mixed recurve team event. On the other hand, the women's recurve team won gold after getting the better of Mexico. Finally, Deepika Kumari and her spouse Atanu Das both won gold after winning their respective women's and men's individual recurve final.
3:48 am It's a career-defining moment for Atanu Das, as he wins his first-ever Archery World Cup men's individual recurve gold by a margin of 6-4.
3:47 am WHAT A MAN! ANOTHER PERFECT 30! GOLD FOR INDIA, GOLD FOR ATANU DAS!!
3:45 am The final is now finely poised.
3:44 am Yes he can! 28-24 to Das as he levels the tie 4-4.
3:42 am It's a do-or-die set for Atanu Das. Can he respond?
3:40 am Daniel Castro wins 29-27 to go 4-2 up in set points.
3:37 am It's all square as Castro levels the contest 2-2, after winning the second set.
3:34 am Strong start for Das yet again as he wins 29-28 to take the first couple of set points in the final.
3:30 am The final match of the day is underway as India's Atanu Das tackles Spaniard Daniel Castro in the men's individual recurve gold medal match.
3:15 am Daniel Castro sets up a final date with Atanu Das.
3:04 am The second semi-final between Steve Wijler of the Netherlands and Spain's Daniel Castro is underway.
3:02 am 30-29 to clinch it as Atanu Das makes it to his maiden men's individual recurve final.
3:00 am What a brilliant finish! It's a perfect 30 for Atanu Das!
2:58 am 29-28 to Das as he takes Set 3. He leads 4-2.
2:55 am Alvarado right back in the match as he wins the second set 28-26. Scores tied 2-2.
2:53 am Solid start from Das as he takes the first two set points after winning 28-27.
2:50 am India's Atanu Das will now be in action against Mexico's Angel Alvarado in the men's individual recurve semi-finals.
2:45 am This is Deepika Kumari's third women's individual recurve gold, matching her feat from Antalya 2012 and Salt Lake City 2018.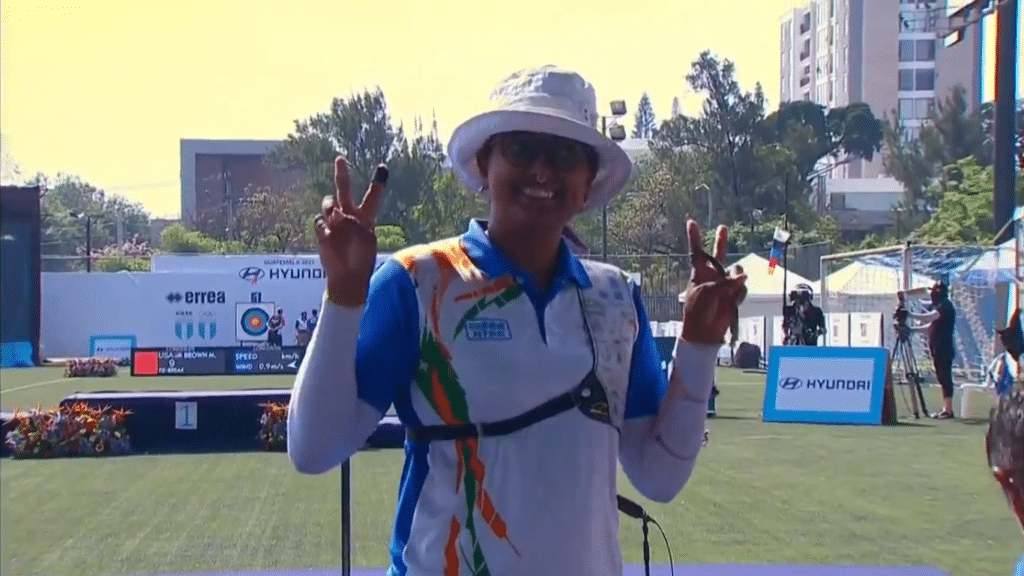 2:42 am Both players shoot 9s. But Deepika Kumari wins it as her shot was closer to the bullseye! It couldn't have got any closer than this! Fantastic match with India's Deepika Kumari winning the women's individual recurve gold.
2:39 am IT'S GOLD FOR DEEPIKA!!
2:37 am It all comes down to one arrow shoot-off to determine the champion.
2:36 am Kumari is not going out without a fight as she clinches the fifth set 29-28. Scores tied at 5-5.
2:34 am Fourth set ends in 28-27 to Brown. Remarkable fightback as the American leads 5-3 now.
2:32 am Deepika Kumari feeling the heat, ahead of what could be a decisive set.
2:30 am The third set ends 29-26 to Brown. It's all level at 3-3.
2:28 am The second set finishes 27-27. Kumari now leads 3-1.
2:25 am The first two set points go to Kumari as she wins the opening set 29-27.
2:20 am The women's individual recurve Gold medal match between Deepika Kumari and McKenzie Brown is set to start.
2:05 am Heartbreak for the teenager! McKenzie Brown makes it to the final after a shoot-off victory.
1:52 am The second semi-final has started. USA's McKenzie Brown facing surprise package 18-year-old Romanian Madalina Amaistroaie.
1:50 am Deepika Kumari goes through 27-23. Brilliant performance to win the contest 7-3.
1:48 am Valencia edges the fourth set 28-27. This is getting tight now, 5-3.
1:45 am Deepika Kumari firmly in the driver's seat now.
1:43 am Kumari takes the third set 28-23. Lead extended to 5-1.
1:40 am Two Bulls Eyes for Deepika and she wins the second set by 28-25. She now leads 3-1.
1:36 am Both players score a total of 28 to share the first set points.
1:34 am Deepika Kumari to take on Mexico's Alejandra Valencia in the semi-finals of the women's individual recurve semi-finals. And it's underway!
1:30 am Welcome back to Khel Now's live coverage of the final day of Stage 1 of the 2021 Archery World Cup. The second session will get underway soon.
11:15 pm That's it for the first session. Live updates resume at 1.30 AM IST when Deepika Kumari competes in the individual recurve semi-finals against Alejandra Valencia.
11:08 pm THAT'S ENOUGH FOR THE INDIANS!!! Ankita gets a bull's eye as Atanu bags a 9 to clinch the Bronze medal! SUPERB EFFORT.
11:06 pm The Americans finish with 35 points!
11:05 pm The Indians come away with two 9 nines and end up with 18 points.
11:04 pm The Americans start the fourth set with 17 points.
11:03 pm Ankita shot an 8 which put Atanu under some pressure but he shot a BULL's EYE to TAKE THE THIRD SET!! INDIA 4-2 USA.
11:03 pm The Americans end up with 36 points.
11:02 pm Ankita on fire as she hits the bull's eye. Even Atanu is following her it seems. 20 for India
11:00 pm The Americans start the third set with 18 points.
10:59 pm THE INDIANS RESTORES PARITY!! They take the second set. Its all square now.
10:58 pm The Americans could only manage 18 points in reply but Ankita shots another bull's eye as India muster 38 points.
10:57 pm Ankita and Atanu come up with the perfect response as they both shot perfect 10s.
10:56 pm GREAT START for the Americans as they take the first set! The Indians need to buckle up.
10:55 pm Brilliant from the Americans as they shot two bull's eye to reach 37 points. The Indians could only reach 34 points.
10:53 pm India also reply with 17 points. Ankita 8 and Atanu with a 9.
10:52 pm: The Americans start the procedings with 17 points.
10:50 pm: The teams have taken their position. Both Ankita and Atanu will look to clinch the bronze against the strong United States duo.
10:45 pm Spain bags the gold in Men's recurve team finals as they defeated the USA. Next up the Indians will be in action in the Mixed team recurve bronze medal match.
10:35 pm: The live coverage of the Indian Mixed recurve team bronze medal match will begin shortly right after the final match between the United States and Spain.
10:20 pm: It was such a roller coaster of a final but finally to our delight the Indian women's team bag the Gold medal. While the Indians started strongly by winning the first set, the Mexicans came back with a strong reply to take both the second and third set. However, led by Deepika Kumari the Indians did not back down and clinched the fourth set to force the shoot-off. It was tight in the shoot-off aswell and the Indians were in trouble when Komolika shot an 8 but Deepika backed it with a superb bull's eye. The Mexicans needed a 9 to win but they could only manage a 7 as the pressure got to them.
10:10 pm: The Indians are honoured with their respective Gold medals. Superb performance from the three ladies!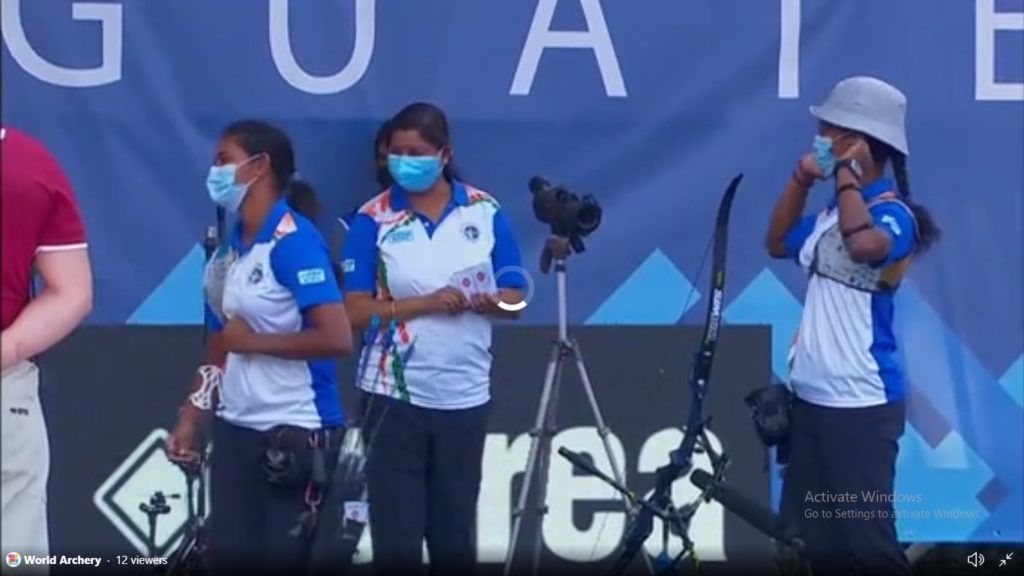 10:02 pm THAT'S IT!! THE INDIANS BAG GOLD. WHAT A EXCITING MATCH IT WAS! Mexico gave them a tough fight but the three Indian women archers were on point.
10:00 pm DEEPIKA COMES UP WITH A BULLS EYE under pressure!! What a shot as the pressure gets to the Mexicans and the falter with only a 7. India wins the shoot-off 27-25.
10:00 pm Komolika's shot is wayward as she shots a 8 and Mexico reply with a bulls eye!
9:58 pm: India start the procedings as Ankita shots a 9. The Mexicans match it with their first shot!
9:56 pm: IT IS GAME ON!! India 4-4 Mexico and it is all to play for in the shoot-off in the Gold medal women's recurve match.
9:54 PM: India finishes with 56 points in the fourth set as one shot was subject to measure. But it won't matter as the Mexicans could only manage 52 points.
9:52 pm: India with a solid start in the fourth set as they score 29 points. Mexicans score 27 in their reply. Do or die set for the Indians.
9:50 pm: Even after the measure the Mexicans take the third set 56-54. Pressure on the Indians now.
9:49 pm: India finish the third set with 54 points but two shots from each team will be checked so the Mexicans do not know what score to beat.
9:47 pm: The Indians start the third set with 26 points. Mexico pips them by a point.
9:45 pm: Great fightback from the Mexicans to send this set beyond the Indians. They have restored parity by winning the second set. Mexico bags second set 57-55. It is 2-2!
9:42 pm: The Indian reply has not been as solid as they would have liked. They could only muster 26 points.
9:40 pm: The Mexicans start the second set with three Bulls Eyes. Pressure on India to reciprocate.
9:40 pm: India finish with 57 points but the Mexicans did fight till the end and fell short by two points. The Indians come away with two set points.
9:35 Pm: Solid start for India as they muster 28 points. Onto the Mexicans now.
9:30 pm: Live action to begin shortly as the Indian Women recurve team will look to aim for Gold against the Mexican recurve team.
9:05 pm: Here are yesterday's results:
Women's recurve team semi finals : India (Deepika Kumari, Ankita Bhakat, Komalika Bari) def. Spain
Women's recurve team quarter finals: India def. Guatemala
Men's recurve team quarter finals : Spain def. India (Atanu Das, Pravin Jadhav, Tarundeep Rai)
9:00 pm :Hello and welcome to Khel Now's live coverage of the final day of Stage 1 of the 2021 Archery World Cup.
The Archery World Cup is taking place in Guatemala City, Guatemala. Indian archers led by the likes of Deepika Kumari and Atanu Das are going head to head with the best of the best from around the world to bring laurels to the nation. India have a chance of securing as many as four medals today, including three gold. This will be a good litmus test for all the archers participating, with less than three months to go before the Olympic Games in Tokyo.
For the first time married couple Atanu Das and Deepika Kumari, who tied the knot in June last year, will be competing for individual gold medals in the same tournament. While Deepika looks to get her second individual Archery world cup gold medal, Atanu will be looking to secure his maiden gold.
For the full preview of the finals click here.
Here are the events to look forward to today:
Women's Recurve Team final : India vs Mexico (9.30 pm)
Mixed Recurve Team Bronze medal match: India vs USA (10.40 pm)
Women's individual Recurve semi final: Deepika Kumari vs Alejandra Valencia (1.30 am)
Women's individual Recurve final (2.15 am)
Men's individual Recurve semi final: Atanu Das vs Angel Alvarado (2.40 am)
Men's individual Recurve final (3.20 am)
For more updates, follow Khel Now on Twitter, Instagram and join our community on Telegram.