Many Indian athletes achieved new heights in the last 20 years.
Sports has always been an integral part of India. However, considering the size of the country and its population, we cannot yet call ourselves as a true sporting nation. We have taken positive steps towards it, but are yet to reach that milestone.
Right from the start of this 21st-century sports has changed our mindset and influenced our future generations. A lot of sportspersons have represented India in various sports worldwide in this span of time. We at Khel Now take a look at the top 5 biggest sporting moments for India in this century so far.
5. Mary Kom's rise as a record World Champion
This flamboyant Indian lady who wears her heart on her sleeve became the first female boxer to win a sixth gold medal in the World Championship, after beating Ukrainian boxer Hanna Okhota in the final.
Mary Kom has played a big role in changing the mindset of many orthodox Indian families, who would restrict their daughters to household chores rather than pursuing their passion for sports. Her fascinating story was also portrayed in a movie where her struggle was highlighted.
The London Olympics bronze medalist was recently honoured with the Padma Vibhushan for her exceptional achievements, as she truly is one of the best sportspersons to have emerged from this country.
4. PV Sindhu: The face of Indian Badminton
India's boom in badminton started gradually at the turn of the decade and it was Saina Nehwal who was first to break the shackles with a bronze at the London Olympics in 2012. However, at the Rio Olympics, Sindhu went a step higher and clinched silver after losing out against Spain's Carolina Marin in a gruelling encounter.
Her legacy from Hyderabad to Rio did not fade away with only one silver medal, as she started proving her mettle on the world stage regularly. In 2017, she came agonizingly close to victory against Japan's Nozomi Okuhara at Glasgow but fell short.
However, two years later she redeemed herself by winning gold against Okuhara by a dominant 21-7 21-7 scoreline, in the World Championship final which lasted only 38 minutes.
3. Sushil Kumar: The man who made India dream of Olympic medals
Over the years, Wrestling has been a medal-yielding sport for India and a huge credit for this goes to the country's only two-time Olympic medalist Sushil Kumar. The freestyle grappler was always a prodigy even in his younger days and made his first Olympic appearance at Athens 2004, but lost out in the group stage against Cuba's Yandro Quintana who eventually won the gold medal.
However, erasing his past memories, Sushil came back at the 2008 Beijing Olympics as a more matured sportsman. He was a force to be reckoned with and had a lot of hopes on his shoulders. However, an early blow against Ukraine's Andriy Stadnik resulted in the hopes crumbling down. But, with Stadnik reaching the final, Sushil still had an outside chance at bronze via the repechage. Once there was hope, Sushil was unstoppable, as he eventually defeated Kazakhstan's Leonardo Spiridonov to clinch the bronze, becoming the Indian to win a medal in wrestling after Khashaba Dadasaheb Jadhav way back in 1952.
But still, the best version of the grappler came four years later at the London Olympics. Here again, he had a very rocky journey to the final, which made him the first Indian to achieve that feat. But, every time Sushil was under pressure he came back stronger. However, with only three hours between his semi-final and final, he succumbed against Japan's Tatsuhiro Yonemitsu, mainly due to fatigue, dehydration and injuries.
Although, Sushil fell short of what would have been an historic gold for India, he did set the bar for the next generation to follow. His achievements on the global stage have inspired many.
2. 2011 ICC Cricket World Cup: The rise of a cricketing superpower
Cricket has always been the most popular sport in India and the masses here follow the sport religiously. While the 1983 World Cup win forced our countrymen to take notice, the boom came much later right at the turn of the century, as India gradually became one of the stronger sides in the sport. Still, the Men in Blue had to wait for 28 years to celebrate a second World Cup victory in 2011.
The seeds of success were sown by Mahendra Singh Dhoni, who led a young side to victory at the inaugural ICC Twenty20 World Cup in South Africa back in 2007. Dhoni's men defeated arch-rivals Pakistan in a nail-biting encounter and fans began to believe that it was a start of good times to come.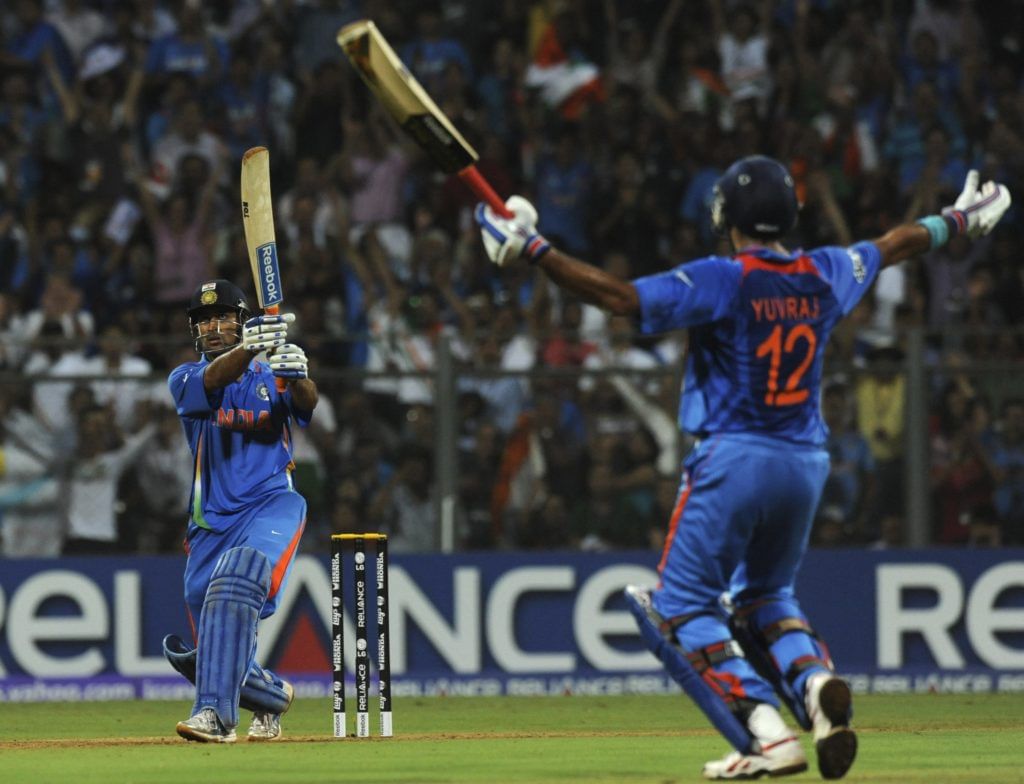 History did repeat itself four years later, but it was not as smooth sailing as it sounds. The hosts faced Sri Lanka in the final and the visitors posted a tricky total of 274. India, in their reply, lost both openers Virender Sehwag and Sachin Tendulkar very cheaply. While Gautam Gambhir and a young Virat Kohli started stitching a partnership, Kohli was dismissed by TM Dilshan. Gambhir was holding one end very well, but he needed someone who could give him support.
Surprisingly, Dhoni came to the crease ahead of in-form Yuvraj Singh and the duo built a 109-run partnership to swing the game totally in India's favour. Gambhir played one of his career-defining innings that night, but fell short of a well-deserved century. However, the game was already in India's bag, as Dhoni applied the finishing touches to a historic chase which was witnessed by thousands at the Wankhede Stadium.
People came out onto the streets to celebrate India's win, as they started bursting crackers and distributing sweets. It was definitely one of the best moments in Indian sports in this century.
1. Abhinav Bindra: India's Golden Boy
Right at the start of the 2008 Beijing Olympics, Indians were eagerly waiting for their first Gold medal at the Olympics. But, little did anyone expect it to come from a shooter from Punjab named Abhinav Bindra.
The four-time Commonwealth gold medalist was a pure underdog and he somehow managed to squeeze past the qualification round after scoring 596/600. He progressed by the virtue of coming joint fourth along with Romanian shooter George Alin Moldoveanu. India's hopes, therefore, rested on Bindra's shoulders.
The Punjab-born shooter brought his 'A' game to the big stage, as none of his shots were below the 10.0 mark, putting pressure on his counterparts to keep pace. Finnish shooter Henri Hakkinen who topped the qualification round with 598 points was leading Bindra till the final round, but he fumbled under pressure and only managed a score of 9.7.
However, Bindra continued his swagger and ended on a high note with a 10.8 to clinch gold in the Men's Air Rifle with a score of 700.5. That day he became the first Indian to win gold at the Olympics, something which has been a benchmark for sportspersons all over the country ever since.