The 28-year-old is gearing up ahead of his maiden Olympics campaign.
Sumit Malik is set to become the first Indian wrestler in 17 years to participate at the Olympics in the super-heavyweight category. He will follow in the footsteps of Palwinder Singh Cheema, who had competed in the 2004 Athens Olympics.
It will indeed be a significant moment in Indian wrestling history, due to the country's past struggles in the category.
Malik has certainly revived a weak spot in the rich history of Indian wrestling. The Indian athlete has been tipped to be the 'next big thing' for quite some time now and it looks like he is finally living up to the billing. He will be one of the eight Indian wrestlers in action in Tokyo and will be competing in the 125kg weight category.
He became the fourth Indian male grappler to book his spot in the upcoming Games and now looks ahead to reaching even greater heights.
Khel Now caught up with Sumit Malik for an exclusive conversation. He spoke about his childhood all the way up to his journey to qualifying for the promised land.
Securing qualification to the grandest stage
"The only thing on my mind when I boarded the flight to Bulgaria was to not commit the mistakes I did during the Rio 2016 qualifications. I wanted to qualify for the Tokyo Olympics at any cost," said Sumit Malik to Khel Now.
Indeed, his resolve was on display when he took centre stage in the World Wrestling Qualifiers in Sofia, Bulgaria earlier this month. He knew he had one last chance to get that coveted ticket. He also knew that he had to overcome several challenges against equally hungry world-class opponents. There was certainly no room for error.
Sumit Malik started the campaign after winning by the slimmest of margins. Last year's World Cup bronze medalist Aiaal Lazarev of Kyrgyzstan was beaten after a 2-2 win on criteria (Indian wrestler scored the last point). He pulled off a similar win over Alexandr Romanov of Moldova. In the quarters, the Indian athlete would once again make a comeback after trailing 2-4 against Rustam Iskandari to win 10-5. In the semi-final bout. Venezuelan Jose Diaz Robertti suffered a comprehensive 5-0 defeat.
That victory ensured his passage for the upcoming Games, as he finally grabbed the coveted spot with both hands. However, the journey has been far from straightforward for the Rohtak-born lad.
First steps in the capital
Born in Karor village in the Rohtak district of Haryana, Sumit Malik was a child happily living in his village. But, his life suddenly took a turn after the passing of his mother. His maternal uncle took him to Delhi after that.
"My maternal uncle (Narender Sherawat) was a wrestler and it is he who brought me here. I came to Delhi from my village for studies, but then my uncle told me to try my hand at wrestling. He took me to the akhada and I started to develop an affinity towards the sport," says Sumit Malik recalling his early days.
His uncle then accompanied him as he took his baby steps as a wrestler at the Chhatrasal Stadium. He remarked, "I have spent a major portion of my life at the Chhatrasal Stadium. I came here in 2009 at the age of 15. The atmosphere for wrestling here is top-class. It is the best akhada in the whole of India."
It is here that he was introduced to his wrestling idol, two-time Olympic medalist Sushil Kumar. The wrestler said, "Guruji Mahabali Satpal Singh and Pehelwanji (Sushil Kumar) have helped me shape into the wrestler that I am today. They have had the biggest influence on my career. Practicing with them has helped me immensely."
Struggle with injuries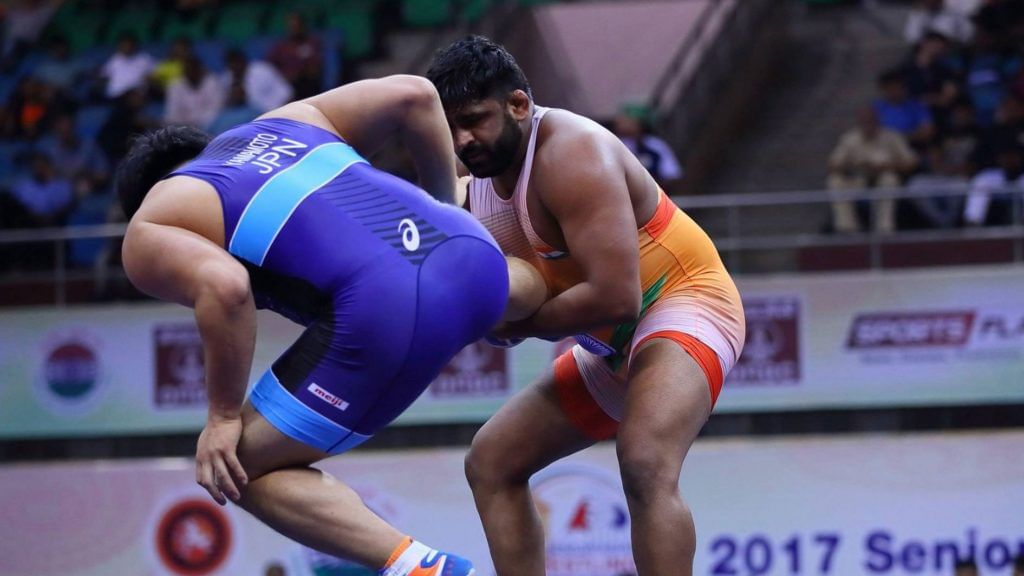 Sumit Malik's biggest hurdle over the years has been his injuries. An old knee injury resurfaced in the recently concluded World Wrestling Qualifiers, due to which he had to surrender the gold medal match against Russia's Sergey Kozyrev.
In 2016, a severe back injury cost him dearly. He was close to sealing a place at the Rio Olympics. Even after losing in the qualification round, he remained in contention via the repechage rounds. But, the back injury would not let him stand, let alone wrestle at an Olympic qualifying event.
He recalled, "I had a lot of pain in my back during one of my bouts, so I had to come back to the hotel. I was extremely sad for not being able to wrestle. Pehelwanji (Sushil Kumar) spent a considerable amount of time with me. I have learnt a lot from him for which I am truly indebted to him."
Made of grit and determination
Sumit Malik has always been a fighter and he was not one to give up. Buoyed by the motivation to show people his abilities, he made his comeback less than a year later. He was competing in the 2017 Asian Wrestling Championships at the KD Jadhav Indoor Stadium, New Delhi.
In his opening match, he ousted Japan's Taiki Yamamoto 6-3. An even more commanding performance in the semi-finals followed against Farkhod Anakulov of Tajikistan, with him winning 7-2. Despite a loss in the final, a silver medal in the prestigious continental competition was a morale-booster. After that, the National Wrestling Championships title was picked up without much fuss.
The Commonwealth Games 2018 arrived and Sumit Malik travelled to the Gold Coast with the impetus to grab a medal in a major international competition. In his first match, he received a walkover. Then came a closely-fought contest against the defending champion, Canada's Korey Jarvis. Sumit Malik was not fazed by his opponent's stature and went on to record a 6-4 victory. In the semis, Pakistan's Tayab Raza was comfortably beaten by 10-4, before Nigerian Sinivie Boltic forfeited the final due to an injury.
He said, "I recovered from my injury and participated at the Delhi Asian Championships, then won gold in Gold Coast at the Commonwealth Games. I was feeling so good after that, as very few Indian wrestlers win in the super-heavyweight category."
Sumit added, "I even had an injury prior to the Commonwealth Games in 2018, due to which I had to undergo a back operation. I am always raring to go once I recover from injuries."
The Tokyo dream
Back in India, Sumit Malik is currently recovering from yet another injury, but sounds confident with the Tokyo Olympics just over a couple of months away.
He remarked, "I am already undergoing physiotherapy and the doctor has told me that I will be fully fit in 10-15 days. I have suffered a lot because of injuries previously. This time I pray to God, so that I can be injury-free during the Olympics."
Three wrestlers have qualified from Chhatrasal for the upcoming Olympics. I practice with Ravi Dahiya and Deepak Punia there and now we will represent India at the Olympics. I want to practice properly with full dedication and bring back laurels for my country," concludes Sumit Malik.
For more updates, follow Khel Now on Twitter, Instagram and join our community on Telegram.