Hangzhou 2022 Asian Games
Asian Games 2023: India's medal tally after Day 3, 26th September
By

Abhiruchi Rout
Three medals were presented to Indian athletes on 26 September.
On September 25, 2023, day three of the Hangzhou Asian Games 2023, Indian athletes exhibited their prowess across a variety of sports such as Shooting, Field Hockey, Tennis, Fencing, Swimming, Judo, Cycling, Sailing, Chess, Squash, Boxing, and Volleyball.
The Indian contingent made the most significant impact on the third day in Sailing and Equestrian. Sailors Neha Thakur and Eabad Ali earned India – a silver and a bronze medal respectively, contributing to the nation's growing medal count. The Equestrian team consisting of Hriday Chheda, Anush Agarwalla, Divyakriti Singh, and Sudipti Hajela clinched gold in team dressage at the Tonglu Equestrian Centre, which earned India's third gold medal at the prestigious event.
Number of medals presented to Indian athletes on 25th September
India added three medals to make their total count to 14, after collecting a combined total of 11 medals on day 1 and day 2 of the Asian Games 2023. In the Girl's Dinghy ILCA4 competition, Neha clinched the silver medal as she scored a commendable total of 32 points, achieving a net score of 27. Meanwhile, in the Men's Windsurfer RS:X event, Eabad Ali notched up a bronze as he finished with a net score tally of 52.
Anush Agarwalla's stellar display, riding on Etro, garnered him a score of 71.088, as he emerged as the best performer for India. Riding Chemxpro Emerald, Hriday Chheda closely trailed with a total of 69.941. Divyakriti Singh, alongside Adrenalin Firfod, also made a huge contribution with a tally of 68.176.
Indian Sports Live Coverage on Khel Now
Collectively, these impressive performances resulted in a combined score of 209.205 and earned India the gold medal in the team dressage event. This marks India's equestrian gold after a lengthy 41-year hiatus since their victory at the 1982 Asian Games.
Asian Games 2023: Updated medal tally after 26th September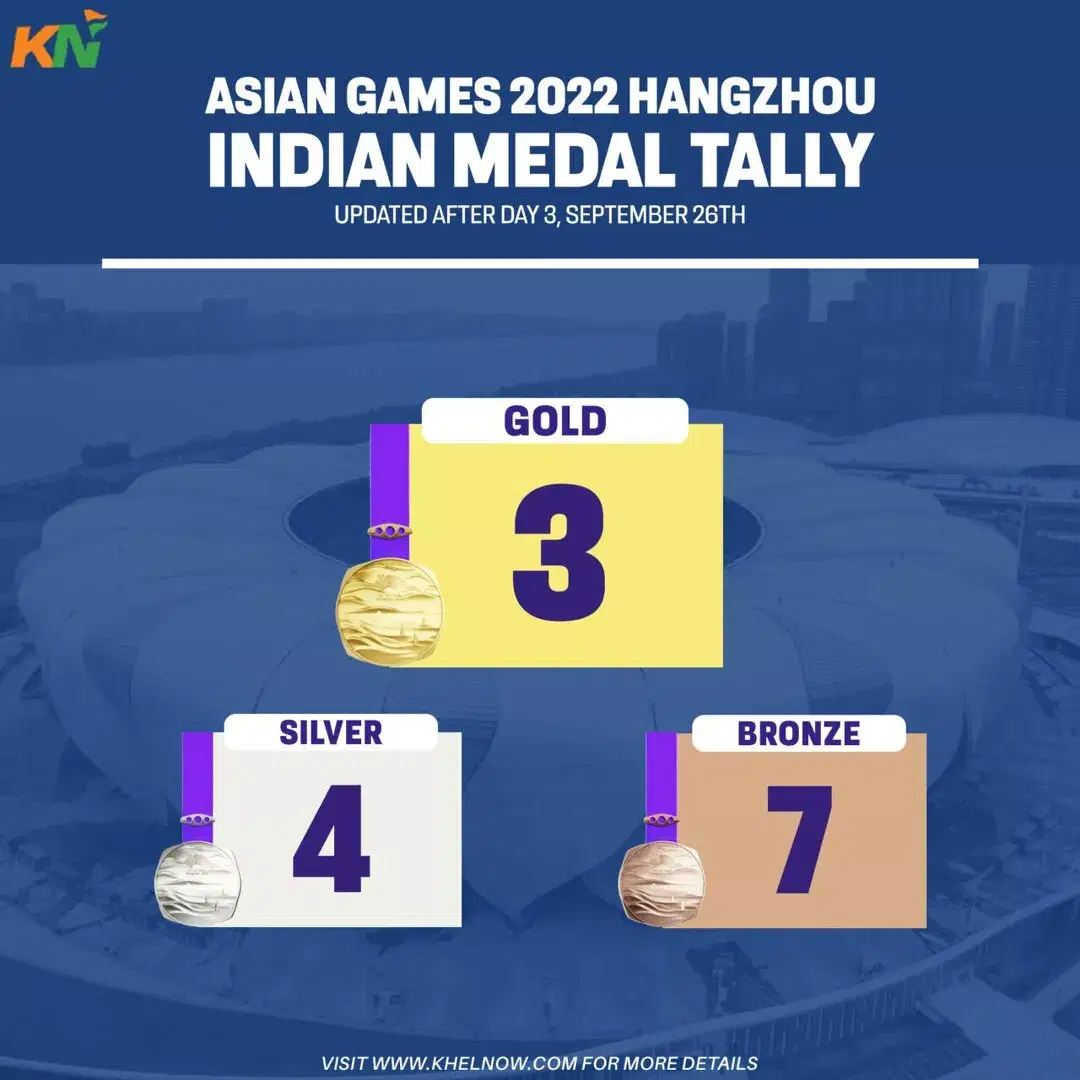 At the end of Day 3 of the Asian Games 2023, India held onto its sixth spot with a medal haul of 14, with three gold, four silver, and seven bronze medals. China is edging closer to the century mark, having won an astounding 94 medals, bagging 53 gold, 28 silver, and 13 bronze medals.
South Korea (49) and Japan (46) stand firm at the second and third spots, respectively, in the medal table. Uzbekistan (22) and Hong Kong (19) retain their fourth and fifth positions, ahead of India. Indonesia (9) isn't far behind, occupying the seventh place, with the same number of gold count as India. Chinese Taipei (2), Thailand (2), and Iran (1) complete the top ten in the nation standings.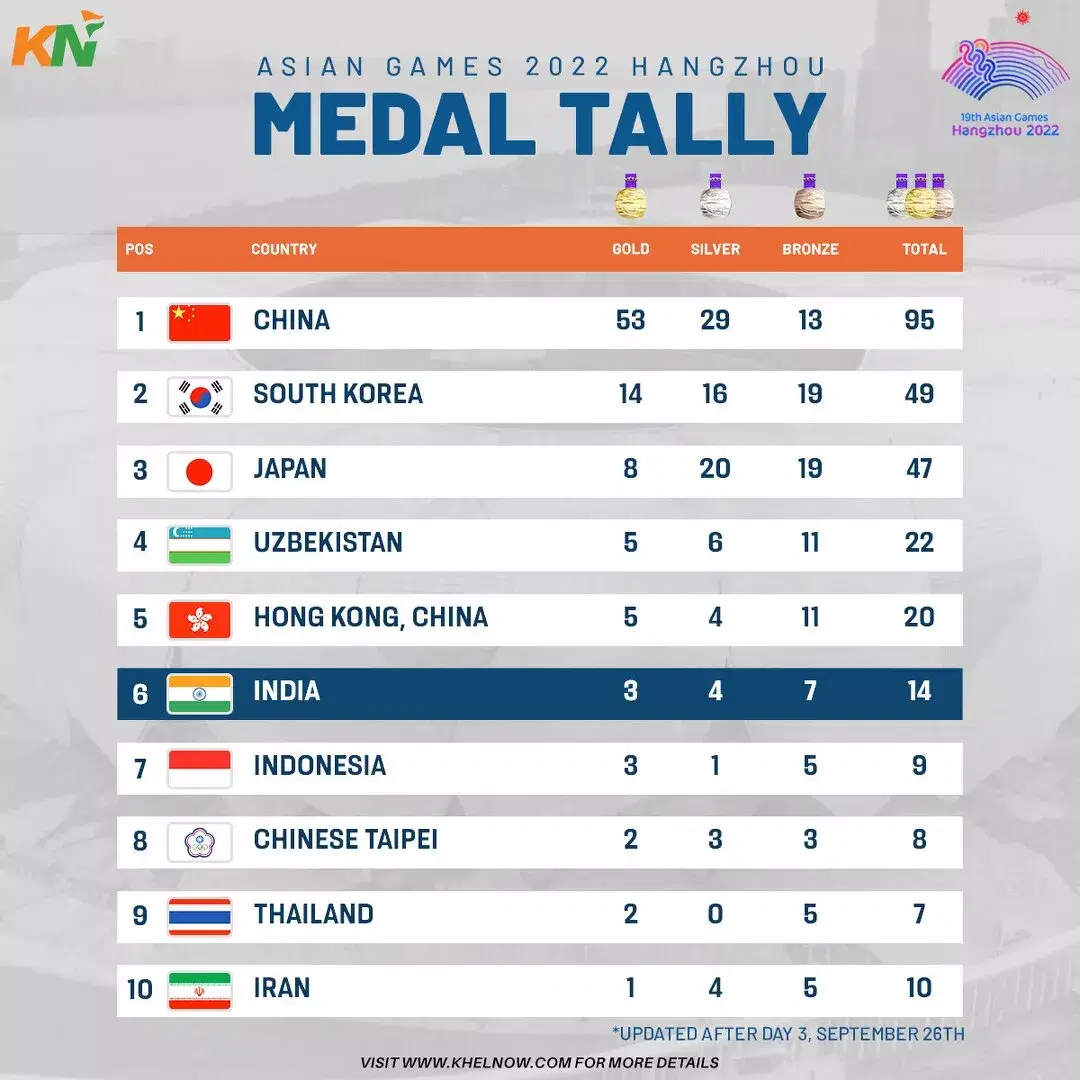 What to expect from the Indian contingent on September 27?
At the 2018 Asian Games held in Jakarta, Indonesia, India collected a commendable 70 medals, which included 16 gold, 23 silver, and 31 bronze. This achievement set a benchmark for the country, and now, the goal is to elevate this mark to a minimum of 100 medals across various disciplines at the Asian Games 2023.
As the competition progresses to Wednesday, September 27, Sailing, Shooting, Chess, Equestrian, and Artistic Gymnastics will witness Indian athletes, competing for a podium finish. Elite shooters like Manu Bhaker, Rhythm Sangwan, Pranati Nayak in gymnastics, and Vishnu Saravanan in sailing are the ones to watch out for, who will be aiming to contribute to India's medal tally.
For more updates, follow Khel Now on Facebook, Twitter, and Instagram; download the Khel Now Android App or IOS App and join our community on Telegram.