Hangzhou 2022 Asian Games
Asian Games 2023: India's medal tally after Day 4, 27th September
Eight medals were presented to Indian athletes on 26 September.
On September 27, 2023, which marked the fourth day of the Hangzhou Asian Games 2023, Indian sports enthusiasts witnessed performances across various disciplines, which included Fencing, Wushu, Swimming, Boxing, Cycling, Table Tennis, Tennis, Squash, and Chess.
Among these sporting events, it was Shooting that captured the limelight. On a momentous day, Indian shooters contributed significantly to India's medal collection as they collected a remarkable total of seven medals. This haul comprised two gold medals, three silver medals, and two bronze medals, which showcased India's dominance in the sport.
Number of medals presented to Indian athletes on 25th September
On the fourth day of the Asian Games 2023, India made a significant addition to their medal haul by winning a total of eight medals and elevated their overall count to 22. India's gold medal quest began with a remarkable performance by the trio of Manu Bhaker, Esha Singh, and Rhythm Sangwan in the women's 25m pistol team event. Their collective effort resulted in a combined score of 1759 points, which saw India clinch the gold medal. Meanwhile, China won the silver with a combined score of 1756 points.
Sift Kaur Samra scripted history by winning the gold in the Women's 50m rifle 3 positions event as she smashed the World Record. This achievement marked India's first individual gold at the 2022 edition and their fifth gold medal in the overall tally. The 22-year-old exhibited her prowess by scoring a remarkable total score of 469.6 points.
Indian Sports Live Coverage on Khel Now
In doing so, she exceeded the previous world record set by Seonaid McIntosh earlier in the year in Baku, by a notable 2.6 points. China's Qiongyue Zhang, the silver medalist, managed a total score of 462.3 points, lagging behind the Indian shooter by a large difference of 7.3. In the same event, another Indian Ashi Chouksey bagged the bronze medal, scoring 451.9.
Earlier in the day, the Indian team, comprising Sift, Ashi, and Manini Kaushik, clinched the silver medal with a collective total of 1773 in the women's 50m rifle 3 positions team event. Later, the 25m women's pistol event witnessed Esha Singh winning the silver medal, where she made a remarkable comeback to attain the result.
Another star of the day was Anant Jeet Singh Naruka, who claimed a historic silver, scoring 58 out of 60 shots in the medal match of the men's skeet event. He finished just two hits behind Olympic medalist Abdullah Alrashidi, who scored a perfect 60 out of 60, to equal the current World Record set by Angad Vir Singh Bajwa. Earlier, Naruka had teamed up with Bajwa and Khangura Gurjoat Siingh to win a bronze for India.
On a day that witnessed the dominance of shooters, Tokyo Olympian Vishnu Saravanan was the only non-shooter to earn a medal. He contributed to India's medal count by winning a bronze in the Men's Dinghy – ILCA7 category in Sailing. Vishnu's impressive display earned him a total of 48 points, with a net score of 34. It was a close race, as Jeemin Ha's net score was just a whisker away at 33. Vishnu's skill was particularly evident when compared to the fourth-place Nicholas Brian Bezy as there was a considerable 16-point gap in their net scores.
Asian Games 2023: Updated Indian medal tally after 27th September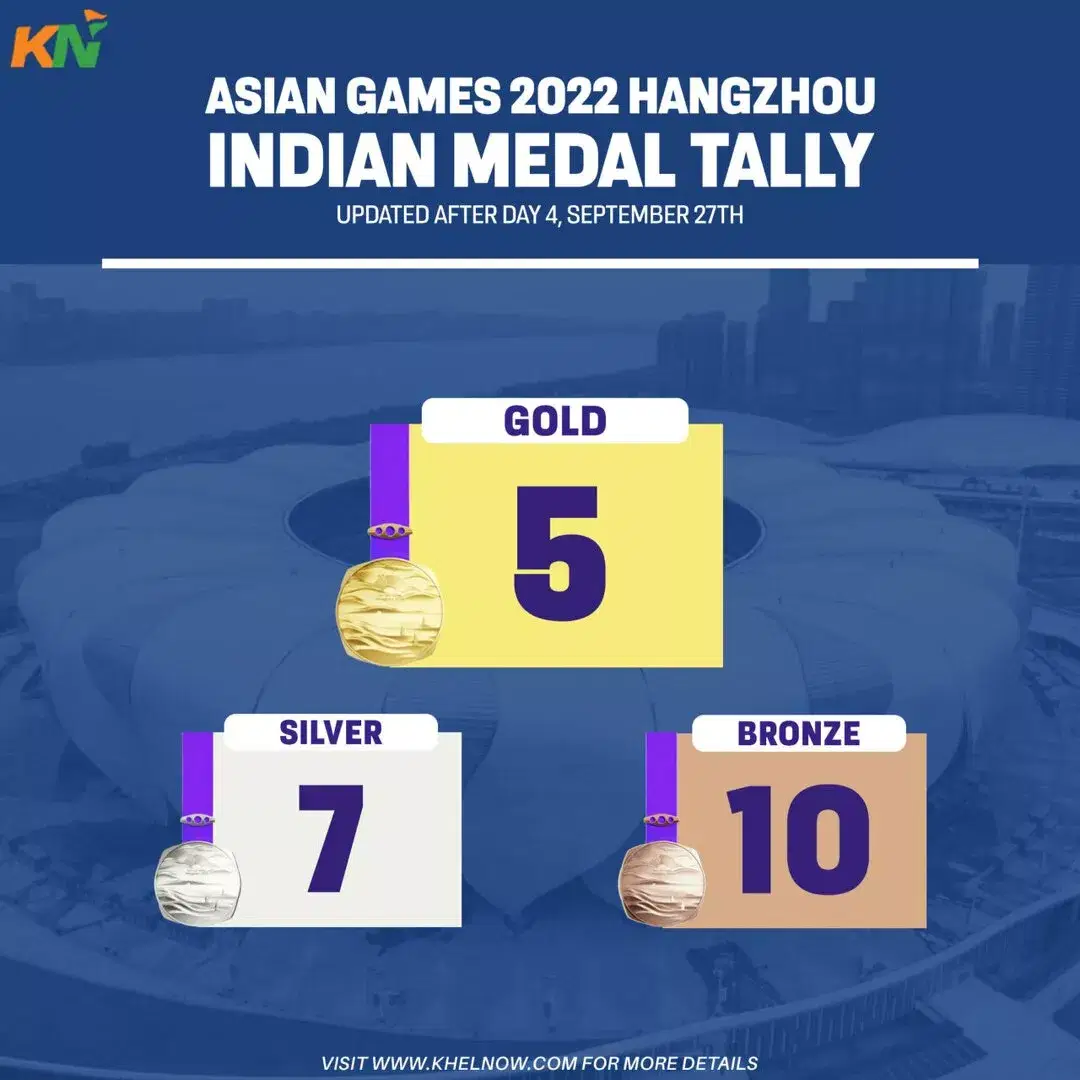 At the Asian Games 2023, India moved one spot below from sixth to seventh, despite having a good outing on Day four of the competition, with five gold, seven silver, and 10 bronze medals. China has surpassed the century mark, bagging an overall 140 medals (76 gold, 43 silver, and 21 bronze).
South Korea (70) and Japan (66) stand steady at the second and third spots, respectively, in the medal table. Uzbekistan (22) retains their fourth place, ahead of India. However, the team that has moved above is Thailand with six gold medals. Hong Kong is currently in sixth place with a total of 27 medals (5 gold). Indonesia is ranked 9th, while Singapore and Chinese Taipei are jointly tied at ninth.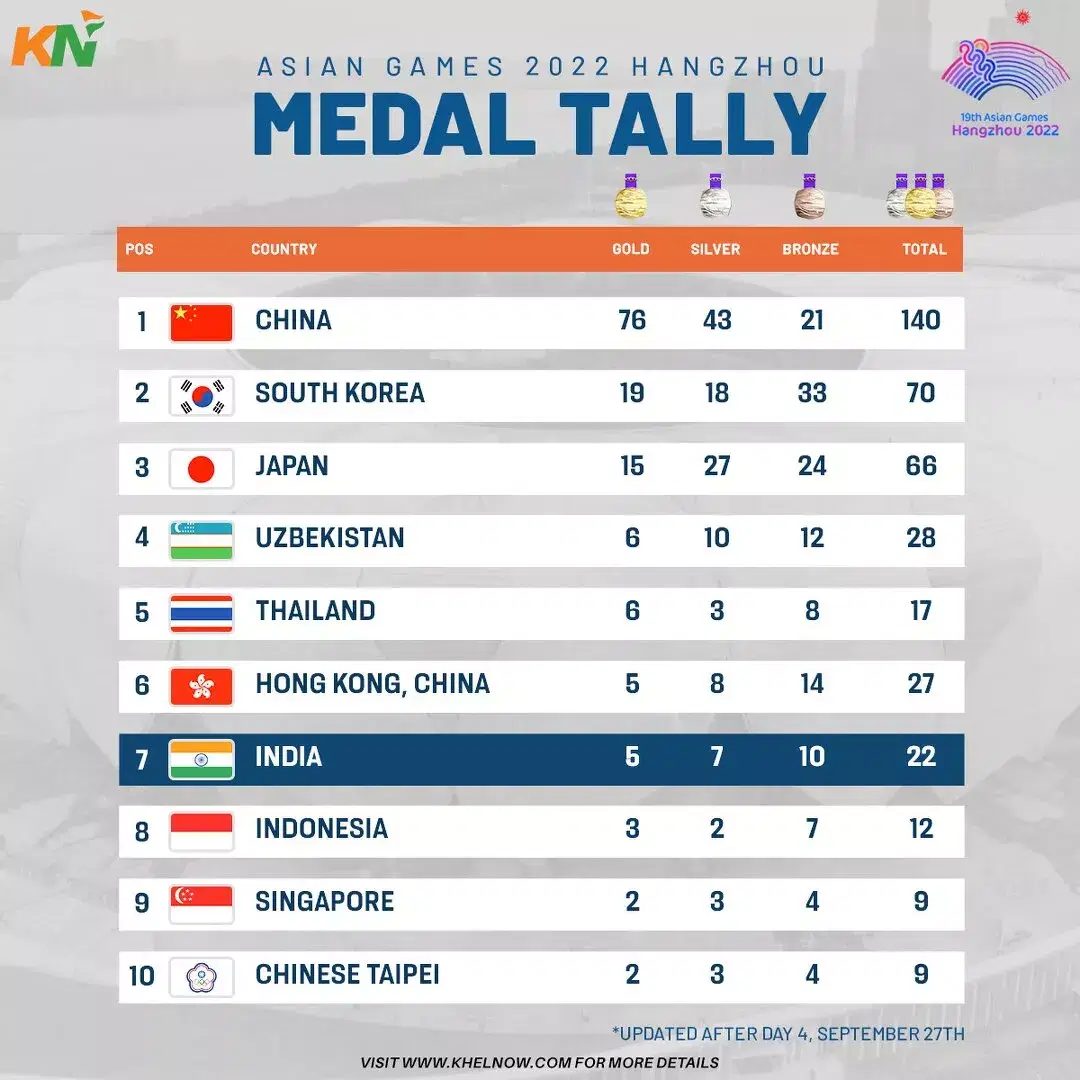 What to expect from the Indian contingent on September 27?
As the competition moves forward to September 28, one can expect Indian athletes to display their skills and compete for podium finishes in sports such as Shooting, Wushu, Equestrian, and Artistic Gymnastics. Athletes like Hriday Vipul Chheda, Anush Agarwalla in Equestrian- Individual Dressage, and Naorem Roshibina Devi in the Wushu's 60 kg are to watch out for on Thursday.
At the 2018 Asian Games held in Jakarta, Indonesia, India garnered an impressive total of 70 medals, including 16 gold, 23 silver, and 31 bronze. The main goal, in this edition, will be to surpass the previous milestone by achieving a minimum of 100 medals across a diverse range of sports at the Asian Games 2023.
For more updates, follow Khel Now on Facebook, Twitter, and Instagram; download the Khel Now Android App or IOS App and join our community on Telegram.