Hangzhou 2022 Asian Games
Asian Games 2023: India's medal tally after Day 8, 1st October
By

Abhiruchi Rout
Fifteen medals were presented to Indian athletes on 1st October.
During the eighth day of the Asian Games 2023, India's sportspersons showcased their skills in a variety of events, spanning Athletics, Shooting, Golf, Boxing, Roller Skating, Equestrian, Tennis, Bridge, Badminton, and Chess. The day marked India's most successful day in terms of medals won at the 19th edition of the Asian Games.
The limelight predominantly belonged to Athletics, as the athletes brought home a total of nine medals, comprising two gold, four silver, and three bronze medals. The sport of Shooting was not far behind, with the Indian contingent bagging three medals, one gold, silver, and a bronze medal each. With this, India ended its campaign with their best-ever finish in this sport in the history of the Asian Games as the nation earned 22 overall medals, only surpassed by China (29).
Number of medals presented to Indian athletes on 1st October
The India contingent added an impressive total of 15 medals, thrice what they had collected on September 30, Saturday. This comprises 3 gold, 7 silver, and 5 bronze medals. The nation's day began with Aditi Ashok making a mark by winning India's inaugural medal in the women's golf at the event. Aditi had a challenging final day as she recorded a five-over 77, which shifted her to the silver spot from a previous seven-stroke lead.
On Sunday, India's tally in Shooting opened with a silver-medal victory in the women's team Trap event. The team of Manisha Keer, Preeti Rajak, and Rajeshwari Kumar earned second place with 337 points, while China broke the world record with 357 points. The trio of Kynan Chenai, Zoravar Singh Sandhu, and Prithviraj Toindaman clinched gold for India in the men's trap team, setting an Asian Games record at 361. Chenai also bagged a bronze later, with 32 points, in the individual event.
However, the biggest upset of the day for India was when the two-time world champion Nikhat Zareen had to settle for a bronze after a tight match against Thailand's Chuthamat Raksat in the women's 50kg semi-final. The intense bout ended with a 3-2 decision in favor of Raksat, a double bronze winner at the World Championships.
Indian Sports Live Coverage on Khel Now
Indian athletics stars, however, made the day better for Indian fans, as the Commonwealth Games 2022 silver medalist Avinash Sable and Asian record holder Tajinderpal Singh Toor added glittering gold medals to India's tally. Sable made history by clinching India's first-ever men's 3000m steeplechase gold at the Asian Games, finishing in 8:19.50s and breaking the previous 8:22.79 record set by Iran's Keyhani in 2018. Meanwhile, Toor retained his shot put gold with a powerful 20.36m throw.
Harmilan Bains won the silver medal in the women's 1500m, clocking 4:12.74s. It was a double delight for India in the men's 1500m, Ajay Kumar Saroj and Jinson Johnson clinched silver and bronze with times of 3:38.94 and 3:39.74, respectively. However, Johnson, the previous gold medalist, settled for third this edition.
Murali Sreeshankar, a silver medalist from the 2022 Commonwealth Games, bagged a silver in the men's long jump at the Hangzhou Asian Games with an 8.19m jump in his fourth attempt. However, he was narrowly defeated by China's Wang Jianan's 8.22m leap. This achievement marks India's first long jump medal since Suresh Babu's gold in 1978, ending a 45-year medal drought.
Nandini Agasara clinched bronze in the women's heptathlon with a personal record of 5712 points, while China's Zheng Ninali took gold with 6149, followed by Uzbekistan's Ekaterina Voronina at 6056 points. In the women's discus, Seema Punia secured bronze with a 58.62m throw, her season's best. This marks Punia's third Asian Games medal, having won gold in 2014 and bronze in 2018.
In a dramatic women's 100m hurdles final, Jyothi Yarraji claimed the silver in the women's 100m hurdles amidst controversy. Initially disqualified for a perceived false start alongside China's Yanni Wu, both were permitted to run, with a decision on their standings pending post-race. While Wu initially secured silver and Jyothi bronze, an official ruling post the race led to Jyothi's bronze upgrade to silver.
Finally, India got its last medal of the day in the men's team event of Badminton. In an intense finale, India narrowly succumbed 3-2 to a strong Chinese side to win silver. Despite standout performances from Lakshya Sen and world No. 3 Chirag Shetty-Satwiksairaj Rankireddy in the first two matches, Kidambi Srikanth, Dhruv Kapila-K Sai Pratheek, and Mithun Manjunath lost their games. With this, India achieved its first team medal in Badminton since 1986.
Asian Games 2023: India's medal tally after Day 8, 1st October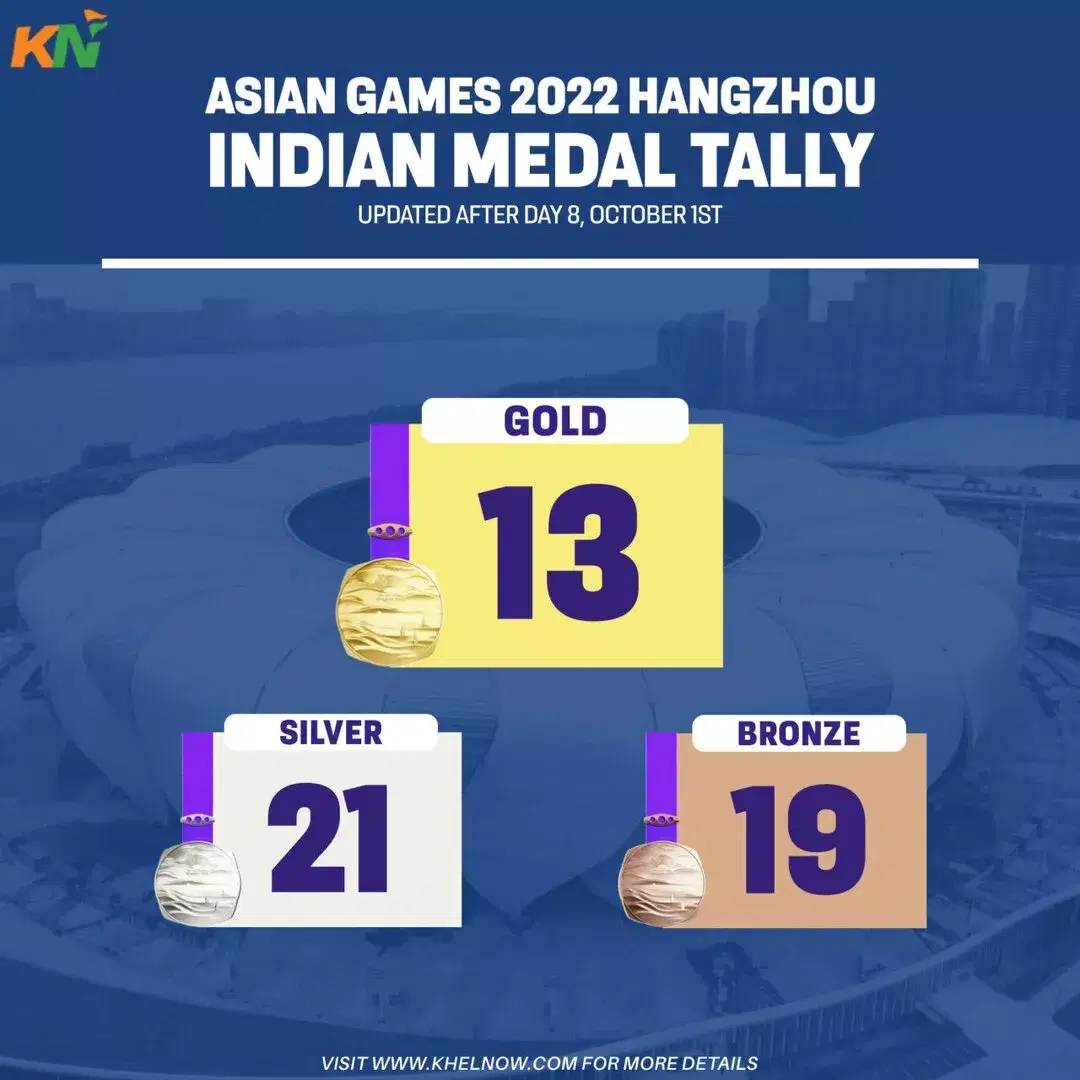 As the eighth day of the Asian Games 2023 marked its conclusion, India remained steady at the fourth spot in the medal table, boasting 53 medals – 13 gold, 21 silver, and 19 bronze. Meanwhile, China continues its commanding lead with 244 medals amassing 133 gold, 72 silver, and 39 bronze medals.
South Korea has edged past Japan, securing 30 golds compared to Japan's 29, setting the stage for an exciting competition for the second spot. Rounding off the top ten, Uzbekistan, Thailand, Chinese Taipei, Hong Kong, North Korea, and Indonesia, hold gold counts of 11, 10, 9, 6, 5, and 4 respectively.
What to expect from the Indian contingent on October 2, 2023?
As October 2, 2023, unfolds, Indian athletes in Athletics, Archery, Chess, and Table Tennis will be under the spotlight, as they aim to enhance the country's medal tally. Some of the prominent names to keep an eye on include Parul Chaudhary, Tejaswin Shankar, Jyothi Surekha Vennam, Harika Dronavalli, Koneru Humpy, R Praggnanandhaa, Gukesh D, Vidit Gujrathi, Sutirtha, and Ayhika Mukherjee.
At the Asian Games 2018 in Jakarta, India bagged 70 medals, consisting of 16 gold, 23 silver, and 31 bronze. For this 19th iteration in Hangzhou, the ambition is to reach or even surpass the 100-medal mark.
For more updates, follow Khel Now on Facebook, Twitter, and Instagram; download the Khel Now Android App or IOS App and join our community on Telegram.