Hangzhou 2022 Asian Games
Asian Games 2023: India's medal tally after Day 10, 3rd October
India added nine more medals to its tally on day 10 of the continental meet.
On Tuesday at the Asian Games 2023, the Indian athletes showcased their prowess in a number of sports like Kabaddi, Archery, Athletics, Cricket, Hockey, Canoeing and Kayaking, Badminton, Sport Climbing, Boxing, Diving, Squash, and Soft Tennis.
Athletics emerged as the star sport for India on the tenth day, contributing six medals in various categories to the nation's tally. This included two gold, two silver, and two bronze medals each. Boxing was the second-best sport for the nation in terms of medals as the pugilists won two bronze medals on day 10 of the Hangzhou Asian Games 2023.
Number of medals presented to Indian athletes on 3rd October
Indian sportspersons earned a total of nine medals on Day 10 of the Asian Games 2023, including two gold, two silver, and five bronze medals. The first medal for India came in the men's canoe double event, where the duo of Arjun Singh and Sunil Singh Salam finished third with a timing of 3:53.329, to win the bronze. This marked India's second medal in the event in the history of the Games.
The day saw the Indian boxing contingent win two medals as Preeti Pawar and Narender Berwal signed off on a positive note with bronze medals. The 2022 Asian Championships bronze medallist Preeti had to settle with bronze as the reigning Asian Games gold medalist Chang, defeated her by points (5-0) in the women's 54kg. While, Narender, in his +92 kg match, lost against Kamshybek Kunkabayev in a unanimous decision.
Then, the medal rush for India began in Athletics. India claimed two gold medals on the day as Parul Chaudhary in the women's 3000m steeplechase and Annu Rani in the women's javelin throw collected the prestigious medal for the nation.
Parul Chaudhary clinched the first gold medal of the day for India with a timing of 15:14.75. Although she trailed behind for the majority of the race, Chaudhary accelerated in the ultimate two laps and unleashed a powerful sprint in the final 50 meters to narrowly defeat Japan's Ririka Hironaka (15:15.34) by just under a second. This was Parul's second medal in this edition and India's first gold medal in this event in the competition's history.
Although Parul's win was anticipated given her stellar season, Annu Rani's gold was a delightful shocker for many. Annu, an Indian javelin record holder with 63.82m, hadn't surpassed 60m in Hangzhou since her bronze achievement at the Commonwealth Games 2022 with an exact 60m throw.
But, on Tuesday, she shocked everyone, first with a 61.28m throw, followed by her standout 62.92m effort on her fourth attempt. This feat placed her ahead of Sri Lanka's Dilhani Lekamge and China's three-time World Championships medalist Huihui Lyu, marking India's inaugural gold in this discipline.
Indian Sports Live Coverage on Khel Now
Tejaswin Shankar scripted history, winning a silver in the men's decathlon as he accumulated an impressive 7666 points, with top finishes in the long jump, high jump, and 400m events. This victory marked India's first decathlon medal since 1974. Additionally, Shankar surpassed Bharatinder Singh's longstanding 12-year national record of 7658 points. He came in second behind
Vithya Ramraj, who had earlier equalled legendary PT Usha's 39-year-old national record during the heats, clinched the bronze in the women's 400m hurdles with a time of 55.68 seconds. In the men's 800m race, Mohammed Afsal Pulikkalakath clinched a silver by completing the run in 1:48:50, just trailing Essa Ali S Kzwani from Saudi Arabia who finished at 1:48.05. Meanwhile, Praveen Chithravel earned a bronze with a notable 16.68m leap in the men's triple jump event.
Asian Games 2023: India's medal tally after Day 10, 3rd October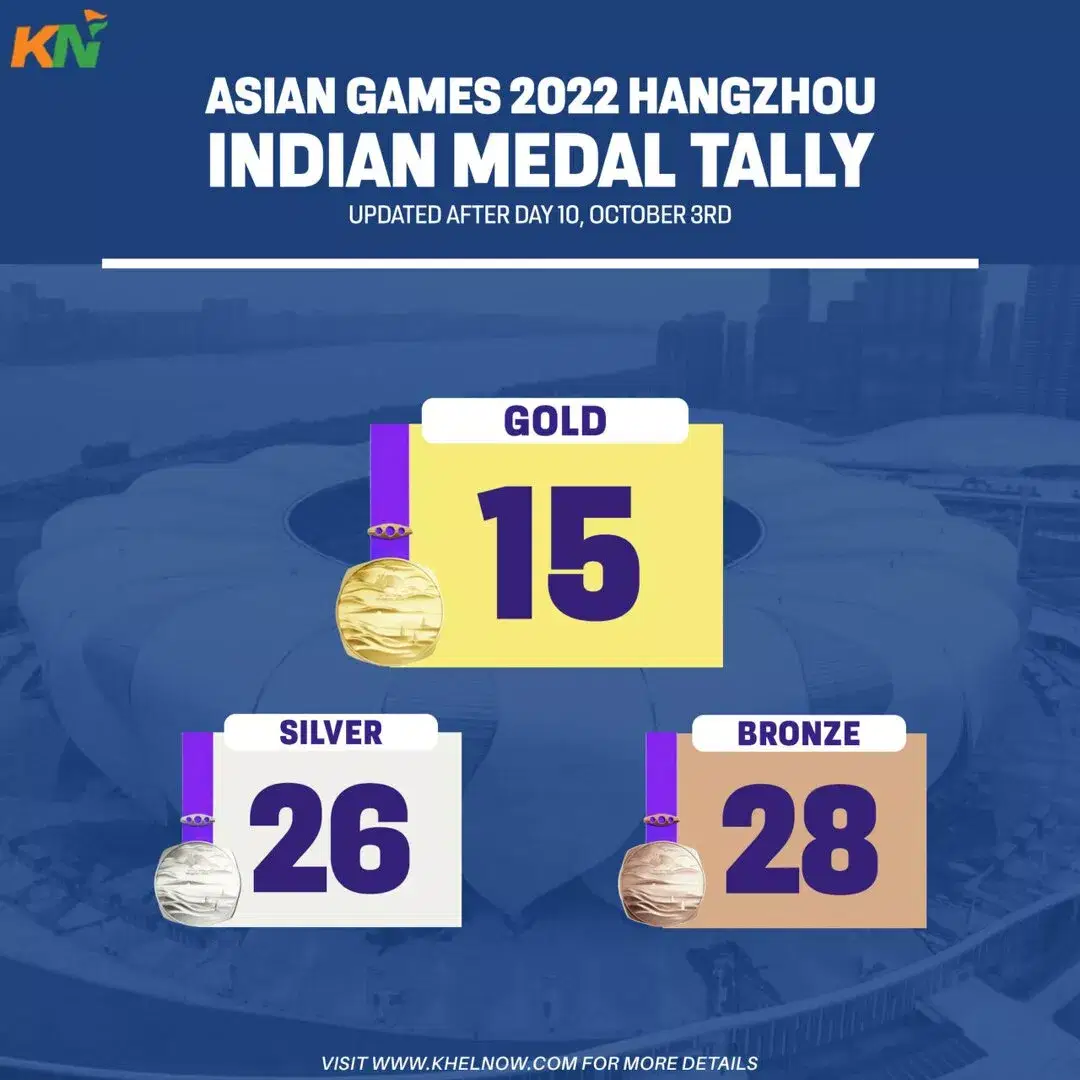 On Day 10 of the Hangzhou Asian Games 2023, India added two golds, maintaining its fourth place standing with a total of 69 medals, which include 15 gold, 26 silver, and 28 bronze. China, the host country, remains on top, nearing a remarkable 300 medals, with their current count at 297 – 161 gold, 90 silver, and 46 bronze.
Japan retains the second spot with 33 gold medals, closely followed by South Korea with 32. Rounding off the top ten are nations like Uzbekistan, Chinese Taipei, Thailand, North Korea, Bahrain, and Hong Kong with gold counts of 14, 12, 11, 10, 7, 7, and 6, respectively.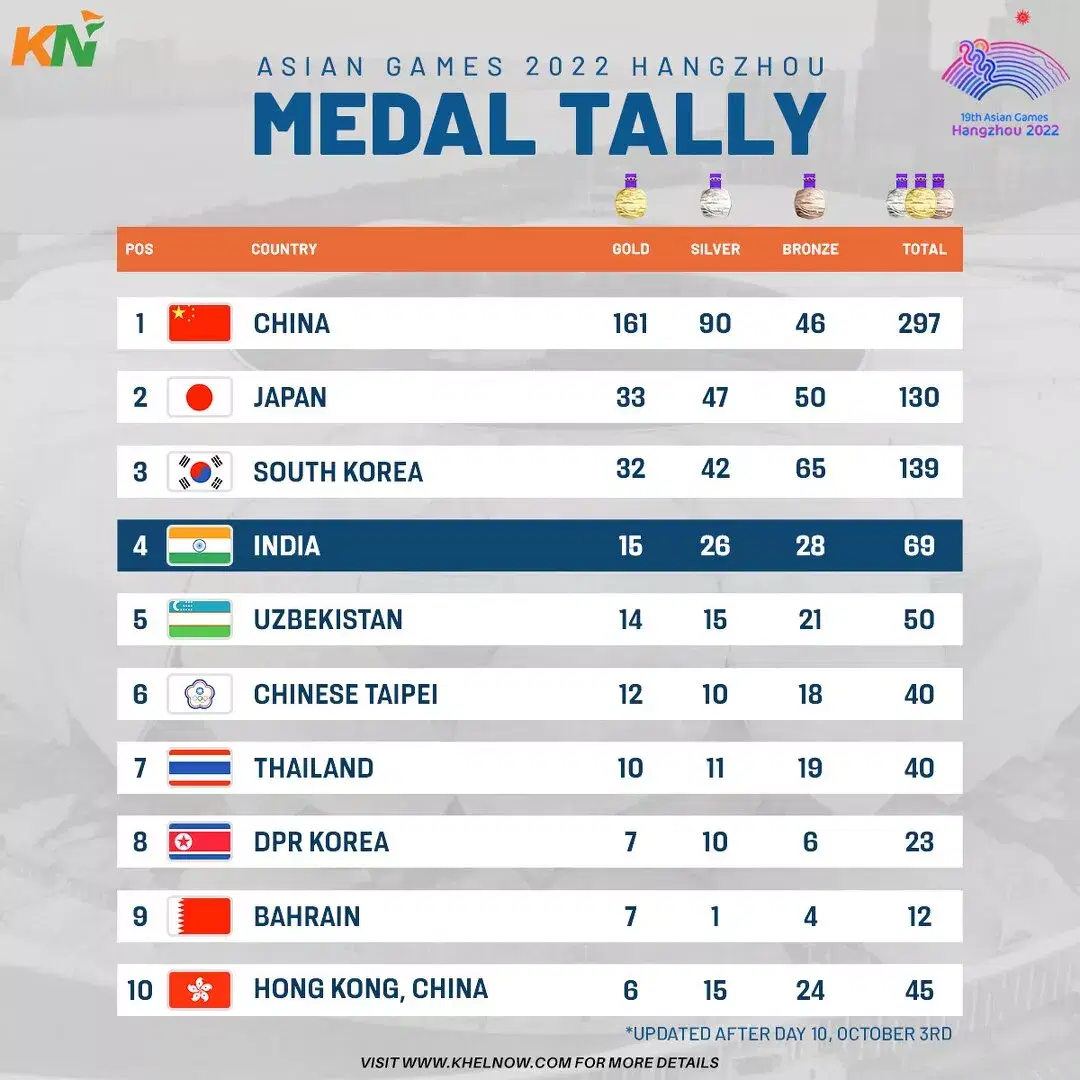 What to expect from the Indian contingent on October 4, 2023?
As events take place on October 4, 2023, Indian participants in various sports such as Archery, Athletics, Boxing, Kabaddi, Squash, Badminton, and Hockey will aim for top honors. World and Olympic champion Neeraj Chopra, Olympic medalist Lovlina Borgohain, two-time Olympics podium-finisher PV Sindhu, Saurav Ghosal, the men's hockey squad, the compound archery teams, and both Kabaddi teams are definitely the ones to keep an eye on.
At the Asian Games 2018 in Jakarta, Indonesia, India claimed 70 medals, bagging 16 gold, 23 silver, and 31 bronze. For this 19th iteration in Hangzhou, the goal of the Indian contingent will be to reach or even surpass the 100-medal mark.
For more updates, follow Khel Now on Facebook, Twitter, and Instagram; download the Khel Now Android App or IOS App and join our community on Telegram.