Hangzhou 2022 Asian Games
Asian Games 2023: India's medal tally after Day 12, 5th October
By

Gourav Samal
Indian contingent clinched three gold medals on Thursday.
The Indian contingent endured a strenuous day of fierce competition across various events on Day 12 (5th October) at the Hangzhou Asian Games 2023.
Starting from wrestling, Indians had matches in soft tennis, chess, hockey, kabaddi, ju-jitsu, badminton, bridge, sport climbing, athletics, squash, canoe slalom, roller skating, sepaktakraw and archery.
Today, Indian athletes have attained remarkable accomplishments in disciplines such as squash, archery, and wrestling. However, in the remaining events, either athletes have progressed to the subsequent rounds or encountered defeats, concluding their campaign at the global level.
The major attractions were three gold medals, one in squash and other two in archery. While wrestling fetched a single bronze to the medal tally.
Number of medals presented to Indian athletes on 5th October
After having a good haul of medal yesterday, the overall medal count increased further as five more medals were acquired today. In the morning, a golden victory was secured by the Indian women archers Jyothi Surekha Vennam, Aditi Gopichand, and Parneet Kaur in the Compound Women's team event. They triumphed over the team from Chinese Taipei with a score of 230-229 points.
Next up was the mixed squash team's turn. Dipika Pallikal and Harinderpal Sandhu, secured a remarkable victory in the squash mixed doubles event, triumphing over Aifa Binti Azman and Mohd. Syafiq Kamal of Malaysia, thereby securing the top position on the podium.
The race for gold did not conclude there, as one more awaited its inclusion. The Indian men's archery team gracefully contributed another gold to the country's medal count by triumphing in the men's compound archery team event. Comprising Ojas Pravin Deotale, Abhishek Verma, and Prathamesh Samadhan Jawkar, the Indian squad emerged victorious over their South Korean counterparts with a final score of 235 points, surpassing their opponents' 230 points.
India's Saurav Ghosal claimed the silver medal in squash, adding another accolade to his name. Unfortunately, he was unable to secure the gold in the men's singles squash final, as he was defeated by Malaysia's Eain Yow NG.
At last, Indian wrestler Antim Panghal, secured the final medal of the day. She captured the bronze medal in the women's freestyle 53kg wrestling event by triumphing over Bolortuya Bat-Ochir of Mongolia with an impressive score of 3-1.
Indian Sports Live Coverage on Khel Now
Asian Games 2023: India's medal tally after Day 12, 5th October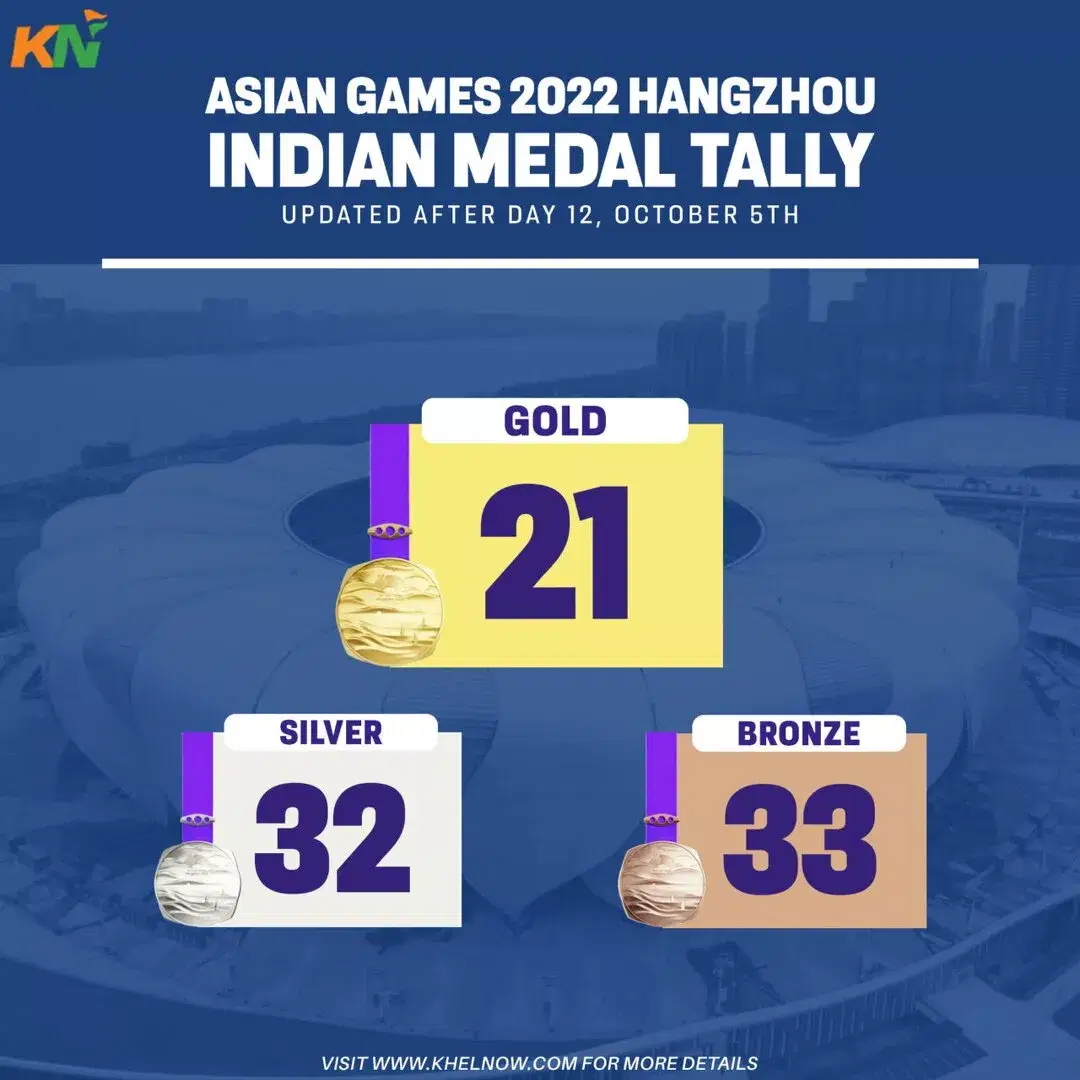 After the end of events on day 12, India are strongly placed at the fourth position on the table with a total of 86 medals, including 21 gold, 32 silver and 33 bronze medals.
Notably, while China hold the first place with 333 medals, Japan is at second with 158 and Republic of Korea is at third with 157 medals. India are followed by Uzbekistan and Chinese Taipei with 60 and 53 medals respectively.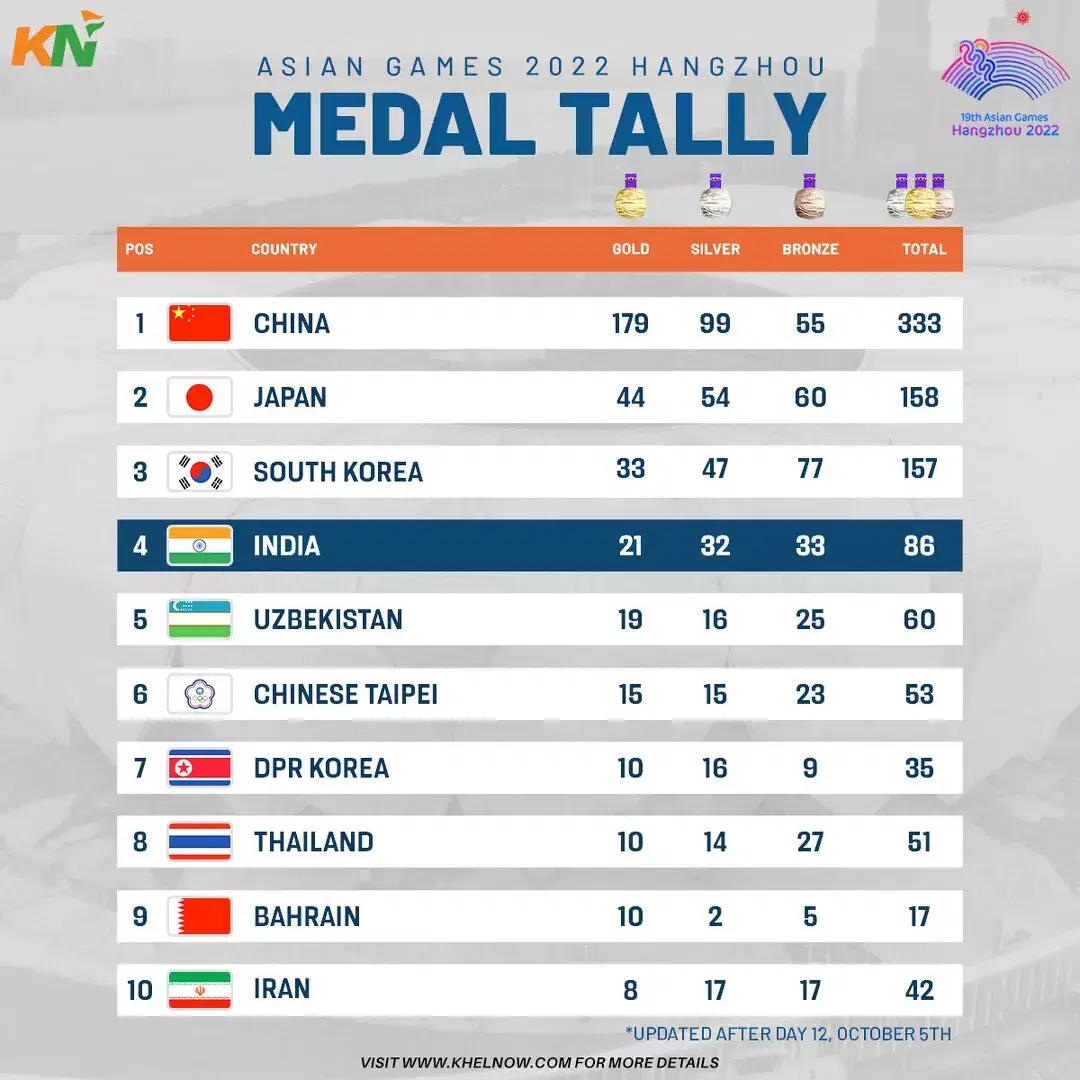 What to expect from the Indian contingent on October 6?
Indian athletes have exceeded their previous record of 70 medals in the Jakarta Asian Games 2018, and are now diligently working towards achieving a remarkable tally of 100 medals.
Tomorrow's schedule consists of thrilling badminton, archery, hockey, and kabaddi matches, which are anticipated to contribute to the growing medal tally.
The key emphasis will undoubtedly be placed on HS Prannoy, Bajrang Punia, and the Indian Men's Hockey Team, where the anticipation of securing a medal will be elevated.
For more updates, follow Khel Now on Facebook, Twitter, and Instagram; download the Khel Now Android App or IOS App and join our community on Telegram.
posted in :