Hangzhou 2022 Asian Games
Asian Games 2023: Updated medal tally after Day 10, 3rd October
By

Mohammed Fazeel
India added nine more medals to its tally including two medals.
India added nine more medals to its tally to consolidate its fourth place in the Asian Games 2023 medal table but remained far from the top three — China, Japan and South Korea — who are also the only three nations at the 19th Asian Games to surpass the 100-medal mark. South Korea at third have won at least two more gold medals than double the number of gold India have achieved so far, while China have breached the 150-mark in gold medals alone.
The host nation stands just three medals shy of hitting the 300-medal accomplishment at the end of day 10 in Hangzhou and could well end the continental showpiece with at least 20 more gold medals. Japan at second have won nine fewer medals than South Korea but sit at second by virtue of winning 33 gold medals, one more than the Republic of Korea.
India are more than a mile away with 15 gold medals and total tally of 69 medals and with Uzbekistan breathing down their neck, India would want to add more medals to its tally and add quickly. In total medals won, Uzbekistan are 19 away but have 14 gold medals in their kitty.
For India, athletics was once again its saving grace bagging six of the nine medals won by the nation on Tuesday (October 3) and taking its total count to 21 medals. Shooting with seven gold and total of 22 medals still remains India's most successful event.
But with World and Olympic champion, Neeraj Chopra in action on Wednesday as well as the relay teams, athletics could take its count beyond 22 and surpass shooting as India's most successful sport in this edition of the Asian Games.
Indian Sports Live Coverage on Khel Now
Asian Games 2023: Updated medal tally after Day 10, 3rd October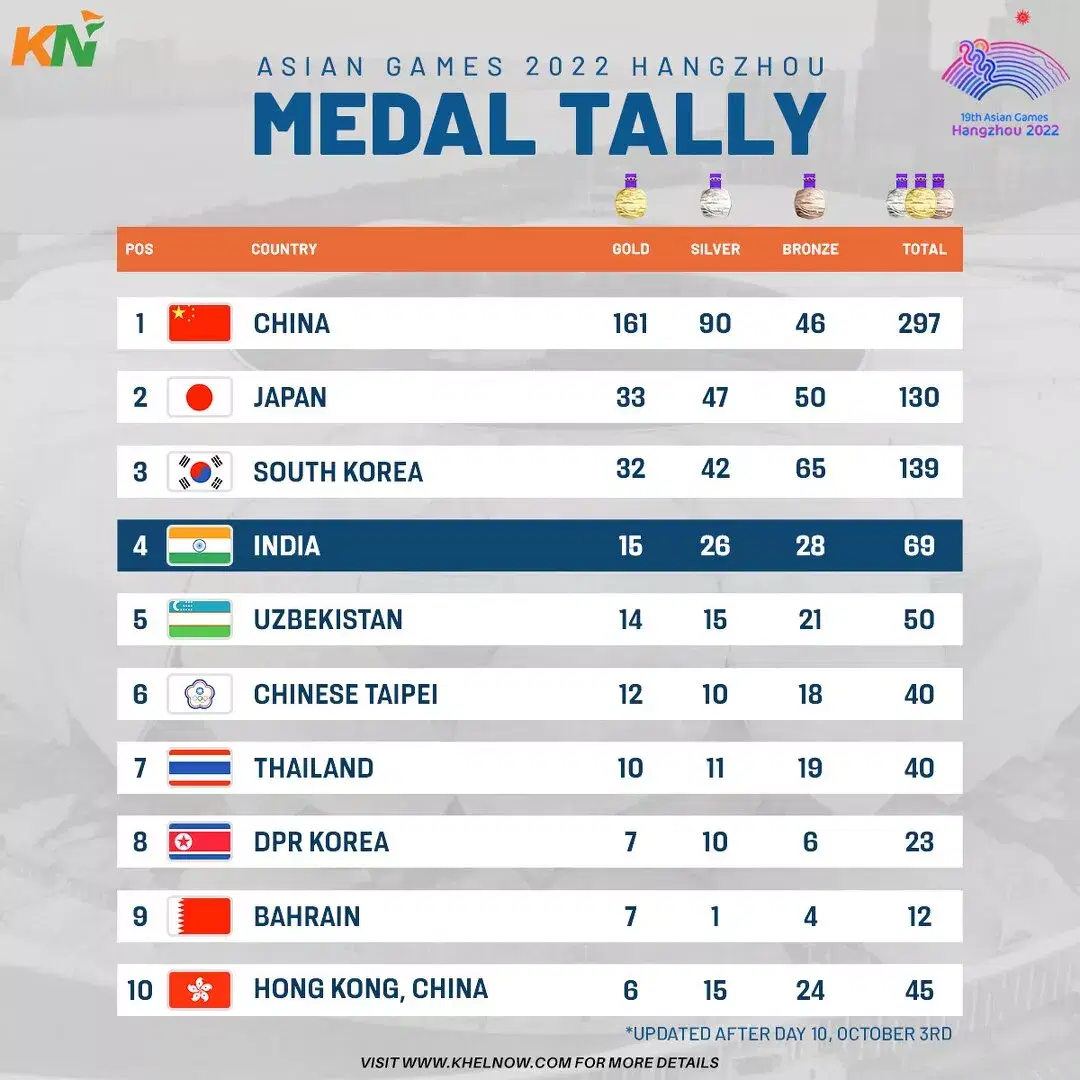 China has a firm stranglehold on the top position of the medals table. It is unlikely that its lead will be surmounted, with the end of the 19th Asian Games less than a week away. The hosts have a magnificent haul of 297 medals in their possession, including an astounding 161 golds.
Japan remains at second, securing 130 medals, with 33 golds. South Korea follows closely behind with 139 medals and a gold tally that is one less than Japan's at 32.
India, Uzbekistan, Taiwan, and Thailand round off the top seven. India has 69 medals at this stage of the competition, winning 15 gold medals. Uzbekistan has a total of 50 and 14 gold. Taiwan and Thailand have 40 medals apiece, with 12 and 10 golds to their name.
For more updates, follow Khel Now on Facebook, Twitter, and Instagram; download the Khel Now Android App or IOS App and join our community on Telegram.