Hangzhou 2022 Asian Games
Asian Games 2023: Updated medal tally after Day 13, 6th October 
By

Mohammed Fazeel
India are set to become fourth nation to reach tiple figure in total medals.
As we approach the conclusion of the Asian Games 2023, Day 13 offered an enticing array of 30 medals for participating nations to vie for. The 19th Asian Games, set to wrap up on Sunday, has witnessed remarkable feats and fierce competition.
In a courageous display of determination, HS Prannoy overcame a back injury to make his mark at the Asian Games. However, in the semifinal round, Prannoy appeared to run out of steam, ultimately securing a bronze medal after a hard-fought contest. He faced a formidable opponent in Li Shifeng, who emerged victorious with a scoreline of 16-21, 9-21.
China continues to shine on the Asian Games 2023 stage, adding another gold medal to its impressive tally, courtesy of Li Shifeng. Shifeng will now face compatriot Shi Yuqi in the final, after Shi Yuqi's victorious semifinal round against Japan's Kodai Naraoka. The Chinese delegation has accumulated a staggering 354 medals, including an impressive 187 gold, firmly establishing their supremacy.
India has made a remarkable ascent in the medal standings, currently occupying the fourth position with a total of 95 medals. The nation's athletes have excelled across a variety of sports, contributing nine additional medals to the previous day's count of 86. India's medal-winning performances span across disciplines such as team recurve archery, badminton, sepaktakraw, wrestling, hockey, and even bridge, where they clinched a silver – marking their maiden Asian Games medal in the sport.
Indian Sports Live Coverage on Khel Now
Asian Games 2023: Updated medal tally after Day 13, 6th October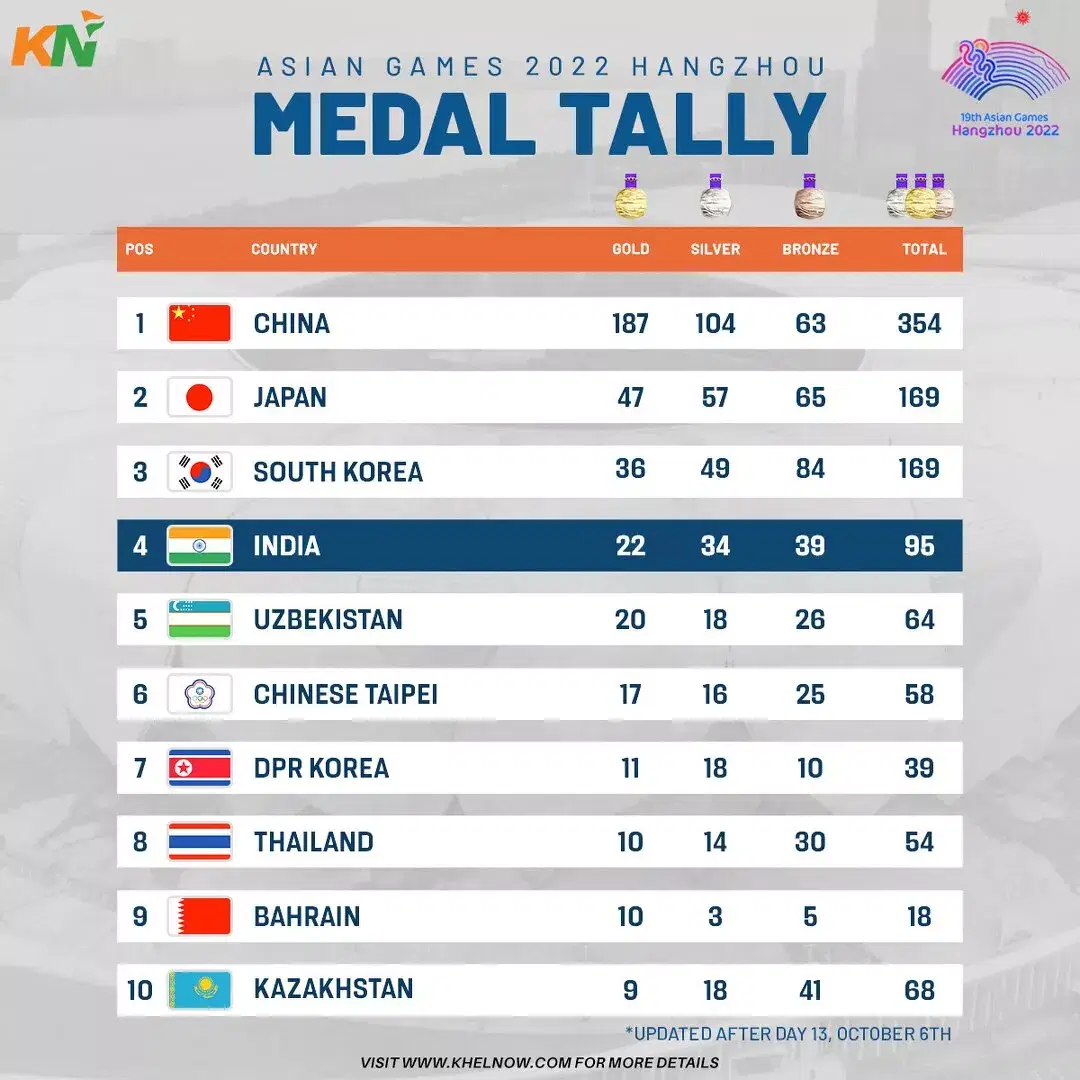 Medal Tally Update
China continues its relentless march with 353 medals, including 187 gold.
Japan holds the second position with 166 medals (gold-47, silver-57, bronze-62).
South Korea closely follows in third place with 169 medals (gold-36, silver-49, bronze-84).
India has solidified its fourth position with 95 medals and is poised to breach the coveted 100-medal mark.
Uzbekistan maintains the fifth spot with 64 medals (20 gold, 18 silver, 26 bronze).
Taiwan stands at sixth place with a total of 58 medals (17 gold, 16 silver, 25 bronze).
The Democratic People's Republic of Korea (DPRK) holds the seventh position with 38 medals (11 gold, 17 silver, 10 bronze).
As the final day's schedule includes Kabaddi, Cricket, Badminton, and Archery – events where India has showcased strong performances – it's highly likely that India will surpass the 100-medal mark. The 2023 edition of the Asian Games has proven to be India's most successful, surpassing their previous record of seventy medals in 2018 at Jakarta. India's current tally stands at 22 gold, 34 silver, and 39 bronze medals.
Unless unforeseen surprises await, the medals leaderboard for the 19th Asian Games is expected to conclude in its current order, with the dominant trio of China, Japan, and South Korea leading the way, while India celebrates its remarkable achievements.
For more updates, follow Khel Now on Facebook, Twitter, and Instagram; download the Khel Now Android App or IOS App and join our community on Telegram.