Athletics
Vithya Ramraj confident of breaking PT Usha's long-standing record at Asian Games
By

M Sudharshan
She fell short of matching the 39-year-old feat by just one-hundredth of a second in a recent meet.
Tamil Nadu's Vithya Ramraj made headlines after coming agonisingly close to rewriting a four-decade-long national record in women's 400m hurdles at the Indian Grand Prix V in Chandigarh on September 11 (Monday). The 24-year-old clocked an impressive 55.43s, missing the record set by the legendary PT Usha at the 1984 Los Angeles Olympics by just 0.01 seconds.
Usha, currently serving as the President of Indian Olympic Association (IOA), had finished fourth in Los Angeles en route to setting the national record, which stands as one of the two oldest national records in athletics.
Vithya has been performing consistently well over the past year. This is the first time she got under the 56-second mark in 400m hurdles. On the opening day of Indian Grand Prix V, Vithya clocked 52.40 seconds to clinch the top spot in 400m.
Performance at Indian Grand Prix V
"I was aiming for a better timing but overall satisfied with whatever I have done. I started confidently in the first few strides but then had the doubt whether I will be able to cope up with the speed. After the race, I sat down for a brief period thinking about narrowly missing out on the national record. Had I run a bit faster than the record would have been mine.
"One major thing is, I did not have much competition in the race, so I did not push myself hard in the final stretches. Rather than just breaking the record, I would have achieved a far better timing. However, at the Asian Games, I am confident of going below the 55-second mark.
Indian Sports Live Coverage on Khel Now
Preparations ahead of Asian Games
After the Interstates Athletics meet, Vithya was selected in the 65-member contingent for the Asian Games. She is in the 4x400m relay team and is a reserve in the individual section.
"The preparations for the Hangzhou Asian Games started in November last year. My main intention was to prepare for 400m and 400m hurdles was more of a secondary target. But till now, I have achieved more success in hurdles than the former. I feel there is a lack of execution in completing the 400m race and on the other hand, I somehow manage to do better in the hurdles.
"Several athletes in the camp know my capacity and were sure of me going below the 52 seconds mark in 400m. Possibly going ahead probably after the Asian Games, I will have sit and look at what exactly is going wrong."
"I started hurdling in 2019 but started with 400m in 2015. If you see the competition in 400m is massive compared to hurdles. Every race in the 400m, we see different athletes emerging victorious and many are pushing each other to do well. On the contrary, the performance in the 400m hurdles has remained stable for a long time. None of the athletes have gone below the 55 seconds mark for a long time.
"I am a bit nervous of taking part in my maiden Asian Games. I had developed a habit of doing meditation and also have started to read books. But don't think the pressure part has reduced much (laughs) and should reduce going forward. I need to get mentally stronger in order to succeed and do well in the major events. Physically I am very good but there needs to be improvement in the mental aspect."
Support and Scholarship
Vithya was part of the national camp till November last year but after coming out of the camp she has been training under her own coach and is managing her own expenses.
"Currently I am employed with Railways and I'm managing my spendings with the salary. After the Inter States competition in Bhubaneshwar, I got selected for the national camp ahead of the preparation for Asian Games. It has been close to three months in the camp and everything that is required is being taken care off by the federation. As such, I do not have sponsors at the moment but with good results I should get some soon.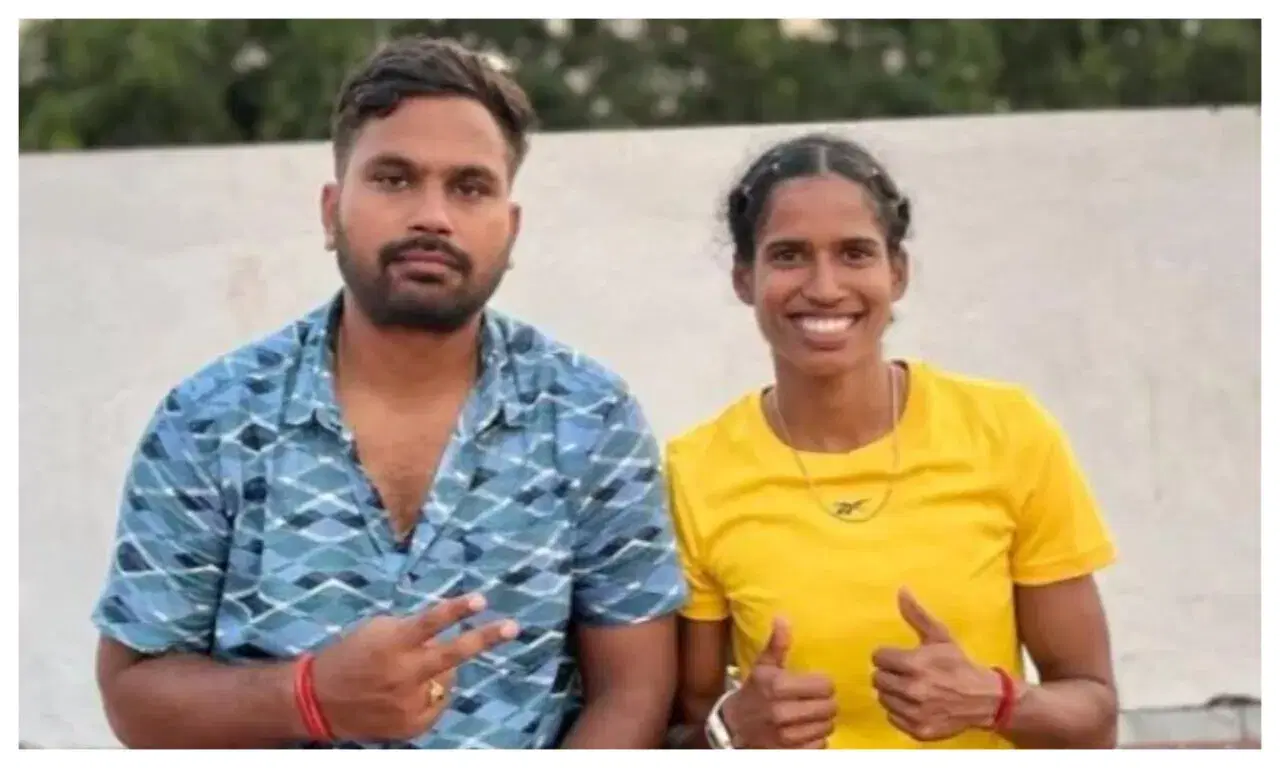 "Also, there isn't much support for me to go abroad and take part in quality meets. In future, if I get the required support, then I can travel abroad and gain good exposure by running with top class athletes. In order to qualify for the Olympics, I have to take part in higher grade events in order to improve my timing and rankings. In India, we have only one competition with "B" rank with the rest offering very less points.
"After the Asian Games, the plan for Olympics will start in November. I have a personal coach Nehpal Singh with whom I joined hands after coming out of the national camp. The results have been good in the past year and with respect to timings and I am now close to breaking the national record.
"Although in the Indian camp now, I am allowed to workout on my own under the guidance of my personal coach. There isn't much idea as to where I'll train after the Asian Games but training under personal coach has helped me a lot after exiting national camp as he takes care of me and helps improve my technique and mistakes instantly."
Early days and bonding with twin sister Nithya
"My father was a driver and initially he used to borrow money from his managers to buy shoes. Me and Nithya studied under sports quota and trained in a sports hostel in Erode. My mother joined us in the sports hostel and made us pursue a career in athletics. It wasn't my dream initially to take up athletics, but my mother wanted us to achieve something big and not depend on others after growing up.
"Both me and Nithya used to be very active in our childhood days which could be one of the reasons behind us enrolling for Athletics. Initially, I wasn't that interested in the sport but after since Grade nine I started taking it seriously. Our PT teacher, after looking at our physique, decided on what we had to concentrate on.
"Even though we were twins, our physique wasn't the same. So, Nithya started with 100m sprint, and I took up 400m. After completing our schooling, we shifted to Chennai for further training.
"Me and Nithya have always been together ever since we got into the sports hostel in grade seven. To date, I do not have a single close friend and it is Nithya who has always been my close friend. We share everything between us – even the secrets.
"She secured a job first at Income Tax in Chennai and at that time I did not have any job. So, she looked after my expenses from purchasing shoes, supplements etc with her salary. Moreover, if I had to travel for competitions, she used to buy me flight tickets and took care of my accommodation.
"After few months when I secured a job in the Railways, we used to keep money separately for buying supplements, kits, shoes etc. We have become financially stable now and are looking after our family pretty well."
For more updates, follow Khel Now on Facebook, Twitter, and Instagram and join our community on Telegram.