Cricket
10 unbreakable records of Sachin Tendulkar
By

Aayushman Vishwanathan
The GOD of Cricket, Sachin Tendulkar holds numerous records to his name, but there are some special ones which may never get broken.
Former Indian captain Sachin Tendulkar is the most undisputed batter the game has ever seen. Even a decade ago since his last international game, many upcoming cricketers look up to him, given the 50-year-old's compact technique, footwork, and other attributes. His humility is also a trait that has enabled him to scale insane peaks in the game.
What also makes the legendary cricketer special is his numerous records that he has accumulated through his relentless longevity. To think that some of the records have come against some world-class bowling attacks amid hostile conditions is worth even more respect. While a few records might not stand a few years, some of them might be impossible to break due to the packed schedule of international cricket today.
Here we take a look at ten records of Sachin Tendulkar that might be unbreakable:
10) Most Test runs:
With 15921 Test runs, Sachin Tendulkar is the highest run-getter in the format. The Mumbai-born batter has scored them in 200 matches at a healthy average of 53.78, having played his first in 1989.
Former England captain Joe Root is the highest run-getter among the current crop with 10948 runs in 129 Tests and is highly consistent. However, he needs more than 4000 runs to get past Tendulkar's tally and is unlikely to notch the record.
9) Most Test caps:
Sachin Tendulkar remains the only player in the world to feature in 200 Tests when he played his final game in the format at the Wankhede Stadium against the West Indies in 2013. In August 2010 against Sri Lanka, the 'God of Cricket' went past Steve Waugh's 168 to break the record for most Test appearances.
40-year-old England seamer James Anderson is currently the most-capped player in Test cricket with 179 appearances. However, the right-arm seamer could retire within a year or two and it is hard to see the next generation of cricketers featuring in as many as 200 Tests.
8) Most ODI caps:
Sachin Tendulkar played a staggering 463 one-day internationals, having made his debut in 1989 and crafted some of the best innings in the format when the playing conditions weren't the most comfortable. The right-hander also performed equally well in 50-over World Cups and is currently the highest run-getter after starring in six editions.
He became the most-capped player in one-day internationals against Bangladesh during the 2011 World Cup game in Mirpur and played his last a year later at the same venue against Pakistan. With ODIs becoming slightly irrelevant for the current crop of cricketers due to its length, this is yet another record that might stay intact. West Indies' Chris Gayle has currently the most ODI appearances with 301.
7) Most ODI runs:
If playing 463 ODIs is not an achievement enough, Sachin Tendulkar went on to accumulate a jaw-dropping 18426 runs in the format, averaging a healthy 44.83. The cricketing icon was also the first player to reach the 200-run mark in one-day internationals and the milestone became rather a routine for the next generation of cricketers.
Despite the playing conditions becoming a lot batting-friendly today, it is incredibly hard to see today's batters getting close to 18000 ODI runs, let alone go past it. Kohli, who has 12898 runs in the format, still needs over 7000 runs to surpass the milestone and it looks an uphill mountain to climb.
6) Most Test centuries:
Sachin Tendulkar's Test record is highly enviable and some of his most memorable innings came in red-ball cricket after starting out as a youngster. He reached the elusive 50-Test hundred milestone against the Proteas at the Centurion in the second innings of that match. Despite India losing the game by an innings, the memory of Tendulkar's milestone is in every fan's minds.
The elegant right-handed batter scored one more in the final Test of that series, staying 146 not out in Cape Town and retired two years later. Among the current crop, Steve Smith has the most number of Test centuries with 30 and is highly prolific along with a good conversion rate, but is challenging to see him go past 51 centuries.
5) Fastest to 15000 Test runs:
Along with hitting 15000 Test runs, Sachin Tendulkar is the fastest to get to that landmark, doing so in 300 innings. While the scoring rate in Test cricket has increased alarmingly today, it's hard to see today's batters score quickly to complete 15000 Test runs within 300 innings. This is yet another record from Tendulkar that might stay intact till eternity.
4) Most ODI runs in a calendar year:
Sachin Tendulkar's 1894 ODI runs in 1998 averaging a jaw-dropping 65.31 remains the highest in a calendar year. The same year saw the batting maestro amass 435 runs in five innings the Coca-Cola Cup tri-series, involving Australia and New Zealand.
Two of his nine centuries in that year came in that unforgettable tri-nation tournament as India won the final by beating Australia. Among current crop, Rohit Sharma's 1490 ODI runs in 2018 were the highest in a calendar year and it's incredibly difficult to see the upcoming crop of cricketers go past Tendulkar's record.
3) Fastest to 18000 ODI runs:
Scoring a staggering 18000 ODI runs is a terrific achievement; however, doing it in 440 innings is equally another of that kind. Nevertheless, Tendulkar is also the first and the only player to reach the landmark. While it remains to be seen if the next generation of cricketers can get there; however, it doesn't look promising at this stage.
2) Longest ODI career in terms of days: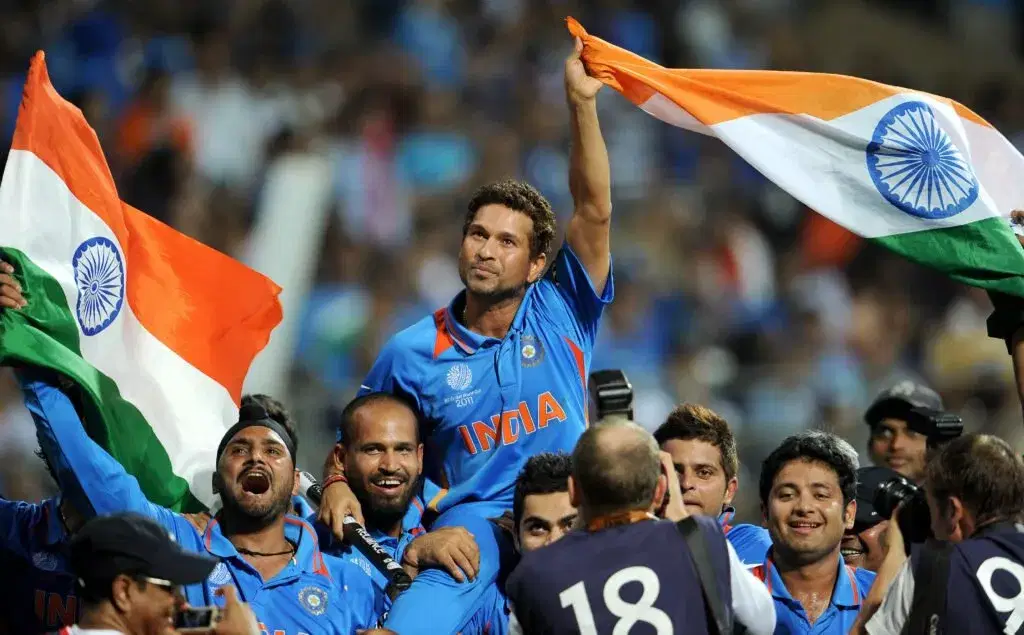 Tendulkar holds yet another unique record of having the longest ODI career in terms of days as he has played the format for 22 years and 91 days. With the sport being fickle and competition intense for players in India, it's quite an achievement. He was the mainstay of the Indian team for a long time and waited patiently to get his hands on the World Cup.
With one-day cricket losing it's relevance, it's hard to see the current generation having the appetite to play the format for that long. However, Virat Kohli and Rohit Sharma need to play for eight and seven more years, respectively, to break the maestro's record.
1) Most international runs:
Finally, with a mind-boggling 34357 international runs, Sachin Tendulkar is comfortably placed at the top of the tree. Having played only one T20I in his career, the 50-year-old would have had a lot many runs had he played more matches in the format. Kohli, who currently has 25322 runs, has received the backing of many to break the record, but remains to be seen whether he can sustain the consistency.
For more updates, follow Khel Now Cricket on Facebook, Twitter, Instagram, Youtube and join our community on Telegram.
posted in :