Cricket
Kapil Dev, Virender Sehwag and other cricketers lend support to Indian wrestlers in their battle against Indian wrestling federation chief
By
JNS
The wrestlers are protesting against Indian Wrestling Federation chief Brij Bhushan Sharan Singh, accusing him of abusing and sexually exploiting female wrestlers.
Kapil Dev, Virender Sehwag, Harbhajan Singh and Irfan Pathan have become the first cricketers to break their silence on the protests being carried out by India's top wrestlers demanding the dismissal of Brij Bhushan Sharan Singh, the Indian wrestling federation chief.
The wrestlers have accused the federation chief of exploiting female wrestlers sexually and abused them over the past decade. This include Bajrang Punia, Vinesh Phogat, Sakshi Malik and others
After a week later when complaint was filed against Singh, the Delhi Police on Friday, agreed to investigate the charges against Singh, especially after the wrestlers moved to Supreme Court for action. But the wrestlers' larger mission is to remove Singh from his position as federation chief, and to draw attention to the charges against him.
The SC noted that there are serious allegations that are contained in the petition by wrestlers who have represented India. The apex court also issued notice to Delhi Police pertaining to the plea filed by the wrestlers.
"Will they ever get justice," Kapil Dev asks on Instagram, while Virender Sehwag and Harbhajan Singh also show support
Meanwhile, Veteran India cricketers Virender Sehwag, Harbhajan Singh and Irfan Pathan have extended their support to the wrestlers for their support against the WFI chief.
"Will they ever get justice," Kapil asked in an Instagram post with a photograph of Vinesh Phogat, Bajrang Punia and Sakshi Malik.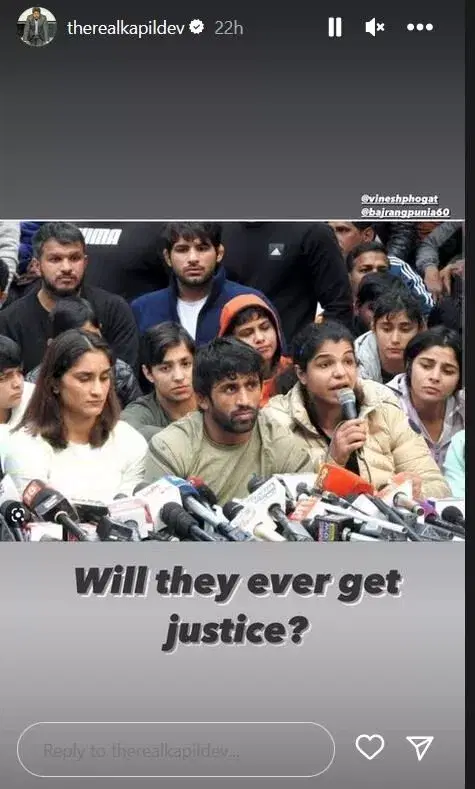 They were part of a group of 30-odd wrestlers at Jantar Mantar in January this year, too, when they made public the allegations against Singh, a member of parliament from the ruling Bharatiya Janata Party.
"Sakshi, Vinesh are India's pride. I am pained as a sportsperson to find pride of our country coming out to protest on the streets. I pray that they get justice. #IStandWithWrestlers," Harbhajan tweeted.
Virender Sehwag also posted a message on Twitter to show his support towards the wrestlers who restarted their protest last weekend.
"बहुत दुःख की बात है की हमारे champions जिन्होंने देश का बड़ा नाम किया है , झंडा लहराया है , हम सबको इतनी ख़ुशियाँ दी हैं, उन्हें आज सड़क पर आना पड़ा है। बड़ा संवेदनशील मामला है और इसकी निष्पक्ष जाँच होनी चाहिए। उम्मीद है खिलाड़ियों को न्याय मिलेगा।," Sehwag tweeted.
Irfan Pathan also took to Twitter to say that the athletes are our pride. "Indian athletes are always our pride not only when they get medals for us…," he tweeted.
For more updates, follow Khel Now Cricket on Facebook, Twitter, Instagram, Youtube and join our community on Telegram.
posted in :