The roadmap promises upliftment of women's football in the country.
The All India Football Federation (AIFF) unleashed their strategic roadmap 'Vision 2047' recently. It is a roadmap that lays down the steps that will aim to uplift the level of football in India over the forthcoming years. In order to keep up with other countries that are leapfrogging India and making it a powerhouse in Asia, the roadmap needs efficient implementation.
The roadmap promises to work in various aspects of Indian football. It hopes to strengthen governance, refereeing, infrastructure, digital transformation, club football, grassroots, coaching, marketing & commercialisation, talent identification & development, national teams and competitions.
Another major aspect that 'Vision 2047' aims to strengthen is women's football. Here is what the project promises in order to develop women's football in the country:
The present situation
There is an acceptance that despite women's football seeing a meteoric vertical rise in the rest of the world, it needs better focus in India.
"In India, the ecosystem around Women's Football is significantly weaker as compared to that for Men. Hence, we need solutions designed specifically for Women to increase the all-around participation and technical level in women's football across the ecosystem," the roadmap states.
Major objectives
Women's football is a long way away from reaching the level of men's football in India. The female coaches and referees are fewer in number and need more incentive to become full-time professionals. Club football also needs more women's teams and tournaments.
Furthermore, football could work as a means of uplifting women from difficult financial backgrounds. In order to develop women's football, the roadmap has to achieve its long-term objectives. Here is a look at the objectives that the roadmap aims to work towards: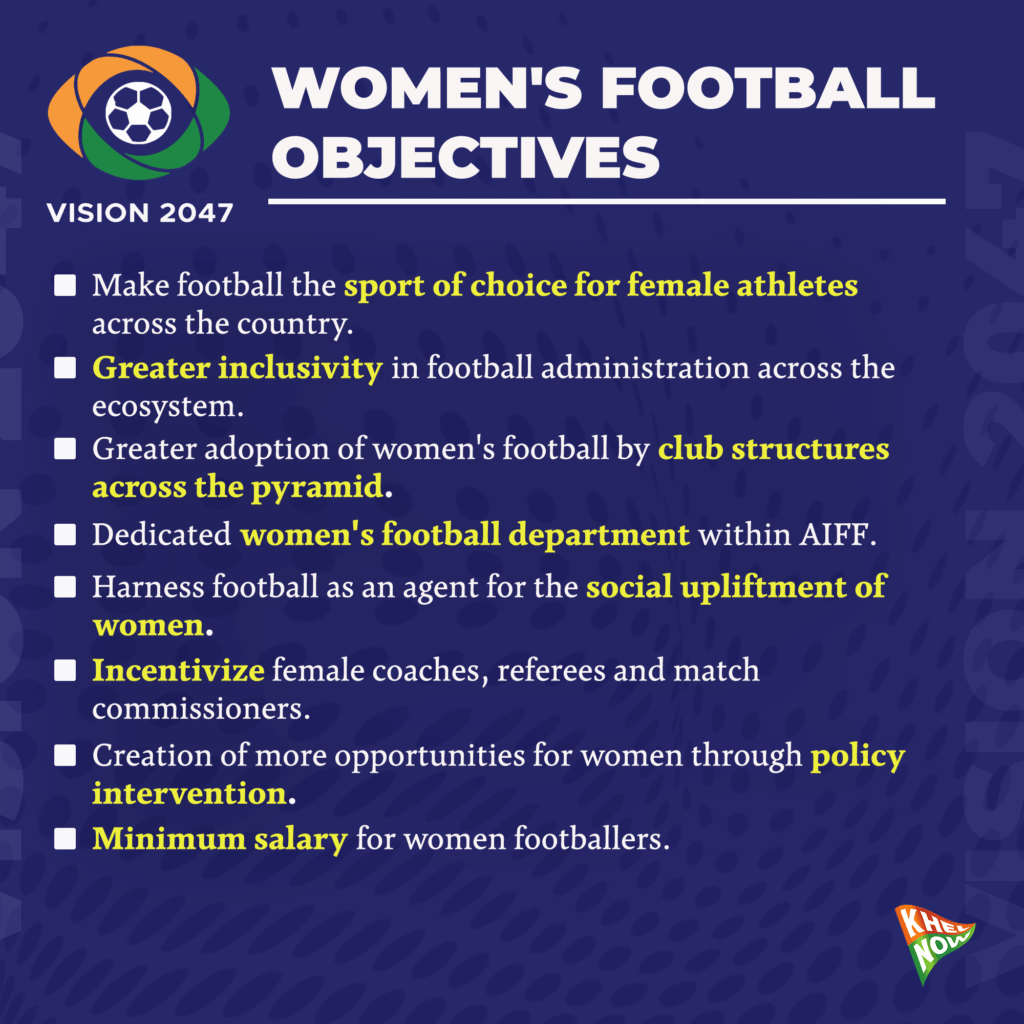 Competitions
'Vision 2047' aims to increase the number of competitions in women's football which is imperative for its growth. An increase in the number of national and state-level matches is one of its objectives. Additionally, it wants more states to conduct women's leagues. By the end of 2026, the AIFF roadmap aims to make the women's league structure a four-tier robust one, from the state to the national level.
'Vision 2047' aims to add more age groups and increase participation across the U-13/U-15 age group at the local level. The number of teams in a city are to increase on a year-on-year basis, which will ultimately increase competitiveness and the number of matches for the players.
The ideal pyramid would consist of U-13, U-15, U-17, university league and institutional league for youth women's football. A minimum of 14 matches across each age group by 2027. A minimum of 20 states to implement women's youth structures by 2027. University Championship structure to be in place soon and an institutional league to commence from 2027 onwards.
Indian Football Trending Articles:
A national university league for women and a national cup competition for women's football are some of the measures to increase competition and develop women's football in the future.
Other measures & objectives
The AIFF roadmap's long-term planning aims to ensure 50% of developmental clubs have a Women's Football Division. In addition, it plans to have a minimum of 20 standalone women's football clubs in the country. Furthermore, by 2047, it aims to have at least one iconic footballer in women's football with international stardom.
The roadmap hopes to ensure FIFA U-17 World Cup qualification on merit. It also aims to become a top-eight nation in Asia in women's football (by 2026) and by 2047, top four in the continent.
Moreover, the roadmap plans to have 50% of states conduct women's Futsal championships. Additionally, National Futsal Championships are to be introduced for men and women. Also, 40% of states to have Beach Soccer Teams for Women. A senior women's national cup is also one of the objectives of Vision 2047.
Takeaways
It is not a surprise to see women's football lagging behind men's in India. The AIFF must increase investment and attract the same from the private and public sectors. The number of competitions and clubs must increase so that women footballers play more matches and gain valuable experience. Qualifying for major tournaments on merit is imperative and will motivate the upcoming generations of female footballers.
A proper structure for women's football is necessary for its development. The promises made in 'Vision 2047' read well on paper, however, everything relies on the implementation and execution.
For more updates, follow Khel Now on Facebook, Twitter, Instagram, Youtube and join our community on Telegram.