The club has been home to legendary players who have broken several goalscoring records
Borussia Dortmund are regarded as one of the most prestigious and well-liked teams in Germany's Bundesliga. Dortmund have produced some of the best footballers ever thanks to their attacking style and dedicated fan base. The club are known for giving change to youngsters and developing them into world-class players.
This feature examines the top ten goal scorers in Borussia Dortmund's history.
10. Stéphane Chapuisat – 123 goals
Stéphane Chapuisat played for Borussia Dortmund from 1991 to 1999. He was one of Dortmund's most successful and beloved players, winning two Bundesliga titles, one DFB-Pokal, and the 1996-97 UEFA Champions League.
Chapuisat was a fast, technical goal scorer. Dortmund's third-highest scorer, he scored 123 goals in 284 games. Chapuisat played for FC Zurich, Grasshopper Club Zurich, and Servette FC in addition to Dortmund. After retiring from football in 2006, Chapuisat coached Swiss youth teams and clubs. Dortmund fans still admire him for his 1990s contributions.
9. Alfred Niepieklo – 125 goals
Alfred "Aki" Niepieklo played for Borussia Dortmund from 1947 to 1962. Niepieklo played midfield, striker, and defender scoring 125 club goals in 201 games. Niepieklo helped Dortmund win the 1956 and 1957 German championships. Despite the injury, he helped the team reach the 1963 European Cup final.
Dortmund fans loved Niepieklo for his tenacity, work ethic, and leadership on the pitch. He was a successful coach for Rot-Weiss Essen and Fortuna Düsseldorf after retiring from football. His Dortmund and German football legacy endures after his 1991 death.
8. Pierre-Emerick Aubameyang – 141 goals
Pierre-Emerick Aubameyang was a successful Borussia Dortmund player from 2013 to 2018. Aubameyang's speed, agility, and scoring ability made him one of the world's most exciting players.
Aubameyang won two Bundesliga top scorer awards and helped Dortmund reach the DFB-Pokal final in 2014 and 2017 and was named 2015 and 2016 African Footballer of the Year. He scored 141 goals in 213 games for Dortmund.
7. Jürgen Schütz – 143 goals
Dortmund-born Jürgen Schütz began his professional career with Borussia Dortmund in 1959.
Schütz scored 98 goals in 114 games for Dortmund in his first spell. He played for Roma, Messina, Torino, and Brescia after winning the Bundesliga in 1963. Jürgen Schütz played for 1860 Munich in 1968 before returning to Dortmund in 1969. He retired in 1972 after three more seasons and 26 goals in 73 games. He scored 143 goals in 213 matches in all competitions for Dortmund.
6. Lothar Emmerich – 148 goals
Lothar Emmerich played for Borussia Dortmund from 1956 to 1969. He could put the ball in the net like a cannon and was a talented forward.
When Emmerich was on the team, Dortmund won the 1963 Bundesliga and the 1965 DFB-Pokal. He scored 31 times in 33 games during the 1965–1966 season, more than anyone else in the league. He scored 148 goals in 249 games during his time with the club.
Even though he passed away in 2003, Borussia Dortmund and German football have kept Emmerich's memory alive. After all these years, fans still hold him in high regard for what he did for the club in the 1960s.
Trending World Football Articles:
5. Timo Konietzka – 155 goals
Former German footballer Timo Konietzka played for Borussia Dortmund from 1956 to 1965. He was a striker, and in 1963, he made history by scoring the first goal in Bundesliga history.
While playing for Dortmund, Konietzka assisted the club in winning the German Cup in 1965 and led the league in scoring in 1960–1961 with 33 goals in 30 games. During his time in prison, he scored 155 goals in 196 games for the team.
Konietzka left Dortmund and later played for TSV 1860 Munich before retiring in 1970. Later, he turned into a coach and worked with a number of German teams, including Borussia Dortmund. At the age of 73, Konietzka passed away in 2012.
4. Manfred Burgsmüller – 158 goals
Manfred Burgsmüller played football for Borussia Dortmund from 1976-1983 and again from 1986-1990. The fact that he could operate effectively in either the forward or the center positions contributed to his legendary status as a player.
While playing for Dortmund, Burgsmüller won the Bundesliga in 1987 and the DFB-Pokal in 1989. In 1987, he also surpassed Gerd Müller to become the Bundesliga's all-time leading scorer. In 252 games, he put up 158 tallies.
After playing for several other German clubs, including Werder Bremen and Schalke 04, Burgsmüller retired in 1995. He was 69 years old when he passed away in 2019, but he will be remembered as an all-time great for Borussia Dortmund.
3. Michael Zorc – 159 goals
Former German football player Michael Zorc played for Borussia Dortmund from 1981 to 1998 for the entirety of his professional career. He played as a midfielder and is revered as one of the best in the team's history.
Zorc contributed to Dortmund's victories in the UEFA Champions League in 1997 as well as the Bundesliga twice, in 1995 and 1996. Additionally, he was named the German Footballer of the Year in 1989 and won the DFB-Pokal three times.
Zorc joined the Dortmund management team after his playing career was over and has been the club's sporting director since 1998. He has assisted in leading the team to continued domestic and international success. In 295 games, he had 159 goals.
2. Marco Reus – 159 goal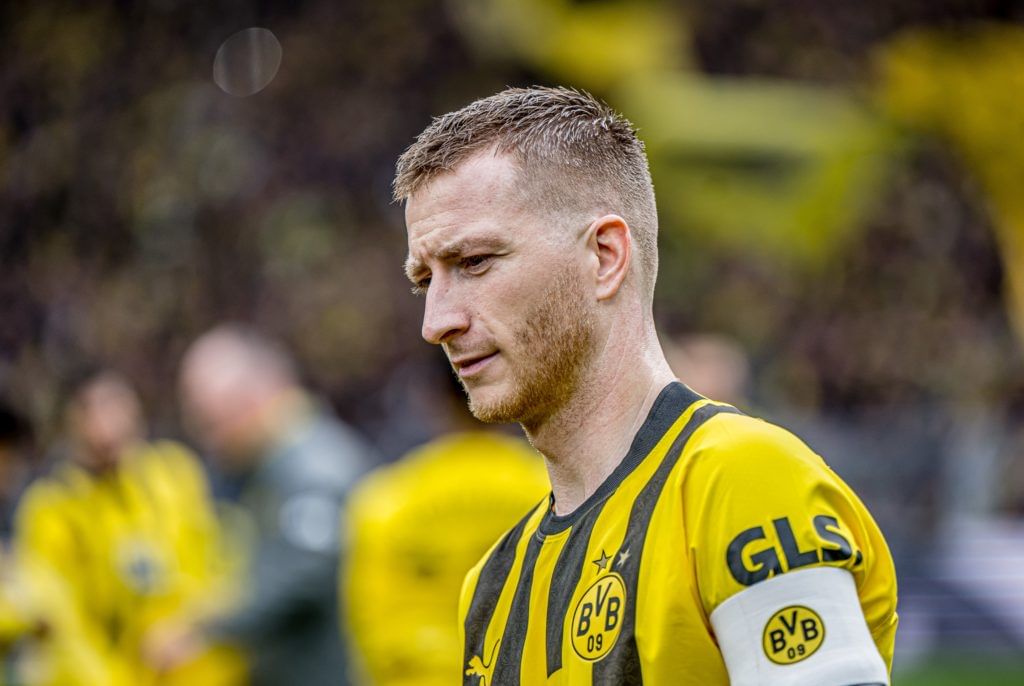 A forward for both Borussia Dortmund and the German national team, Marco Reus is a German-born professional footballer. Rot Weiss Ahlen was where he began his professional career before he transferred to Borussia Monchengladbach in 2009.
Reus joined his current club, Borussia Dortmund, in 2012 and has since emerged as one of their key players. In addition to the DFB-Pokal and the Bundesliga championship, he has assisted the team in three DFL-Supercup victories. In 375 games so far, he has tallied 159 goals.
1. Adi Preißler – 177 goals
Former Austrian football player Adi Preißler played for Borussia Dortmund from 1953 to 1965. He played as a striker and is regarded as one of the best players in the history of the team. He scored 177 goals in 274 games.
Preißler contributed to Dortmund's victories in the DFB-Pokal in 1965 and the German championship in 1956 while he was a member of the squad. Additionally, he scored 10 goals in 23 appearances for the Austrian national team.
For more updates, follow Khel Now on Facebook, Twitter, and Instagram and join our community on Telegram.