ISL- Indian Super League
How Punjab FC could line up in ISL 2023-24
By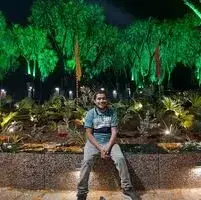 Rutvij Joshi
ISL 2023-24 will be debut season for Punjab FC
Punjab FC is all set to make its debut in the Indian Super League (ISL) after a successful promotion from the I-League. The team has been busy preparing for the upcoming season, and fans are eager to see how they will perform in the top tier of Indian football. One of the key aspects of any successful team is its lineup, is a regularity in a squad and Punjab FC have retained the majority of the I-League squad and also added some notable players in the summer.
In this article, we'll take a closer look at each player in the expected lineup for Punjab FC in the upcoming season.
Goalkeeper (GK): Kiran Chemjong
Kiran Chemjong, the goalkeeper from Nepal, is expected to be Punjab FC's last line of defense. With over a decade of experience in various leagues, including the I-League, Chemjong brings a wealth of knowledge and shot-stopping ability to the team. His reflexes, command of the penalty area, and ability to organize the defense will be crucial for Punjab FC's success in their debut ISL campaign.
Right-Back (RB): Nikhil Prabhu
Nikhil Prabhu, a talented right-back, is set to be a vital part of Punjab FC's defensive setup. Known for his speed, agility, and ability to join the attack, Prabhu is a product of the Indian football youth system. His ability to track back quickly and provide support in both defense and attack will be crucial in Punjab FC's debut season in the ISL.
Center-Back (CB): Dimitrios Chatziisaias
Dimitrios Chatziisaias, a Greek defender, brings a touch of international experience to Punjab FC's defense. Standing at 6'3″, the center-back is a formidable presence in the air and a reliable tackler on the ground. His composure on the ball and ability to read the game make him a valuable asset in the heart of the defense.
Center-Back (CB): Melroy Assisi
Melroy Assisi, an Indian defender, will partner with Chatziisaias in central defense. The 25-year-old has risen through the ranks of Indian football and has established himself as a dependable center-back. Assisi's positioning, tackling ability, and ability to distribute the ball will be crucial in maintaining a solid defensive line for Punjab FC.
Left-Back (LB): Mohammed Salah K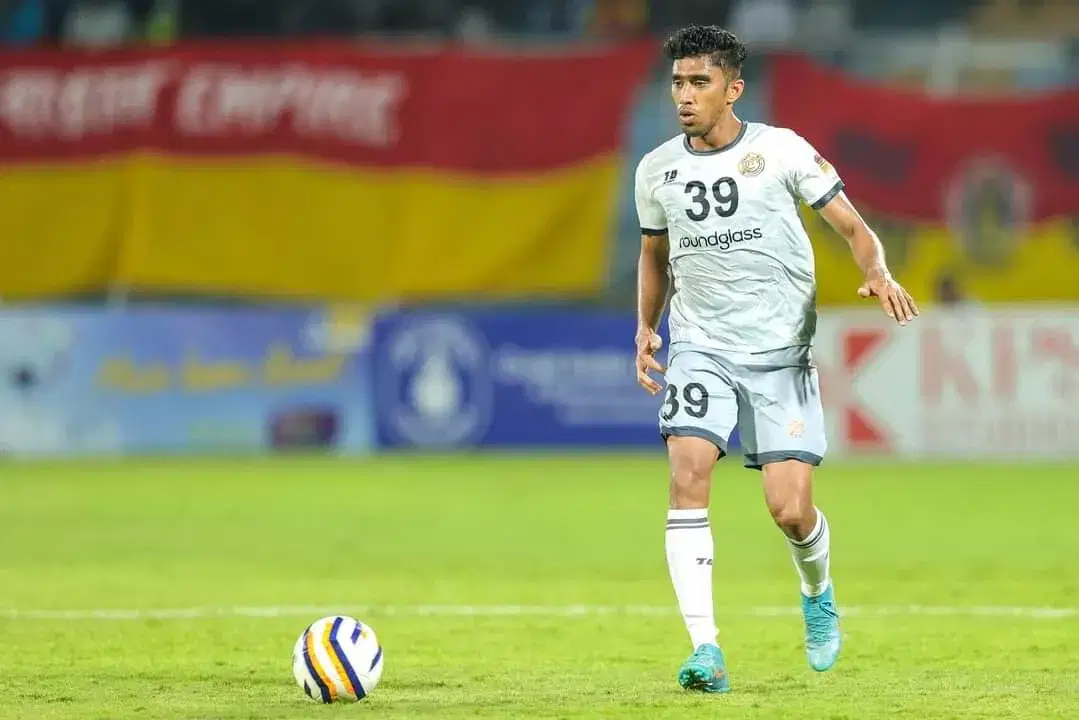 Mohammed Salah K, a versatile defender from Kerala, is expected to take up the left-back position. Salah is known for his defensive solidity and his ability to join the attack down the flank. His experience in both domestic and international football will add depth to Punjab FC's defense and provide an extra dimension to their attacking play.
Right Midfielder (RM): Juan Mera
Juan Mera, a Spanish midfielder, is set to provide creativity and flair on the right flank for Punjab FC. The 29-year-old brings a wealth of experience from Spanish football and has a keen eye for goal. Mera's ability to dribble past defenders, deliver pinpoint crosses, and contribute with goals and assists will be vital for Punjab FC's attacking prowess.
Central Midfielder (CM): Ricky Shabong
Ricky Shabong, a young Indian talent, is expected to be one of the key midfielders for Punjab FC. The 21-year-old has shown immense promise with his passing ability, vision, and work rate. Shabong's ability to control the tempo of the game and provide defensive cover will be crucial for Punjab FC's midfield stability.
Central Midfielder (CM): Madih Talal
Madih Talal, a midfielder hailing from France, is set to partner with Ricky Shabong in central midfield. Talal's technical ability, dribbling skills, and ability to break through opposition defenses will be essential in unlocking opportunities for Punjab FC's forwards. His international experience adds depth to Punjab FC's midfield.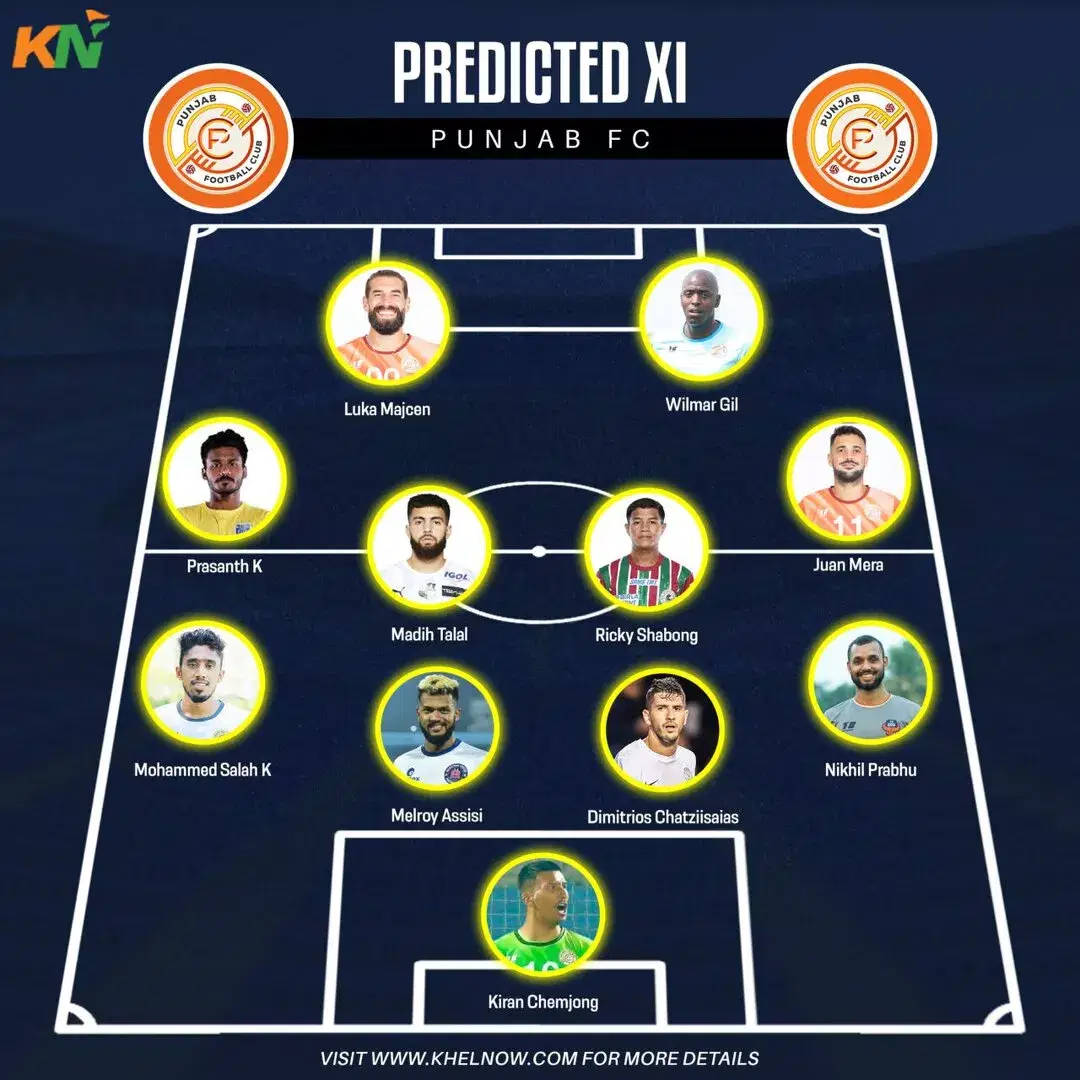 Left Midfielder (LM): Prasanth K
Prasanth K, an Indian winger, is expected to bring his pace and trickery to the left flank. The 26-year-old is known for his ability to take on defenders, deliver dangerous crosses, and contribute with goals. Prasanth's versatility and work ethic make him a valuable asset in both attacking and defensive phases of the game.
Striker (ST): Wilmar Gil
Wilmar Gil, a Colombian striker, is set to lead the line for Punjab FC. The Latino forward brings a lethal scoring instinct and physical presence to the team. Gil's ability to hold up play, create goal-scoring opportunities, and convert chances will be pivotal in Punjab FC's bid to make a mark in the ISL.
Striker (ST): Luka Majcen
Luka Majcen, the I-League Golden boot award winning forward from Slovenia, is expected to partner with Gil upfront. Majcen is known for his versatility, intelligent movement, and ability to link up with teammates. His combination play and goal-scoring prowess make him a valuable addition to Punjab FC's attacking arsenal.
What to expect
With that being said, Punjab FC's lineup for the upcoming ISL season looks far from promising in comparison to any other ISL sides. The Indian contingent is by far the poorest of all. The foreign signings too don't look very good on paper .
The flip side of this squad is the Indian players will get to learn and gain more and more playing time. With the likes of Kiran Chemjong guarding the goal, a solid defensive unit, and creative midfielders like Juan Mera and Madih Talal, the team is well-equipped to compete in their debut ISL campaign. The strike partnership of Wilmar Gil and Luka Majcen promises to provide the goals Punjab FC needs to make an impact in the league.
For more updates, follow Khel Now on Facebook, Twitter, Instagram, Youtube and join our community on Telegram.
posted in :