Indian Football
Mohun Bagan request IFA to conduct "Benefit Match" for ailing legend Syed Nayeemuddin
(Courtesy : The Times of India )
Syed Nayeemuddin was a captain & coach at Mohun Bagan
In a heartfelt plea to the Indian Football Association (IFA), the iconic Mohun Bagan Athletic Club has requested the organization of a "Benefit Match" in honor of the legendary footballer and coach, Syed Nayeemuddin.
Nayeemuddin has served as a captain and coach to the 134-year-old club. The club, which has a rich legacy and history of success, aims to provide helping hand in the financial struggles the former Arjuna and Dronacharya awardee is currently facing.
Syed Nayeemuddin's enduring legacy
Syed Nayeemuddin is a prominent figure in Indian football, known for his significant contributions as both a player and a coach. He was a pivotal player for the Indian national team and even served as its captain during the sport's golden days. After retiring as a player, he transitioned into coaching and held coaching positions with two of India's top football clubs, Mohun Bagan and East Bengal, during the 1990s.
Nayeemuddin's impact in football extended beyond the borders of India. In the 2000s, he ventured into coaching Bangladeshi clubs of high repute, including Brothers Union and Dhaka Mohammedan. He also had a stint as the head coach of the Bangladesh national team in 2008.
His journey in football, both as a player and a coach, has left an enduring legacy and has significantly contributed to the development of the sport in both India and Bangladesh.
Mohun Bagan's request
The appeal was officially made through a letter addressed to Mr. Anirban Dutta, the Honorary Secretary of the IFA, by Mr. Debashis Dutta, the General Secretary of Mohun Bagan Athletic Club. In the letter, Debashis Dutta emphasizes the need to organize a Benefit Match for Syed Nayeemuddin, citing the pending Derby match between Mohun Bagan Super Giant and Emami East Bengal.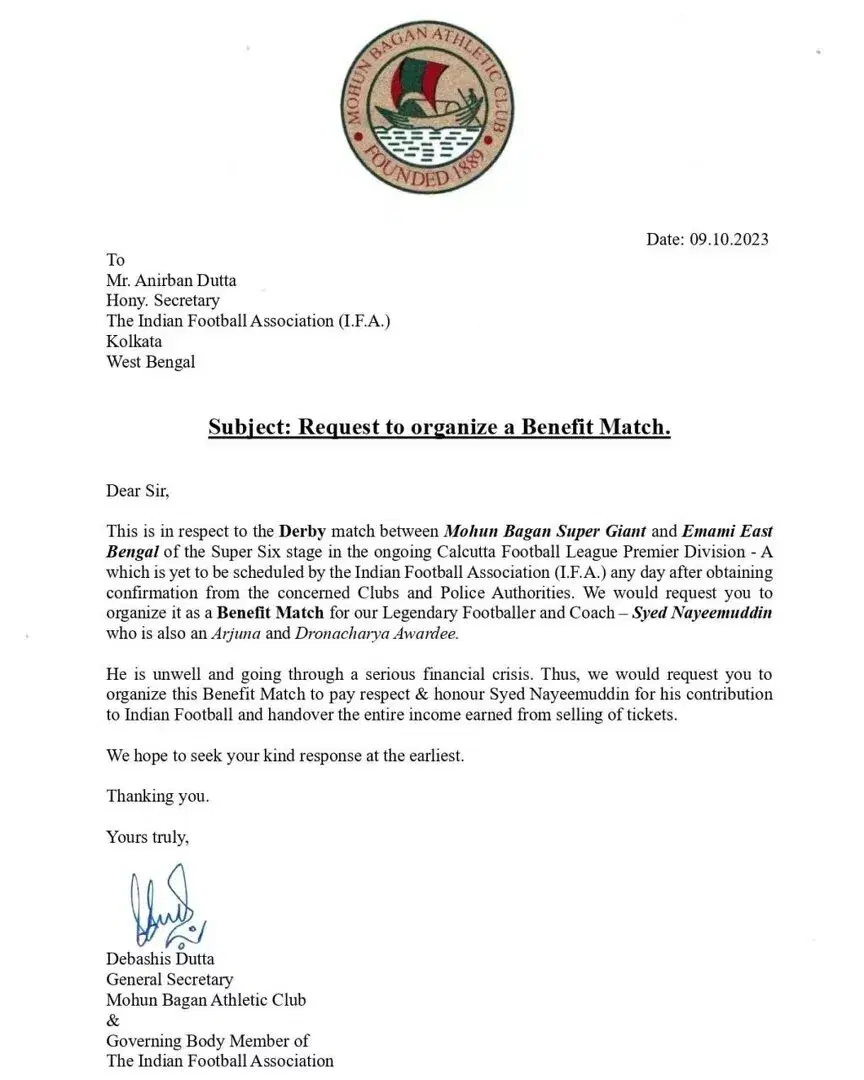 "We would request you to organize it as a Benefit Match for our Legendary Footballer and Coach – Syed Nayeemuddin who is also an Arjuna and Dronacharya Awardee.
He is unwell and going through a serious financial crisis. Thus, we would request you to organize this Benefit Match to pay respect & honour Syed Nayeemuddin for his contribution to Indian Football and handover the entire income earned from selling of tickets," the letter read.
For more updates, follow Khel Now on Facebook, Twitter, Instagram, Youtube; download the Khel Now Android App or IOS App and join our community on Whatsapp & Telegram.