The Islanders could potentially use these ideas to create more chances and tactically outsmart the Al Ankabout.
Mumbai City will need to be smart against Al-Jazira as they will battle for victory once again in the AFC Champions League group stage on 18th April. They lost 1-0 in their last game and should learn from their shortcomings. Given how important a win would be for the Islanders, they must look to negate Al-Jazira's threats, while making sure their own arsenal is well-prepared.
Al-Jazira and Mumbai City had a pretty close game in terms of the scoreline. But Marcel Keizer's men were the more composed side in attack. Their progressive passing was more fluid. Also, they managed to stack up the numbers whenever Mumbai City picked the ball up on the counter. The Indian side, on the other hand, looked out of ideas on most occasions and created only a few genuine chances.
Let us go through what Des Buckingham's boys can potentially utilize to get all three points against the UAE Outfit.
3. Creating & using wing-overloads
Mumbai City have used their preferred 4-2-3-1 formation in all three of their matches. However, it was a different story every time and only a particular combination of players could maximize the output with this playing style. That was the case in the match against the Air Force Club of Iraq. Notably, most teams in this competition press the middle areas of the pitch. Both Air Force Club and Al-Jazira employed a low block in central areas. In the process, they restricted Mumbai City from playing through the middle. Eventually, they also isolate Diego Mauricio. The forward, even with his excellent hold-up capabilities, failed to navigate out of the sheer number of players that pressed him.
In this sort of situation, the Islanders must look to get Ahmed Jahouh involved and create wing-overloads. A wing-overload refers to whenever either of the flanks is crowded in order to generate blind side third man runs as well as switch play efficiently. Bipin Singh and Lallianzuala Chhangte should be more proficient in keeping the ball and waiting for Brad Inman and Mauricio to link-up play. Jahouh should utilize this tempo and try to release either Mandar Rao Dessai or Rahul Bheke on the other flank.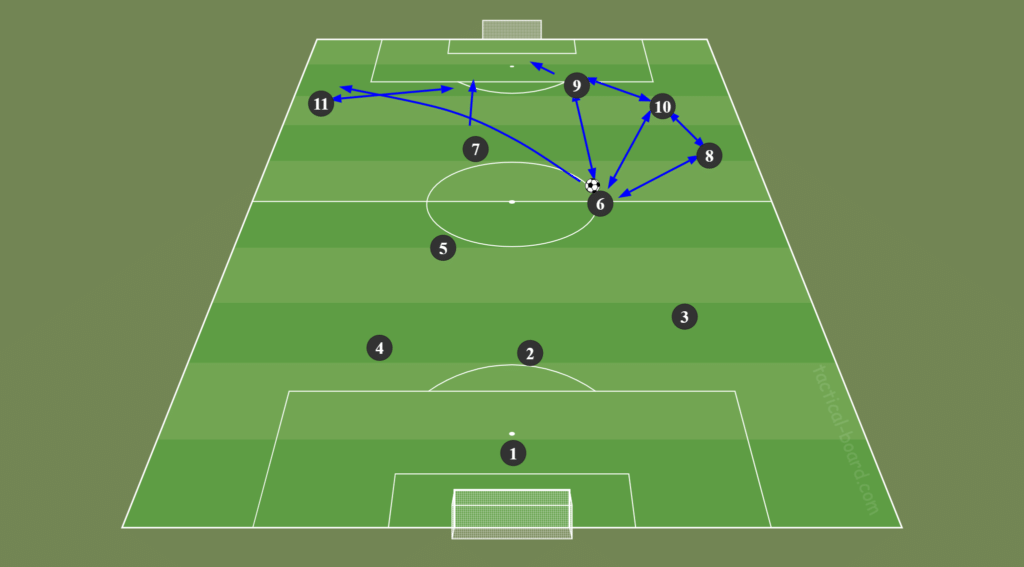 Igor Angulo would be the perfect candidate, as he is an expert in utilizing half-spaces. In the process, he can trigger a blindside run to throw off the opposition. However, in his absence, Diego Mauricio could make up by presenting himself as an aerial target for the final ball. The 30-year-old can also drag along markers to free up space for the likes of Inman, Chhangte, and Bipin. Such a tactic is also comparatively safer if the opposition counter-attacks. Here, the extra man on the other flank will have plenty of time to get back, as the numbers shift from the flank to the middle of the park.
2. Set-piece efficiency
Most of Mumbai City's opportunities in the AFC Champions League have come from set-pieces. Ahmed Jahouh is a specialist when it comes to dead-ball situations and his laser-guided passes seldom miss their target. Although none of the teams have fallen prey to the dangerous Ahmed Jahouh-Mourtada Fall combo so far, they definitely have had the edge.
Rahul Bheke profited from one such situation when he headed home the winner against Air Force Club of Iraq. In that instance, Fall's aerial threat was perceived properly, but the opposition misjudged Bheke's athleticism. He can take advantage of a similar lack of marking when both Mauricio and Fall go up in the box during free kicks. While the more physical players will draw in the Al-Jazira players, Bheke can trigger a second run and perhaps score.
(Penalties)
Additionally, it is also important to note that Mumbai have both conceded and scored from penalties in this campaign. Apparently, the ratio for penalties conceded to scored is 2:1. However, the presence of penalty specialists like Mauricio, Angulo and Jahouh should be enough to guarantee higher conversion rates. Spot kicks are important as they can save important games at times.
Mumbai City should try and flood the box whenever they catch Al-Jazira off-guard because the UAE side likes to hoard possession. In general, defending by these sides is a little harsh. It can lead to genuine chances if the opposition are smart enough.
1. Deploying three-man midfield
Mumbai City's two-man midfield has been overrun in all three matches. For instance, we can speak of the build-up to Al-Shabab's second goal. Ever Banega pranced through the midfield and generated enough space for himself to hit a sublime shot into the near post. In the last match against Al-Jazira, Jahouh and Lalengmawia failed to get up to speed whenever Diaby and Ali Mabkhout combined and played one-touch football.
After Amey Ranwade's exit, the Islanders were seen retreating into an unorthodox 4-1-2-3 shape that made things no easier for them. Here, Brad Inman had to operate in a No. 8 role and he isn't a natural ball-winner. That allowed Al-Jazira more space to pass around Jahouh and Inman. It also tired out Apuia and often called Mehtab Singh into action to support him.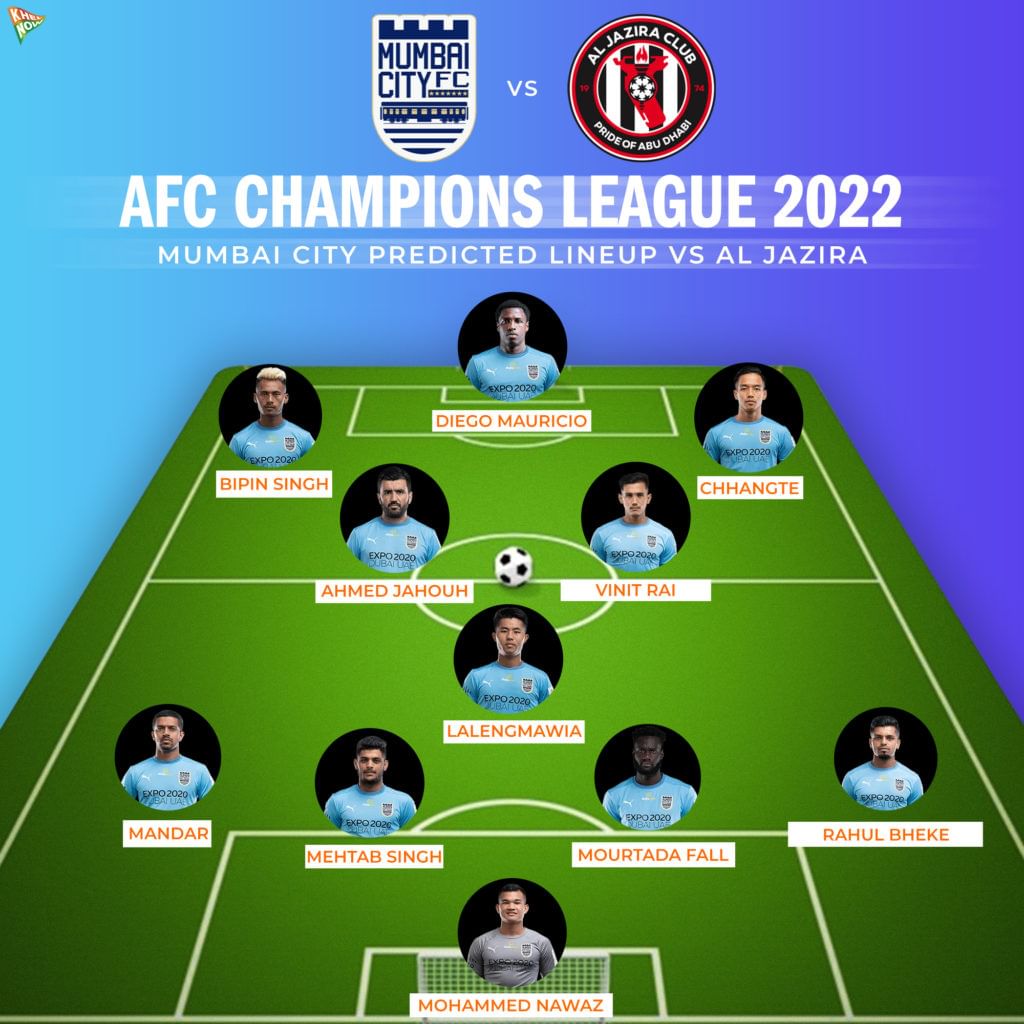 The solution would be a gamble, but can work wonders if deployed accordingly. It will surely help the Islanders keep more of the ball. Using a three-man midfield would keep things flowing. The players will be able to use passing triangles all over the pitch and the pressing will be more uniform. Such a shape also leaves less room for individual mistakes and isolation, as there are a minimum of two players supporting the one with the ball.
Vinit Rai would be the most obvious choice to start alongside Apuia and Jahouh. Raynier Fernandes can also add an edge with his exquisite ball control and dribbling ability in tight spaces. Mumbai City should consider using this tactic to avoid getting overrun in midfield.
For more football updates, follow Khel Now on Twitter, Instagram and join our community on Telegram.