Head coach Des Buckingham oversaw two successive friendly wins in the buildup to the competition.
Indian Super League (ISL) outfit Mumbai City FC have announced their squad for the forthcoming AFC Champions League (ACL). Things are looking bright for the Islanders as they played two friendlies before the announcement and won both of them. One of those wins was against UAE table-toppers Al-Ain. That should be a massive boost given they face former UAE champions Al-Jazira in the group stages.
Igor Angulo, Diego Mauricio, Ahmed Jahouh, Cassio Gabriel, Bradden Inman and captain Mourtada Fall are the six foreigners named in Mumbai City's ACL squad. Among the Indian players in the contingent, there are mainstays like Rahul Bheke, Mehtab Singh, Bipin Singh, and Lalengmawia.
Full Squad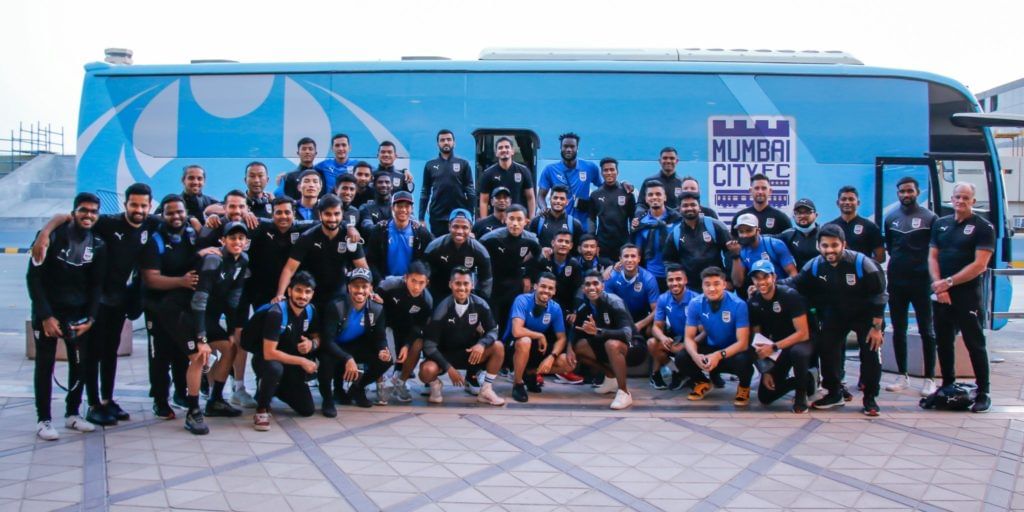 The complete squad for Mumbai City FC for ACL 2022 is as follows:
Goalkeepers
Phurba Lachenpa, Mohammad Nawaz, Ravi Kumar, Vikram Lakhbir Singh.
Defenders
Rahul Bheke, Amey Ranawade, Mehtab Singh, Mohammad Rakip, Vignesh Dakshinamurthy, Mourtada Fall, Valpuia, and Mandar Rao Desai.
Midfielders
Cassio Gabriel, Bradden Inman, Ahmed Jahouh, Raynier Fernandes, Rowllin Borges, Vinit Rai, Naorem Tondomba Singh, Chanso Horam, Asif Khan, and Apuia Ralte.
Forwards
Vikram Partap Singh, Gurkirat Singhm Igor Angulo, Pranjal Bhumij, Bipin Singh, Diego Mauricio, and Lallianzuala Chhangte.
Along with three-time AFC Cup winners, Air Force Club of Iraq, Mumbai City's group (Group B) also consists of former UAE champions Al-Jazira and Saudi's Al-Shabab. The Islanders are the second Indian team to take part in Asia's top-most competition after FC Goa last year. Consequently, Khel Now takes an in-depth look at the Islanders' setup and analyses how they could line-up against their opponents in the upcoming fixtures.
Performance so far
After winning the League Winners' Shield and the ISL Cup title last season with Sergio Lobera, Mumbai City failed to even qualify for the playoffs in ISL 2021/22. Notable signings like Igor Angulo, Rahul Bheke, Lallianzuala Chhangte, and Diego Mauricio did little to add to their tumultuous season. The departure of players like Hugo Boumous and Amrinder Singh seems to have considerably hurt them, as they lacked cutthroat creativity and conceded too many goals.
But Buckingham seemingly never found the winning formula. Bipin Singh matched his goals tally from last season, while youngster Vikram Partap Singh made his name as a super-sub. Apuia's establishment as a starter was probably one of the highlights of Mumbai City's season. His growth under the mentorship of Ahmed Jahouh has been meteoric.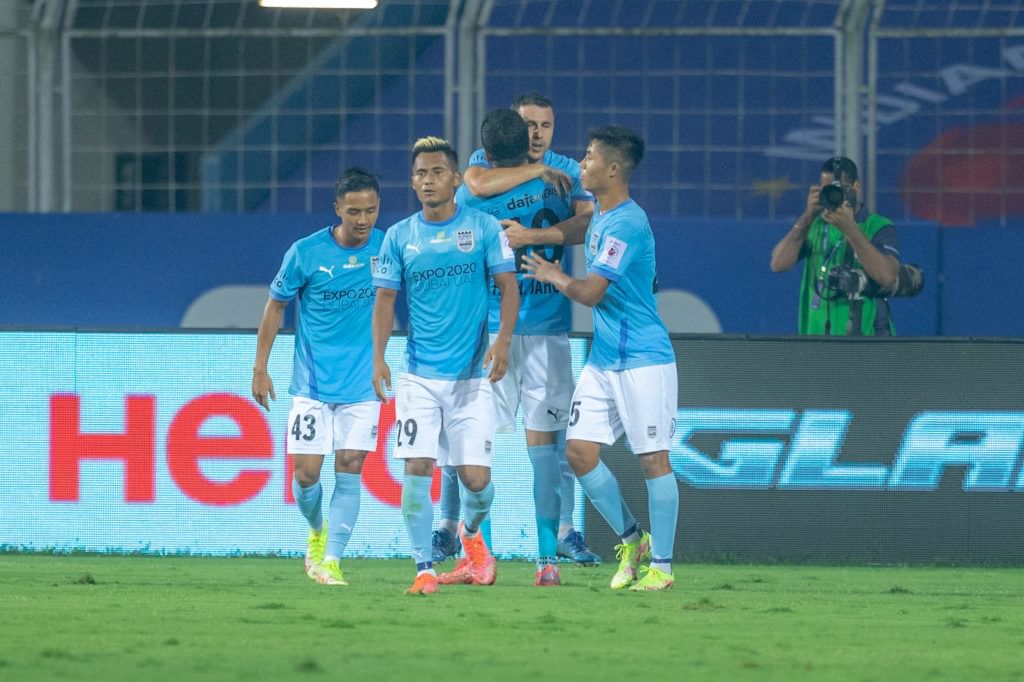 A premature end to their league campaign, however, meant plenty of time to study and prepare for their colossal AFC Champions League crusade.
Coach Des Buckingham had his taste of managing a top-tier side in a professional league for the first time since his shift from being an assistant coach at Melbourne City. The English manager did promote Mumbai City's youth system well, but the absence of an alternate game plan and methodical player management were glaring shortcomings.
Changes post ISL 2021-22
After the conclusion of their ISL campaign, Mumbai City FC's attention obviously shifted to the AFC Champions League. Ahmed Jahuoh had missed the last few league games through an injury, but has made it back in time for the ACL. Mumbai City hosted a two-week training camp at Al Forsan, Abu Dhabi after a break. The Indian players who had to attend national duties and some others including foreigners, joined the camp a few days later.
During this preparatory break, the Islanders played two friendly games. In their first clash, they took on UAE table-toppers Al-Ain and beat them 2-1, thanks to goals from Jahouh and Apuia. The second fixture saw them keep a clean sheet, as Bipin Singh and Diego Mauricio scored in a 2-0 victory.
Squad Analysis
Let us now analyse the squad in more detail.
Upfront
Igor Angulo is estimated to start upfront, given he is the Islanders' top scorer with 10 goals this season. However, a much more exciting alternative will be to pair him with Bradden Inman, who looked in decent form. This will also allow Angulo to demonstrate his poaching instincts. Thus, the forward will get more space to make blind runs with Inman attracting defenders.
Midfield
Moving on to the midfield and the wings, there can be a few more assurances. Both Chhangte and Bipin Singh have shown their versatile nature by playing on both wings. Bipin has incidentally scored while playing on the right flank as well. Breaking down teams like Al-Jazira and Al-Shabab will be down to their electric pace and combination play. They must also look to win their individual duels. Doing so will not only give them an edge, but draw more players to allow space for the midfielders to create off the wing overloads.
Ahmed Jahouh, Apuia will mostly be in charge of chance creation. While the Moroccan played only 15 matches, he ranked second (with seven assists) for most assists in the league this season. Cassinho also followed suit with five assists. Hopefully Brad Inman and Vinit Rai can step it up a notch to share those duties.
Defence
As already mentioned, Mumbai City's defence will be the most important part of the team in the ACL. Des Buckingham must figure out his side's Achilles' Heel when it comes to collective defending and creating intensity in counter-pressing situations. His side have lost a lot of second balls this season and that points to a lack in consistency in the pressing. The Islanders must address the same or risk getting exploited by the seasoned AFC teams they are to face.
Vignesh Dakshinamurthy and Rahul Bheke are likely to occupy the full-back roles based on their impressive display in the ISL. Meanwhile, Amey Ranawade can also return to the starting XI. That should see Bheke compete with Mehtab Singh for a place alongside Fall in central defence. Meanwhile, Mandar Rao Desai has had a below-average season. The 30-year-old must work extraordinarily well if he is to turn his fortune around.
Probable Starting XI
4-2-3-1 formation: Mohammad Nawaz (GK); Rahul Bheke, Mourtada Fall, Mehtab Singh, Vignesh ; Ahmed Jahouh, Apuia; Lallianzuala Chhangte, Bradden Inman, Bipin Singh; Igor Angulo.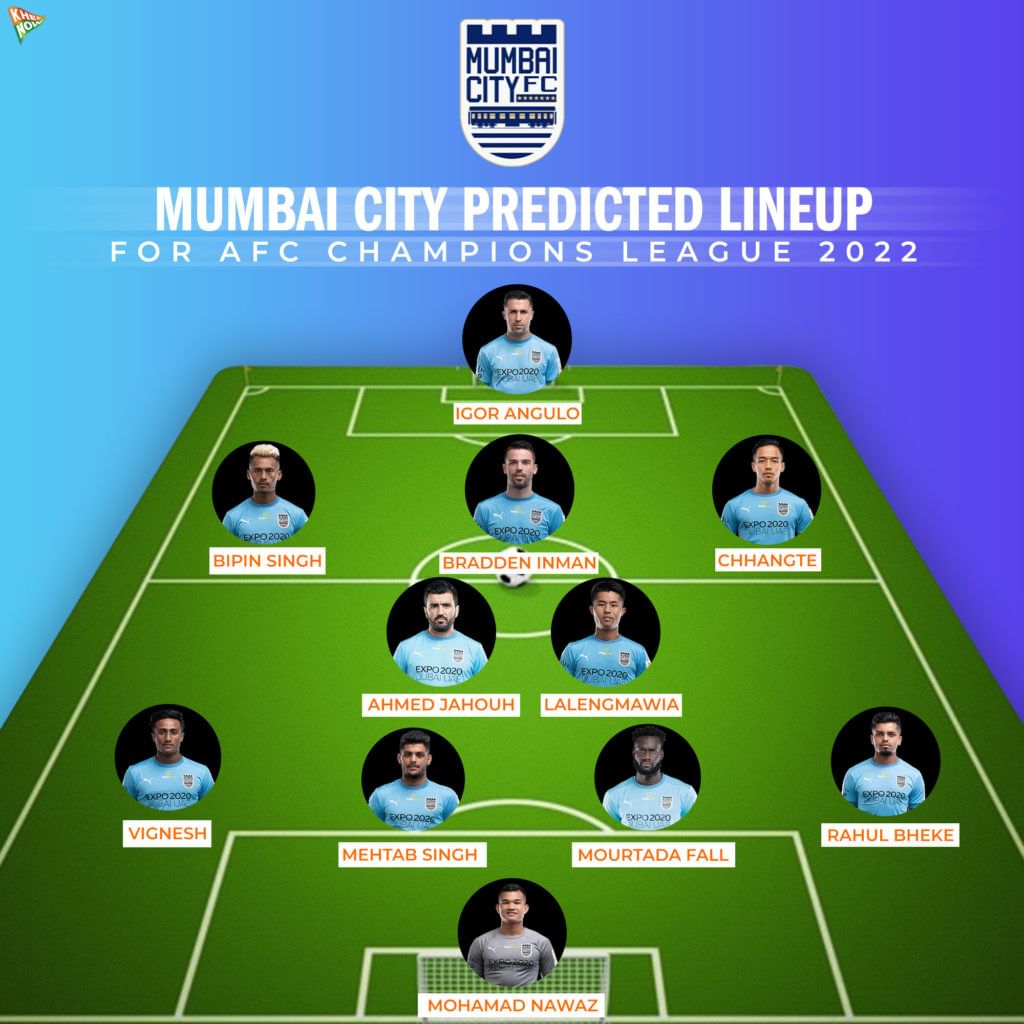 Alternative 4-4-2 formation: Mohammad Nawaz (GK); Amey Ranawade, Mourtada Fall, Rahul Bheke, Vignesh ; Lallianzuala Chhangte, Ahmed Jahouh, Apuia, Bipin Singh; Bradden Inman, Igor Angulo.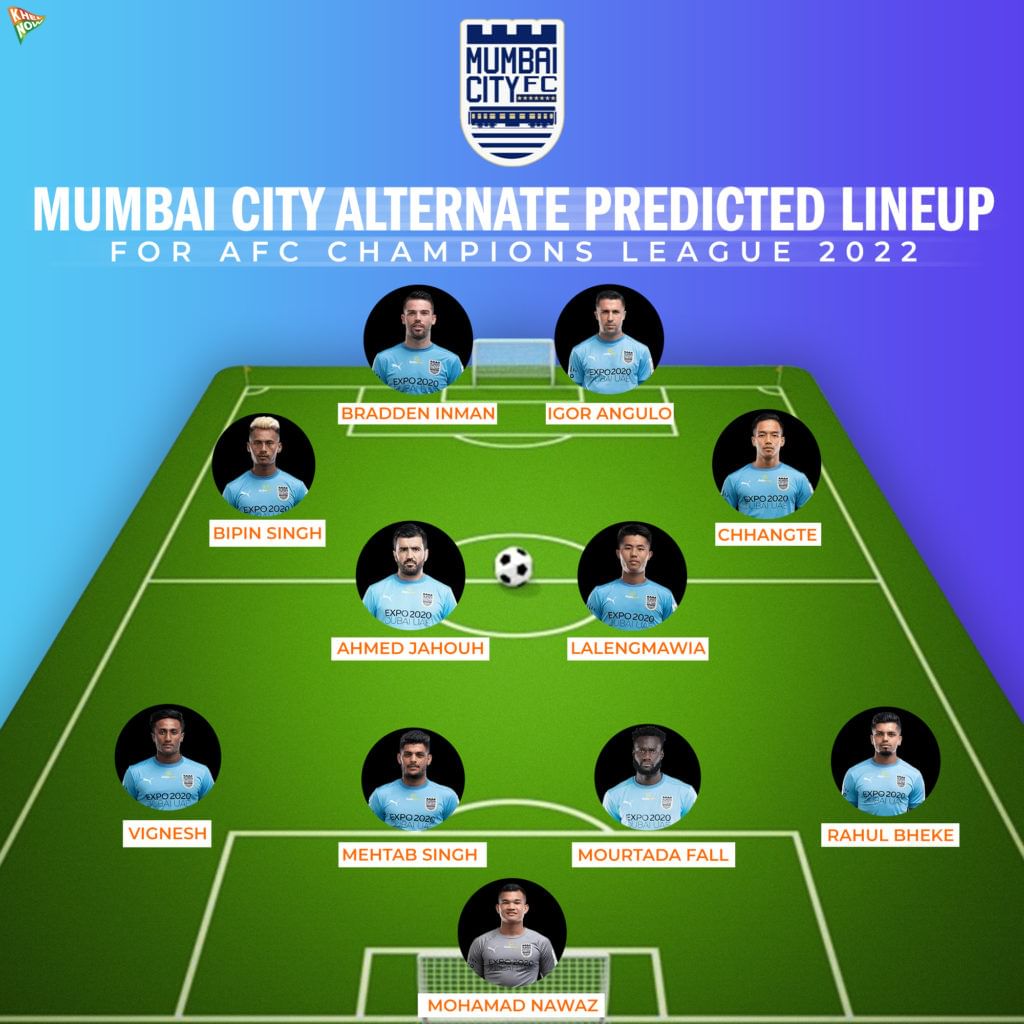 Players To Watch
1. Bipin Singh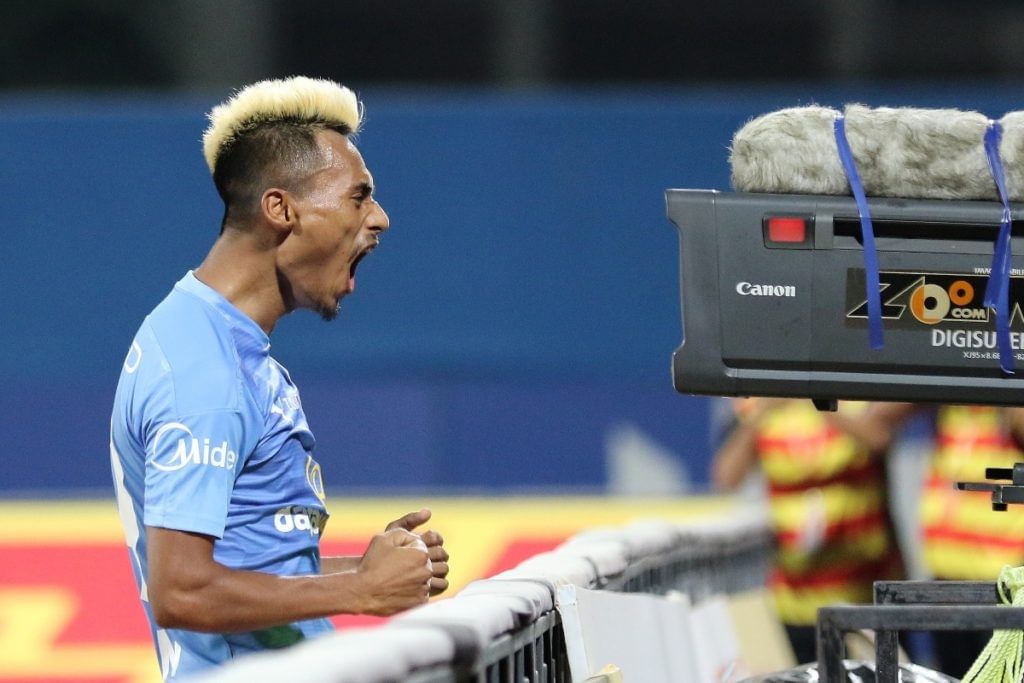 Bipin Singh maintained his form from last season and was only one assist shy of his tally. The winger displayed extreme tenacity on the flanks. The think tank can rely on him to attack and defend in the same breath. With six goals and three assists, he also whipped in 56 crosses. The fact that he had 668 touches and 33 shots on goal, means he saw enough of the ball to turn the tide of the game.
I have stressed how Singh's pace alongside that of Chhangte and Vikram Partap Singh will be crucial in driving Mumbai City forward during counter-attacks in the ACL. His work rate should also add numbers to Mumbai's defence and help them sort out any threatening situations.
2. Ahmed Jahouh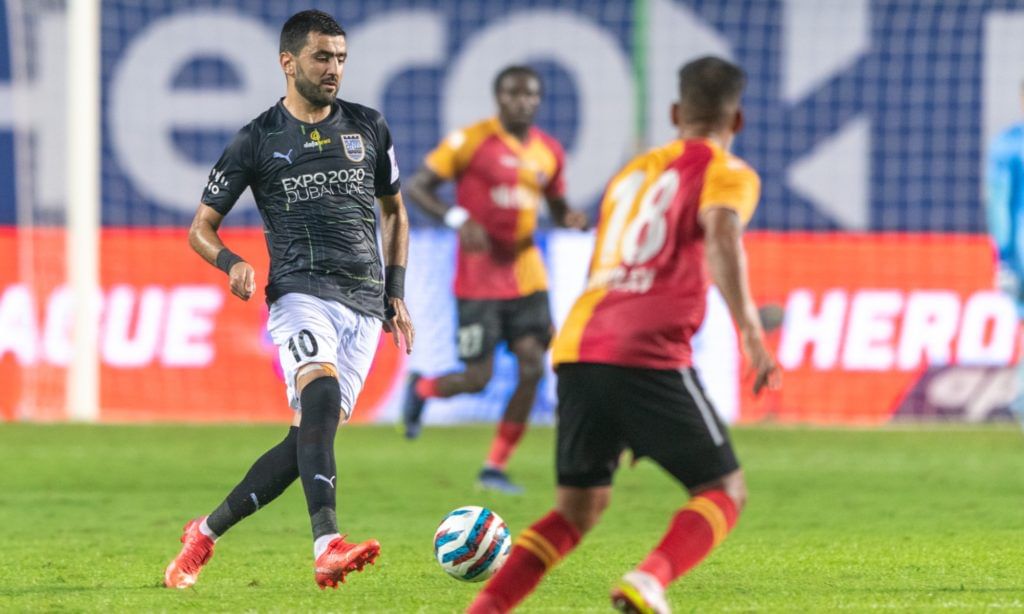 Despite missing five games in the ISL, the Moroccan maestro came second in terms of assists to Greg Stewart, who won the League Winners' Shield with Jamshedpur FC. His set piece ability remains unparalleled, as six of his seven assists were from free-kicks and corners.
With a completion rate of 74.2% and 1071 passes completed, Jahouh will be key to progressing the game and during the build-up. His defence-splitting passes and ability to switch play between the flanks should be utilized well by Buckingham's boys.
3. Lalengmawia Ralte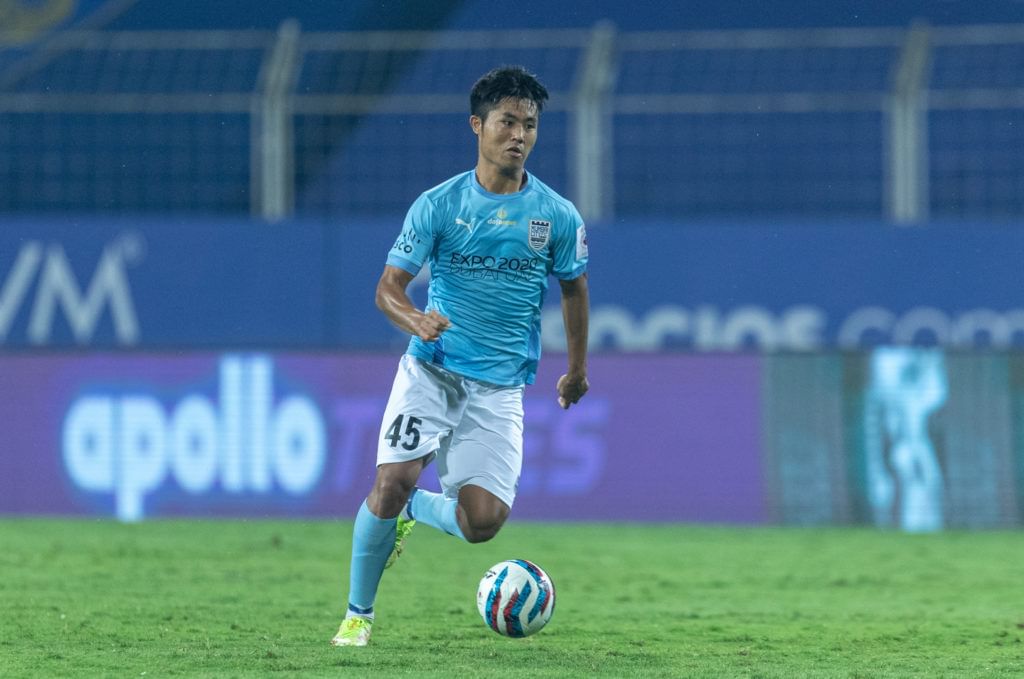 Apuia has gotten himself on the scoresheet in the friendly against Al-Ain and that should boost his morale significantly. Though he did not get any goal contributions for himself in the league, he enjoyed an impressive 85% pass completion rate. As a natural No. 6, he made 100 tackles, 36 interceptions and 44 blocks. Apart from providing defensive cover, he can also help Mumbai City by making the occasional blind side runs into the box and adding numbers in attack.
For more updates, follow Khel Now on Twitter and join our community on Telegram.