The Dutch winger shares a similar football ideology with the Blaugrana head coach Ronald Koeman.
FC Barcelona encountered a rather rude shock as club captain Lionel Messi actively looked for a move away in the previous month. The Blaugrana managed to tie down the disgruntled Argentine for another year. However, it is pretty clear by now that they need to seriously secure reinforcements in the attacking department. Ronald Koeman's arrival as the new manager is bound to bring in some key changes to the club. Accordingly, Memphis Depay is being actively reported to be set to join Barcelona from Ligue 1 outfit Olympique Lyonnais.
Depay first broke into the news as he was handed over the iconic number 7 shirt at Manchester United upon signing for the club in 2015. Louis van Gaal had showed immense trust in the Dutchman and the club spent a speculated £25m to secure him from PSV Eindhoven on a four-year contract. The 26-year-old's stint turned out to be abysmally forgetful, as Depay's lackluster approach towards the game coupled with terrible goal-scoring returns on the field meant that he was transferred to Lyon in January 2017.
The forward carefully resurrected his career from thereon, and piled up performances and statistics in the French league that compelled European football to make a conscious note of him. Furthermore, Depay notched 10 goals and seven assists in 26 matches in the UEFA Champions League and UEFA Europa League combined across the last three seasons. He was instrumental in Lyon's impressive run in the 2019-20 edition of the UCL, as the player scored six goals and made 2.6 shots on target per game in the eight matches that he participated in.
There is a familiarity factor in the equation too. The Dutch national team had been on a downward spiral after failing to qualify for Euro 2016 and FIFA World Cup in Russia consecutively. Koeman was appointed as the manager of the Oranje in February 2018. Netherlands went on to finish as the runners-up of the 2018-19 UEFA Nations League and managed to qualify to Euro 2021 under the 57-year-old's tutelage. Memphis Depay was incredibly vital to this remarkable turnaround, as the former United star netted 11 goals and assisted 12 others in 18 appearances over the course of past couple of years.
Koeman managed to extract optimum performances from Depay, setting his derailed erratic career into motion and thus aiding him to gain greater prominence at the European level. He thrived as the sole striker up front, inducing dynamism, efficiency and laudable perseverance in the forward line. It is important to note that the player has flourished pretty much everywhere he played after the debacle with the Red Devils. Can he do the same at FC Barcelona, though?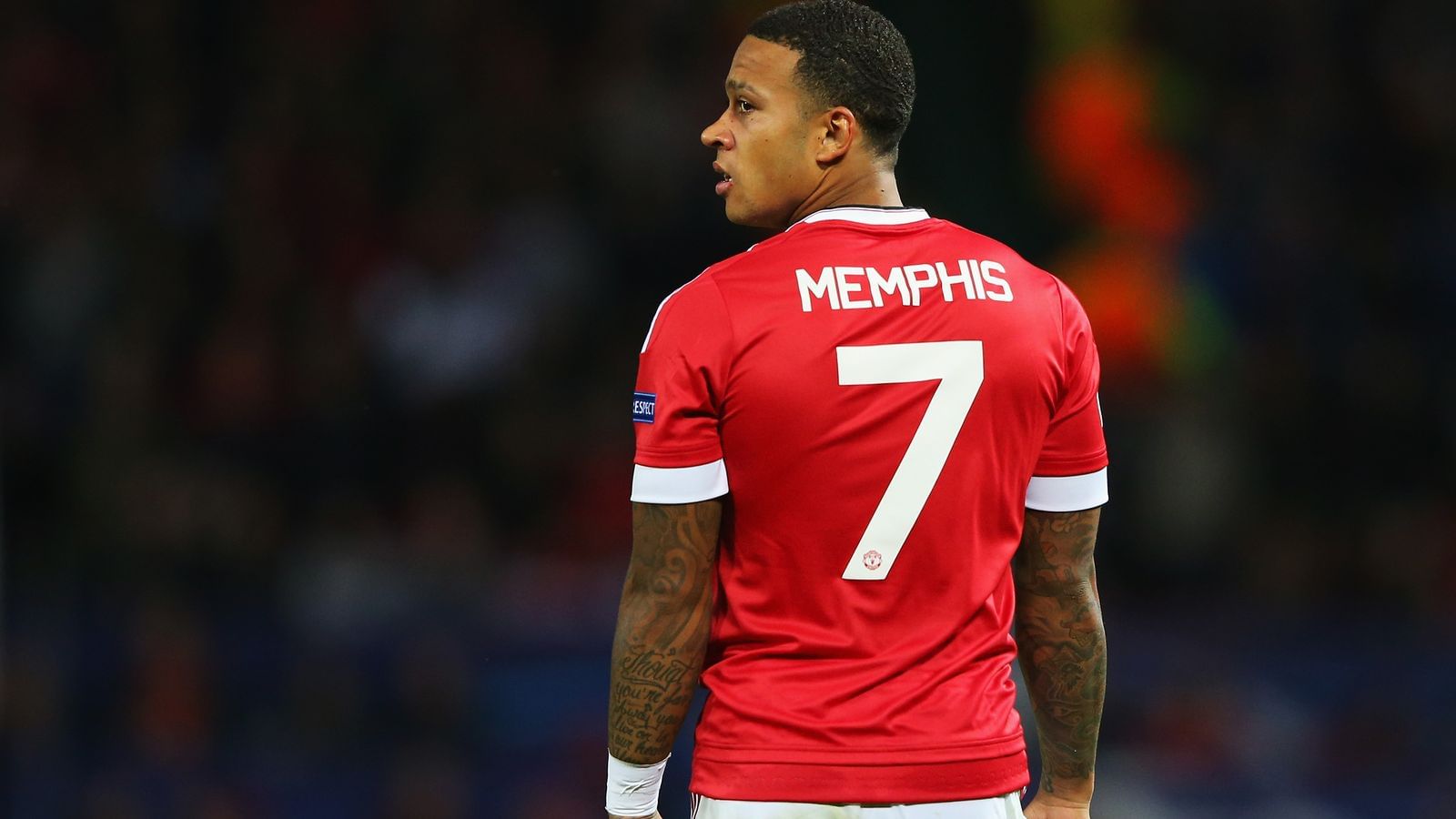 The Cules seemed to be lethargic, wearisome, flat and over-dependent on their skipper in attack on several occasions last season. There seemed to be a lack of ingenuity, zestfulness and the driving force to peg the opposition back. Depay is 26, determined and has a plethora of impressive performances at his back now. He seems to be a man for the big occasion, relishes the challenges that come with expectations and an ebullient character that the team is craving for at the top of their attack. The ex-Sparta Rotterdam player has developed to become an individual who can be adorned with responsibility with an assurance that he will live up to them.
Irrespective of these impalpable qualities, there seems to be concerns over the position that he can play in for Barcelona. Depay is quick, skilful through his foot, has an eye for a pass and composure in front of the goal. Being a predominantly right-footed player, he is naturally comfortable to cut in on the left flank and thus create opportunities or capitalize on them. However, he seems to have improved upon his hold-up abilities and hence has been a threat to reckon as the centre-forward too. Depay can be slotted behind the striker or play as a secondary forward in accordance to the demand of the situation too.
Luis Suarez's time at Barcelona seems set to see the end of the tunnel soon. Antoine Griezmann did not demonstrate his utmost potential in his debut season at Camp Nou. However, the Frenchman does have some fruitful seasons to offer as he is just 29 years old. Things might ease out and become more convenient if Koeman adopts a 4-2-3-1 approach for his team, rather than Barcelona's traditional 4-3-3.
There are a couple of reasons for this. Primarily, the 4-2-3-1 allows the tactician to accommodate the prodigiously gifted 17-year-old Ansu Fati on the left flank. The teenager had made waves with his dexterity and subtly brilliant skills in LaLiga 2019-20. The club is facing severe flak because of the diminishing churn of quality players from the La Masia. In such a situation, it is paramount for Fati to turn up for the first-team occasionally so as to the followers do not completely lose faith from Barcelona's famed youth setup.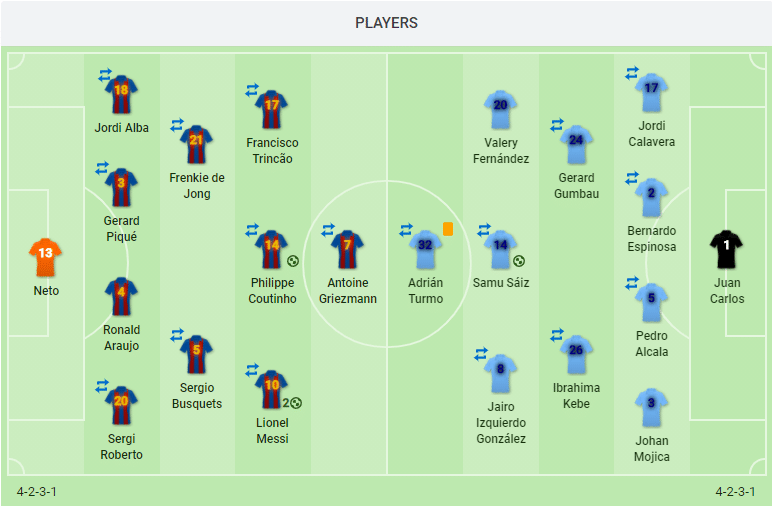 Moreover, Fati started 11 games and came on the field as a substitute on 13 occasions in the league last season. He scored a whopping seven goals and notched a solitary assist in these appearances. These are commendable returns for a player so young, even more so because he delivered these in a campaign that was quite disappointing and uneventful for the team. There is a strong sentiment amongst the fans to offer him a longer run, more consistent chances in the coming season.
However, given that Barcelona will be expected to compete firmly on all fronts, Fati might attain opportunities in competitions other than the LaLiga. As of now, there is a necessity to accommodate Brazilian playmaker Phillipe Coutinho in the starting XI too. Going by the aforementioned lineup, Depay will perhaps directly replace Francisco Trincao for starters. Koeman's sides tend to encourage forwards to don dynamic and multiple roles upfront.
The likes of Coutinho, Griezmann, Depay and Messi are well-adept at taking up different slots on the field to fulfil the demands of the situation. Hence, it seems likely that though they begin the games in certain positions, they will not remain fixated to it during the course of 90 minutes.
Ousmane Dembele, Philippe Coutinho, Malcom, Antoine Griezmann…FC Barcelona's much anticipated, big-money signings in the forward line haven't really worked out well in the last few years. Memphis Depay has the potential to break this trend. Ronald Koeman's confidence in him will go a long way in determining his success at Camp Nou. After the nightmare at Old Trafford, here is the striker's chance to finally make it big in an elite club. Going by the past few years, it looks like Depay will make the moment count this time around.
For more updates, follow Khel Now on Twitter and join our community on Telegram.