The Dutch centre-half joined Bayern Munich this summer
Matthijs de Ligt joined Bayern Munich this summer from Italian giants Juventus. The Dutch centre-half has already made 12 appearances for the German giants. He has also scored his first goal for his new side.
Matthijs de Ligt recent sat down with the Bundesliga media, discussing a variety of topics including playing in the Bundesliga and Ajern Robben, Neuer and his leadership qualities. Finally, here is the full interview.
Why did you want to join FC Bayern München?
"First of all, Bayern wanted me because otherwise, I wouldn't be thinking about it but I always had a good feeling for the club. I think it is a really big club. One of the best international clubs in the world. I really like their way of playing; the way they see football: the offensive way. Hard training. These are values I really like so for me, when Bayern came up, it was not difficult to think about it. I said: "OK, I want to go to Bayern".
How did you get to play football?
"I think if you asked my first teacher in school what Matthijs liked to do, she would say I liked doing anything with everybody but one thing I never liked to do was play football with the boys. I remember I was always playing and doing other stuff but never playing football. At some point, I was playing field hockey. I did one training session on the hockey field. The football pitch was in the same area. I was with a friend. My friend went to play football and I went to play hockey. At some point, I said OK, I want to play football; to try it with my friend. I remember how much I liked to play football and since then, the love for football grew a lot."
You also played tennis. Are you good at it?
"Yes, I played tennis too. Until the age of 12, I think. I wouldn't say I was good at that though. It's been a long time since I've played tennis so maybe the feeling is gone but I'm sure it's still in there somewhere, but I think, at the moment, it is not at the best level."
What is it like to have Neuer behind you?
"I think he is one of the best goalkeepers in the last 20 years, so you know there are not many goalkeepers better than him, so I am much more confident. Of course, you always want to do your job as a defender but having a great goalkeeper behind you makes it a lot easier, of course."
When did you go to Ajax and what was it like back then?
"I joined when I was nine years old. I was playing at a small club, 10 minutes from Amsterdam. Just liked to play. It was fine. I was a really small – not small but a centre back with really white hair so there was attention on me, but I always saw myself as an ordinary player. Just simple playing, you know. At some point, I got a letter from Ajax asking me to come to the trials. I did that and round after round, I came through and I was part of the final four that were able to go to the youth academy."
How did that change you?
"It changed me a lot. I am a really shy person normally. I am down to earth but shy. Just look at how people are at the beginning and don't speak too much. In the academy, you learn how to stand up for yourself because a lot of the guys on my team were loud and would talk all the time. I was not like them. You had to become like them to get respect. That is what I did, and it shaped me to become the player and the person I am now."
Who has influenced you throughout your career?
"First of all, Peter Bosz who oversaw my debut at Ajax for the first team. I think it is not that normal for a coach to see a 16-year-old boy in the youth academy – a centre back even – and put him in the first team. I am still grateful for the confidence and the opportunity he gave me. This was the first step in my professional career and then, Erik Ten Hag, who is now the coach of Manchester United, made me captain and gave me more responsibility. That also shaped my career a lot – how I wanted to be as a player, and the way he helped me to become more of a leader. I think these two trainers were the two big influences in my footballing career."
Have you spoken to Peter Bosz about the Bundesliga?
"Yes, three years ago when he went to Leverkusen, I spoke to him. He was really happy at that time for qualifying for the Champions League and that the Bundesliga was really hard and tough, so I knew it was going to be a tough league to play in."
What was it like to be a captain at such a young age?
"I was surprised. To be named captain of a team with so many experienced players like Huntelaar, Blind and Tadic. To me, being made captain is an honour but not something that is normal. Normally, the most experienced guys get the captain's band but the coach saw something in me that he wanted in a captain, so he made me captain. I was really grateful and happy to become the captain of Ten Hag's team."
Why are you a leader?
"I find it hard to say that about myself. The only thing I could do is do my job and whether you are a captain or not, you try to play your own game. If it helps the team, that is the most important thing. If the trainer makes someone a leader or a captain, that is his decision, not mine. I think that, especially as a defender, you have to talk. You have to bring confidence and stability to the team. Hopefully, I can become some kind of a leader here at Bayern too."
What language do you speak on the pitch?
"I have to say, for now, I do a lot in German because the most important things you have to say on the pitch are the same as in Dutch. Left or right, for example, are exactly the same. Telling your teammate that he has time on the ball is also the same. At this point, I'm speaking mostly German but sometimes, if someone doesn't understand, I say it in English, of course."
How would you describe yourself as a player? Do you like scoring goals?
"That is something extra. First of all, I am a defender. The most important thing is to look at how I play as a defender because that is the reason, they bought me.
They didn't buy me to score 30 goals. That is extra, of course. I always look at how I defend, how I help the team at defending but also with the build-up. That is the most important thing for me. That is the player I would like to be and how you could describe me."
Who pops up in your head when you think of a Dutchman at Bayern?
"Firstly, Arjen Robben, I think. He played here for a lot of years. He won the Champions League. Scored even in the final so when I think of a player who was really the Dutch guy, like me, that was Arjen Robben."
What kind of relationship do you have with Robben?
"I was with him on the national team six times, I think. I know him in person. Unfortunately, that was at the end of his career, so I didn't have that much time to ask him things or to play with him but in this short time he was valuable to me."
Robben is a good idol, right?
"Yes, he was a big example. A big example. That is also the way they want to be here at Bayern Munich: work hard, give 150% every time and then the results will come. I think I can say that I agree with that opinion."
Who has made the biggest impression on you at Bayern?
"I have to say that I am impressed with everybody. You obviously know the players from the games and from the Champions League and the big tournaments. For me, it is nice to have the opportunity to play against these guys every week.
They are so talented and so good. To have the opportunity to train with them is a big honour for me but also a big challenge because it makes you a better player and, hopefully, it also makes you stronger on the pitch."
Thomas Müller is a leader, right?
"Yes, because he is so smart. He is a player who knows exactly when to be in the box or to pass the ball. For a defender, that is very difficult to defend so yes, he has a lot of qualities, but we have a lot of players at the front with a lot of qualities. For me, as a defender, it is a big challenge."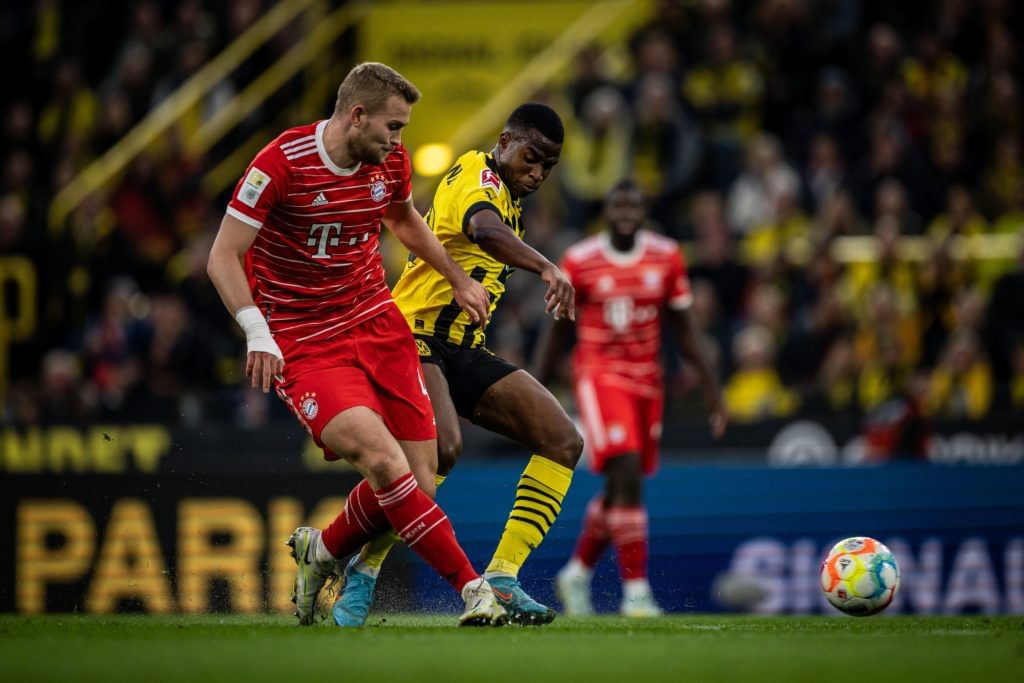 Who are your biggest rivals?
"This year, Dortmund did a really good job in the transfer market. Bought a lot of players. Unfortunately, now Haller has a tumour. That is obviously really sad for him. Especially for him. I feel really sorry for him. I hope he can recover soon because I heard from everybody, he is a great guy. Leipzig has always been strong. There are several other teams that sometimes have seasons where they are really good and sometimes less so. Leverkusen, Wolfsburg, these kinds of teams. So I would say that Dortmund are the biggest rivals for the title."
Have you spoken to Mané about the clash at the World Cup already?
"Yes. Two days ago, I spoke to him about it. In training, I had to mark him. I told him I could now train in case I have to play against you in the World Cup. It is really nice to have a teammate at your club that you might have to play against in the World Cup."
What do you think of Mané?
"He is definitely one of the best attackers in the world. He did an amazing job at Liverpool and now, I think we can be grateful that he came to Bayern München."
For more updates, follow Khel Now on Facebook, Twitter, and Instagram and join our community on Telegram.