Some of these footballers have gone on to become important players for other clubs, making fans wonder what could've been had they stayed at Stamford Bridge.
Chelsea FC are among England's and Europe's finest clubs with renewed investment and players who have catapulted them to the top. Their successes have won them scores of fans from East London to the world over. Their rise has been particularly meteoric since Russian billionaire Roman Abramovich took over and turned the face of the club with investments and support.
Their trophy cabinet now boasts of six Premier League titles, eight FA Cups, five League Cups, two Europa League titles and the Champions League title of 2011-12 and one UEFA Super Cup respectively.
But under the glories, there have been a few stories about players who couldn't or weren't afforded with the chance to shine. Some of these players have gone on to become crucial cogs at other clubs, reminding Chelsea FC of their mistakes. Here's our XI of such players who were shown the exit door sooner at Chelsea FC.
GK – Asmir Begovic
Asmir Begovic signed for Chelsea in 2015 from Stoke City. He signed a four-year deal with the Blues as a backup for Thibaut Courtois. Despite creditable performances in the limited chances that he got, he was seen as a makeshift when Courtois wasn't around.
He featured only twice in the 2016-17 season but got a Premier League winner's medal. He moved on to AFC Bournemouth in 2017 and is now at AC Milan.
RB – Ryan Bertrand
Ryan Bertrand moved to Chelsea as part of the club's academy in 2006 as a 16-year-old. He proved his capability in the limited outings that he got playing in only 28 games. But like many other players, Bertrand became part of the Chelsea loan train, going out to as many as seven clubs in a decade long period.
He finally went out on loan to Southampton who made his loan permanent a year later. He has since featured in more than 200 matches for the club. A player of Chelsea's own who could've gone on to achieve greater things had they persisted with him.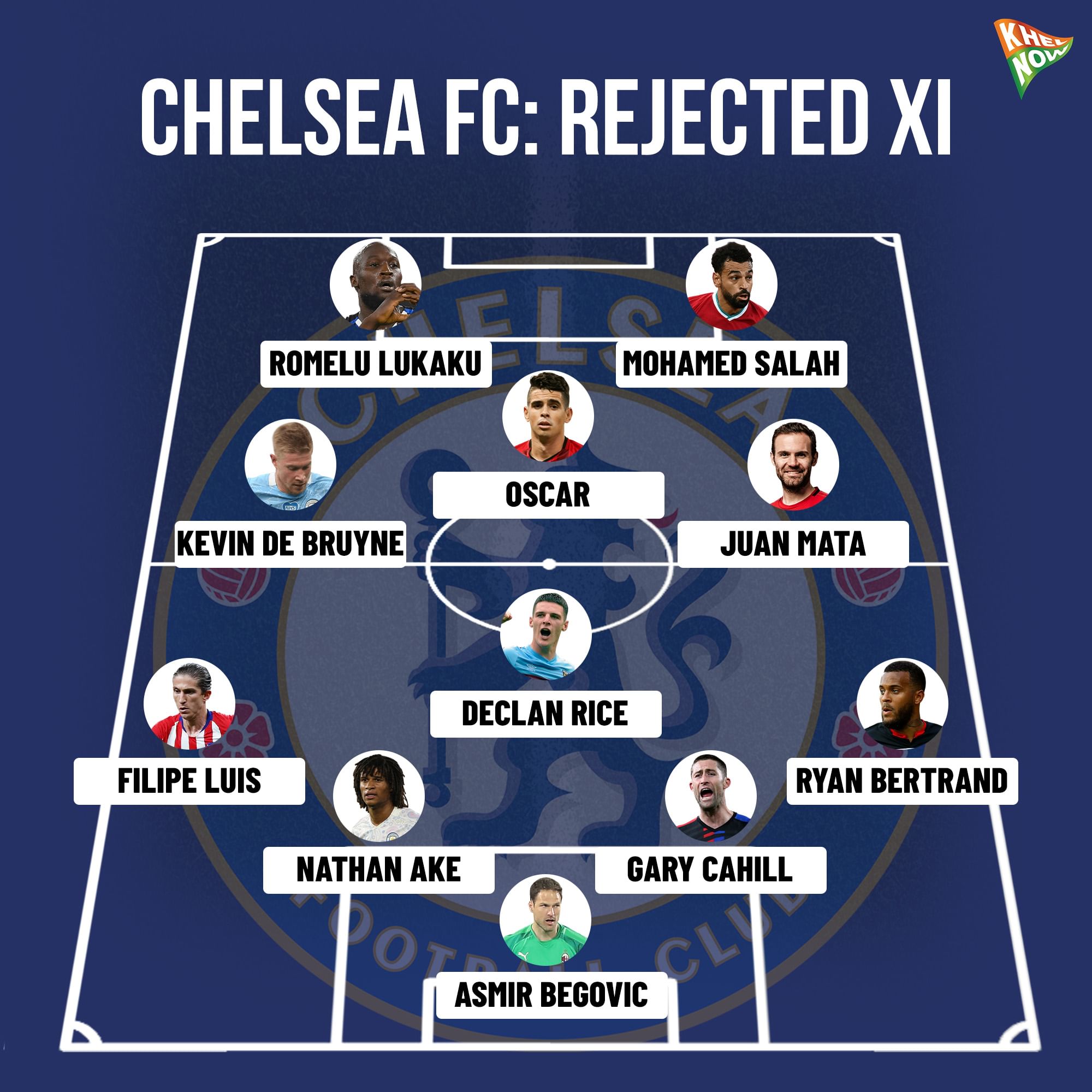 RCB – Gary Cahill
Cahill joined Chelsea FC in January 2012 and was considered to be the future leader after then captain and legend John Terry's time at Stamford Bridge. But Cahil was underused at East London to what his ability spoke of him. In his eight seasons with Chelsea, he featured in only three seasons of 30 games or more. Sometimes it was injuries and he was also overlooked by managers for younger players like Rudiger and Christensen.
Post-Terry, Cahill's game time decreased and he went further down the pecking order. In his final season, he featured in only two games in the Premier League after which he left for Crystal Palace. Chelsea missed his experience and his absence was immediately felt as Chelsea conceded 54 goals last season, more than 13th placed Crystal Palace!
He was an important part of Chelsea's success, winning the Champions League, two Europa Leagues, two Premier League titles and a League Cup. He was also nominated to the PFA Team of the Year thrice (2013-14, 2014-15 and 2016-17).
LCB – Nathan Ake
Nathan Ake spent a year at Chelsea's academy before being promoted to the first team in 2012 and getting good reviews from then-manager Jose Mourinho. But Ake was used for only seven matches across all competitions in three years before he went on his first of three loan spells with Reading, then Watford in 2015-16 and finally to AFC Bournemouth in 2016-17 before signing for the club permanently the next season.
Ake has since played more than 100 Premier League games for Bournemouth and recently signed for Manchester City for £41mn.
LB – Filipe Luis
Filipe Luis joined Chelsea FC in 2015 from Atletico Madrid where he played 180 games. An experienced left-back, he took the #3 jersey made famous by Ashley Cole. Luis featured in only 26 appearances across all competitions including 15 in the Premier League. Although he finished with a Premier League and League Cup winners medal, he returned to Atletico Madrid as Chelsea signed Marcos Alonso.
It was a move that left people curious as to what ensued behind the scenes. He returned to Atletico and went on to win the Europa League title in 2017-18 before moving to Flamengo where he is currently plying his trade.
CM/CDM – Declan Rice
Declan Rice is another product of the famed Chelsea academy. He joined them at the age of 7 and spent eight years there. While in the academy, he was considered one of the brightest prospects and was slated to make it to the first team.
But Rice was sold to West Ham United in 2014. Since moving to East London, Rice has racked up 101 Premier League matches for the Hammers at the age of just 21. In the recent transfer window, Chelsea have reportedly lodged a bid to re-sign their academy graduate but you would rather wonder what prompted them to sell him off to a London rival in the first place.
LCM – Kevin De Bruyne
Arguably one of the costliest mistakes that Chelsea have made was selling Kevin De Bruyne off. The Belgian playmaker joined the club in the winter transfer window in 2012 from KAA Gent and was sent on loan six months later. He returned in 2013 and despite assurances by then-manager Jose Mourinho, he played in just nine games in all competitions.
He was loaned off to Wolfsburg, who made his loan permanent owing to brilliant performances in the Bundesliga. He has since shone at Wolfsburg and then Manchester City where he has grown into one of the best players in the world and has already won seven trophies at City including two Premier League titles. A costly mistake indeed.
RCM – Juan Mata
Juan Mata was another let-off by Chelsea and was sold to Manchester United in the winter transfer window of 2014. The perplexing point of the move was how a player who was voted the club's Player's Player of the Year only a season ago was sold on within only 18 months? Mata was a vital cog in Chelsea's successes as he assisted Didier Drogba's equalising goal in the 2011-12 Champions League final which Chelsea went on to win and also assisted Branislav Ivanovic's winner in the Europa League final a year later.
Since moving to United, he won the 2015-16 FA Cup as well as the Europa League and League Cup in 2016-17. But Chelsea would've rather thought that had he stayed, Mata could've pushed on to become a true club legend. It was his lack of "defensive output" as termed by Jose Mourinho which was his undoing as Jose preferred Oscar over him.
CAM – Oscar
Oscar's sale to China still remains one of the most baffling sales of Chelsea in recent times. The Brazilian midfielder showcased great quality while at Stamford Bridge, scoring 38 goals in more than 200 appearances for Chelsea. He won two Premier League titles (2014-15 and 2016-17), and a Europa League and League Cup with Chelsea.
But in the winter of 2017, Oscar shocked the Premier League when he moved to Chinese club Shanghai SIPG despite being linked with big clubs across Europe. He settled for a high wage packet in the Chinese Super League, a factor which he later admitted motivated him to leave. Had he stayed and Chelsea not relented, Oscar was destined for greater things at Chelsea or any other European giants.
RS/RW – Mohamed Salah
Mohamed Salah is among the chief examples cited when it comes to players Chelsea sold sooner. The Egyptian was signed from Basel in 2014 and never got going under Jose Mourinho, playing only thrice in his first season before going on loan to Fiorentina and then to Roma which was later made permanent. Salah then moved to Chelsea's rivals Liverpool FC and the rest is history as you know it.
LS – Romelu Lukaku
Romelu Lukaku joined Chelsea as a prodigal striker from Belgian club Anderlecht. But like many others on this list purchased from other clubs, he was swiftly sent out on multiple loans, to West Brom and then Everton where he permanently moved to in 2014.
Since then, Chelsea have perennially struggled for strikers who have been consistent. Lukaku, on the other hand, has gone on to become one of the most lethal strikers in Europe, first at Manchester United and now at Inter who cumulatively shelled out almost £165m for him.
For more updates, follow Khel Now on Twitter and join our community on Telegram.