The Spaniard has faced a tough time at the Emirates with plenty of people calling on him to resign at the earliest.
Mikel Arteta has faced a tough time at Arsenal since taking over in December 2019. He began his tenure brightly, winning the FA Cup and the Community Shield, which set a lot of expectations on the Spaniard.
Since then, the Gunners have once again underperformed this season. Arsenal are currently in the ninth position and could miss out on European football for the first time since 1996. They also crashed out of the Europa League in the semifinal after losing against Villareal.
Fans have questioned the performances of the team and Arteta's tactical tweaks time and again this season. The Gunners' faithful have asked for a change of personnel at the Emirates Stadium, but all hope might still not be lost.
Here are five reasons why Mikel Arteta should continue at Arsenal.
5. Arsenal's financial troubles
The financial situation of the Londoners have been in dire straits over the past few years and the pandemic has further exacerbated that. The owners haven't backed the club significantly with funds, therefore, Arsenal haven't been able to compete with other top clubs.
Even if new owners arrive at the club, appointing a new manager now would be a costly bet for Arsenal. Hence, they should persist with Arteta since his tactics and vision are focused on the long-term. The tactician is also ushering in a new era at Arsenal with youngsters, which would mean lesser investment and getting better quality from within the club.
4. Unavailability of managers in the market
Arteta's stay at Arsenal could also be possible due to the lack of quality managers in the market. While Max Allegri and Maurizio Sarri are available, they would also come in with a hefty pay packet.
Arsenal could follow the example of rivals Manchester United who have been performing well under former player Ole Gunnar Solksjaer. They can trust Mikel Arteta to be a better choice to continue in his role.
3. Continue the rebuild at Arsenal
Arsenal are still in a rebuilding phase and the constant chopping and changing of managers hasn't helped. Arteta has shown intent and taken some steps to rebuild his squad. He has regularly played young, hungry players who can adapt to his tactics and show more commitment.
Mikel Arteta has shown that he is capable of influencing change in the team. Therefore, Arsenal should persist with the Spaniard and allow him time to fully implement his methods and rebuild the squad in the way he wants them to play.
2. Promoting youngsters to the squad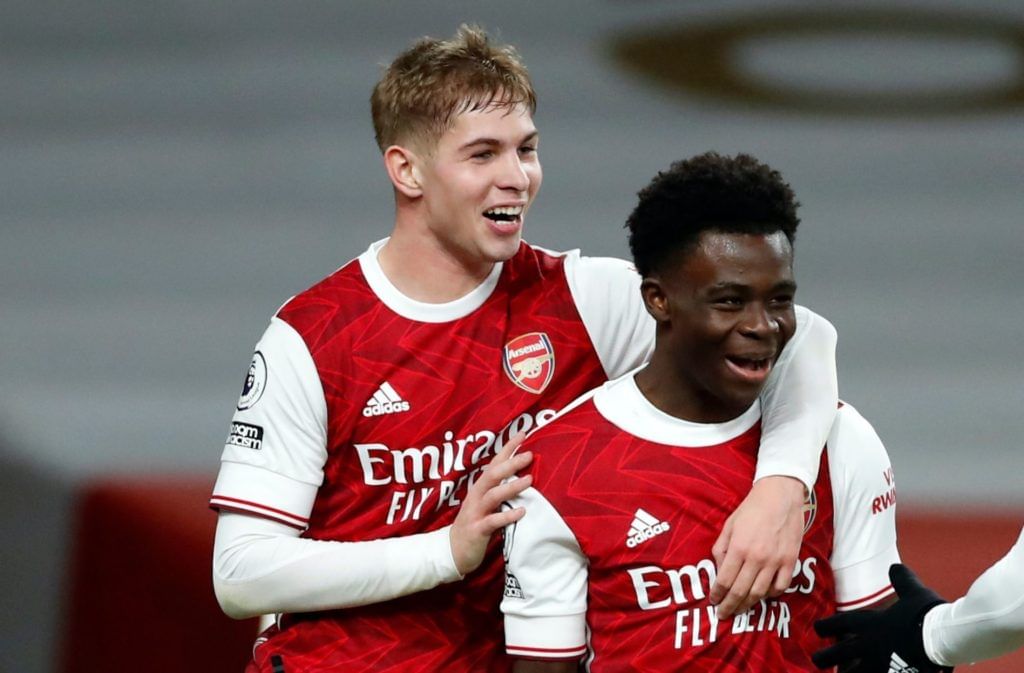 In under 18 months on the job, Mikel Arteta has already brought a lot of promising young players to the squad. He has developed players like Emile-Smith Rowe, Bukayo Saka and Gabriel Martinelli by giving them opportunities.
His success with the youngsters is a step in the right direction for Arsenal. If Arteta and Arsenal can make some smart transfers in the summer, they can create a squad that is balanced and hungry for success and can compete for years to come.
1. Understands the club and its expectations
Despite their best efforts, Arteta and Arsenal have had a season way below their quality and expectations. The manager has also been forthcoming in his assessment of his side and acknowledges the need for improvement.
As a former player, Mikel Arteta knows what Arsenal is capable of and the high expectations of fans. He has taken some steps in the right direction and his players are slowly adapting to his methods. Therefore, it is a matter of time before he creates a team that knows how to play by his tactics.
Arteta is respected by the players at the club and is slowly but surely overseeing a transition at the Emirates. He is also capable of influencing positive measures both on and off the pitch, individually and collectively. It was evident from his decision to discipline club captain Pierre-Emerick Aubameyang by putting him on the bench for a crunch North London derby match due to the Gabon international arriving late for training.
He isn't afraid to test different types of formations and tactics. While some of them have backfired, it shows that the Spaniard sees potential in the squad and doesn't flinch in testing new methods to see which techniques would improve the potential and performance on his players.
For more updates, follow Khel Now on Twitter, Instagram and join our community on Telegram.