The defender is a part of FC Goa's developmental team.
Just 20, Salman Faris is the new rising star of FC Goa. His portrayal of trickery and sternness was observed to the fullest in the Durand Cup 2022, where he partnered in the backline alongside skipper Lesly Rebello. Notably, he played all the four matches in the competition and will be a candidate looking for promotion to the senior side in the upcoming Indian Super League or in the next season.
Recently the youngster joined in a chat with Khel Now. Here's what he had to say.
Introduction to football
Every footballer has someone in his/her life who introduces them to the sport. Usually, it's someone senior or an inspiration collected from the television sets. We all have seen young kids take inspiration from international greats. But the scenario was different for Faris. He started, "My mother introduced me to sport. She was my first coach as well, and deserves all the credit for my career thus far as a footballer.
Salman Faris however, didn't start his footballing life at FC Goa. The 20-year-old stated, "The SEPT academy at Kozhikode, Kerala was where I got my earliest lessons in football. Later, I played for the famous MSP School in Malappuram."
"From there, I got selected to Bengaluru FC's U14 side where I spent two years. Then Reliance Foundation Young Champs (RFYC) came calling and I was with them till the end of the Reliance Foundation Development League (RFDL) earlier this year. FC Goa signed me after the RFDL, and I'm really happy to be here," he added.
About the exposure gained from RFDL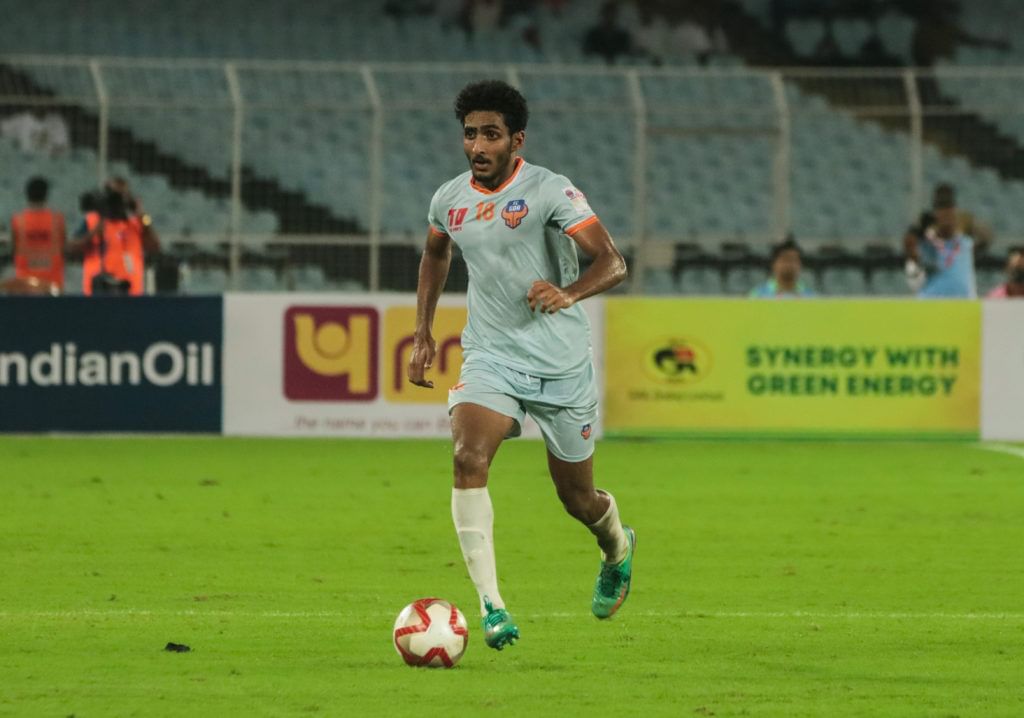 Salman Faris played six matches in the RF Development League. He commented on the experience and the exposure he achieved from it. He said, "The RFDL has definitely benefited several budding footballers including myself. With RFYC, I was able to get plenty of game time and I faced some good teams including FC Goa. This gave me a good picture of where I stand as a player when compared to others of my same level.
"The league also saw many scouts attending the matches and looking out for talents, which is how I earned my way to the Gaurs. As I said earlier, I'm honoured to have been scouted and signed by the club," added the prodigy.
Why FC Goa?
Like other footballers, Salman Faris too, had offers from other clubs. He disclosed the reason behind joining FC Goa, "There are three main reasons why I chose FC Goa, despite offers from other ISL sides. Game time and player development are the most important of those.
"As of now, I've signed a contract with FC Goa's Dev Team. With them, I already played in the Durand Cup – and later on I'll also be playing in the Goa Pro League and GFA TACA Goa U20 First Division League. In addition to these, I'm also hopeful of being a part of the team's I-League Second Division and RFDL squads, if and when both leagues return to the Indian football calendar. Overall, I believe there are very few other Clubs that promise so many opportunities," he claimed.
The defender also commented, "These opportunities to play are what help the most in development, especially at my age right now. My primary aim is to improve myself as a footballer and be in contention for the first team as soon as possible, and I believe this is the right path to get there.
"At FC Goa, the support of the coaching staff also plays an important role in our development. The coaches are all very helpful and supportive, and I looked forward to their guidance when I signed," the 20-year-old praised the FC Goa think-tank.

Before concluding the topic, Salman Faris didn't forget to appreciate the help of Muhammed Nemil, who is the most recent discovery at the club. He asserted, "Finally, of course, my friend Muhammed Nemil also played a small role. When I spoke to him before signing, he gave me plenty of good reasons why I should join FC Goa, citing examples of his own development since becoming a part of the Gaurs."
About playing in the Durand Cup
The defender also spoke of the experience he earned in the Durand Cup 2022. He said, "We played against very strong sides in the Durand Cup. Mohammedan SC are an experienced side and regularly challenge for I-League honours. The Indian Air Force Football Team is physically quite strong, making it tough to outrun them during a full match. Bengaluru FC, obviously, is one of the best teams in India right now.
"I believe we did well against each of these sides. Where we could have done better, was in the match against Jamshedpur FC. The defeat against them diminished our chances for qualifying for the Durand Cup knockouts. Had we won that one, maybe we would've still been in Kolkata," he added.
"For me, personally, I went through some very big moments in the tournament. The clash against Mohammedan was my first time ever playing in front of a packed crowd. Against Bengaluru FC, I took on some big names in Indian football. The matches also gave me some much-needed experience at the top level," concluded the defender.
For more updates, follow Khel Now on Facebook, Twitter, Instagram, Youtube and join our community on Telegram.