The federation has been suspended with immediate effect by world football's apex body.
16th August, 2022, is the black day for Indian football. The country had just stopped celebrating its 76th Independence Day, when at midnight, the press release from FIFA arrived. The headline read, "FIFA suspends All India Football Federation." The ban was imminent as FIFA, AFC had sent a jointly-signed letter by Fatma Samoura, Secretary-General of FIFA and Datuk Windsor John, General Secretary of AFC, a few days ago to the AIFF.
FIFA has a problem with giving voting rights to the players. It's a weird stand from the CoA stating that they mentioned of giving the same to Indian players.
Such a ban has already taken Indian football aback! Here are four ways in which it will instantly affect the sport in the country.
Gokulam Kerala women's team suffer
The decision has now deprived Gokulam Kerala's women's team from participating in the AFC Women's Club Championship. The team had already flown to Uzbekistan for their matches against local side Sogdiana – W and Iranian outfit Bam Khatoon.
The matches were to be held from 23rd to 26th August. Hence, the Indian champions' continental hopes have now been shattered!
ATK Mohun Bagan's AFC Cup campaign
Similar to Gokulam Kerala, ATK Mohun Bagan will also suffer the same fate. The Mariners were all set to play their AFC Cup Inter Zonal playoffs which were to be held in the first week of September in Kolkata. Although FIFA has stated in the release, "The suspension will be lifted once an order to setup an committee of administrators to assume powers of the AIFF Executive Committee has been repealed and the AIFF administration regains full control of the country's daily affairs."
Registration of foreign players
No Indian club will be able to register foreign players from now on. When a foreign player is signed, the club has to register that player in the TMS (Transfer Matching System). This helps in a smoother and transparent transfer process. The ban won't affect the domestic transfers since the Indian players fall under the same association. But, a player from a different Member's Association will not be eligible for the process.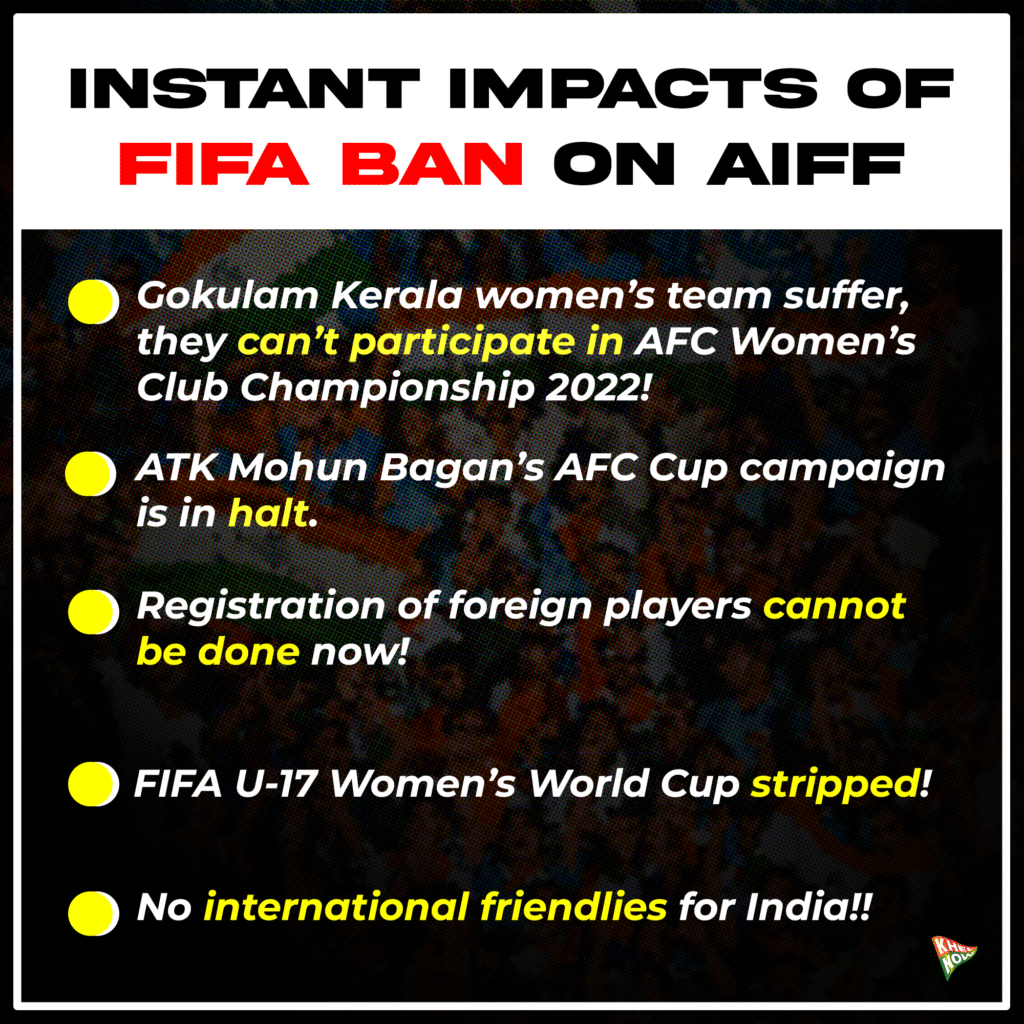 For example, if NorthEast United haven't signed a foreigner yet, they have to play the ISL without foreigners unless the ban is lifted soon! Similarly, for East Bengal, if they haven't completed their sixth foreign signing, the club cannot sign any other foreigner in this suspension period.
Full coverage of FIFA ban on AIFF
FIFA U-17 Women's World Cup stripped
As of now, India will not be able to host the FIFA U-17 Women's World Cup. The apex body of world football had stated previously that if India are banned, they have two other countries in hand to host the event.
Simultaneously, it will be a huge loss for the country. Hosting a FIFA event as a lower-ranked country is of utmost pride. Eventually, due to the ban, the Indian women's team may also not be able to feature in the event. This in turn will affect women's football to a huge extent in the country!
No international friendlies for India
India will not be able to play any international FIFA-recognised friendlies due to the ban. India were all set to play two friendlies in September against Vietnam and Singapore. The national team will now also suffer in its preparations.
For more updates, follow Khel Now on Facebook, Twitter, Instagram, Youtube and join our community on Telegram.