The Marina Machans are losing ground in the to make the playoffs.
Chennaiyin FC are the second-most successful club in ISL history, having won the title twice. They have also made it to the playoffs in four of the seven ISL seasons so far. They could be on course for a fifth playoffs appearance as well. But, their chances of making it are hanging by a slim thread.
After a promising start to the season, the Marina Machans have endured a slump in form. They currently sit in eighth place with 19 points and five games remaining. Chennaiyin FC still aren't out of the race for the playoffs. But, with other teams having games in hand, the fate of the team depends on results elsewhere as well.
The club and their head coach Bozidar Bandovic are fast running out of ideas and opportunities. The chances to make it to the top four might require the tactician to make some tough decisions and changes within the squad. We look at five such changes that the Montenegrin must make to get Chennaiyin FC firing again.
5. Another progressive midfielder along with Thapa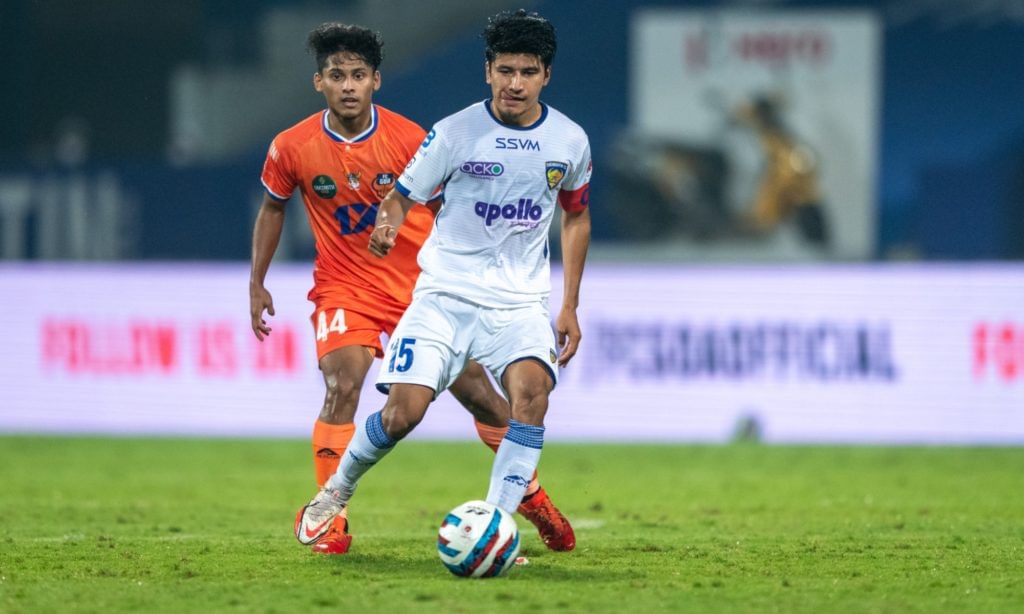 It is without a doubt that Anirudh Thapa is the most adept at driving the ball forward in this Chennaiyin FC side. The skipper often tops the distance covered charts for his side and is progressive in his gameplay. But, the trouble here is that there is no support act for Thapa. Vladimir Koman has been an astute partner, but his injury troubles have caused problems for Chennaiyin in his absence.
Germanpreet Singh isn't the most forward-thinking player and Edwin Sydney Vanspaul has been a shadow of himself since his breakout 2019-20 season. Therefore, the entire creative and transitional load is currently being shouldered by the skipper. In the absence of Koman, one of the two Indian players (or Ariel Borysiuk) have to step up to take some burden of Thapa. Despite his lack of form, Vanspaul is still the best bet in this regard.
4. Get back to a four-man defence
Despite creditable efforts, it does seem like playing three at the back isn't Chennaiyin FC's strongest suit this season. While Ninthoi has impressed at right-wing back, he is still not ready to manage the entire right flank by himself.
Jerry Lalrinzuala, on the other hand, seems to have lost a touch in contributing to the attack, although he still puts up solid defensive numbers. But, both players aren't contributing what is required of attacking wing-backs in a 3-5-2 system.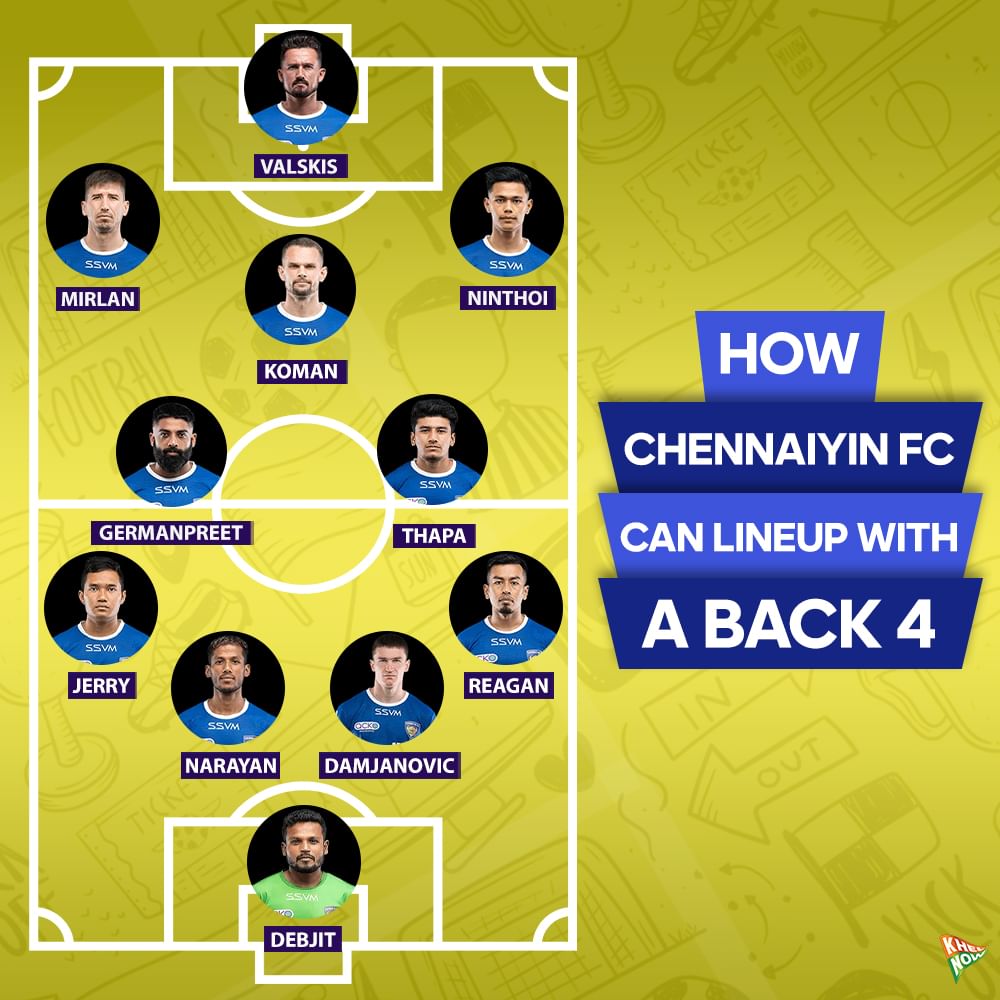 Therefore, a good move, in this case, could be for Bandovic to get back to a four-man defence. This would allow Ninthoi to play further forward, knowing well that someone with the experience of Reagan Singh is behind him to take care of defence. It could help further unlock his attacking potential, which has been evident this season.
A four-man backline could also help build compactness at the back and provide width in attack, should the full-backs opt to run forward to contribute. Therefore, doing so offers Bandovic a chance to increase the defensive solidity and the attacking potential in his side, by creating positional overloads. While Vladimir Koman is now out with an injury, he has been Chennaiyin FC's best foreign recruit this season. With three goals and an assist, Koman also leads the goalscoring and productivity chart for the club. He's likely to start when he's fit again.
3. Increase the tempo of the game
For a team like Chennaiyin FC, who under Bandovic prefer to play a compact game, the pace of gameplay is surprisingly slow. The pace of their gameplay has been another chink in the armour of the team. They are quite slow in build-up play and on the counter. Misplaced and tame passes are aplenty, which are quickly cut out by the opposition. This is a far cry from the 2019-20 season when they made it to the final.
In this case, while it could be a risky choice, it definitely shows that Chennaiyin's young talent can provide an unlikely solution. Ninthoi and Syed Suhail Pasha have shown good evidence of their quality this season, especially the former. The two are sprightly and quick, albeit a bit rusty at times.
With oppositions pressing more and more, Bandovic has to find solutions to increase the tempo of the game. This is imperative for them to dominate possession, create more chances and get into goalscoring positions quickly.
2. Play Valskis as a lone striker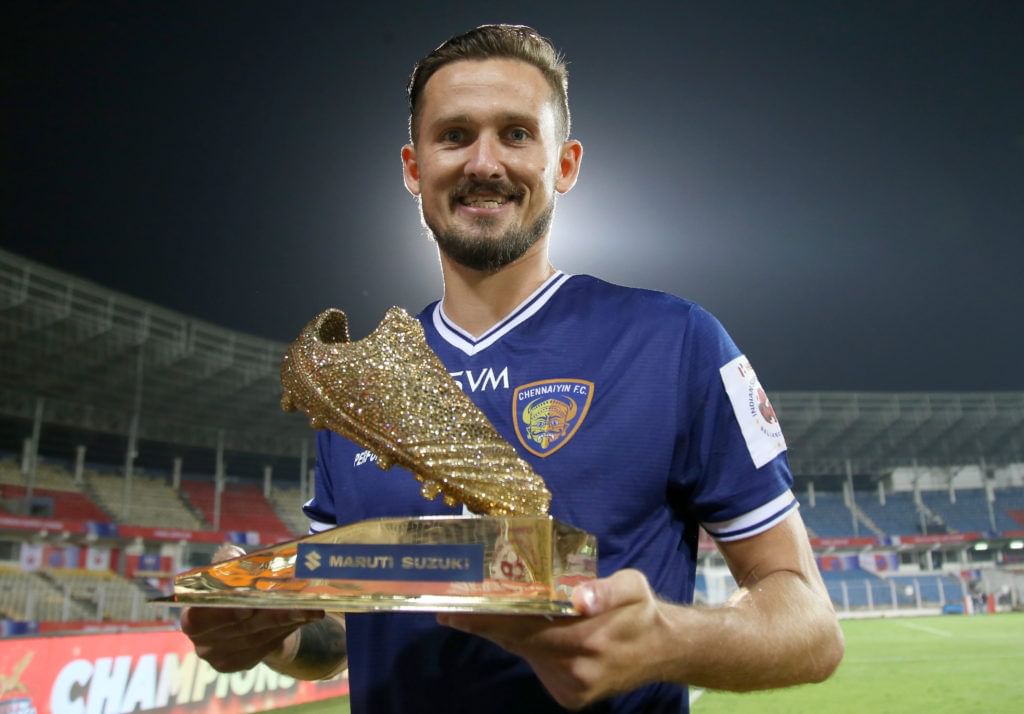 It is safe to say that Nerijus Valskis' homecoming to Chennaiyin FC hasn't gone to plan. The prolific Lithuanian is yet to score since returning in January. He has been woefully short of goalscoring quality and service.
A reason for this could be that Valskis is yet to find a trusted strike partner. Mirlan Murzaev has blown hot and cold, while Lukasz Gikiewicz seemingly contributes more in defence than attack. Therefore, a solution could be to try and play Valskis as a lone target man.
In the 2019-20 season, Nerijus Valskis scored 13 of his 15 goals from inside the box. But, this season, due to Chennaiyin FC's slow build-up play and with the other forwards' inefficiency, Valskis has been dropping deep to contribute to the gameplay more. This is not his strongest suit. The Lithuanian loves to play on the shoulder of defenders and is a fox-in-the box.
Therefore, making Valskis the focal point will play to his goalscoring strengths. It could well bring about the late turnaround that Chennaiyin FC need in their push for the playoffs.
1. Get the attack firing
Along with Valskis playing as a lone striker, the rest of the forwards need to step up their creativity. Bar Koman, none of the forwards have shown any semblance of consistency.
It is also the key reason behind Chennaiyin FC scoring the lowest number of goals this season. If all the above changes are made, it could contribute to the team becoming more proactive in the attack. Mirlan and Koman can double up as creative forwards, along with their goalscoring and set-piece quality. This will help the midfielders in build-up play.
Therefore, with the attack firing, Bozidar Bandovic's men could still plot a late surge to the playoffs. After all, they are still the second-highest scoring team in ISL history.
For more football updates, follow Khel Now on Twitter, Instagram and join our community on Telegram.