The 25-year-old forward spoke on his injury, aspirations on comeback and more.
Farukh Choudhary is the definition of the word belligerence in Indian Football. Be it the run made in the last minute or the acrobatic attempts on goal or even helping the full-backs on counter-attacks. Farukh is just everywhere on the pitch and always makes that extra effort for the team. Choudhary has been an important piece for Jamshedpur FC in attack. He has won the hearts of every Red Miner with his work ethic and dedication to the club.
He is making his return to the pitch after missing out last season due to an unfortunate knee injury in the 2021 SAFF Championship. Farukh has been training with the team in pre-season and has also scored one in the friendly against TATA Motors.
The attacker recently joined Khel Now for a chat where he exclusively talked about everything he had to go through in the last 15 months and what's ahead of him in the upcoming season.
The rehab period
The winger started by talking about his time during the rehab period after the long-term injury last year.
"As soon as I got injured I went back home after the SAFF Championship and met Dr. Anand Joshi. After three weeks I had my surgery and then moved to Kerala for my rehab with the National team physio. I thought it was better for me to be there than anywhere else so I stayed there for four months. During that time I started regular activities like jogging and after those four months I started playing basic football."
"Following that I was called to the national camp twice in Pune and Belarus respectively for training. In those five and half months, I was ready to play. After six months I was called to the camp during AFC Asian Cup qualifiers. I was there for 16-17 days and then went back home when the national team coach told me to prepare for ISL. So after training for almost two months at home, I joined the Jamshedpur FC team for the pre-season," continued the winger.
Farukh Choudhary further discussed his motivation during the tough time. He said, "The main goal for me was to get ready before the Asian Cup Qualifiers. Because that was exactly lined up after six months from my injury. So that was one thing that kept me motivated. Secondly, my club Jamshedpur FC doing well in the league kept me motivated to get up and keep working every day. I wanted to get fit and come back to play, but obviously, that was not possible because of the bubble."
Mindset on going into the next season
Choudhary is making his return from a long-term injury and it must be a pressure situation for him. When asked about the mindset going into the next season and the pressure to retain the League Shield, he answered, "The pressure is going to be with all the players. And I believe it's a very good pressure as it will keep us on our toes.
"For me, I believe it's always going to be pressure as I am making a comeback from an injury which is very unfortunate. I know there will be a lot of eyes on me and I want to play well for my club. Slowly and steadily I am moving towards my goal."
Impressions about new coach Aidy Boothroyd
Jamshedpur FC are making a fresh start after the triumph last season with a new coach at the helm. Farukh was asked about his first impressions of the new coaching staff.
"The first impression has been great about the whole staff and coach. I was just waiting to join the team and meeting the gaffer is really supportive. His support gives me the confidence that I am going to make an amazing comeback. He believes in my abilities and that's all I need from a coach so I am looking forward to the season under him."
"There is only one plan, the coach wants me to help the team in the best possible way. He has faith and is showing me that I am going to make an amazing back. So it's just about time to wait and see how we are doing in the league," explained the forward when asked about the coach's plan for him.
Relationship with Owen Coyle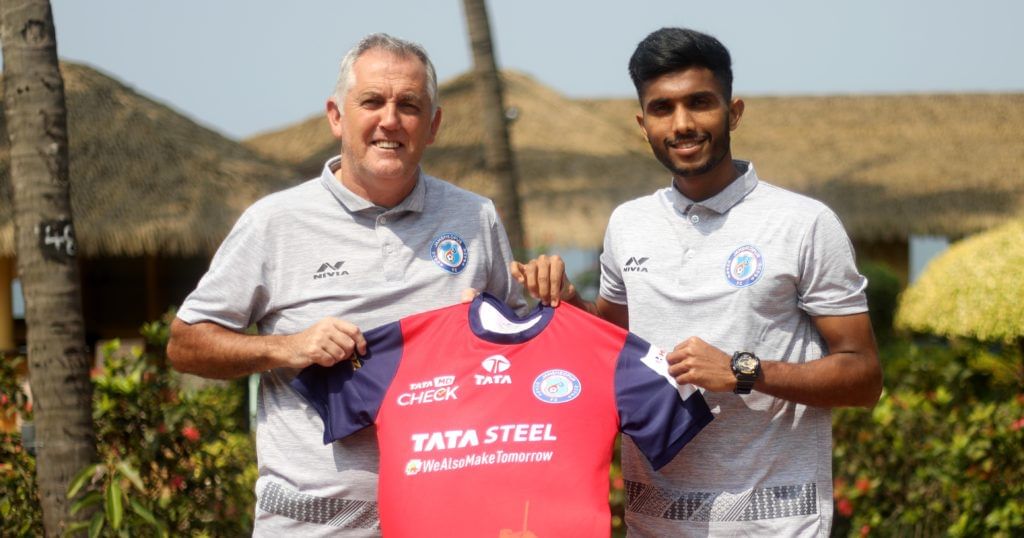 Farukh has been with Jamshedpur FC for four seasons before this across two separate stints. He has played under four different coaches but shared a great bond with Owen Coyle. The former coach spoke very highly of Farukh openly in the media. The player was asked to comment on his bond with the former manager.
"Owen was really supportive and I was lucky to have a coach like him. He always backed me whenever I played. He used to message me and talk to me whenever possible and made sure I am doing well in my rehab as well. And even now when I joined the team back he wished me luck. So it was a good relationship with him and I wish I could have had more games under him."
National team aspirations
"I want to be back in the National colors as soon as possible. For that, I need to prove myself again. I am any other player just because I got injured doesn't make me any special player. I believe I need to perform at my best to get there," Choudhary stated on his much anticipated national team return.
He was also asked to explain the nerves he had when scoring the maiden goal for the country. "When I scored the first goal for my country in the SAFF Championship I was really happy. It had been a long wait so I was overwhelmed at the moment. I will never forget that I made the best out of those few minutes and scored."
Thoughts on six team play-offs
Indian Super League has introduced a six-team play-offs format this season onwards. This decision would surely make the league more competitive. Farukh was asked to comment on this hot news.
He opined, "I don't think the clubs would be thinking about this. I think everyone wants to be at the top so our goal is to remain at the top throughout the season. I don't see this as something we need to look forward to. We'll see at the end where we finish but our goal will always be to be at the top like last season."
New attacking partners?
The 2019-20 was a breakthrough season for Farukh Choudhary when he had a deadly partnership with striker Sergio Castel. The winger was asked about his new attacking partners in the upcoming season.
"Castel was different, he was a good friend as well off the pitch. Now I have good friendships with the foreigners in the squad but I need to make good combinations and partnerships with them on the pitch. And it has been just a few games together so you can find out that once we start playing the matches," said the forward.
Farukh signed off with words of praise for the loyal fan base The Red Miners and asked them to come in huge numbers to cheer the team for the season opener on October 11.
For more updates, follow Khel Now on Facebook, Twitter, Instagram, Youtube and join our community on Telegram.