With two quality goalkeepers in the squad, the Mariners will be in a bit of a dilemma.
The defensive sturdiness of ATK Mohun Bagan was arguably their most impressive element in the 2020/21 Indian Super League (ISL) season. The Mariners maintained the best defensive record in the league – conceding just 15 goals in 20 league stage games. In the end, their goalkeeper Arindam Bhattacharya won the Golden Glove award.
Aridam did not get the award for the most clean sheets – as Amrinder Singh had just as many. The ATK Mohun Bagan goalkeeper conceded fewer goals than the Mumbai City custodian which resulted in him being the recipient for the award . Fast forward a few months, the Mariners ended up buying Amrinder in the summer.
They now possess two of the best goalkeepers in the ISL based on last season's heroics. Unfortunately, both Amrinder and Arindam can't play together. Benching their star signing, for whom they have paid big bucks sounds impossible. However, they can't just shove aside Arindam after his consistently impressive work over the last year. So, who should really be their no.1 goalkeeper? Let's have a look.
Amrinder's 2020/21 season
Amrinder Singh played a key role in Mumbai City's massive success in the 2020-21 season. While he barely missed out on the Golden Glove, the 28-year-old was still one of the very best in the league. Singh conceded just 19 goals in 23 appearances last season and adapted to Sergio Lobera's style admirably.
Amrinder made 61 saves throughout the league campaign and showed great reflexes to save the Islanders from trouble. He also passed the ball around smoothly, maintaining a 69.8% passing accuracy in the season.
The 28-year-old only lost the Golden Glove because of conceding two more goals than Arindam. That also came mostly because of Mumbai's backline trouble towards the end of the campaign than his own problems. It was his sharpness in goal, leadership ability and experience which temped ATK Mohun Bagan to sign the experienced goalkeeper.
Arindam's 2020/21 season
Arindam could feel a bit troubled by the fact that ATK Mohun Bagan opted to sign another goalkeeper after his heroics in the previous season. The 31-year-old had a very strong backline ahead of him and Antonio Habas' protracted style favoured him. However, he announced that he would stay put at his current club and not move anywhere else.
Arindam's saves often helped them grind out narrow wins. He made some excellent saves throughout the campaign, showing incredible reflexes and awareness to do so.
What could have been Bhattacharya's undoing was his occasional error-prone nature. Unlike Amrinder, he made some embarrassing mistakes at the worst possible periods. In the ISL final itself, his poor performance resulted in Bipin Singh scoring the winner as the custodian failed to clear the ball. That being said, Arindam's positives outweighed his negatives last season and proved there was no reason for the Mariners to create more competition in the goalkeeping department.
Strengths and Weaknesses
Both Arindam and Amrinder has their particular set of skills. While both are quality shot-stoppers, their styles are unique in their own right. Arindam is a more commanding goalkeeper who likes to make good use of his physique to dominate his penalty area.
The 31-year-old goalkeeper has much more control in the air than Amrinder. Bhattacharya seems more comfortable grabbing onto the high crosses or collecting set-piece deliveries with ease. Amrinder, on the other hand, showcased signs of nerves on a few occasions when dealing with crosses.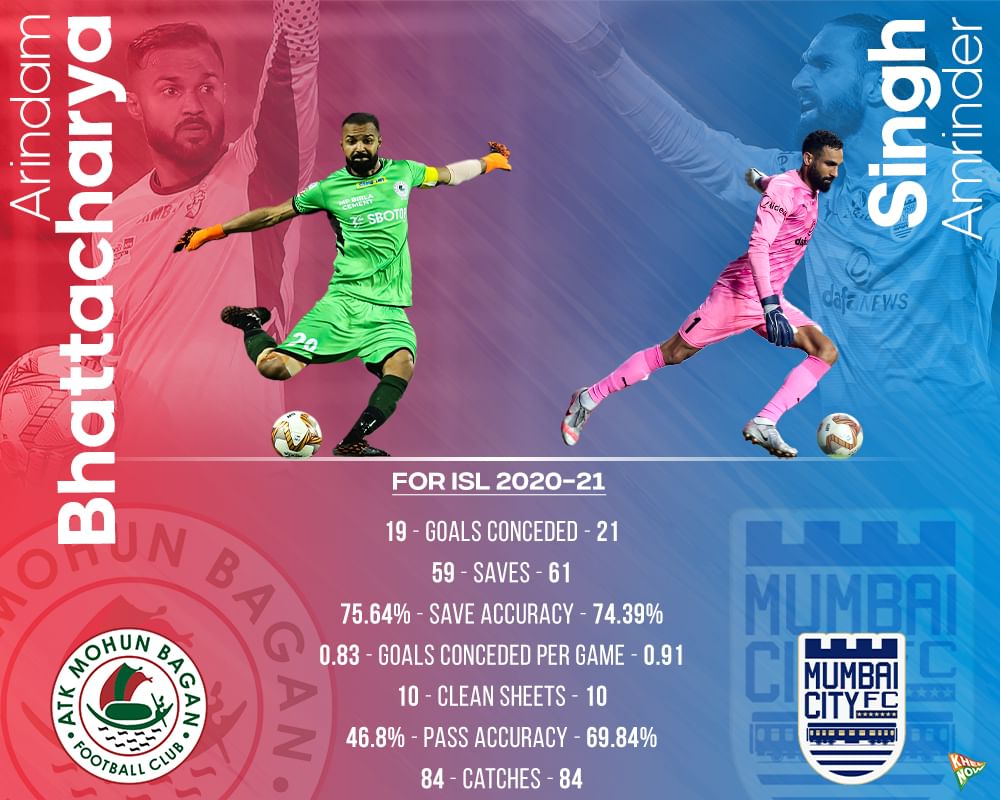 Both are equally commendable when it comes to making reflex saves. While Amrinder had a 74.3% save percentage last season, Arindam registered slightly more with a 75.6% save accuracy. However, Amrinder boasts a big trait that can tip things in his favour next season.
He is much more composed and accurate when it comes to passing the ball. He maintained a 69.8% passing accuracy last season – towering over Arindam's 46.8% passing accuracy. Arindam's vulnerability of passing caused ATK Mohun bagan to play deeper and for the centre-backs to move the ball forward.
However, Amrinder showed he's capable of progressing the play himself for Mumbai City. As a result, the Islanders could play more advanced, attacking football and the centre-backs didn't have to drop deep to help him out much either.
Conclusion
While some other ISL teams struggle to find a reliable no.1, ATK Mohun Bagan have the luxury of possessing two high-quality ones. After being given the no.1 jersey by the Mariners, it's safe to assume that Amrinder will be their new regular goalkeeper next season.
Arindam has promised to stay put and see out his contract at the club, but is unlikely to get much game-time. Amrinder's leadership qualities, impressive ability to pass the ball out the back can tip things in his favour.
The Mariners are likely to play a more attractive, attacking brand of football next season. To do so, they have to possess quality passers in their team. Amrinder's ability to play the ball forward can help their defenders or midfielders play more advanced roles in the pitch.
However, because they obtained two quality custodians, the competition among the two will be intense. Amrinder knows that one too many errors can cost him his regular place in the team. Arindam will be fired up to compete strongly with his new teammate. The only winner in this – of course – is Antonio Habas as he gets two brilliant keepers, determined on maintaining the best defensive record in the ISL.
For more updates, follow Khel Now on Twitter, Instagram and join our community on Telegram.