Simply translated as a 'space investigator' or 'space interpreter,' it is not a specific position but a role pertaining to a player.
A term that has caught the eyes of the footballing world since a few years is 'Raumdeuter.' The term itself is German and roughly translates to 'the space interpreter' and was popularised by German footballer, Thomas Muller, who used it to self-label his style of play. 
Thomas Muller, who is one of the few men to score and assists more than 400 goals for a single club, today cannot be narrowed down to being a central striker or being an attacking midfielder, or a wide forward either. So what makes Muller a Raumdeuter? Firstly, the term itself refers to a role a player plays on the pitch and is not specific to a position.
To better understand the type of role a raumdeuter plays, one should know that it can closely be related to a 'False 9′ or even a 'sweeper attacker' which is the opposite of a sweeper defender. The intrinsic factor to these roles is their nature of being flexible. This somewhat defines Thomas Muller's role at FC Bayern Munich and from the times when he played for the German national team as well.
A much deeper analysis of Muller's game gives a more definite shape to what the role of a raumdeuter demands and which players can be placed under it. However, it is difficult to extend the raumdeuter role to other players as it is specific to how Muller plays and he is quite unique in his own words.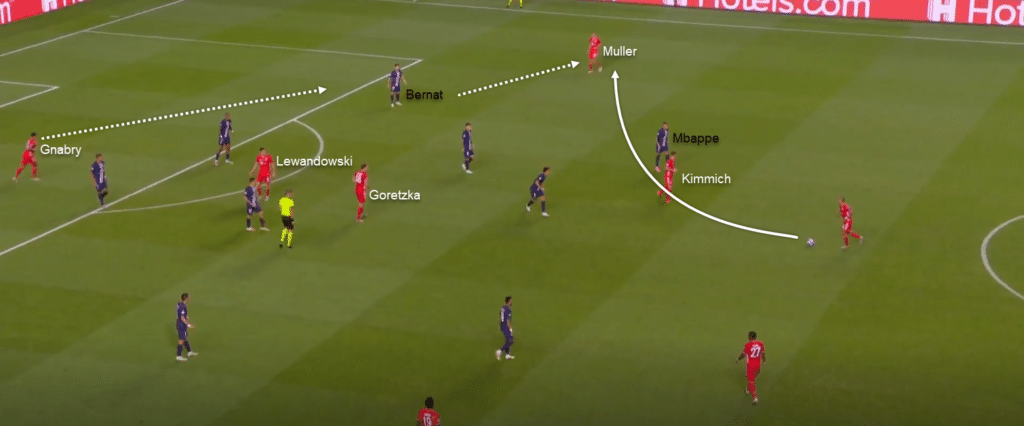 Judging by how Muller plays, a raumdeuter is a role that requires a player to start by picking wide positions preferably but can shift to a central role owing to their superior control on the ball. A raumdeuter also has a superior understanding of the game and makes runs into empty spaces, and creates spaces for others to exploit by filling awkward positions that make it tough for defenders to monitor, thereby breaking the defensive shape of the opposition.
The picture above showcases how Muller goes out of position on the wing where a winger should be to pull Bernat away, thereby making space for Serge Gnabry to exploit the right-wing.
Muller is not the most technically gifted, nor the fastest or strongest or even the best finisher in Bayern's squad, however, he is one of the first players to be picked in the playing XI due to the role he plays in the system. Muller's unpredictability is what makes him an effective raumdeuter.
A player can only be employed or labelled as a raumdeuter if they have superior anticipation and ability to create spaces in a low-block defence. For that, they do not have to be the best at technicalities or physical attributes. Another player that can be called a raumdeuter is Tottenham Hotspur's Dele Alli.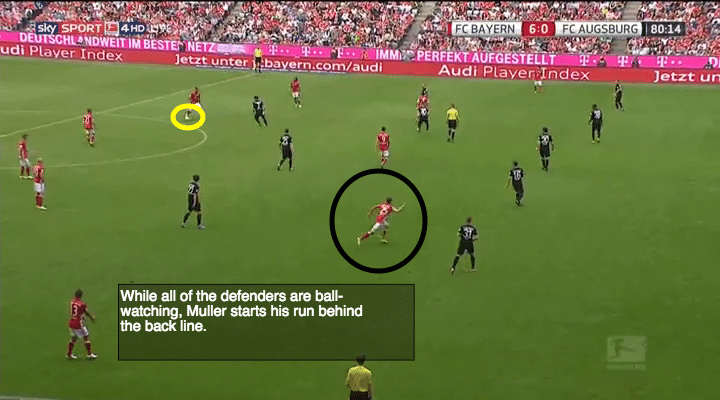 Jury is still out whether Alli is an attacking midfielder, wide forward, or a false nine attacker. In reality, he is the perfect player to play as a raumdeuter. He is good with his feet, can make spaces with one-two touches, reads long balls better than Harry Kane on occasions and also has an exceptional aerial quality which can be used to either set-up fellow attackers or latch on to final balls, something Muller does exceptionally well.
Donny Van De Beek can also play as a raumdeuter on occasions. Being a midfielder by trade, he is seen making runs behind strikers and employs himself inside the box, in anticipation of crosses while unlocking low-block defences.
Lionel Messi also shows qualities similar to what a raumdeuter role demands. He is not restricted to a wide forward role and often is seen roaming in central areas trying to manipulate attacking gameplays and makes unmarked runs behind defences because it is hard for defenders to mark a player that won't be restricted or stay in one position.
Bringing the focus back to Muller, the role of a raumdeuter is unique to him as it is most effectively visible in his style of play. The role itself is not that mainstream as a 'false 9' role where players like Roberto Firmino or Lautaro Martinez have excelled. It cannot be extended to any other team as there is only one Thomas Muller out there.
However, it is interesting to note such a new tactic in the world of football where a seemingly non-gifted player can have such a high impact on not only theirs but their teammates' gameplay as well.
In conclusion, players that act as raumdeuter are neither the fastest or most technically gifted, but they thrive on their ability to interpret spaces differently than other attackers, have exceptional first touch control and first touch finishing and top-class aerial ability.
For more updates, follow Khel Now on Twitter and join our community on Telegram.