Pro Kabaddi League
Three players who will make a comeback in Pro Kabaddi League Season 8
By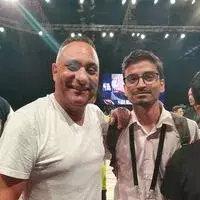 Gaurav Singh
(Courtesy : ProKabaddiLeague)
Fans are eager to see their stars return to action.
Pro Kabaddi League (PKL) is set to make a comeback on the 22nd December 2021. All 12 teams have finalised their respective squads, with the majority of decisions taken at the Season 8 Player Auction that took place from 29th to 31st August in Mumbai.
The matches will be played in a single venue in Bengaluru this season, moving away from the usual caravan format. Pro Kabaddi Lague has provided a platform for kabaddi players to make a name for themselves in the sport. However, there are a few players who made a huge impact in the previous seasons but missed out on playing in Season 7. These stars will look to make a strong impression and contribute to their respective sides when they return to the mat.
Here we look at players who are set to make a comeback in PKL Season 8.
Sandeep Kandola (Telugu Titans)
Sandeep Kandola made his Pro Kabaddi League debut for Telugu Titans in Season 2. His brilliance as a left corner defender won him the 'Best Debutant' award with 59 tackle points and six High-5s to his name. The 'baby-faced assassin' finished his debut campaign as the second-best defender in PKL 2, a point shy of Ravinder Pahal's tally of 60 tackle points.
After a long hiatus from the sport, Sandeep made a stirring comeback in the domestic circuit for Services in the 67th and 68th Senior National Kabaddi Championships. Given his splendid showing on the mat with his ankle holds and dives, Services won silver in both editions of the Senior Nationals.
Many teams engaged in a bidding war in the Pro Kabaddi League auction to claim the services of Sandeep Kandola but it was Telugu Titans who splurged ₹59.5 lakh to sign him back to the squad. Kandola will have big shoes to fill in Vishal Bhardwaj's absence as Telugu Titans will rely upon the former to lead their defence this season.
Surender Nada (Haryana Steelers)
The ankle-hold specialist Surender Nada is considered one of the finest left corners in PKL history. With more than 200 tackle points in his career, Nada holds the record for most consecutive High-5s (5) in a single season, a feat which is still unmatched.
Haryana Steelers dealt with a massive setback when Surender Nada got ruled out of season 6 due to a shoulder injury. He was in sensational form in the defence as well as played a vital role as their captain in the preceding season. Nada was the best defender of season 5 with 80 tackle points to his name and commanded Haryana Steelers to the Playoffs in their debut season.
Surender Nada still continues to threaten the opposition raiders with his mighty ankle holds. Nada's return to his home team will bolster the defence immensely as he joins Rajesh Narwal and Ravi Kumar in the upcoming season.
Mahendra Ganesh Rajput (Gujarat Giants)
Mahendra Ganesh Rajput is known for his ability to change the course of a match on any given day. The tall raider from Maharashtra has established himself as a game-changer over the past few seasons with Gujarat Giants.
Rajput moved to Gujarat Giants after spending four seasons with Bengal Warriors. His career-best performance came in Season 5 when he scored 62 crucial points which were significant in taking the team to the final on debut. Rajput also produced a magical 7-point raid against U Mumba, which was amongst one of the most iconic moments of Pro Kabaddi League Season 6.
Mahendra Rajput's injury ahead of Season 7 cost Gujarat Giants dearly as they failed to reach the Playoffs for the first time in the league. However, he returned to the Gujarat outfit in the Season 8 Player Auction. Coach Manpreet Singh will aim to utilize him as a frontline raider when the season kicks off in December.
For more updates, follow Khel Now Kabaddi on Facebook, Twitter, Instagram and join our community on Telegram.