These players were secured by paying huge amount of money by their respective teams.
In 2014, the Pro Kabaddi League (PKL) was founded to revolutionize the sport in India. The competition has achieved its goal, as the PKL is now one of the most popular sporting events in the country after seven seasons.
The Pro Kabaddi League has always been a competition that prioritizes talent over everything else. As a result, with multiple elite players available at the auction, teams also spent money on some of the best young players in the country. Franchisees pay a lot of money to improve their lineups and fans eagerly wait for the action every year.
The stakes and the amount of money pumped in the league have increased significantly. Keeping that is mind, here's a list of the top 10 most expensive players in the history of the Pro Kabaddi League.
10. Manjeet to Tamil Thalaivas – Rs 92 lakhs (season 8)
Manjeet made his debut in season 6 of the Pro Kabaddi League with Patna Pirates. He mainly played as a second raider to Pardeep Narwal for the Pirates. However, he has gradually grown in stature as a player, as he featured for the Puneri Paltan in season 7 and scored 123 points.
The 25-year-old raider uses his height to his advantage in raiding. He also has the grit and determination to eke out points in tight situations, therefore, justifying ₹92 lakhs paid by the Thalaivas.
9. Arjun Deshwal to Jaipur Pink Panthers – Rs 96 lakhs (season 8)
Probably one of the most surprising names in this list has to be of former U Mumba raider Arjun Deshwal. He became the most expensive signing on day 3 of the Pro Kabaddi League 8 auctions. Telegu Titans and Jaipur Pink Panthers were engaged in a bidding war, but the latter finally managed to seal the deal for ₹96 lakhs.
After making his debut in Pro Kabaddi League season 6, the U Mumba raider made a name for himself in the following season. He, alongside Abhishek Singh, led the raiding charge for U Mumba and guided them to the semi-finals, scoring 104 raid points in the process. Arjun will act as second fiddle to Deepak Hooda, as the Pink Panthers look forward to a solid PKL season.
8. Fazel Atrachali to U Mumba – Rs 1 Crore (season 6)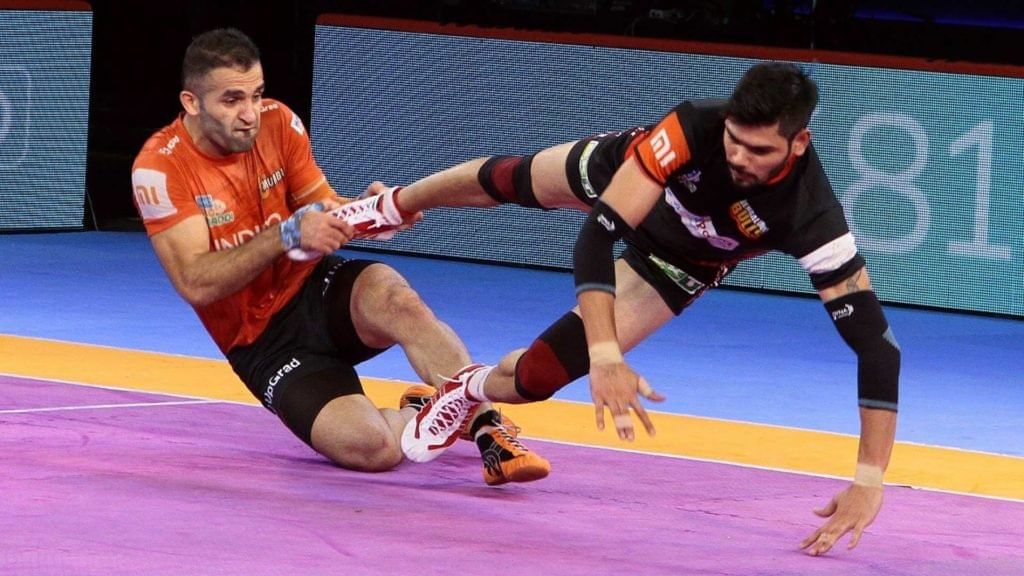 Fazel Atrachali is an Iranian Kabaddi player who currently plays for U Mumba. Atrachali is one of the most successful foreign players in PKL's history, and he is presently the only foreign player in the top 10 tackle point scorers.
He was named the best defender of the season in the PKL's fourth edition. U Mumba bought him for a record sum of ₹1 crore in season 6. Fazel is also the highest-paid overseas player in the PKL.
7. Rishank Devadiga to UP Yoddha – Rs 1.11 crore (season 6)
Devadiga began his Pro Kabaddi League career with his hometown team U Mumba, and stayed with them for the next three seasons. He was signed by UP Yoddha for a whopping ₹1.11 crores in season 6. He was born on 1994 at Santacruz, Mumbai, and is one of the league's top raiders, earning widespread acclaim for consistently providing outstanding performances.
6. Deepak Hooda to Jaipur Pink Panthers – Rs 1.15 crore (season 6)
Hooda is one of the most talked about kabaddi stars in India right now. With his mobility and quality on the mat, he terrorizes opposing defenders in the league. In terms of statistics, he is one of the top raiders in the league's history with 856 raid points in the league so far. In season 6, he was bought by Jaipur Pink Panthers for ₹1.15 crore.
He is still going strong in the league. Jaipur failed to reach the playoffs in season 7 but Deepak Hooda's 158 points in the campaign was something the outfit valued in the season 8 auction as well. The team would certainly get more from him in the coming seasons.
5. Nitin Tomar to Puneri Paltan – Rs 1.20 crore (season 7)
Hailing from a small village in Uttar Pradesh's Baghpat district, Nitin Tomar made his debut in the Pro Kabaddi League in season 3. He was a star performer in his debut season and continued his good form. In season 7, Puneri Paltans used their FBM card to retain him for ₹1.20 crore following a heated bidding war between Tamil Thalaivas and UP Yoddha.
4. Rahul Chaudhari to Telugu Titans – Rs 1.29 crore (season 6)
The 'showman' Rahul Chaudhari began his career as a defender before taking up the role of a raider. He was the key raider for Telugu Titans for many years. In season 6, the Titans retained him for a whopping amount of ₹1.29 crore which demonstrated his true value as a raider.
Rahul Chaudhari is the first player in the league to reach 700 points. He will play for Puneri Paltan in season 7 and will look to regain his top form.
3. Siddharth Desai to Telugu Titans – Rs 1.45 crore (season 7)
One of the finest raiders in the league, Siddharth Desai has been in top form for many years. Telugu Titans bought him for ₹1.45 Crore in season 7, making him the most expensive purchase in the auction at that edition. He made his debut in PKL 6 for U Mumba and never looked back as he bagged 218 raid points. Desai followed it up with another top performance for the Titans, as he finished season 7 with 220 raid points.
He surpassed the ₹1 crore barrier during the season 8 auction as well. Titans retained him for ₹1.30 crore and will look to challenge for the title.
2. Monu Goyat to Haryana Steelers – Rs 1.51 crore (season 6)
Monu emerged as the Player of the Season for Patna Pirates in Pro Kabaddi League season 5. His uncanny reflexes and ability to anticipate make him a dangerous raider. Goyat ranked at the fourth spot out of all raiders in the season with 191 points. As a result of his exemplary performance, Haryana Steelers bought him for ₹1.51 crore in season 6.
He is the second-most expensive player in the history of PKL. Goyat will play for Patna Pirates in season 8.
1. Pardeep Narwal to UP Yoddha – Rs 1.65 crore (season 8)
Popularly known as the 'Dubki King,' Pardeep Narwal smashed all auction records as UP Yoddha bought him for a whopping ₹1.65 crore. The star raider, who is considered one of the greatest of the game, led Patna Pirates to three consecutive PKL titles. However, it was surprising to see them not retain Narwal for the upcoming season. Hence, he became the highest earner with a stunning bid of ₹1.65 crores from UP Yoddha.
Narwal is still 24 and became the only player in the history of the league to breach the 1000-point mark. He finished last season with the third-highest points (317), only behind Naveen Kumar and Pawan Sehrawat. Narwal will look to link up with Shrikant Jadhav and lead UP Yoddha to their maiden PKL title.
For more updates, follow Khel Now Kabaddi on Facebook, Twitter, Instagram and join our community on Telegram.