These players caught everyone's attention thanks to their brilliant performances.
Kabaddi has seen an immense rise in popularity over the years in India. This is thanks to the advent of the Pro Kabaddi League (PKL). The league has given a platform to Kabaddi players to showcase their talent on a national level. The influx of investment has popularised the sport in the country and the fans are more aware of the players and their performances.
Kabaddi is heavily reliant on two major departments – attack and defence. Any team that is aiming to achieve success must excel in both departments. It is often seen that franchises do not put equal focus on reinforcing their defence. For instance, the Patna Pirates could not win the title in the seventh edition despite having a star raider like Pardeep Narwal in their ranks. This is precisely because they did not have a good defensive setup to provide support.
One cannot undermine the importance of a good defence in Kabaddi. Over the past seasons in the PKL, several brilliant defenders have represented their respective teams. Here is a look at the top five defenders from the first PKL season which still remains fresh in the minds of many Kabaddi enthusiasts:
5. Rohit Rana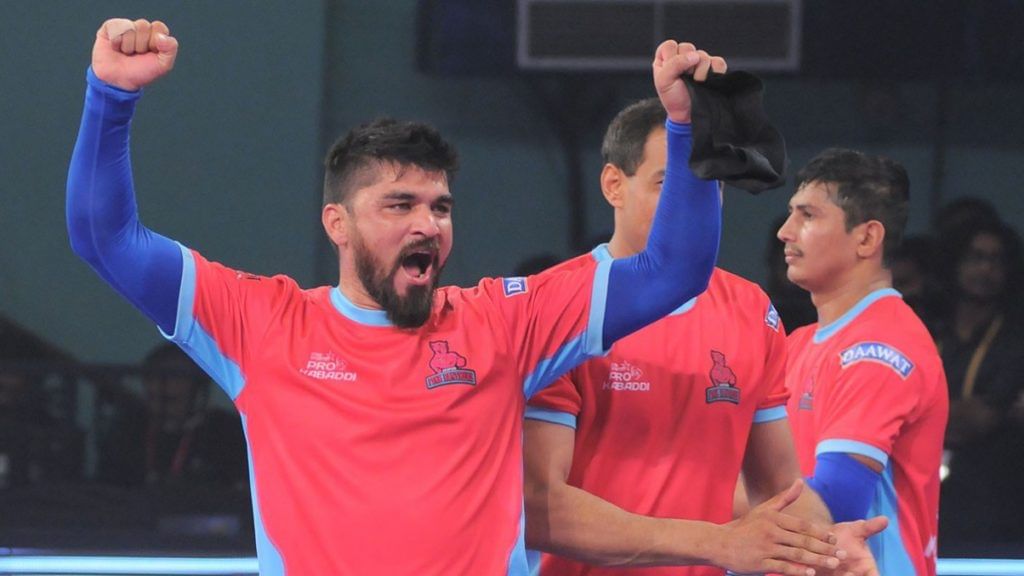 Rohit Rana was part of the Jaipur Pink Panthers squad in Pro Kabaddi League season 1. He was a crucial element in the team's march to the championship win. Rohit plays in the left cover position, known for his dash and block technique. He has a lot of experience and this is why he proves to be an asset for teams.
Rohit Rana scored over 38 tackle points in 15 matches during the first season. He also managed to execute one super tackle during that time. Thanks to his solid performance, he played for the Pink Panthers a total of four seasons. However, his performance later on did not remain at the same level.
4. Jasmer Singh Gulia
While playing for Dabang Delhi, Jasmer Singh Gulia scored 38 tackle points in 14 matches in Pro Kabaddi League season 1. He plays as an all-rounder and is a very experienced player. Overall, he has over 116 points in 52 fixtures. In the process, he has seven super tackles and five high-fives to his name.
Apart from that, he also has 109 tackle points. His past performance have not been as good. Since the third season of the competition, he has struggled for form and rhythm.
3. Dharmraj Cheralathan
Dharmraj Cheralathan has played for many outfits in his PKL career. He has also guided the Patna Pirates to the league title under his captaincy. The experienced operator is known for his leg holds, and continues to be a great player despite his age.
In the Pro Kabaddi League season 1, Dharmraj was a part of the Bengaluru Bulls. He scored 52 points in 16 matches. Following that with another good performance, he scored 42 points in the second season of the PKL. He will be seen playing for Jaipur Pink Panthers in the upcoming season of the PKL.
2. Surender Nada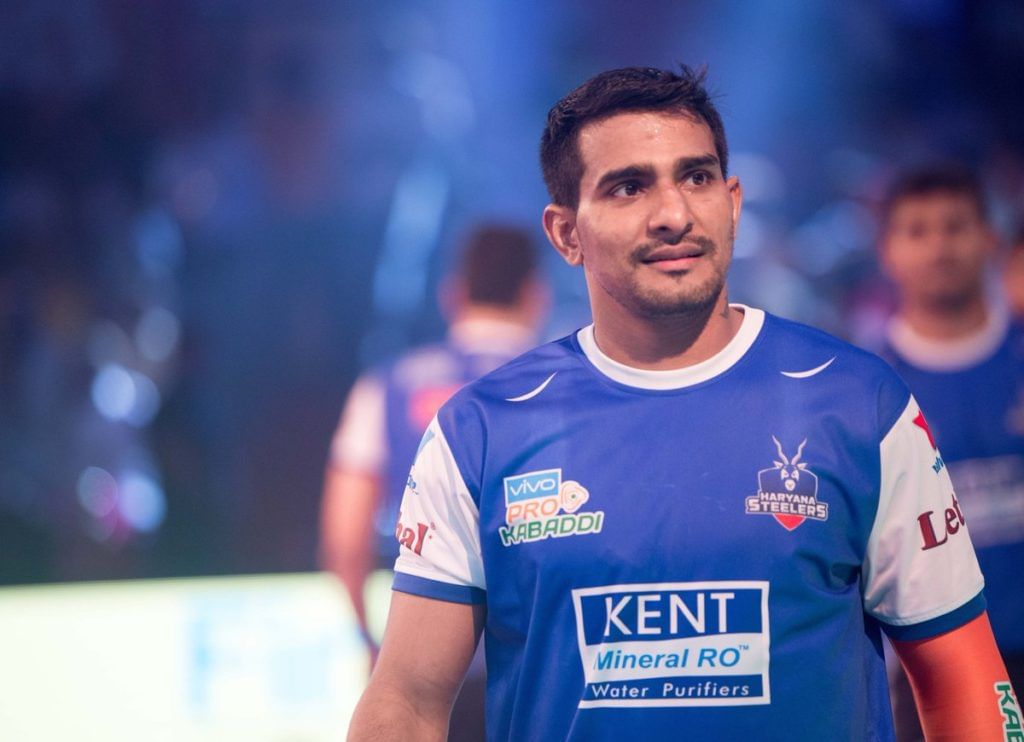 Left corner specialist Surender Nada is one of the biggest stars in the sport of kabaddi in India. He has performed at a very high level in his career. From the first season onwards, he has been very impactful for his respective teams. In the Pro Kabaddi League season 1, he was part of the U Mumba team that finished as runners-up. Despite the inability of the team to jump the final hurdle, Surender Nada emerged as one of the best defenders from that season.
Surender Nada scored 51 points in 15 matches back in 2014. He also guided U Mumba to a title win in Pro Kabaddi League Season 2.
1. Manjit Chillar
Coming to the best defender from Pro Kabaddi league season 1, Manjit Chillar was in a class of his own. While playing for Bengaluru Bulls in the first edition of the tournament, he scored 51 points in 16 matches and took home the best defender award. He has represented many teams to this day in the PKL and is the first player in the history to score over 300 tackle points.
Manjit delivered a memorable performance for the Bulls during the second season, scoring over 107 points in 16 matches. However, it is noteworthy that he has been underwhelming in the past few seasons. He is a part of Dabang Delhi team in the upcoming season of the Pro Kabaddi League.
For more updates, follow Khel Now Kabaddi on Facebook, Twitter, Instagram and join our community on Telegram.