4-1
Check out your football knowledge by playing Khel Now Trivia.
Khel Now Trivia – Play is the Way!
Preparations will now begin in earnest for the AFC Asian Cup Qualifiers. But, next stop for most of these players is the ISL. We'll bring you all the post-match reaction from a historic night in Mumbai. But, for now this is your host and dost Ashish Negi saying goodbye and good night.
Full time in Mumbai Football Arena . India defeated 114th ranked Puerto Rico 4-1 in an international friendly match
Deserved win for India on what has been a historic night. They were on the back foot early after Sanchez scored from the spot but came back with goals from Das, Chhetri and Jeje. They had the lead and worked to cement their advantage in the second half. Jackichand Singh capped a fine performance with a goal.
The absence of key players, travelling and three games in less than a week caught up with Puerto Rico as they were swept aside by the energetic hosts who were cheered on by a vociferous crowd.
90+3′
A word for the referee who has had a good game. Hasn't be noticed much and has let the game flow which we all like.
90+1′
Juan Coca with a hopeful shot from distance doesn't bother Gurpreet.
90′
4 Minutes of added time .
89′
Puerto Rico corner.wasteful corner and the subsequent Indian counter also breaks down.
88′
Germanpreet Singh replaced Pritam kotal in right wing back position,
87′
Borges with a powerful run, tees up seitya and his precision cross is punched by the keeper.
86′
The stands are starting to empty a bit as a few early birds try to beat the traffic on a Saturday night.
85′
Meanwhile, Passi's turn and shot is wide
84′
Eugeneson Lyngdoh has been immense in midfield for India.
83′
Substitution : Seityasen singh replaced Jackichand singh
82′
Mike Ramos with a shot but its straight at Gurpreet who catches with ease
81′
Indian Skipper Gurpreet Singh Sandhu is solid in front his goal .
77′
Activity in Indian Bench , Sunil Chettri comes off and replaced by his Bengaluru FC team mate Daniel Lalhlimpuia.
76′
Borges to Passi who's cross finds Chhetri who picks out Lyngdoh but his attempted shot is well blocked.
74′
The crowd have made a good advert for another game here very soon. Amazing turnout.
73′
Eugene bullies he's way into the Puerto Rico box but his shot is deflected for a corner. Nothing comes off it.
71′
Narayan Das launches a quick counter and finds Passi but he has no support and produces only a tame shot from inside the box.
70′
Sanchez with a shot from nowhere. He isn't closed down but his shot rattles the post.
68′
Coca to Carberrero down the left But Mondal clears with a crunching tackle
67′
Jeje comes off to a rousing ovation. He's replaced by Sumit Passi.
66′
Rentless Indian presser but nothing comes off it in the end.
65′
25 minutes to go. That jetlag is going to start to kick in for Puerto Rico now.
62′
Driving shot comes in for India but the keeper made it look more dangerous than it was.
61′
Both sides giving the ball away too easily.
59′
Jacki gets the ball in midfield but Jeje can't control the lobbed cross.
58′
Jhingan with the last-ditch tacle in the opposing box. End-to-end game.
56′
GOALL!! Jackichand Singh Scored for India.
Jeje with a beautifully flighted cross from the left to Eugeneson who just flicks it to Jackichand and Jacki with the finish.
53′
India just keeping the ball for now in midfield.
52′
Mike Ramos with the snap shot and comes out of the woodwork .
52′
Both the Indian full-backs have made good use of the ball down the line.
50′
Holicharan with a ball towards Chhetri but the Puerto rico defense can clear.
48′
Nazary with the cross finds Jeje who lays off to Jacki who's shot is saved.
47′
Mike Ramos with the early shot dealt with comfortably enough
46′
We are back. Substitution for both teams .
Holicharan Narzary ,Rowlin Broges replaced Pronay Halder and Bikash Jairu for India .
Goalie Christopher Echevarria for Jonny Santana for visitor .
Check out your football knowledge during half time by playing Khel Now Trivia.
Khel Now Trivia – Play is the Way!
Half time-
And there goes the whistle for the break.
What a first half. The visitors took the lead from the penalty shot but its been all india there after Das, Chhetri and Jeje with the goals as the hosts go into the break with a two goal lead. Catch a breathe everyone. I'll do the same.
45′
Gurpreet straight to jacki who sees Santana off his line but his shot goes wide.
We go into two minutes of added time.
44′
Corner for Puerto Rico late on but Gurpreet collects
43′
Jeje with a low shot after latching onto a angled cross Tony Sabtana with the save.
42′
The visitors trying to re-assert themselves but India holding firm.
41′
Jacki and Jeje combine again but the keeper puts him off and Jeje's shot goes wide.
40′
Sunil Chhetri is the dangerous man for India as initiated every attack for India till now
38′
The Indians leading the foul count also. That might be a good stat.
37′
And just as I say that Jacki with a delicious ball for Jeje but he's offside.
36′
I don't want to put the nockers on it but the game has slowed down.
35′
Bikash Jairu with another cross from the right causes a flutter in the Puerto Rico defense.
33′
GOALLL!! JEJE SCORED FOR INDIA.
Protim Kotal with a deadly cross after some good build up. Chhetri with the knockdown and Jeje with the goal.
32′
Alexis Riviera has been a real threat on the left for Puerto Rico
31′
Amazing work by Jackichand singh on left wing , he finds jeje in the penalty box later shot just above the goal.
30′
Das tries to find Chhetri with a ball down the line. velez clears.
28′
This crowd hasn't stopped singing. Amazing atmosphere.
27′
Long ball forward to Jeje who finds Jackii who shoots wide.
26′
India caught in possession. The shot is deflected for a corner. But Gurpreet catches easily.
25′
Brilliant save by Gurpreet. The Indian defense just switched off and Juan Coca with the snap shot
24′
GOOOALLL!!! SUNIL CHETTRI SCORED FOR INDIA.
Chettri curls a beauty straight into the top left corner.
23′
A body check on Chhetri a free kick for India just outside the box.
22′
Halder and Chhetri have been key to India's revival in this one.
20′
Cross from the left for Puerto Rico Mondal with the clearance
19′
Pronay Halder picks up a yellow for a raised arm.
17′
GOOAALLL!!! Narayan Das Scored for India.
Chhetri's free kick chatters off the post Narayan Das scores with the follow up.
It's the defender's first goal for his country.
16′
Brilliant pressing from Bikash jairu . he plays 1 on 1 with Sunil chettri which eventually gives The free kick for India.
14′
Shot comes in for the hosts but no problems for the keeper
13′
Sunil Chhetri is a marked man
12′
India finding it tough to keep the ball.
11′
Long ball forward by Lyngdoh to Jeje but the keeper collects.
9′
Corner for India ,short corner taken by Sunil Chettri but nothing of it . Puerto Rico defending in numbers.
7′
GOALLL!! Puerto Rico scored from Penalty Spot
Sanchez dispatches it with ease to make it 1-0 for the away team.
6′
Penalty for Puerto Rico
4′
The South Americans with the better start India yet to get into it.
2′
First corner for the visitors after an attack from the he left. Jeje with the clearance from the in-swinging corner.
1′
Kick off in Mumbai .The hosts get us underway..
Santosh Kumar is your referee for the evening.
8:02 pm
This place is absolutely rocking as the teams shake hands
7:57 pm
Its time for the national anthems.
Before that the teams will meet the assembled dignitaries including AIFF boss Praful Patel.
7:56 pm
Puerto Rico not fazed by delayed arrival. Looking to play possession football.
7:53 pm
India boss Stephen Constantine says Sandhu is the future and that's why he has been made captain.
7:52 pm
The locals have embraced this one warming. A good crowd has already taken their seats and people are piling in.
7:50 pm
We are lest than 10 minutes from the action stay tuned.
7:42 pm
Did You Know? The last time an India international was hosted in Mumbai it was way back in 1955.
Here's what tonight's captain had to say about the venue: ""I am very pleased with the facilities over here. The ground is good. In fact, we need stadia like this in India which are not that big and where the pitch is closer to the stands."
7:37 pm
In 2004 Last time India defeated higher ranked team like Puerto Rico , away to Kuwait the Blue Tigers won 2-3 incidentally Stephen Constantine was also the manager then.
7:32 pm
The first Indian to play in the Europa League
Gurpreet Singh Sandhu
will tick off another milestone today as he captains his country for the first time.
7:22 pm
The game will be telecast Live on Star Sports 2 and Start Sports HD 2. It will be screencast on the Hotstar app. You can also follow Live text commentary of the game on www.khelnow.com
Star Sports trailer for tonight game
7:21 pm
The teams are out doing their pre-match routine.The surface looks great
Check out your football knowledge before kick off by playing Khel Now Trivia.
Khel Now Trivia – Play is the Way!
7:15 pm
The teams are out…
INDIA XI: Gurpreet(Gk), Pritam Kotal, Sandesh Jhingan, Arnab Mondal , Narayan Das, Pronay Haldar, Eugeneson Lyngdoh, Jackichand Singh ,Sunil Chhetri, Bikash Jairu, jeje
Puerto Rico XI: Martinez, D'Andrea, Coca, Velez, Cabrero, Rivera, Ramos, Elliot Velez, Santana, Sanchez, Conde.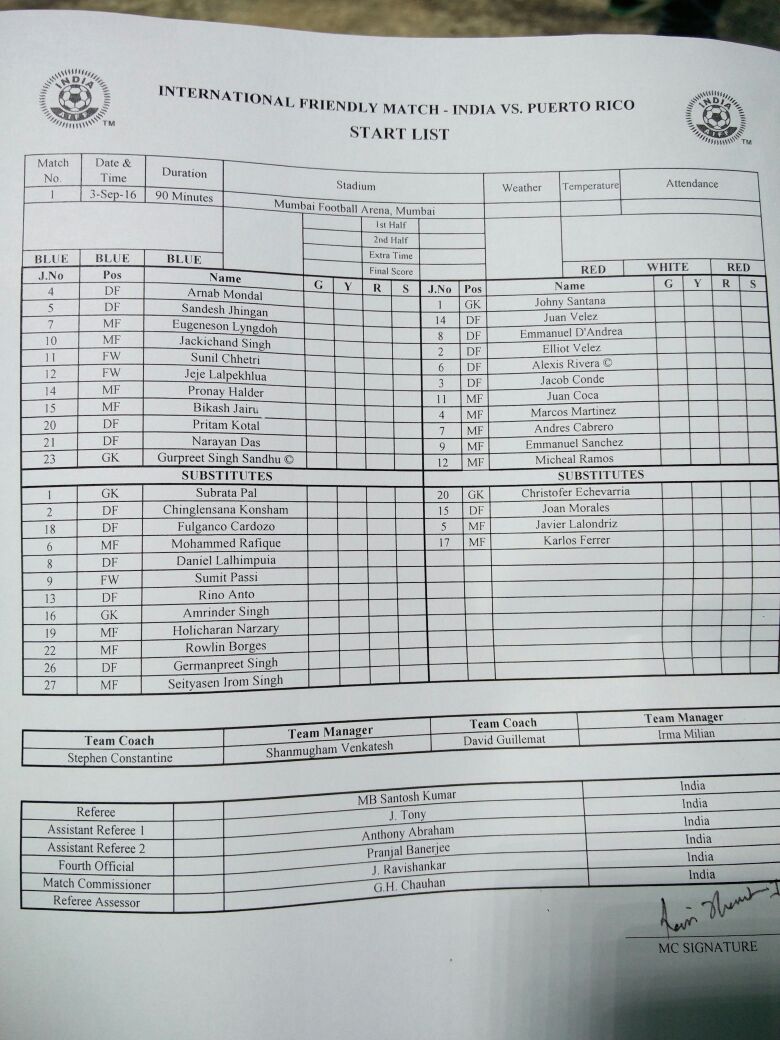 Team sheet for tonight game.
7:14 pm
Puerto Rico are ranked 114th 38 places above the hosts. Can you tell us in which year India last beat a higher ranked team and who the team was. Tell us in comment section or Tweet us @khelnow .
7:06 pm
Some info about today's venue. The Mumbai Football Arena is housed in the Andheri sports complex in the city;s western suburbs. This is the first official game to take place at the 18,000-seater facility which is also slated to host the home games of Mumbai City FC in the Indian Super League.
Click here to see more pictures ..
7:01 pm
If you want to find out more about how the two teams have been building up to the big game here's our match preview. It has exclusive quotes from the India camp and all you need to know about tonight's opponents. Its the best way to get geared up for the match.
Match Preview: India ready for Puerto Rico test in historic Mumbai clash
7:00 pm Hello and welcome to the Live commentary of India Vs Puerto Rico. The international friendly is being play at the Mumbai Football Arena and I'm your match commentator Ashish Negi. Stay tuned for all the action kick-off is just an hour away.
Link Copied!