A Delhi Court has remanded the wrestler to six days Police custody.
When it comes to Indian wrestling, Sushil Kumar is a name that stands head and shoulders above others. However, recent events have severely tarnished the image of India's only two-time Olympic medalist.
From the highs of consecutive podium finishes in Beijing 2008 and London 2012 to the lows of 2021, Sushil Kumar's life has always been eventful. A magnet for controversies, he has been a part of some high-profile cases over the years.
Here's a look at five controversies surrounding India's legendary freestyle wrestler:
5. Targeting Jitender Kumar's eye
In 2019, Sushil Kumar was aiming to qualify for the World Wrestling Championships for the first time in eight years. In order to do so, he had to overcome Jitender Kumar in the trials held at the KD Jadhav Stadium in New Delhi. Sushil Kumar is not accustomed to closely fought matches in the domestic circuit. However, this match proved to be just that with the Olympic medalist eventually winning by a close margin of 4-2.
But it was not without an incident that turned into controversy. While trying to grapple with Jitender, Sushil's thumb made contact with his opponent's left eye and he was forced to take medical attention. Soon after, he suffered another injury, this time in the elbow due to a heavy grip from Sushil. Jitender fought on admirably, going on to get two points despite having severe red-eye and a heavily strapped elbow. At the final whistle, Sushil Kumar shrugged off any controversy by patting his opposite number on the back and saying that it wasn't deliberate.
4. Praveen Rana assault
During the trials for the 2018 Commonwealth Games, Sushil Kumar was embroiled in another controversial incident. In the semi-final stage, Kumar was up against Praveen Rana in the 74kg weight category and won the match by 7-3.
Following the high-tension bout, Sushil instigated his supporters who then thrashed Rana's elder brother Naveen. He had earlier threatened to harm both of them for daring to take the mat against the celebrated Olympian. Rana eventually lodged a police complaint against Sushil Kumar and his so-called 'supporters' for their involvement in the fracas. Yet again, Sushil Kumar denied any wrongdoing and eventually, the matter became a thing of the past.
3. Narsingh Yadav selection trial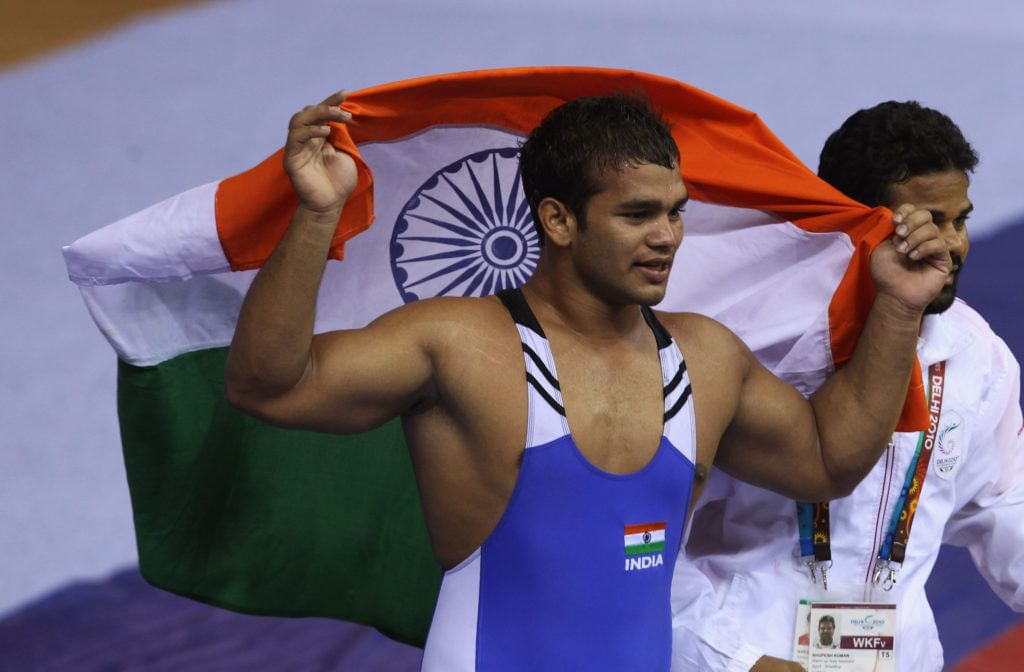 At the 2015 World Wrestling Championships in Las Vegas, Narsingh Yadav won an Olympic quota for India after winning bronze in the 74kg category. Sushil Kumar didn't participate in the event due to a shoulder injury. It was all up to the Wrestling Federation of India (WFI) to decide which wrestler will represent the country in the Rio Olympics.
Yadav may have claimed the spot but Kumar insisted that owing to his Olympic record, a trial should be held to determine who goes through. Kumar took the matter to Delhi High Court. But he hadn't competed anywhere after the 2014 Commonwealth Games, didn't attend any selection trials nor took part in the Pro Wrestling League prior to that. Besides, he was nursing a shoulder injury. Yadav, on the other hand, besides winning a World Championship medal was a star wrestler in the Pro Wrestling League. The Mumbai-resident had a good chance of winning a medal in Rio. Hence, Sushil Kumar's appeal was rejected.
However, Yadav failed two anti-doping tests prior to the Rio Games. He tested positive for methandienone. He challenged the decision and claimed that someone had sabotaged his food at the Sports Authority of India (SAI) campus in Sonipat. His charges were clearly against the Olympic medalist. Despite all the drama, a day prior to Yadav's first match in the Olympics, the Court of Arbitration for Sport (CAS) handed him a four-year ban.
2. Ear biting in London Olympics semi-final
The 2012 London Olympics saw a renewed Sushil Kumar looking to better his achievement of winning a bronze medal in Beijing. He made his way through to the semi-finals, where he squared up against Kazakhstan's Akhzurek Tanatrov.
In the third round of the riveting contest, Kumar bit the ear of his opponent. A bleeding Tanatrov did not appeal during the match, which led to the Indian wrestler qualifying for the final. He came back home with a silver medal and the country rejoiced in his achievement. As always, Sushil Kumar brushed off the fact that any such thing had happened and that he was solely concentrating on the game.
1. Sagar Dhankar murder
Earlier this month, former junior national wrestling champion Sagar Dhankar died during a brawl at the Chhatrasal Stadium. Sushil Kumar and his associates faced accusations for his death.
This led to Sushil Kumar being on the run with the police announcing a reward of ₹ 1 lakh for information leading to his arrest. Delhi Police finally nabbed him from outer Delhi's Mundka area after 20 days. The event has sent shockwaves around the capital and in the country. It is a remarkable fall from grace for one of the country's greatest ever athlete.
For more updates, follow Khel Now on Twitter, Instagram and join our community on Telegram.