Hangzhou 2022 Asian Games
Asian Games 2023: Updated medal tally after Day 14, 7th October 
By

Mohammed Fazeel
India finished their campaign with record 107 medals.
As Day 14 of the Asian Games 2023 dawned, it heralded a last opportunity for many to augment their overall medal count. For China, this day held the prospect of achieving a milestone with 200 gold medals, albeit falling just one gold short. Meanwhile, India was poised to set a personal best with 107 medals, surpassing their performance in Jakarta four years ago.
Among the standout contributors to India's medal tally were archers Jyothi Surekha Vennam and Ojas Deotale, both securing a third gold medal each in compound archery. Additionally, the men's and women's chess teams added to the silver medals, and a significant gold came in badminton's men's doubles event, thanks to the stellar performance of Satwik Rankireddy and Chirag Shetty. They clinched the title by defeating the South Korean duo of Wonho Kim and Solgyu Choi with scores of 21-18, 21-16 in a thrilling final.
In an unusual turn of events, the cricket final was washed out due to rain, resulting in India being awarded the gold. Although India did not get the chance to bat in response to Afghanistan's 112/5, they secured the gold medal due to their higher seeding.
The men's and women's kabaddi teams added more gold to India's tally. The women's kabaddi team triumphed by a narrow margin, defeating Taiwan 26-25, while the men's team overcame defending champions Iran with a score of 33-29 to secure India's second gold in kabaddi.
Indian Sports Live Coverage on Khel Now
Asian Games 2023: Updated medal tally after Day 14, 7th October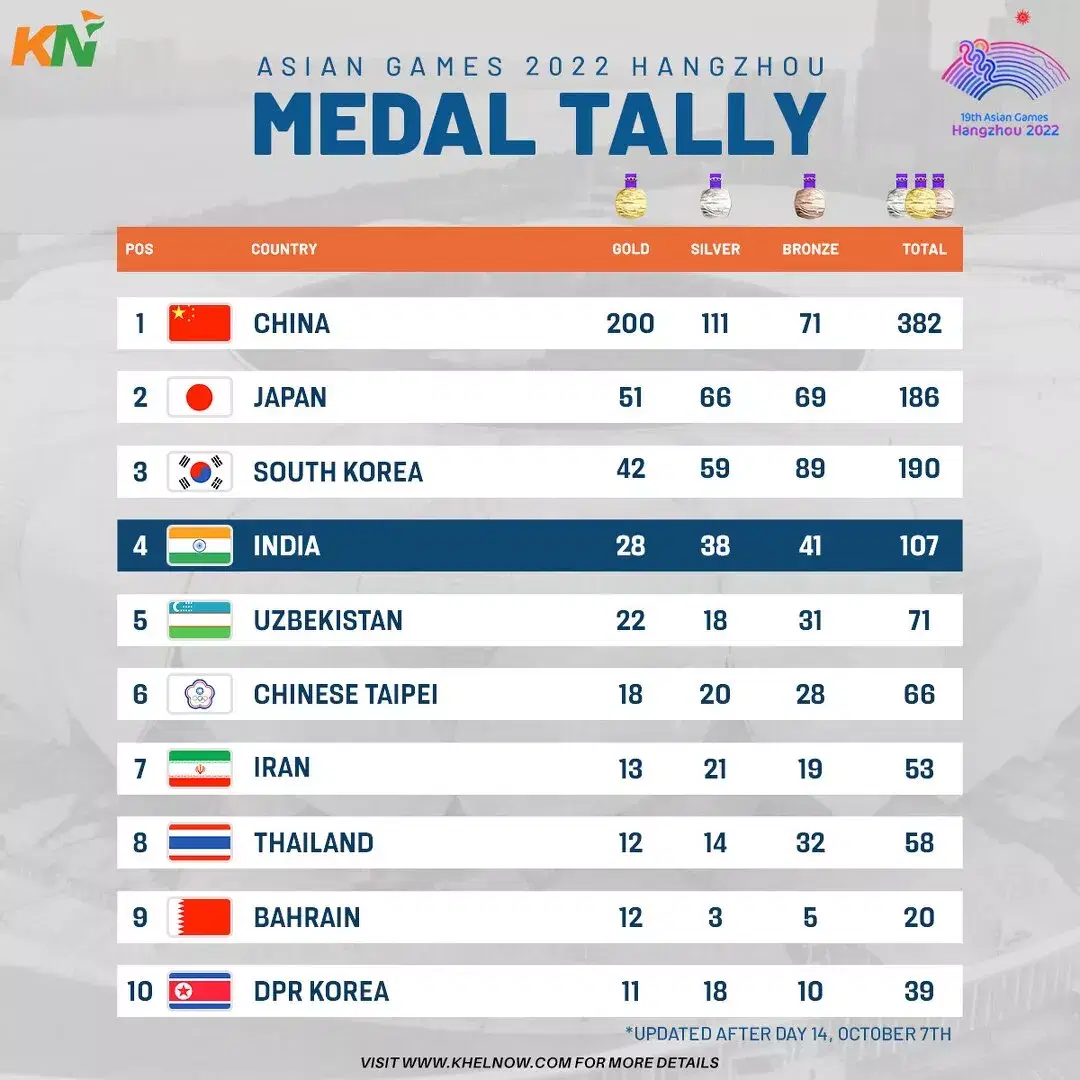 The host nation, China, has amassed the most extensive medal haul of the quadrennial event with 382 medals (200 gold, 111 silver, 71 bronze). The fierce competition for second place between Japan and South Korea ultimately favored Japan, which secured 186 medals (51 gold, 66 silver, 69 bronze), while South Korea settled for third place with 190 medals (42 gold, 59 silver, 89 bronze).
India clinched the fourth spot with its record-breaking Asian Games collection of 107 medals, comprising 28 gold, 38 silver, and 41 bronze. Uzbekistan and Taiwan secured the sixth and seventh positions with 70 and 66 medals, respectively. Notably, Iran made a remarkable ascent from being outside the top 10 to finish in seventh place with a tally of 53 medals.
For more updates, follow Khel Now on Facebook, Twitter, and Instagram and join our community on Telegram.