ICC Cricket World Cup 2023
Top 5 biggest upsets in the history of ICC Cricket World Cup
By

Saurabh Anand
5 biggest upsets that have been witnessed in the history of ICC Cricket World Cup.
Netherlands have outclassed South Africa to cause a second upset in the ICC Cricket World Cup 2023 within two days. On Sunday, Afghanistan defeated England by 69 runs in Delhi, and now Netherlands have stunned South Africa by 38 runs in Dharamshala. Netherlands got their historical 3rd World Cup win after a 16-years-long gap and their first-ever win against a test-playing nation in the World Cup event. Before that, they had defeated only Scotland in the 2007 World Cup and Namibia in the 2003 World Cup. They failed to win any games in the 1996 and 2011 World Cups they played in.
These two games have also set the tone for the remainder of the tournament, as no team looks unbeaten from here on. There are a few more occasions in big international events when smaller teams have stunned the bigwigs. This trend started at the 1979 World Cup, when Sri Lanka defeated India in a World Cup upset. From there, a lot of smaller countries have made some historical performances to get their names among the top in the game of cricket. Many memorable encounters remind everyone of how passion for the game works. Let's have a look at the top 5 biggest upsets in the World Cups.
1 . India vs West Indies, Final 1983 World Cup, Lord's – India win by 43 runs :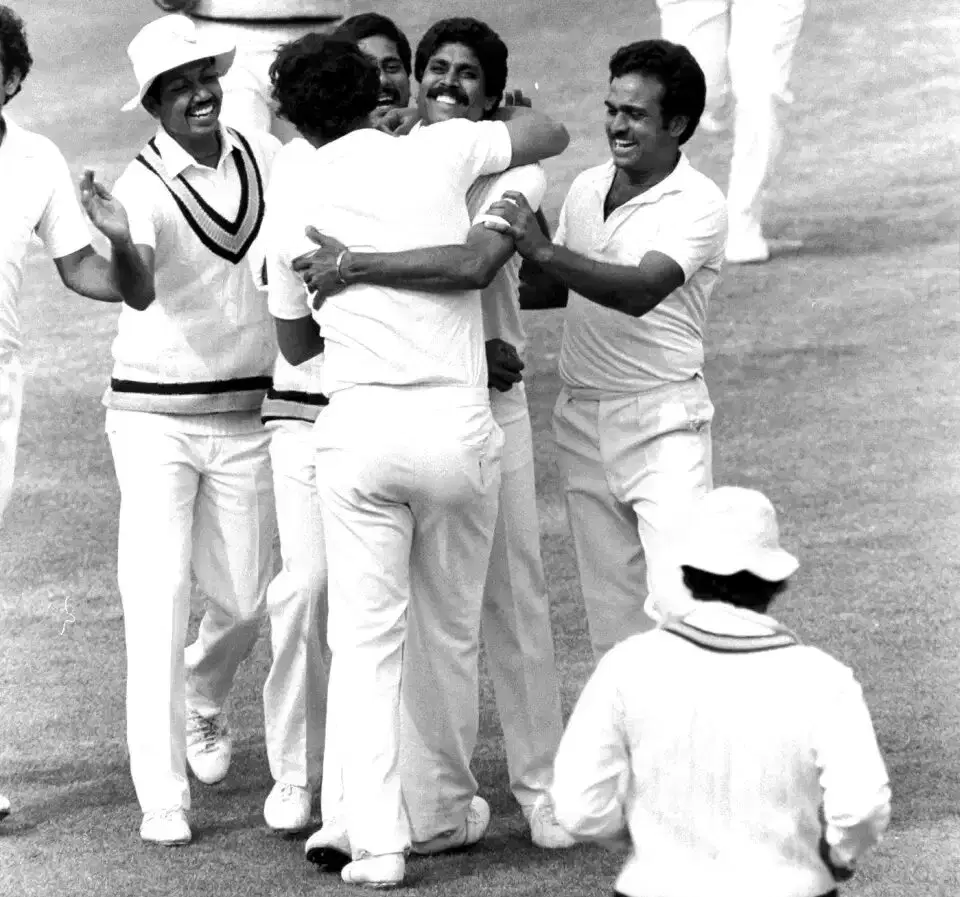 This was a major upset that happened in any ICC event finals. In 1983, when everyone was almost certain about West Indies winning their third World Cup since the tournament was invented, team India changed the plan and stunned the world with one of the most spirited performances. A young, resurgent India under Kapil Dev defeated an experienced and power-packed West Indian side by 43 runs. It was a low-scoring game, and West Indies failed to chase down 184 runs to win their third successive World Cup title. Mohinder Amarnath (26 runs and 3/12) was awarded player of the match for his all-round performance.
2. West Indies vs Kenya, League round, 1996 World Cup, Pune – Kenya win by 73 runs :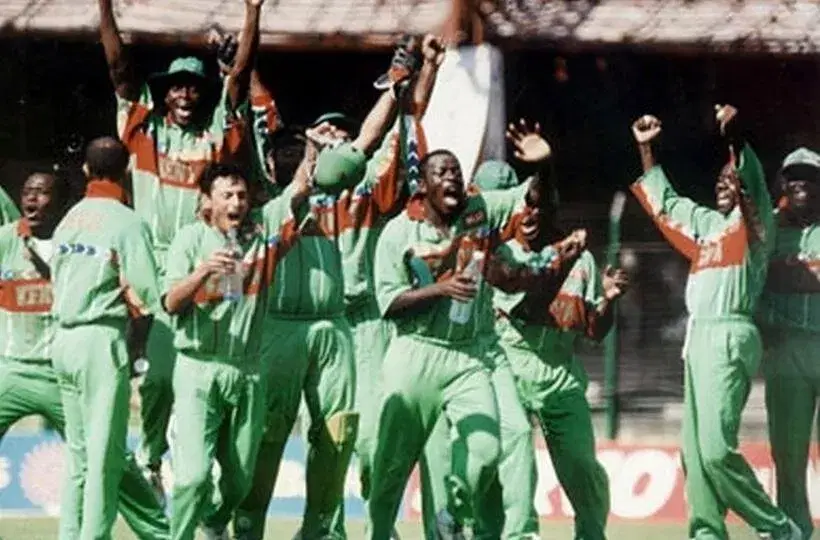 This is rated as one of the biggest upsets in the ICC Cricket World Cup. Kenya was making their debut in the big ICC events, while West Indies had a decent line-up that was considered a favourite to win the 1996 World Cup played in India and Pakistan. No one will believe now that a batting line-up with the likes of Richie Richardson, Brian Lara, Shivnarine Chaderpaul, Keith Atherton, Roger Harper, and Sherwin Campbell will be bundled out on just 93 runs against Kenya. Kenya won the game by a huge margin of 73 runs to get their first-ever World Cup win in history.
3. India vs Bangladesh, League round, 2007 World Cup, Port of Spain – Bangladesh win by 5 wickets :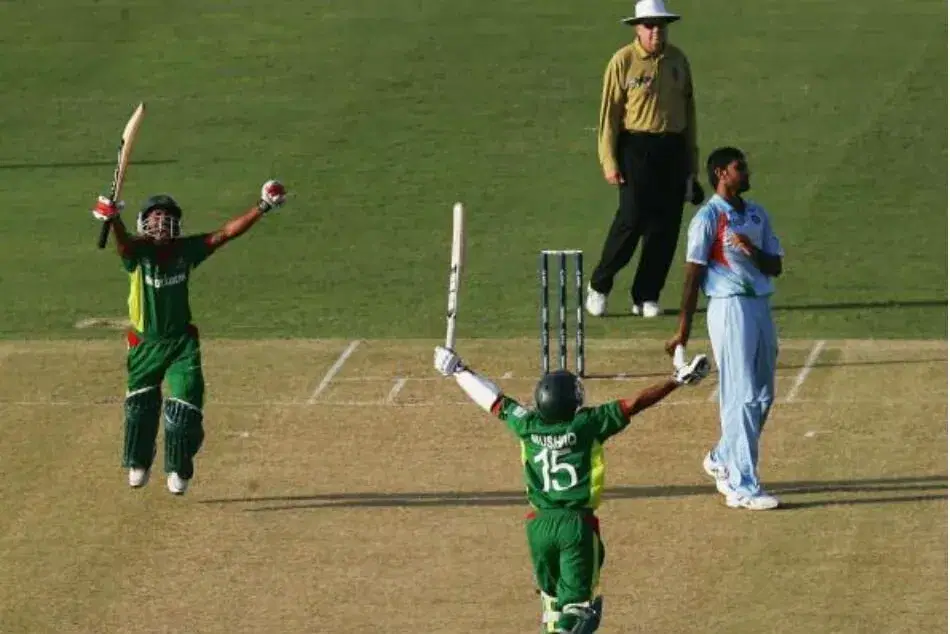 This game marked a new beginning for Bangladesh, as they entered this tournament with the youngest squad ever. Players like Tamim Iqbal, Shakib Al Hasan, Mushfiqur Rahim, and Abdur Razzak just made their international debuts, and most of them were about 20–22 years old. They caused two major upsets in the 2007 World Cup and defeated India and South Africa. They defeated India in the group B game, resulting in a ground-round exit for team India after a long time since 1979. Team India had big names like Sourav Ganguly, Sachin Tendulkar, Rahul Dravid, Virender Sehwag, Anil Kumble, Harbhajan Singh, and almost all of their superstars. Team India were bundled out on just 191 runs, and Bangladesh chased it down with a great fight.
4. Afghanistan vs England, League round, 2023 World Cup, Delhi – Afghanistan win by 69 Runs. :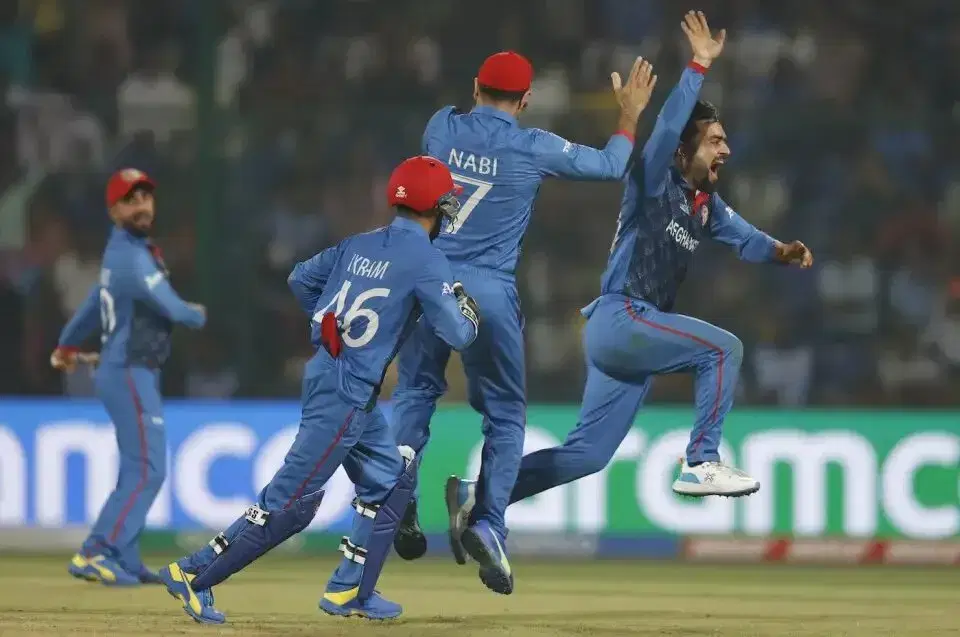 ICC Cricket World Cup 2023 also saw a historical day when Afghans defeated defending World Cup champions England by 69 runs. Afghanistan have always been a decent performer in big events, they love to punch above their weight in the game. England are considered one of the favourites to win the championship for the second successive time, but Afghanistan put their campaign in jeopardy now. Afghanistan's bowling line-up defended a 285-runs target against the likes of Jonny Bairstow, Jos Buttler, Joe Root, Harry Brook, and Dawid Malan. The above-mentioned names have testified themselves as one of the most threatening batting line-ups in ODIs. But they failed against the magic of Rashid Khan, Mujeeb Zadran, and Mohammad Nabi.
5. Netherlands vs South Africa, League round, 2023 World Cup, Dharamshala – Netherlands win by 38 runs :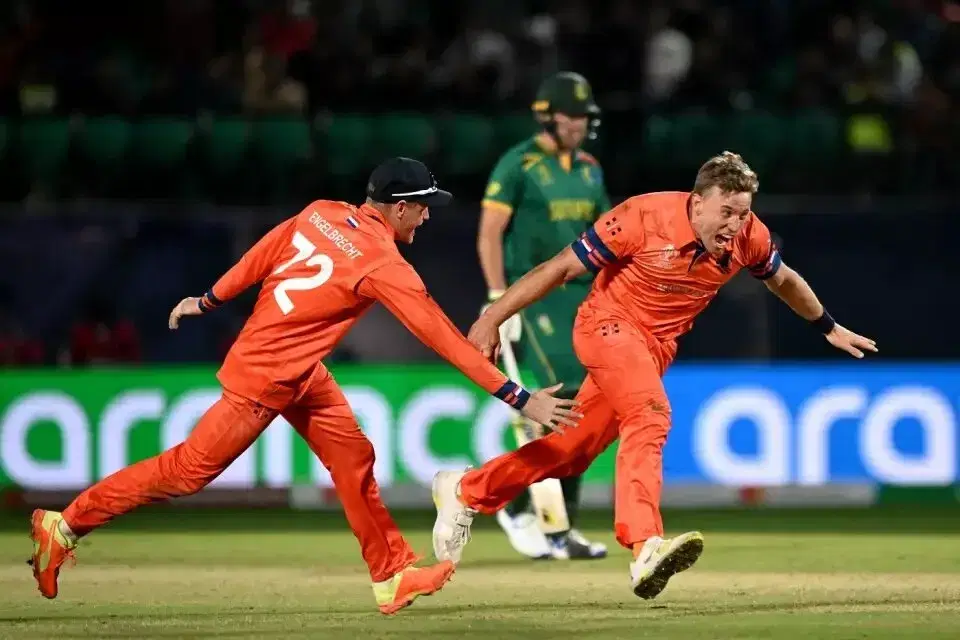 Just two days after Afghanistan defeated defending champions England, Netherlands put up a spirited performance to decimate South Africa and cause a second upset in a single tournament. South Africa had two dominating wins before taking on Netherlands in Dharamshala, but they choked once again when it mattered the most for them. South Africa defeated five-time World Cup champions Australia in Lucknow before arriving in Dharamshala. Netherlands got a chance to grab the game, and they never let go of it. They defeated South Africa by 38 runs and defended their total of 245 runs under lights in Dharamshala. This is their historical win, as they became the only non-test-playing nation to defeat South Africa in two different ICC events.
For more updates, follow Khel Now Cricket on Facebook, Twitter, Instagram, Youtube; download the Khel Now Android App or IOS App and join our community on Whatsapp & Telegram.