ICC Cricket World Cup 2023
Mohammed Shami slams Hasan Raza for his ridiculous allegations on team India in the ICC Cricket World Cup 2023
By
JNS
Indian fast bowler Mohammed Shami takes a dig at Hasan Raza's statement on Indian bowlers.
India pacer Mohammed Shami has thrown a strong jab at former Pakistani cricketer Hasan Raza for making baseless accusations against Indian team, BCCI, and ICC in the current ICC Cricket World Cup 2023.
In the current ICC Cricket World Cup 2023 competition, India have won all eight of their games and are unbeaten. They have also advanced to the semi-finals. There is just one more league encounter left, which will take place in Bengaluru on Sunday against Netherlands.
Hasan Raza, a former cricket player for Pakistan, has been making accusations nonstop on Pakistan TV programme ABN Sports.
His first argument was that ICC and BCCI rigged matches in favour of Indian side by using different balls than other teams. This comes after India defeated Sri Lanka by 302 runs in Mumbai, knocking them out for 55 runs while defending 357. In that game, Mohammed Shami took 5/18.
The second accusation came after India trounced South Africa by 243 runs in Kolkata, when Hasan Raza stated that BCCI was fixing DRS in India's favour. This followed Heinrich Klassen's disputed LBW judgement.
After Hasan Raza stated his notion about Indian team receiving different balls than other teams, Pakistani star Wasim Akram expressed his desire to have the same thing to experience as Raza did.
Mohammed Shami slams Hasan Raza
Mohammed Shami, Indian bowler, joined in the argument and stooped Hasan Raza for making such things. He reminded Raza that this was an ICC event, not a local tournament, and that he had previously played international cricket.
Shami also advised Raza to believe in his ex-Pakistani teammate, Wasim Akram, a fast-bowling icon.
He posted on his social media: "Sharm karo yaar game par focus karo na ki faltu bakwas par kabhi to dusre ki success ko enjoy kia karo, Chii yaar ICC World Cup hai apka local cricket tournament, nahi hai or aap player hi the naa. Wasim bhai ne samjhaya hai explain kia tha phir bhi. Apne player, apne Wasim akram par yakin nahi apko apna tarif karne main lage hai janab aap to just like a wow"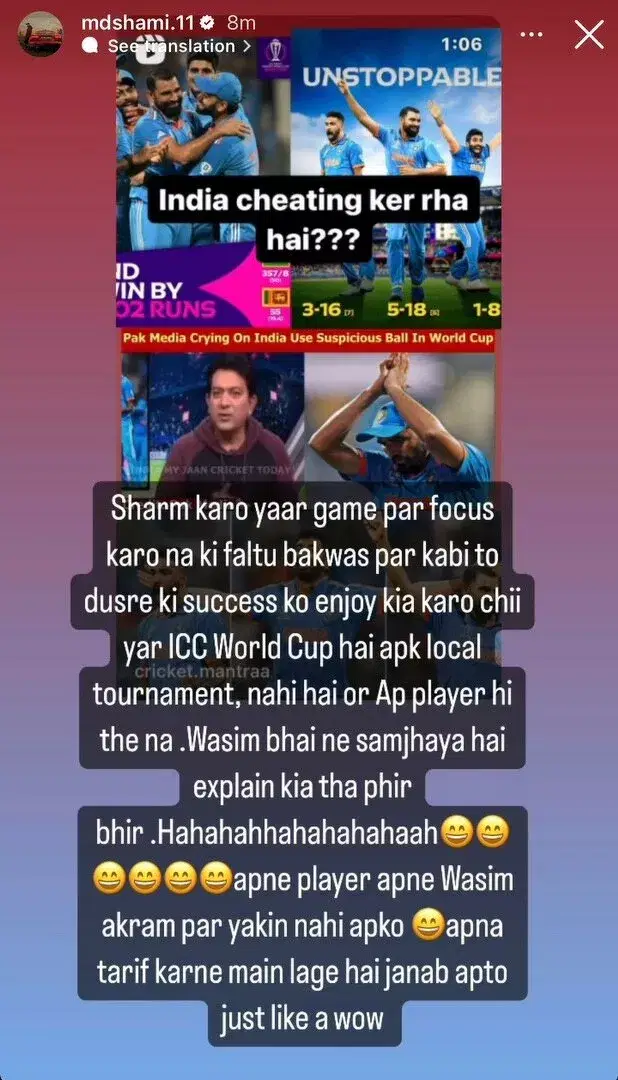 For more updates, follow Khel Now Cricket on Facebook, Twitter, Instagram, Youtube and join our community on Whatsapp & Telegram.