The ambitious roadmap aims to revolutionize football coaching in the country among other aspects.
The All India Football Federation (AIFF) released its roadmap 'Vision 2047' recently. The project aims to develop football by addressing various key aspects of the sport in the country. It laid out short-term and long-term goals in order to make India a powerhouse in Asian football and resultantly, world football.
One of the key areas that needs attention is building a football philosophy and culture. There is no dearth of talent in the country and it needs identification at the correct time. This is where coaching plays a massive role. India needs a huge number of certified football coaches and the AIFF roadmap aims to work towards it.
The roadmap aims to develop a 'National Football Philosophy of India'. Coaching is one of the core areas that 'Vision 2047' will address in the forthcoming years. Here is a look at some of the salient features mentioned in the roadmap.
Observations
The roadmap mentions that the goal is to 'build a policy and framework which is consistent with the national football philosophy to make India self-reliant in meeting the coaching manpower of global excellence to meet demands at all levels.'
Key observations note that the number of coaches is less in comparison to India's population. There is a lack of quality coach educators (A, B, C License). There is also an absence of synchronisation in coach education because of a non-existent 'National Playing Philosophy'. Moreover, low levels of economic return are creating a hindrance to career adoption across various levels.
According to 'Vision 2047', through a new coaching pathway, a comprehensive talent identification network coupled with a 'national football philosophy' within the curriculum would enable the synchronisation of the football community across various levels.
Objectives
The AIFF roadmap is quite ambitious in modernising football coaching in India. It aims to work at several levels to increase the quality and quantity of coaches in the country. Some key objectives include the creation of a 'Coach Education Program' that educates upcoming prospects in the field of football coaching.
Improved accessibility through regional language curriculum delivery.
Introduction of coaching courses following collaboration with Education Institutes.
Inclusion of a 'National Football Philosophy' in the coaching curriculum.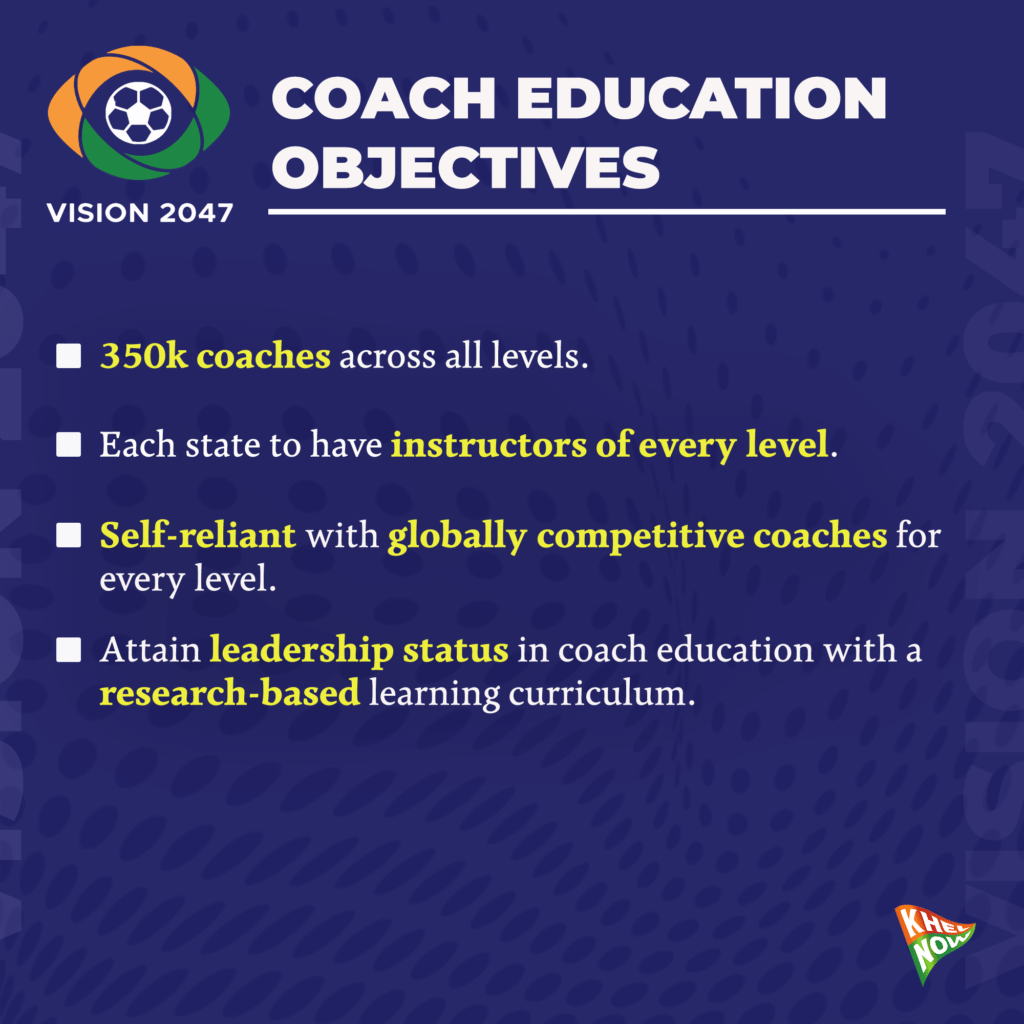 Takeaways
Very few people understand that coaching plays a massive role in the overall development of football in any country. The upcoming generation of Indian coaches must receive modern research-based education which is at par with global standards.
Indian Football Trending Articles:
The promises made by 'Vision 2047' are ambitious. It remains to be seen if words are put into action. Football coaching in India at present is not a lucrative career option. There are very few job opportunities and most do not pay well at all levels of the ladder.
The tales of football coaches doing multiple odd jobs are aplenty. The AIFF must work diligently in uplifting the present coaches economically and make football coaching more lucrative. With a more robust coach education program, talent identification will see improvement. It is imperative that young football players from an early age receive consistent guidance that works in sync with a 'National Football Philosophy'.
India needs better coach educators at all levels. More accessibility is certainly a welcome move. Coaching curricula in multiple languages will see an increase in participation from individuals from all corners of the country.
For more updates, follow Khel Now on Facebook, Twitter, Instagram, Youtube and join our community on Telegram.