The federation has set an ambitious and broad vision for the domestic game.
The AIFF (All India Football Federation) has released a detailed roadmap and has fixed 2047 as the destination to fulfil the following criteria that are listed below. The roadmap was presented by president Kalyan Chaubey along with Secretary General Shaji Prabhakaran. In the press conference they mentioned, "25 years down the line, Indian football will be in an incredible state." The most important aspect is to see India get into the top four in Asia.
Here are the key highlights from the roadmap.
Target 2026 and 2047
The roadmap is further divided into 2026 and 2047, one being short-term and the other long-term. There are separate expectations that are to be met in these years. 2047 has been chosen as it marks 100 years of Indian Independence.
Men's National Team
Top 10 in Asia by 2026 and Top 7 by 2036. The Indian team have qualified for the 2023 Asian Cup which will play a huge role in terms of rankings. Currently, India are ranked 19th and have a challenge going forward.
Women's National Team
Top 8 in Asia by 2026. The women's team is ranked eleventh and is just outside the top 10 positions. India took part in the recently concluded Asian Cup as hosts, but will now have to qualify automatically to move ahead.
Qualification to U-17 World Cups – India participated in the 2022 U-17 Women's World Cup as hosts but could not perform well, losing all three group stage matches. So, India shall qualify for the next two World Cups on merit.
Specific Goals by 2047
India shall be among the top four footballing nations in Asia.
Top three football leagues across all genders.
One iconic player with international stardom in both men's and women's football.
Development of Infrastructure
FIFA standard stadiums (2) by 2026. India currently do not have any standalone FIFA standard football stadium.
AIFF Center of Excellence in Kolkata – AIFF (All India Football Federation) is already working on the construction of the center of excellence, which serves as the home base for the Indian national team. The center will also feature India's first-ever rooftop pitch.
Constructing Mega Football Parks similar to those in Europe.
Revival of previously held competitions
There were a few major tournaments which were held annually but have been stopped now due to some reasons. The Intercontinental Cup was a four-nation tournament which started in 2017 and was last held in 2019. India was the host in all three editions and won the title twice with North Korea winning the last one. Since 2019, the tournament has not been played and is set to be revived.
Indian Football Trending Articles:
Expansion of Super Cup – Super Cup is played amongst the ISL and I-League teams and was last held in 2019. The tournament is set to start again in 2023, after AFC put in strict guidelines with clubs having to play a minimum of 27 matches in a season.
Revival of Santosh Trophy – Santosh trophy is a competition held between states and last year the competition saw many emerging players who have started to play professional football now. If the tournament is structured properly, then many more potential players will be able to showcase their talents.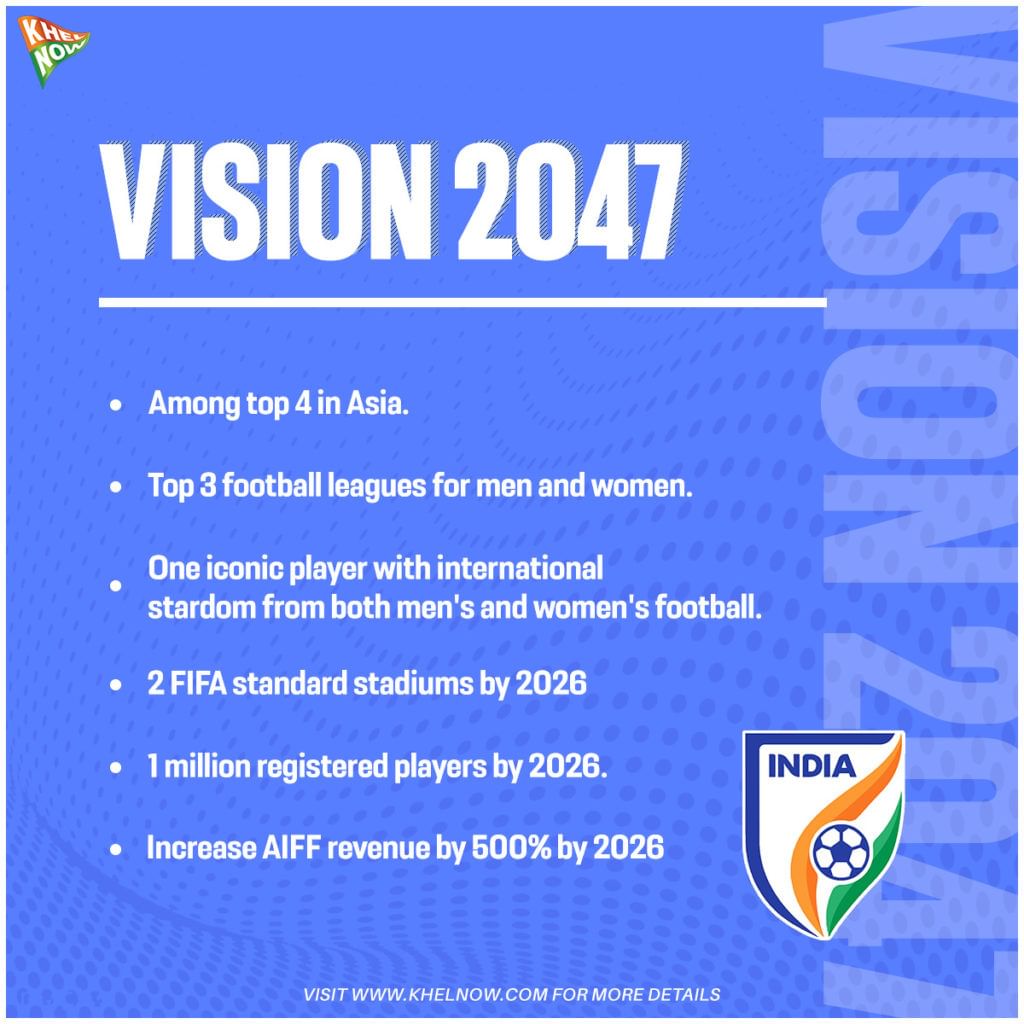 Grassroot Projects
By 2026, around 35 million children are set to enter the grassroots project along with 20 million children entering through school development programs. On a larger scale, a robust structure will be put in place from the domestic to the national level by 2047. For a country to excel, it has to have strong grassroots, which is the reason why European clubs are far ahead than India. Currently, India don't follow any designated grassroots program and the inclusion of this will help the nation emerge strong in the sport.
Increase in Revenue Generation
The AIFF is set to increase its revenue by 500 per cent along with the launch of three television properties by 2026 to increase the revenue. Indian football team's matches previously have not been televised properly with no specific broadcaster in place. This situation should not exist from here on and shall totally be eradicated by 2026.
Improvement in Refereeing Standards
AIFF will sign 50 professional referees and will announce their names on 10th January. Previously it was said that the 50 appointed referees will be paid a monthly salary of Rs. 50000-80000, which was a welcome sign. Currently, there has been a lot of criticism regarding the refereeing standards in the ISL as they aren't working throughout the year like in other countries. There will also be dedicated coaching for referees.
Scouting
Data-driven AIFF scouting for youth players along with 5000 licensed scouts in India. There are only a few scouting teams present at certain tournaments but now with the increase in scouting, many talented players can be identified and can be given proper training at a young age.
Club Football Development
Top division clubs should have a youth team and a residential program by 2026. Apart from ISL clubs, not many clubs have youth teams and residential program. Reliance Foundation (Reliance Foundation Young Champs) are currently running a residential program where top players get scouted by the ISL teams. In a similar fashion, if all clubs have their own residential program then many players might emerge from the respective club itself.
20,000 clubs in the competitive structure along with 100 professional clubs in the top league structure by 2047.
Equal Importance to Women's football
There will be a separate department for women in AIFF.
Improvement in club structure – The Indian Women's League is the only league devoted to women currently held in India where each state nominates one club. Also the league last year was held for only over a month and there wasn't much duration between matches. More matches with structure shall be brought into the development of women's football.
For more updates, follow Khel Now on Facebook, Twitter, Instagram, Youtube and join our community on Telegram.